9 Best No-Log VPN Services for Anonymous Browsing in 2022
Last Updated by Kate Hawkins on November 01, 2022
The sad reality is that many VPNs lie about their "no-logs" claims, leaving your browsing history, downloads, and even shopping purchases exposed to anyone watching. I strongly believe in the right to online privacy, so I ran rigorous tests on 40+ VPNs and their privacy polices, history of conduct, audits, and security setup.
Based on my tests, ExpressVPN is the best no-logs VPN in 2022. Its privacy policy is audited and proven, the company is in the British Virgin Islands (no mass surveillance or invasive data collection laws), and its infrastructure is equipped with military-grade technology. You're even protected by a 30-day money-back guarantee — so if you're not satisfied by the performance, you can get a refund with no questions asked.
Browse anonymously with ExpressVPN
Quick Guide: Best No-Logs VPNs in 2022
Browse anonymously with ExpressVPN
The Best VPNs With a Strict No-Logs Policy (Updated November 2022)
Key Features:
ExpressVPN is a secure VPN with an advanced server setup and audited no-log policy. The only data it stores is your login email and payment information. It was the first top VPN provider to switch to diskless RAM-based servers (which run on ExpressVPN's TrustedServer technology), setting the standard that many VPNs have since followed.
With headquarters in the British Virgin Islands (BVI), I'm content that ExpressVPN is far from the influence of any intelligence-sharing alliances (like the 5, 9 and 14 Eyes international group led the US). The BVI has no data retention laws, and customer record requests must come from the BVI supreme court itself. This is noted in ExpressVPN's privacy policy, which states that the BVI has stringent laws regarding information disclosure.
The company has been independently audited by global firms PwC and Cure53, giving me further faith in the server security and privacy policy. In 2019, the no-logs policy was definitively proven in a real-life case. The Turkish authorities physically seized an ExpressVPN server to track down a user during an investigation — but they couldn't recover any identifying data.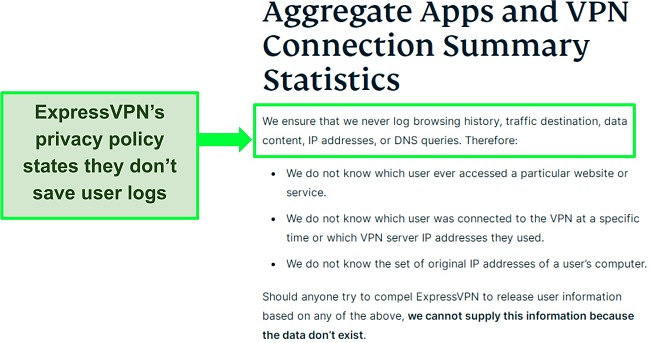 To confirm that ExpressVPN's servers are also fundamentally safe from leaking your data, I ran multiple IP and DNS leak tests. I was pleased to see that all ExpressVPN test scans were leak-free. Even if the VPN connection were to drop, ExpressVPN's Network Lock kill switch blocks all internet traffic and protects your data until the connection is restored. This is perfect if you torrent a lot, giving you added peace of mind that your personal information and IP address are hidden from hackers and web trackers.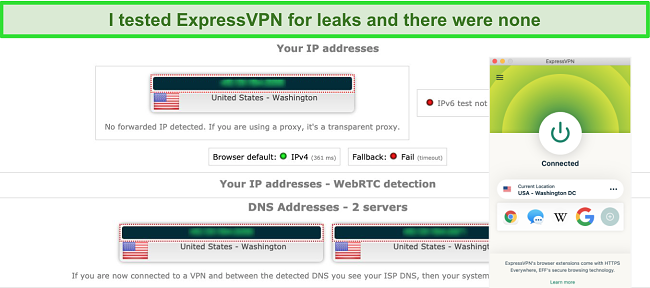 With 3000 servers worldwide, you'll find a fast and reliable connection almost anywhere you go. I reached an average of 100Mbps while testing US, UK, Germany, and Australia servers. I was happy with the consistency and put this to the test by streaming a few hours of uninterrupted 4K content on Netflix.
The main downside of ExpressVPN is that it's a more premium price compared to the other options on this list. However, I'm happy to pay a slight premium for a VPN that is proven to provide a secure, high-quality service without making compromises.
The best way to make sure it's the right service for you is to test ExpressVPN for yourself. You can try the service risk-free as ExpressVPN is backed by a 30-day money-back guarantee. I checked this out to confirm it works by signing up for an annual plan and then contacting customer support through the 24/7 live chat. I wasn't hassled to stay during the process — in fact, I had the confirmation in just 3 minutes. I received the money back 5 days later.
Key Features:
CyberGhost has a high-performance server network where no user activity logs are kept. All servers utilize RAM-based technology, preventing any data from being saved to a hard drive. The company is also located in Romania, known for being a supporter of privacy rights and fighting against the EU multiple times concerning data retention laws. Romanian laws make no demands of CyberGhost to maintain user data records.
As such, CyberGhost makes its stance on logging very clear in its privacy policy, stating the following:
When using the CyberGhost VPN, we have no idea about your traffic data such as browsing history, traffic destination, data content, and search preferences. These are NOT monitored, recorded, logged, or stored by us.
The company has undergone a security audit that showed all internal systems are in line with international standards. While there have been no further independent audits to verify it, the company releases a yearly Transparency Report that goes over all the data requests the company receives from various authorities, as well as other legal details.
I particularly liked that CyberGhost has independent ownership of some of their own VPN infrastructure. These are known as "NoSpy" servers, located in Romania and accessible only by the CyberGhost team. This makes them far more secure than rented servers. They also run on improved hardware so you can reach higher speeds than the regular servers. This is an ideal combination for torrenting, knowing your connection is hyper-secure as well as fast.
To verify that no data was being leaked while browsing or torrenting, I connected to multiple servers and ran DNS and IP leak tests. As you can see below, CyberGhost passed all leak tests successfully. Leak protection is essential for staying anonymous online, especially while torrenting or sending sensitive data (like account logins or financial information). Its security against third-party spies, such as hackers or web trackers, make CyberGhost one of the best VPNs for the less secure Windows OS.

The app has a built-on blocker against malware and ads — but the ad blocker doesn't always work. After failing to block banner and video ads on websites like The Daily Mail and Buzzfeed, I contacted CyberGhost's customer support. The agent I spoke with informed me that CyberGhost only removes ads if it contains malware.
You can try CyberGhost's safe and secure servers risk-free with its 45-day money-back guarantee. I've confirmed that it works by testing CyberGhost for just under a month before contacting an agent through the 24/7 live chat to request a refund. It took less than 1 minute to have the refund approved, and I had my money back in a week.
Key Features:
Private Internet Access (PIA) combines advanced security features like AES-256 standard and OpenVPN tunneling with a strong commitment to user privacy. PIA recently upgraded its entire network to run on RAM, so any sensitive data is wiped once the server loses power. Although this is an invisible feature to me as a user, it's high on my criteria list to ensure the security of my data.
If you're a fan of torrenting, PIA has a unique setup to ensure your torrents aren't throttled. PIA noticed data centers were slowing torrent traffic and that some countries were considering banning heavy BitTorrent traffic. Rather than give up on torrents, PIA set up a "double VPN" so torrenting traffic can't be detected when using its servers. In countries like Australia, Italy, and Japan that throttle torrent traffic, PIA's "double VPN" has been hugely successful.
I tested for IP or DNS leaks by connecting to multiple server locations. Fortunately, there wasn't a single issue and PIA passed all tests. The automatic kill switch kicked in when my connection dropped, and I also checked through the detailed settings and changed several, including encryption protocol and leak settings — even when I turned leak protection off, my data was secured by PIA.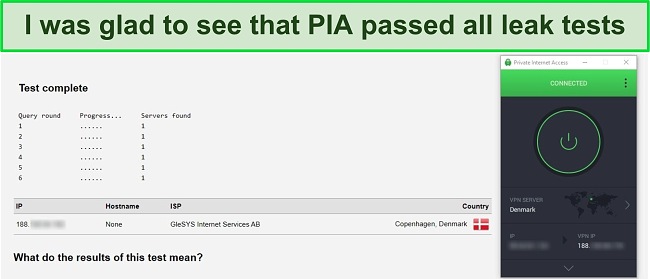 The company is located in the US, which has invasive data collection and surveillance laws — but I didn't find any reason to be concerned. In addition to several subpoenas that revealed no logs stored, the Russian government previously seized PIA's physical servers and couldn't recover any user data. When Russia then passed legislation that VPN providers had to keep logs, PIA simply removed its servers from the country altogether.
That said, I'd still like to see PIA's privacy policy be independently audited to confirm no security vulnerabilities exist within the VPN infrastructure.
You can try PIA's highly secure servers risk-free thanks to its 30-day money-back guarantee. Making a refund request was easy — I contacted an agent through the live chat and gave them my invoice number. They asked if they could troubleshoot any issues, but when I told them I just wanted the refund they immediately processed it. I had the money back in my account in 4 days.
Key Features:
IPVanish maintains an absolute zero-logs policy, meaning it doesn't track anything that users do while connected to a server. This is rare — most VPNs store some user data, like connection timestamps or the amount of data transferred. In its privacy policy, IPVanish states:
IPVanish is a zero-logs VPN service provider, which means that we do not keep a record of any connection, traffic, or activity data in regards to our Services. In general, however, we monitor our Site activity to measure its performance and improve functionality.
In 2016, there were concerns about the company responding to court summons and handing over user information. However, IPVanish was acquired by StackPath in 2017, which performed an independent audit prior to the acquisition. The audit found no record of any logs being kept and IPVanish's primary focus is on maintaining this strict privacy policy.
IPVanish's security is bolstered by military-grade encryption, an automatic kill switch, and leak protection. It passed all the DNS and IP address tests, making it a good choice if you frequently download torrents.
I'd like to see IPVanish undergo a regular third-party audit to cement this user trust going forward, especially as the company is US-based. It's not impossible for a VPN to reliably operate from there, but it definitely raises more questions than data-secure Panama or the British Virgin Islands.
You can connect unlimited devices at once. This is a hugely valuable feature if you have multiple devices that need connecting, or if you want to share a plan with family or friends. I'm also pleased to see that IPVanish has an optional secure cloud storage add-on called SugarSync, which is useful for protecting and storing personal files.
You can try IPVanish for yourself risk-free with the 30-day money-back guarantee. You don't even have to speak to anyone if you want a refund — it's all done through the website.
Key Features:
PrivateVPN owns its server infrastructure in several cities, including New York, Toronto and London. This is a security bonus as it reduces the risk of third-party interference. I ran multiple leak tests on random global servers and I was pleased to find that every server passed.
The company collects a minimal amount of data to provide a good service, while allowing users to remain anonymous. This means PrivateVPN doesn't log browsing history, IP addresses, bandwidth usage or traffic destination. The only information collected related to website analytics (which is standard operating procedure), as well as your login email and password. In its privacy policy, PrivateVPN states the following:
Our main principle is to collect only the minimal data required to provide our Service and for our users to remain as anonymous as possible. It is therefore our policy to not log or store any unnecessary data about our users.

Hence, we do not collect or store logs of your activity, including no logging of browsing history, traffic destination, connection time stamps, DNS queries, IP addresses (neither allocated IP or connected IP), data content or bandwidth.
However, I was disappointed to find PrivateVPN hasn't been independently audited. A regular audit should be a priority if the VPN wants to instill trust in their user base — especially since the company is based in Sweden, which is part of intelligence-sharing alliances and has been making efforts to gather data from tech companies. Fortunately, courts have rejected these regulations, and at present there are no Swedish laws requiring logs to be kept.
You can try PrivateVPN risk-free with the 30-day money-back guarantee. tested this refund policy myself by submitting a ticket. The email reply took a couple of days to arrive, asking for a reason and if they could do anything to improve. I confirmed the cancellation and the money returned within 7 days.
Try PrivateVPN risk-free today!
Key Features:
VyprVPN has an independently audited privacy policy. It was the world's first publicly audited no-log VPN provider (conducted by Leviathan Security Group), showing that it has long been determined to set a high standard for online privacy.
Impressively, VyprVPN has a 100% independently-owned server infrastructure (owned by its parent company) that means they don't rely on third-party operators. This eliminates the risk of malicious outside actors accessing the servers as all maintenance and operation is performed by the company itself.
I closely examined VyprVPN's privacy policy and it states the following:
VyprVPN is a zero log VPN Service. We do not record or retain any data when you use the VyprVPN Service.

We engaged a respected security firm to audit our zero-log policy so users have third party validation of our logging policies.
As you can see, no user data is stored so people can't be identified if a legal request for information is made. Although it's based in the US, the long-standing and full audit gives me confidence that being in the US isn't an issue for the company. VyprVPN's parent company, Golden Frog, was actually founded in response to NSA surveillance of AT&T's networks. This demonstrates VyprVPN's authenticity and passion for data security and user anonymity.
VyprVPN has 700 servers and I tested a random selection for IP and DNS leaks, all of which passed the tests. In addition, I was impressed by the proprietary Chameleon stealth protocol, which allows the servers to get around tricky firewalls and restriction (from Netflix to the Great Firewall of China).
You can try VyprVPN's custom servers risk-free for 30 days with its money-back guarantee. Once I was done testing the service I simply requested a refund through the live chat which was immediately approved. I received the money back within 4 days.
Key Features:
Hide.me has a zero-logs policy regularly audited by an independent company. To date, the audits have confirmed Hide.me doesn't log or store any user data, as clearly written in its privacy policy:
We do NOT keep logs of your VPN sessions, browsing behaviour, websites you visit or any activity related to your VPN connection. In addition we NEVER store VPN connection logs and timestamps that match your incoming and outgoing IP address or session duration.
During my research, I discovered Hide.me owns and operates its own DNS servers which reduces the risk of third-party interference. It also means there's no possibility of data being stored through third-party DNS, guaranteeing your online activity is anonymous. I even checked for DNS and IP leaks to ensure data security and Hide.me kept my information safe and anonymous every time I connected.
Hide.me is based in Malaysia, a country with no data retention laws. Malaysia is also not a part of any intelligence-sharing alliances so there's no need for Hide.me to keep or share data. The company receives requests for data, which are detailed in its comprehensive transparency report — Hide.me responds to every request but as there is no stored data, none is sent.
In terms of performance, Hide.me has a free plan but it only provides 10GB of data per month, 1 device connection, 5 server locations, and no access to streaming platforms. The paid plans are far superior with 2000+ servers in more than 75 countries, access to Netflix and more, and excellent speeds.
You can download Hide.me risk-free as it's backed by a 30-day money-back guarantee.
Key Features:
ZenMate owns all 4700+ servers in its network so you can rest assured no prying eyes or hackers can see what you're doing online. By running its own DNS servers, ZenMate also ensures you won't be bothered by trackers and ads when you're browsing online as no-one can trace your activity. However, ZenMate hasn't undergone an independent audit to verify its no-logs policy — I'd like to see an audit take place to guarantee data security.
ZenMate's DNS and IP leak test results were excellent, keeping my data anonymous while I was connected. I was also pleased to see the app features a built-in blocker against ads and malware, as well as a kill switch to protect your data. However, these features are only available on its Windows app — so you may find you're not fully protected if you're using a different platform.
Considering ZenMate claims a zero-logs policy, the service logs a surprising amount of user data. Information like your email address and payment details are kept for account maintenance, but ZenMate also logs items like your browser, the OS you're using, and your internet service provider. In its privacy policy, ZenMate states that it will use this information to comply with law enforcement authorities in case of a cyberattack.
However, when you're connected to its VPN servers, ZenMate claims:
The above-mentioned Personal Data is not, at any point, associated with any kind of activity done by the user inside the ZenMate VPN tunnel, which is NOT recorded, logged or stored at all.
You can test ZenMate yourself risk-free for 30 days and see if it's right for you.
Key Features:
TunnelBear is one of the few privacy-friendly VPNs with free and paid plans available. It has military-grade encryption and it passed all DNS and IP leak tests I ran. You can even use the specialty GhostBear mode to obfuscate your VPN traffic, which is useful for accessing streaming sites and bypassing firewalls.
I was a little concerned to discover TunnelBear is based in Canada, a country involved with the 5, 9, and 14 Eyes Alliances. However, having seen the results of TunnelBear's audits (and no data stored on its servers), I have no doubts that this location doesn't pose an issue for user privacy.
TunnelBear has undertaken a yearly independent audit (using the reputable Cure53 auditing company) since 2016. These extensive and thorough audits have consistently shown that TunnelBear doesn't log any user data while the VPN connection is active, proving what TunnelBear states in its privacy policy:
TunnelBear explicitly does NOT collect, store or log the following data:

IP addresses visiting our website
IP addresses upon service connection
DNS Queries while connected
Any information about the applications, services or websites our users use while connected to our Service.
TunnelBear does log user data beyond standard account maintenance. It allows 3 third-party companies to store cookies in your browser for up to 2 years, plus records your browser, operating system, and the amount of data you use.
If you want a free VPN, TunnelBear is one of the best out there. You can download TunnelBear for free and use it alongside a trustworthy ad blocker for improved data security.
Comparison Table: 2022's Best No-Logs VPNs Ranked
A quality VPN should keep your personal data as anonymous as possible — below is a table showing you what each VPN keeps private (or doesn't).
Privacy Warning! These VPNs Track and Log Your Online Activity
What Is a No-Logs VPN (and Why Is it Important)?
One of the main benefits of using a VPN is online anonymity. When you connect to a VPN, your traffic is encrypted and your internet service provider (ISP) can no longer see your online activity. However, your VPN still can and if they keep logs, you're effectively trading one set of eyes for another.
If your VPN logs data but is based in a country that is friendly to online privacy (also known as a "privacy haven"), you probably don't have much to worry about. However, if a VPN is based in a country that's part of the 5/9/14-Eyes Alliance, surveillance agencies could easily access your browsing activity. This is why using a proven no-logs VPN is so important.
A no-logs VPN doesn't keep any records of your online activity, including your IP address, server choice, and websites you visit. This means that even if the VPN is located in a 5/9/14 Eyes Alliance country, it would have no information to pass onto the authorities. You'll also be protected against hackers, as there would be no sensitive data for them to steal in the event they hacked the VPN's network.
While there are a number of VPNs you can trust, ExpressVPN is an ideal provider because it's a no-logs VPN based in a country outside of the 5, 9, and 14 Eyes Alliance. You can even buy ExpressVPN in confidence with its 30-day money-back guarantee. If you're not satisfied with it, you have up to 30 days to request a refund.
How I Tested Each VPN for Privacy and Anonymity
These are the criteria I used test the leading VPNs in 2022:
Privacy policy — I want to see a privacy policy that has been independently audited to ensure the functionality of the no-logs policy.
Servers — I prefer to see RAM-based servers for their inherent security, and at least partially independently-owned servers for the added security.
Company headquarters — Headquarters should be located in a country with strong data protection and privacy laws, preferably outside the jurisdiction of the 5, 9 and 14 Eyes groups.
Independent audits — I've given special consideration to companies that have undergone independent audits through a third-party agency, as it tells me that the VPN is confident in its no-logs policy.
Leak protection — I test numerous different servers for leaks to ensure your original IP and DNS addresses can't be observed and traced back to you.
Strong encryption — All VPNs on my list provide 256-bit encryption to ensure top-level security and privacy.
Secure payment methods — You should be able to pay with anonymous methods like gift cards or cryptocurrency.
Browse anonymously with ExpressVPN
FAQs: No-Log VPN Services
Do VPNs keep logs?
The unfortunate truth is that some VPNs do keep logs. Generally speaking, you should avoid free VPNs that log your data (and sell it!) since they have limited revenue streams. This includes data such as connection timestamps, bandwidth usage, IP address, and even browsing activity. To save you time, I tested and shortlisted the best no-logs VPNs in 2022.
What are VPN logs?
VPN logs are any data recorded while you're connected to a VPN service. While there are a number of VPNs that don't keep logs at all, the sad truth is many others do. The types of logs a VPN keeps can be broken into a few different categories, of varying levels of concern:
Online activity — Any data related to what you do online, including your browsing history, purchases, search queries, and more. If a VPN logs your online activity, it's essentially spying on you and should be avoided at all costs.
Identifying metadata — Includes data that could be used to identify you, including your original IP address, connection timestamps, and the IP addresses of servers you connect to. These logs aren't as dangerous as online activity logs, but are still worth avoiding.
Diagnostic logs — Includes data such as connection dates, bandwidth use, and last location connected to. Many VPNs will log this type of data in the interest of maintenance and optimization. Since this data cannot be used to track or identify you, it's of minimal privacy concern.
Ideally, you want to avoid VPNs that log your online activity and identifying metadata. ExpressVPN is a proven no-logs VPN you can trust — the only data it stores is your email address and payment information (and you can even bypass the latter by using an untraceable payment method like cryptocurrency).
How do I know if my VPN keeps logs?
While it's difficult to know with 100% certainty, I rigorously tested all the leading VPNs to identify the top no-logs VPNs (and which services do keep logs!). I checked each VPNs operating methods, general infrastructure, independent audits, and company headquarters.
Not all VPNs meet all criteria. However, through research I've found that ExpressVPN is the top choice for a no-logs VPN. It's privacy policy has been independently audited and the company is based outside of intelligence-sharing alliance countries. Plus, ExpressVPN's TrustedServer technology means data cannot be stored on its servers as they are completely wiped when rebooted.
What's the best no-logs VPN?
Based on my tests, the best no-logs VPN is ExpressVPN. It is independently audited, has secure server infrastructure, and is based in the British Virgin Islands — away from countries with draconian data gathering laws. ExpressVPN also has a huge selection of servers around the world which offer fantastic speeds and access to global online content.
Why should I use a VPN with no logs?
In short, it keeps your data and yourself secure online. Otherwise, a VPN can see everything you're doing online and tie it to your real identity. This completely negates the purpose of using a VPN in the first place as your internet browsing habits are completely exposed to your Internet Service Provider (ISP), hackers, and advertisers.
Are there any free no-logs VPNs?
Thankfully, there are a few trustworthy free VPNs that are worth your time. Unfortunately, the majority of free VPNs rely on data-logging to make up for the fact you're not paying any money. Some of the worst offenders will then turn around and secretly sell your private data to third parties — it could be anyone from advertisers to hackers.
As tempting as a free VPN is, you're better off subscribing to a premium VPN with a money-back guarantee. You won't have to suffer through any restrictions, your private data will be safe, and you can get a full refund after signing up. For example, you can use CyberGhost for free for 45 days by taking advantage of its money-back guarantee.
Stay Anonymous Online With a No-Logs VPN
Your online activity can be easily picked up by a number of unwanted parties if you're not using a VPN (or even the wrong VPN). This could put your personal information at risk in real life. That's why it's crucial to choose a VPN with a highly-secure server infrastructure and confirmed no-logs policy.
Based on research and tests, ExpressVPN is the best no-logs VPN in 2022. It has an audited privacy policy, RAM-based servers, in-built privacy tools, and powerful security measures in place. It's even backed by a 30-day money-back guarantee — this allows you to download and try ExpressVPN without any risk as you can get a refund if you're not satisfied. I tested the money-back guarantee myself to make sure it works, and I got a full refund in less than a week.
---
Summary — The Best No-Logs VPNs in 2022