Here are the Top 5 No Log VPNs for 2021

Last Updated by Thalia Oosthuizen on January 08, 2021
There are many reasons that people use a VPN, such as bypassing geo blocked content and censors. A majority of users use a VPN because of the anonymity they believe it gives them while online.
If you are looking to have a secure and private online experience, you need a 'no-logs' VPN. Sadly, there are many VPNs that state they do not store logs when they do. It is also a term that can be confusing to users who are new to VPNs (if you're not sure what a no log VPN is, click on the link above for a detailed description of the different kinds of logs)
There is a lot of confusion when it comes to logs and what information a no log VPN will keep. For example, every VPN will need to store your login information and payment methods (if you have one). Most VPNs also have some tracking cookies that they keep to improve user experiences. These cookies are non-identifiable and won't comprmise your privacy or security.
The logs to watch our are Usage Logs, this shows what sites you go, track your IP address and more. When choosing a VPN, you'll make sure that they don't keep these logs at all.
5 Best No-Logs VPNS
We have spent many hours researching the very best VPNs that provide you with great privacy and do not log your information. Here are our 5 best no-log VPNs for privacy-conscious users who want VPNs that stick to their no-logs policies.

No connection or usage logs – best for privacy
Server locations: 148 | Number of servers: 2000+ | Supported devices: 3
✓ Brilliant server coverage
✓ High speed connections
✗ Only 3 supported devices
✗ Not the most cost effective
If you are looking for a cross between fast speed and privacy, then ExpressVPN is the top choice. This VPN has some great high speed servers in their network which includes 148 locations. With regards to software, you get applications and browser extensions for all the major platforms. The native clients are user-friendly and intuitive, with basic and advanced options, allowing all kinds of users to use this VPN to its full potential.
The privacy policy is a big plus. They do log some session data such as choice of server, connection dates, and data transferred. But they do not collect any information with regards to your IP address or connection times, so your anonymity is protected.

ExpressVPN doesn't have any identifiable information to hand over to authorities
ExpressVPN's no log policy was put to the test in early 2017 when Turkish officials seized their servers in attempt to track a person of interest. Their search came up empty, as there was no logs or information on the seized servers.
This premium VPN service does come with a premium price, and ExpressVPN is one of the more costly services and they do not have a free trial. However, they do offer a 30 day money back guarantee which gives some reassurance. There are three price plans available, with the 12 month subscription being the best option as 3 extra months are thrown in for free.

Brilliant option for multiple devices
Server locations: 62 | Number of servers: 4641 | Supported devices: 6
✓ Strong encryption
✓ Up to 6 simultaneous devices
✗ Limited servers in Africa
✗ The Chrome extension is a Proxy server and not VPN
This Panama-based VPN service is a great choice for privacy fanatics as its location places it outside the influence of copyright holders and the NSA. Not only does it have a no-logs policy, but it also has excellent encryption, so you can rest assured that your anonymity is safe. NordVPN supports 'double hop' VPN chains which route your traffic through two different servers instead of just one.
NordVPN's privacy policy is very clear, they understand that users are trusting them with their privacy, and they promise not to let you down.

An excerpt from the NordVPN Privacy Policy
NordVPN has a few speed issues sometimes, but there are several fast servers that can be found through trial and error. But what you do get with NordVPN is a privacy friendly VPN with many great features. It allows P2P sharing and it supports obfsproxy technology.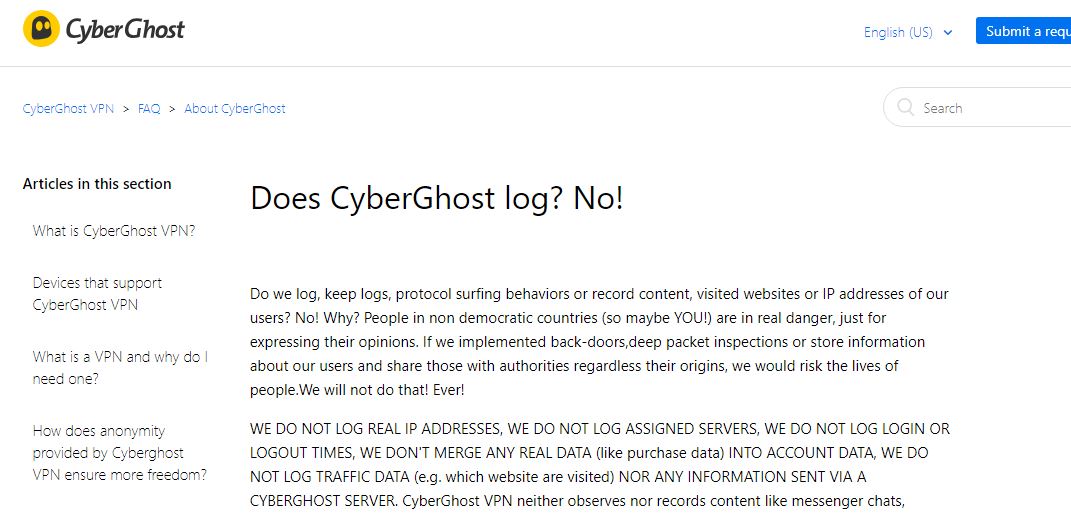 Great performance at an even better price
Server locations: 60+ | Number of servers: 1300+ | Supported devices: 7
✓ Includes kill switch
✓ User profiles based on activities
✗ Can't be used reliably for Netflix
✗ No VPN browser extensions
The CyberGhost privacy policy is pretty clear. They do not store any identifiable logs, and they won't sell any of your data to a third party.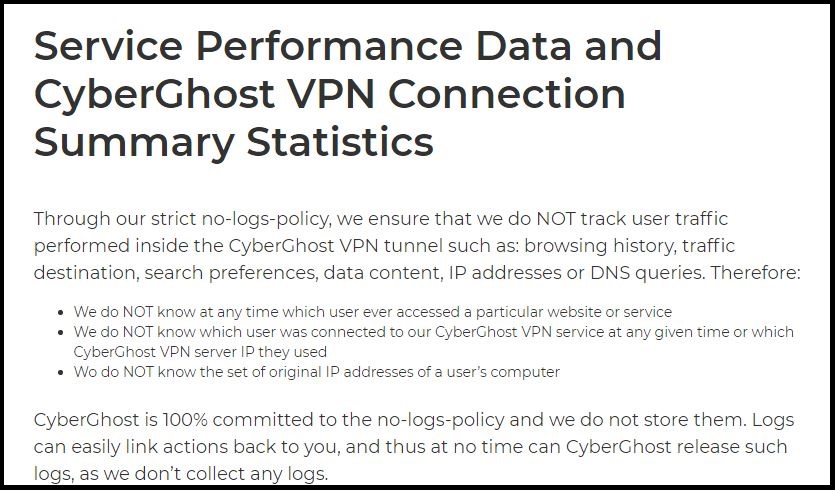 When you open the program, you can select from different activities, such as streaming videos, downloading torrents, or accessing content the internet anonymously. Based on your selection, the VPN personalizes your settings to optimize the VPN connection. This assists you in getting the VPN program to work properly.
The VPN app self-installs and there are versions for Windows, iOs, Mac OS C, and Android. You can set up this VPN program on your router, set-top box, and Linux. The software offers a high-speed connection that is great at bypassing regional blocks without keeping logs. But it isn't able to access Netflix.
You get access to CyberGhost's extra security software, including an immunizer that protects you from ransomware. The app has Wi-Fi protection which stores your trusted hotspot settings. The program uses a 256-bit AES encryption system, creating a private, secure data connection.

A great VPN for newbies to VPNs
Server locations: 20+ | Number of servers: 1000 | Supported devices: 5
✓ Very easy to use
✓ Free plan available
✗ Few lower-level settings or options
✗ Lacks long-distance performance
TunnelBear could not be simpler to use. All you need is an email address to start using this VPN, and the service offers a free plan. The native clients are easy to use and there are browser extensions available for major platforms. The focus is on simplicity, so there isn't a great deal of customizability in the settings. The performance levels are fast on shorter hops; however, they are not great over long distance connections.
Other than needing an email address to get started, this VPN provider does not require or record any other data about the services and websites you access online. They also do not store your session data.
Despite being located in Canada, a member of the Five Eyes alliance, TunnelBear's privacy policy makes it clear that they have no usage logs to turn should they be subpoenaed.

The free plan only allows you 500MB per month, which is quite restrictive, but its main purpose is for you to test the VPN to test if you like it. However, if you tag TunnelBear in a tweet, you receive an additional 1GB of data.

An awesome option for Kodi and P2P sharing
Server locations: 60+ | Number of servers: 1000+ | Supported devices: 10
✓ High-speed performance
✓ Customizable software
✗ The Windows client needs improvement
✗ No free trial
Our team had a big debate whether to include IPVanish on this list of best no log VPNs. This company has been in the news a lot recently when it came out that they did in fact turn over logs in 2016 when the US Homeland Security was investigating someone who used IPVanish.
Since then the company has undergone a change in ownership, when it was bought by StackPath, and the new CEO is adamant that whatever happened in the past was under the old regime. Under his leadership, users will enjoy privacy and they will uphold their no logs guarantee.

IPVanish's CEO Lance Crosby responding to critics on Reddit
The company is working hard to rebuild their reputationand prove to users that they don't store any logs. Since they are being extra vigilant in their pursuit of privacy we decided to include them here at number five. But if there is even a hint of a scandal or investigation with IPVanish attached, we will make sure to drop them from the list and let you know.
You can take a look at the IPVanish privacy policy and see for yourself just what information this US Based VPN will or will not collect.

If you would like performance as well as power from a VPN, as well as high levels of privacy, IPVanish is just what you are looking for. This VPN service ticks all the boxes – it has configurable desktop and mobile clients, high-speed performance, a commendable and clear no-logs policy, and tight security.
The native clients have awesome features that are highly customizable too, including a mode for users who are new to VPN who don't want to fuss with the settings. The Windows client needs some improvement as it does have a network issue when using it when other VPNs are also installed.
The VPN provider does not store any logs and states clearly in their privacy policy that they do not log any of your session data.
IPVanish doesn't have a free trial and their subscription prices are slightly higher than the average, but you are getting great performance and features that make the cost worth it. The annual subscription is good value-for-money.
Final Thoughts
Using a VPN service can offer you a great deal in terms of privacy and security when using the internet while having a minimal impact on your online experience. Having robust no-logs policies are the mark of a VPN service's commitment to respecting their users' privacy.
If you are using a VPN to maintain your privacy and anonymity, selecting a great 'no-logs' VPN is the way to go. Any of the above 5 best no-logs VPNs will give you just what you are looking for.