Is DuckDuckGo Good Enough for Protecting Online Privacy?
Last Updated by Kate Hawkins on October 16, 2021
You probably use DuckDuckGo because you care about your privacy. The thing is, although this browser is better than Chrome in terms of securing your data, it won't give you the full coverage you want.
If you want to protect your data while browsing, keep your privacy, and mask your search result, the ultimate way to do it is to use DuckDuckGo with a VPN.
I tested over a dozen VPNs to help you find the best services to use with DuckDuckGo. Each of my recommended VPNs offer a money-back guarantee, so you can try every feature for yourself before you commit.
Stay anonymous online with ExpressVPN
2 Best VPNs to Use With DuckDuckGo
Key Features:
3,000+ servers in 94 countries
Best-in-class encryption
TrustedServer technology guarantees strict zero-log policy
Protects up to 5 devices at the same time
30-day money-back guarantee
With ExpressVPN, zero-logs really means no logs at all. Its TrustedServer technology runs the VPN on RAM, which wipes all data with every reboot. When browsing with DuckDuckGo and ExpressVPN, you can be confident that your online activity is completely anonymous.
Combined with best-in-class encryption, DNS leak protection, and an automatic kill switch, ExpressVPN prioritizes your data security whenever you're online.
In apps settings under the protocol tab, you'll see that you can choose from 3 different protocols for extra security: Point-to-Point Tunneling Protocol (PPTP), Layer 2 Tunnel Protocol (L2TP), and OpenVPN (UDP and TCP). Every time you connect to a server, ExpressVPN automatically connects you to the protocol best for your network, but you can also choose manually.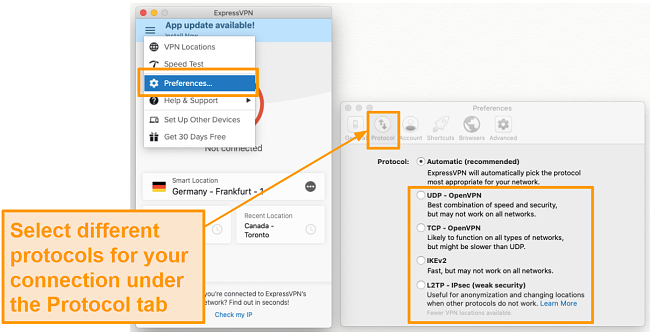 ExpressVPN's security features won't compromise server speeds either. When I tested some of its servers, my speeds dropped a little — it didn't affect my browsing experience. My average download speed was still over 44.16Mbps, only about 5Mbps slower than my base speed.
ExpressVPN gives you 30 days to try its service. You can request a full refund over live chat with its "no questions asked" return policy.
Key Features:
5,800+ servers in 90 countries
256-bit encryption and NoSpy servers
Zero-logs policy
Connect up to 7 devices simultaneously
45-day money-back guarantee
CyberGhost's NoSpy servers in Romania make it a great option to use with DuckDuckGo. Romania is outside the 14 Eyes Alliances — groups of countries that share intelligence and access your online activity. This means CyberGhost is not required to keep any logs. With NoSpy servers owned and managed only by CyberGhost, you can make truly anonymous connections.
CyberGhost also offers extra security features to keep your personal data safe. DNS and IP leak protection prevent your data from being seen by websites or prying eyes, and an automatic kill switch protects you if the connection drops.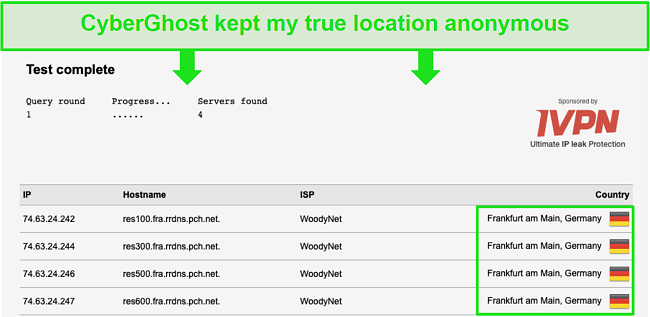 When I tested CyberGhost's server performance, I could always find a reliable connection for downloading, streaming, or torrenting. Some servers were slower than my usual ISP connection, but the drop didn't make a noticeable difference to my DuckDuckGo searches.
CyberGhost offers a 45-day money-back guarantee, which gives you more than a month to try every feature before you commit to a subscription.
Common FAQs About DuckDuckGo
Should I use DuckDuckGo with a VPN?
DuckDuckGo is great for keeping your search data secure, but it doesn't give you the full coverage you need. While it doesn't track your online activity, you're only protected when you're on DuckDuckGo — not when you're browsing a new site. When you use a VPN, everything you do online is encrypted. As soon as you connect to a VPN server, your personal data is secure.
A VPN will even let you bypass location restrictions and access blocked content like Netflix US — something DuckDuckGo can't do even though it hides your IP address.
If you want to guarantee your data security and access the internet freely, you should use a VPN. Although premium VPNs are the most trustworthy, there are a few good free VPNs available — but they come with data restrictions.
Stay secure with a premium VPN
Is DuckDuckGo legal to use?
Important! If you use DuckDuckGo in a country with heavy internet censorship and surveillance, be careful. While you probably won't face legal issues, you could be fined if you're found using a censored search engine.
DuckDuckGo is legal in countries with internet freedom — but it's blocked in countries with strict censorship. This search engine is fully GDPR compliant as of May 2018. GDPR compliance ensures data protection and online privacy for people in the European Union. However, in places like China, you could face fines if it's discovered that you're using a censored search engine.
If you're in a country with limited internet freedom, the only way you'll be able to use the search engine is if you also use a VPN.
Bypass internet restrictions with ExpressVPN!
What does DuckDuckGo do?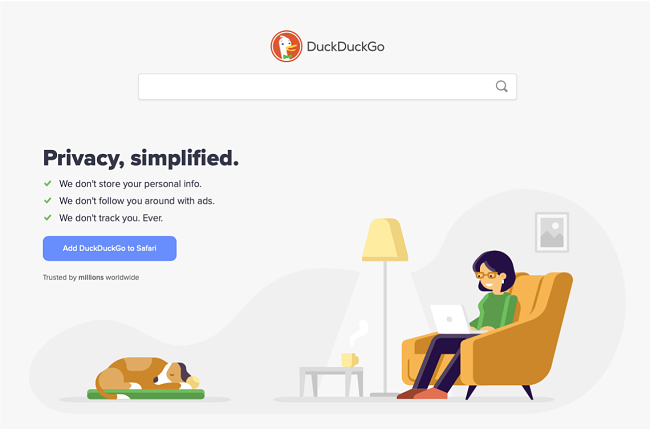 DuckDuckGo doesn't use cookies to follow you (or target you for ads), and it doesn't collect any personal information. It hides your IP address from both the search engine and any spying eyes.
Unlike other search engines, DuckDuckGo prioritizes your anonymity when you're using its private mode. With a normal search engine like Google, when you click a link (even in "incognito mode") your search terms are sent to the site you visit in the HTTP referer header. Your computer automatically shares the information, including data like your IP address — which is then used to identify you.
With DuckDuckGo, when you're redirected, your search terms are kept hidden. The site associated with the search result you clicked on knows you've visited it, but not the search you used to get there or any other identifying information.
Prioritize Your Data Security With DuckDuckGo and a VPN
You may think your data is secure when you use DuckDuckGo — but it's not. You're only truly secure when you use a VPN alongside DuckDuckGo.
A VPN will do a lot more than help you stay anonymous online. With a service like ExpressVPN you can access restricted content like Netflix and stream tv shows and movies, and much more!
I handpicked the best VPNs to use with DuckDuckGo and they all have comprehensive money-back guarantees. You can try them for yourself risk-free to make sure they're right for you, all while keeping your personal data safe.