FlixTor is Back: We Review the Free Streaming TV and Movie Site
Last Updated by John Bennet on June 07, 2021
FlixTor is an open source, multi-platform BitTorrent service with an integrated media player which is available online, or as a client app available at GitHub.
It's a free alternative to subscription streaming services like Netflix, and it's similar to Popcorn Time and Putlocker. Although the site endured being offline for some months during the end of 2018 and the beginning of 2019; it is now fully up and running again.
The program was developed in just five days; with the creators aiming to take advantage of an uncertain period for Popcorn Time, with the popular torrenting site down. During the time, FlixTor were able to amass a large customer base, with many users preferring it.
FlixTor.to
The webpage is divided into Home, Movies, TV Shows, TV episodes, My Lists, and VIP Menu tabs. Each page is populated with available streams and can be sorted by a number of preferred values like Most Popular, Recommended, etc.
Any available stream will automatically play on the integrated media player after you select it, and the service is compatible with all current browsers, although Chrome, Firefox, and Opera, are recommended for optimum performance.
Using FlixTor on Your Desktop
If you're familiar with Popcorn Time, you'll recognize the similarities between it and the FlixTor client app. The most significant difference with FlixTor is you get to choose your torrent source, which allows you to pick the best movie quality available.
You can choose to stream using the integrated media player, or you can stream on an external player like VLC. VLC is recommended because it's compatible with so many media files, and since FlixTor scours various sources, this can result in more successful streams.
Using FlixTor with Android
FlixTor's USP is the dedicated Android client app, and Chromecast support, so an increased user-base has a more flexible service that more likely to be used at home. The only feature not currently supported with Android is subtitling, but hopefully, the service will continue to develop.
Again, you can stream using the integrated player or a third-party app, and the simple interface provides access to the quality and size of whichever stream you select.
Becoming a VIP User
FlixTor is a free service, but they do accept donations. Non-paying subscribers do have to endure some ads, and if you want to get rid of them, you do need to put your hands in your pockets to upgrade to a VIP membership.
Aside from the ads, there's some restrictions on content, and the full, up to date library isn't available unless you're a VIP member. If you're a fan of the service, it might be worth considering making a donation to help fund the project and keep it running.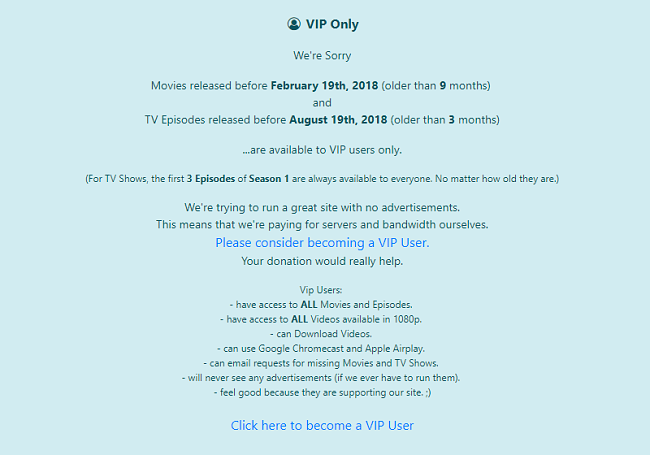 VIP payment is
not a recurring fee;
you pay once for a specific period, and if you want to sign up again once your subscription expires then you are entirely free to do so. You won't need to set up any direct debits or worry about available funds at any time, and it's possible to subscribe for the shortest period available to download as much content as you want.
Do You Need a VPN to Stream with FlixTor?
The FlixTor FAQ states that the company completely respects the privacy of its users, doesn't store any logs, and is secure.
However, it's always recommended to use a VPN like ExpressVPN or CyberGhost VPN, when streaming or torrenting is concerned.

It's best practice to mitigate all risk and protect your privacy, browse anonymously, and obscure your IP address, as to avoid potential repercussions related to online threats, like malware.
As a VPN facilitates an encrypted, secure connection to the internet, you remain protected at all times.
Is Using FlixTor Legal?
You can get into legal trouble for watching copyrighted content on FlixTor and depending on your country, for accessing FlixTor itself.
My team and I don't condone illegal activities, but it's important to know how to access the site safely, especially if you're in law enforcement or researching the app for work. Make sure the content you access is copyright-free, and use a VPN to keep your personal data and identity safe from third-party hackers, fellow peers, and advertisers on the site.