3 Steps to Stream The Hills: New Beginnings from Anywhere
Last Updated by Adam Wagner on June 22, 2022
Whether you've been watching since the beginning, or you're new to the show, the cast of The Hills has an undeniable draw. Since 2006, Spencer, Heidi, Audrina, Whitney, and the rest of the crew have kept millions of people glued to their television screens. And now, MTV has brought them back, giving you a chance to get a glimpse into their lives once more.
From conflicts with Perez Hilton, to pool party's and reunions, New Beginnings shouldn't be missed. While Laura Conrad may be gone, the rest of the crew's drama-packed lives are sure to entertain. The best part is, you can stream the show through MTV's website without paying a thing–as long as you're in the US that is.
If you're not an American, this can be a bit disheartening. But don't worry, we've got your back. Using a VPN you can get around this block and be watching The Hills: New Beginnings in a matter of minutes!
Quick Guide to Watching The Hills: New Beginnings on MTV.com
If you don't have time to read a whole article, and need to catch up with Heidi, Spencer Audrina, and the rest of the cast as quickly as possible, follow these steps. However, for a more in-depth guide, keep scrolling down!
Get a VPN. Our top recommendation is for ExpressVPN, it has excellent speeds and can access MTV.com from anywhere. Try ExpressVPN risk-free with its 30-day money-back guarantee.
Connect to a server that's located within the US
Go to MTV.com, choose an episode, and enjoy!
Start Watching The Hills: New Beginning Today!
Extended Guide to Watching The Hills: New Beginnings from Anywhere
Accessing all the latest episodes of The Hills: New Beginnings can be done by following these three easy steps.
Step One
If you're located in a country other than the US, you're going to need a VPN to stream The Hills: New Beginnings.
While there are a ton of these services, you should stick to a quality one–like ExpressVPN–to keep your internet running smoothly and avoid any annoying buffering.
If you're not sure which VPN to choose, you can check out our top recommendations below.
Step Two
Next, you'll want to connect to a server within the US. Depending on the VPN you use, you may have thousands of different locations to pick from.
Since it doesn't really matter where in the US the server is located, you should just connect to the fastest one you can find. Any quality VPN service should list the connection speeds of all of the available servers.
Step Three
Once you're connected to an American server, you can access all the latest episodes through MTV's website.
New episodes become available after they've aired on the network.
Start Watching The Hills: New Beginning Today!
Can You Really Watch The Hills: New Beginnings for Free?
All episodes of The Hills: New Beginning are available, for free, through MTV's website. While watching them doesn't require a subscription you will need a US IP address and you're good to go.
While you may need to pay for a VPN–if you want a good one that is–you can still avoid any costs by taking advantage of the money-back guarantees or free trial periods, that most offer. This may not be the greatest long-term solution, but it'll still get you access to The Hills without having to drop any cash.
The Best VPNs for Streaming The Hills: New Beginnings
We know that searching through the endless number of VPNs that are available can be a little overwhelming. While many of these services are great for streaming, there's an equal number of them that are totally useless. So, to make things a bit easier on you, we went ahead and listed the best VPNs for streaming below.
1. ExpressVPN – The Fastest for Streaming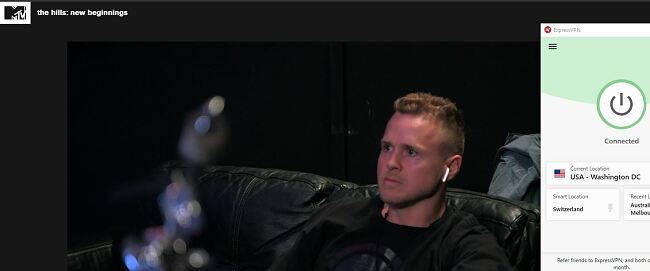 As far as VPNs go, ExpressVPN is tough to beat. This service offers some of the fastest speeds available, as well as top-notch security. With ExpressVPN, you can easily trick pretty much every streaming service out there, and access content from all around the world. It may not be the cheapest, but as the saying goes, you get what you pay for.
If you'd like to give ExpressVPN a try, you can do it, risk-free with the 30-day money-back guarantee.
Start Watching The Hills: New Beginning Today!
2. CyberGhost – Server optimized to stream MTV

Even though CyberGhost may not be as well-known as ExpressVPN, it's still an awesome service. On top of being able to stream MTV, or anything else you'd like, CyberGhost also includes ad and malware blockers. So for top-notch protection and streaming, CyberGhost is a great choice.
At 45-days, CyberGhost offers one of the longest money-back guarantees available. So you'll have plenty of time to figure out whether or not the service is right for you before you commit.
Start Watching The Hills: New Beginning Today!
Why Do You Need a VPN?
The reason that VPNs are necessary to stream shows like The Hills: New Beginnings is because of something called a geo-restriction. These restrictions are used to limit access to certain content based on your geographical location. As far as streaming content goes, geo-restrictions are usually in place due to licensing or copyright issues.
Without a VPN you'll receive an error message that says "Sorry, This video is unavailable due to rights or restrictions."

If you try watching The Hills: New Beginnings from outside the US without a VPN you'll get this error message
When you're not using a VPN, all the sites and online services you use can figure out your location through your IP address. But with a VPN, all of your traffic is encrypted and rerouted through a server that's someplace else. This effectively hides your real IP address and can fool streaming services into believing you're located in whatever country you'd like.
VPNs also help to increase your online security. Using one will hide your internet activity from any prying eyes, such as your ISP, the government, or malicious parties, such as hackers. So even if you're not interested in streaming, it's still a good idea to use a VPN when surfing the web.
Don't Miss Any of the Drama!
So that's it! Now you have all the information needed to stream The Hills: New Beginnings, as well as just about any other geo-restricted content you'd like.
So if you just have to know how the lives of your favorite Los Angeles residents have evolved, now you can catch up with them no matter where you are. While it may have been a while since you were last able to peak into their glamorous lives, trust us when we say that they're just as entertaining as ever!