Can You Really Stream In HD With A VPN?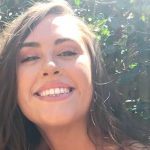 Last Updated by Mackenzie Pringle on February 21, 2019
When using a VPN your Internet speeds will inevitably slow down because as you activate your VPN, it will send your data through encrypted tunnels before reaching the internet. This process does take slightly longer to complete, which is why you may notice a difference in your download and upload speeds while using a VPN.

Many people worry that this means they will have to suffer through incredibly slow speeds and can no longer enjoy streaming their favorite shows as the video quality will be subpar.
We're here to disprove that, as depending on your VPN, you can actually watch whatever you want and in HD quality.
The Short Answer
Can you really stream in HD when using a VPN? Yes, you can.
Streaming in HD while using a VPN, to keep your identity and personal information private and secure, is absolutely possible, however this all depends on your provider and the quality of service they uphold.
With a premium VPN service you should have no issue streaming any of your favorite shows or movies in brilliant high definition. A great VPN service should make it their mission to ensure that the inevitably slower speeds caused by using a VPN go by completely unnoticed for its users.
The VPN Slowdown
Unfortunately, there isn't a whole lot we control when it comes down to the way VPN services slow down your overall connection speed. However there are a few external factors that we can impact and change to increase that speed, as some variables will affect how fast your data transfers are.
Consumers often forget to consider what their current Internet Service Provider (ISP) connection speed is and it's important to remember that if you originally have slow internet in your area, then using a VPN might not be the cause of your streaming issues. If slow speeds in your area is the true root of the problem, then there's the possibility that downloading a VPN is only going aggravate this.
With that in mind, if your ISP is throttling the bandwidth intentionally, then a VPN may in fact speed up your connection. By connecting through your VPN and a server that might not have the same limitations, instead of using your local ISP servers which are throttled back, your speeds could soar and then you'll have no struggle when it comes to watching your favorite shows and movies in HD.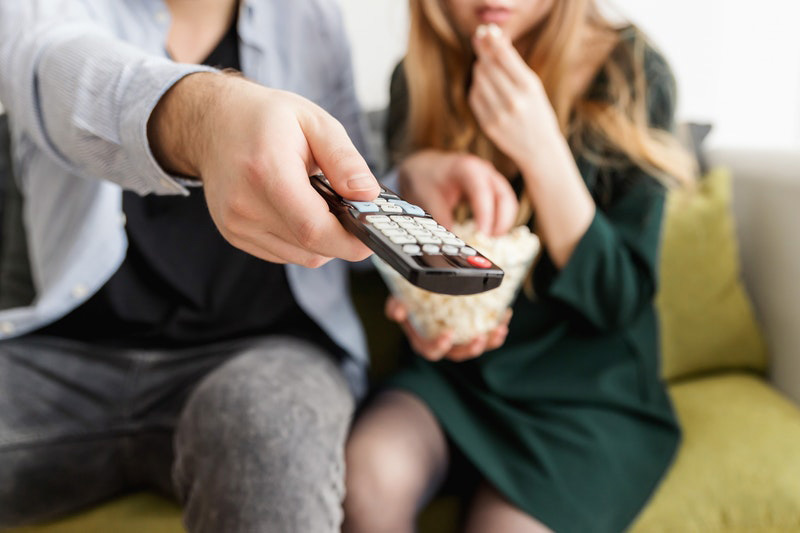 While a VPN can help you get around throttled bandwidth,
make sure you're always choosing a server nearby as the larger the distance is from your computer to the VPN server the more your speed will decrease
. A closer server shortens the distance the data travels, therefore increasing the rate at which you can use the internet.
Another important factor to consider is the load of the server because the busier a server is, the more the speed drops. When larger numbers of people access a single server, it will respond slower to commands and data transfers. Some VPN providers will allow users to see how full each of their servers are and offer a list of options for you to choose a different connection. There are also services available that will instantly find and connect to the best server available to you, taking out all the fuss.
Streaming in HD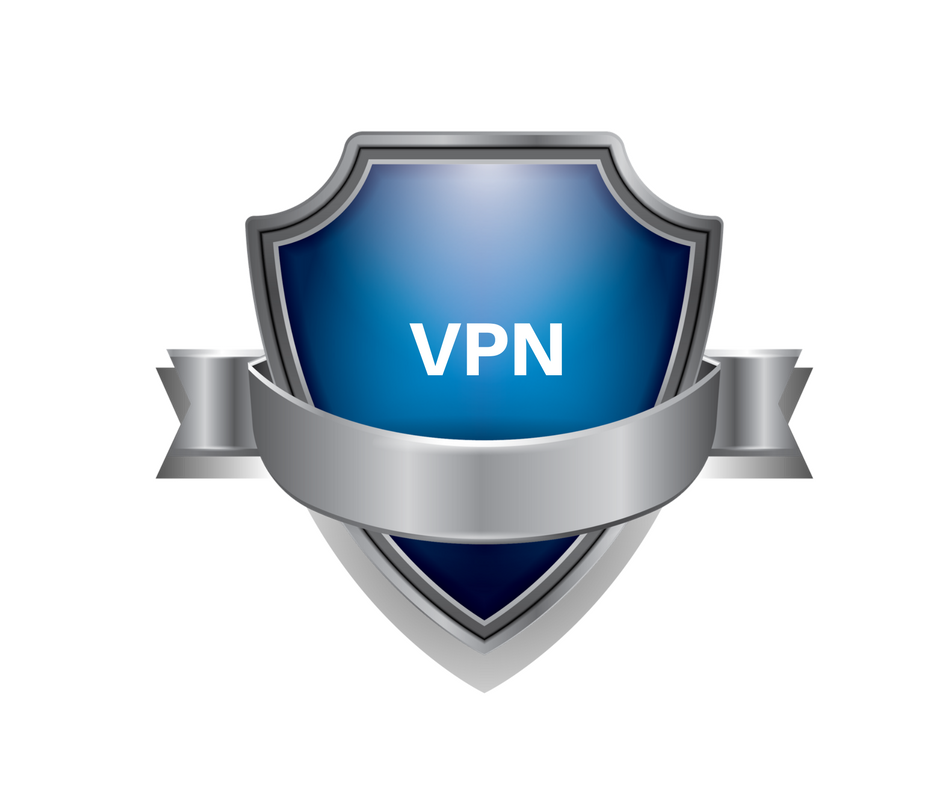 You may think that
streaming in HD
would be impossible with a VPN if using one is highly likely to hinder your speeds and for some VPNs this is most certainly true. However, if you do some digging there are a few select services that are dedicated to making their VPN work with as little slowdown as possible.
Such VPNs are at the top of the market
, not only for their incredibly fast speeds, but also for other important features like privacy and security.
One of the most common applications of a VPN is for streaming shows and movies from platforms like Netflix, Amazon Prime Video, Hulu, and BBC iPlayer. If these VPNs weren't going to create or allow for an enjoyable streaming experience then it's unlikely that they would have taken off as well as they have.
The VPN business is also highly competitive in nature with thousands of options available, so to stand out from the crowd premium providers must impress their users with features the smaller VPNs simply cannot achieve.
To stay ahead of the game, these services have improved their speeds so that users are able to stream their favorite tv shows and movies in HD quality. The last thing these VPNs want is to be discouraging you from using their service, so they are committed to making your experience easy and enjoyable.
Other Useful Features of VPNs
VPNs are capable of incredible things and they have designed some wonderful features for your convenience. VPNs are more advantageous than you think, here are just some of their other uses.
Accessing geo-blocked content:
Not only do VPNs allow you to stream your favorite local shows in HD, but they also provide you with the opportunity to access streaming sites from all over the globe. They can sneak past the tricky geo-barriers put in place by big streaming companies like Netflix and Hulu and gain you access to massive libraries full of shows, so you can always stay entertained.
Anonymity and protection:
If you like streaming shows from less popular sites, then it's a smart move to use a VPN while you're doing so. As these websites have a higher chance of containing malicious content that could affect your computer and potentially give access to hackers and cybercriminals, its vital that you use a VPN so that your sensitive and personal information is kept safe from prying eyes.
Great for travelling:
If you're always on the road, a VPN can be a great way to connect to the internet, as it will allow you to use it like you would at home. No matter where you are in the world, a VPN will allow you to access all of your regular sites from Netflix to social media accounts. This means you'll never miss out on the newest episodes and latest releases of popular shows and movies, even if you're on the other side of the world.
Best VPNs For HD Streaming
When choosing a VPN for streaming media, you need to make sure that the service won't be restricting your bandwidth or speeds as this will further slow your connection. The following VPNs are the best services for streaming in high definition.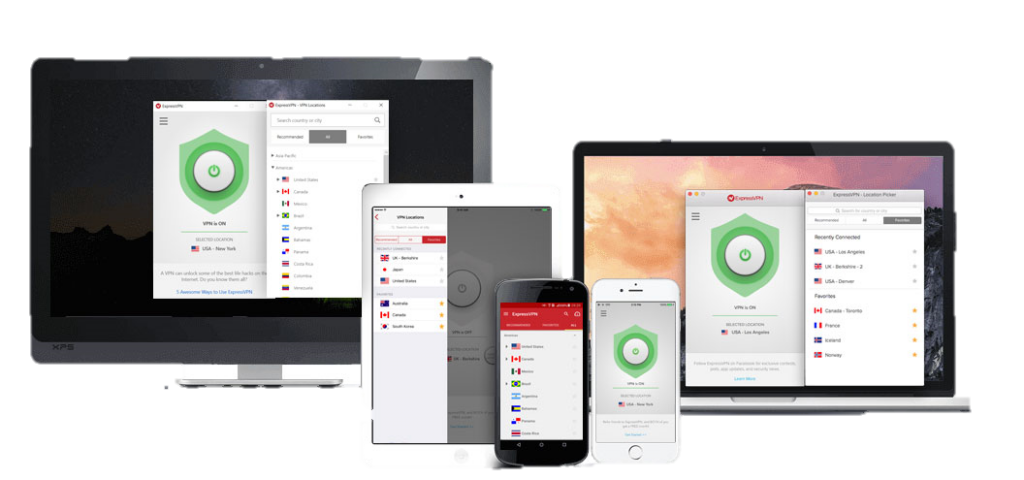 Over 2,000 servers in more than 60 countries worldwide
The fastest speeds on the market
30-day money-back guarantee
ExpressVPN is hard to beat when it comes to their incredibly fast speeds as users are unable to notice the difference in internet connection when using their service.
Netflix, Hulu, Amazon Prime Video, and other streaming providers all work fantastically with ExpressVPN and even if you come across a small issue, their 24/7 customer support is always there to help you out.
Give their 30-day money-back guarantee a test run, and you'll see for yourself how easy and enjoyable streaming in HD is with this VPN.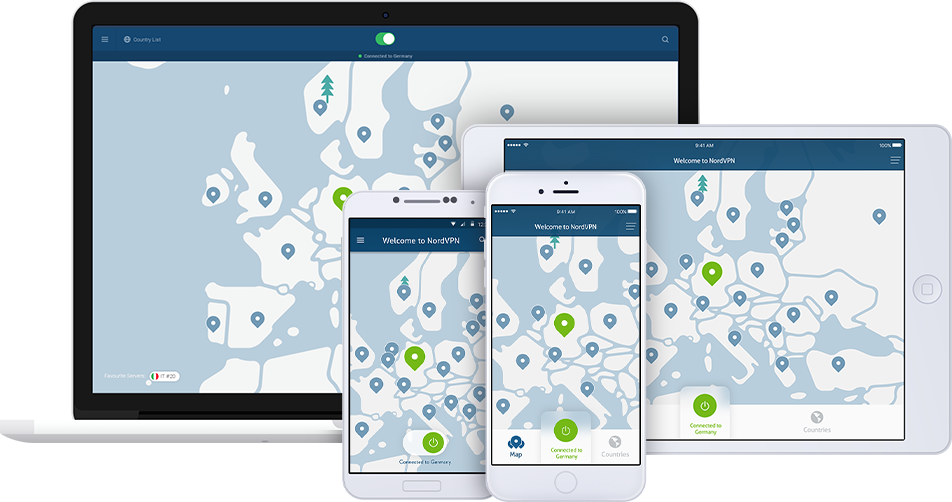 Over 5,000 servers available to use
Dedicated streaming servers available
Full access to most big streaming sites such as Netflix and Hulu
With NordVPN, you'll be protected with military-grade encryption as you stream your favorite shows, meaning you'll never risk exposing yourself to hackers, government agencies, cybercriminals, or your ISP.
NordVPN's extensive number of servers also allows you to watch shows from almost anywhere in the world and their reliability when it comes to accessing geo-blocked sites like Netflix and Hulu really puts them at the top of our list.
Like ExpressVPN, NordVPN also offers its users a 30-day money-back guarantee, so you can try it out for yourself.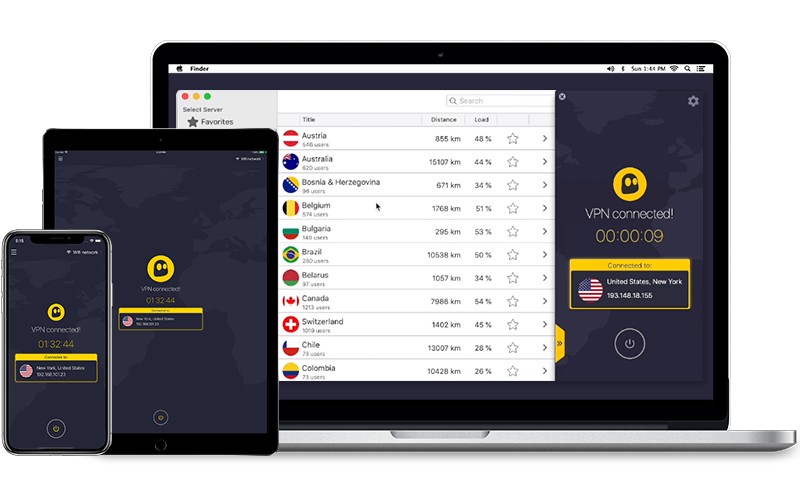 Added security of malware and advertising blockers
More than 3,000 servers available
Works with most platforms and devices
CyberGhost VPN is a VPN for the masses and it's perfect for big families or a group of friends as it allows you to connect up to seven devices simultaneously. It also has applications for many different platforms such as Mac, Windows, Android, iOS, and Linux, so no matter what you use this VPN has got you covered.
The speeds offered by CyberGhost are slightly slower than that of NordVPN or ExpressVPN, yet we still barely notice the difference when it comes to streaming in HD and haven't experienced any buffering caused by the service. You can also take CyberGhost for a trial run with their 45-day money-back guarantee.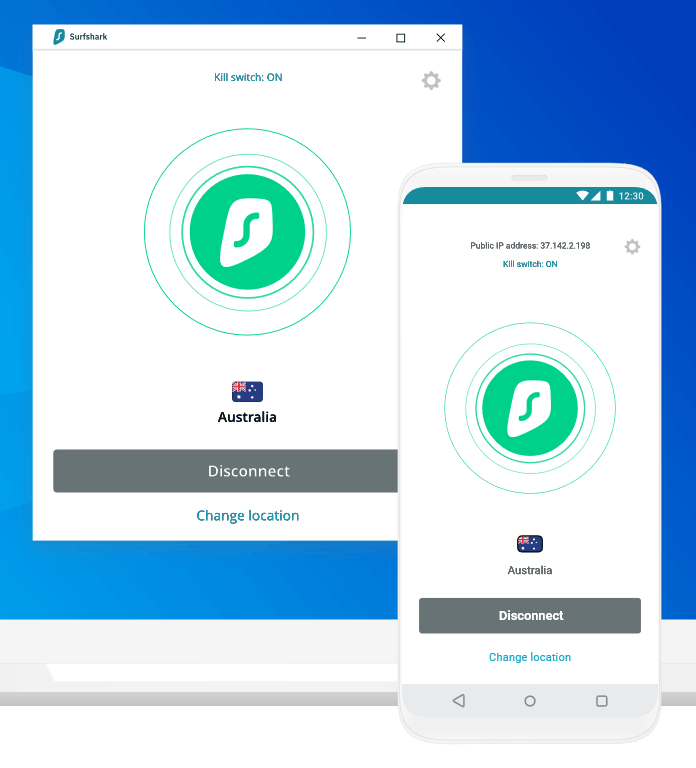 Unlimited device connections
Instant access to popular streaming sites
Lighting fast speeds
SurfShark VPN is a newer VPN that has been making waves in the industry with its impressive speeds and its ability to immediately connect to streaming sites, so you can watch your any shows or movies without having to deal with buffering or a loading screen.
SurfShark is unique as it allows you to connect an unlimited amount of devices with their service, so you can watch everything in HD on anything you own. They too offer the standard 30-day money-back guarantee, which we suggest you take advantage of, so that you can judge them and their quality for yourself.
Conclusion
In the end, it turns out that when you invest in a good quality VPN you'll be able to stream in HD without any hassle. By opting for a premium service, you won't need to worry about the VPN slowing down your internet speeds any longer.
All of the options mentioned above will provide you with a fantastic service and by using the money-back guarantee offers, you can truly discover the VPN provider that is right for you.
In our opinion, we believe SurfShark VPN is the best money for value service out there, but if you're chasing a flawless VPN that will never let you down, you won't be able to walk past ExpressVPN.
Whatever you decide to choose, we hope you enjoy watching your favorite shows in HD without having to worry about the possibility of a cyber attack from now on.