3 Best Parental Control Apps for Chromebook | Tested in 2023
Even though Chromebooks come with Google Family Link, I quickly saw that it's not something I can rely on. While testing it, I saw that it has limited control over web browsing, inconsistent app management, and easy workarounds that gave my son the ability to remove or avoid any rules I tried to enforce.
Since Family Link was not a good option, I tested over 30 apps that would let me impose parental control rules on my son's Chromebook. Many apps I tested claimed to work for Chromebook but were nothing more than cheap browser extensions, which could be easily disabled. By the time I was done with my tests, I had three apps that stood out for their superior performance, functionality, and difficulty for my kids to bypass the rules.
Among them, Qustodio emerged as the optimal choice, with its comprehensive screen time management and content filtering, app management, and detailed activity reports. Qustodio also provides a free 30-day trial without requiring a credit card, allowing you to test its capabilities for yourself before making a commitment.
Try Qustodio Free for 30 Days!
Quick Guide: 3 Best Parental Control Apps for Chromebook in 2023
Web filter with over 30 categories blocks harmful and inappropriate websites
Monitors websites visited, YouTube videos viewed, apps used and search history
Block the Chrome browser, apps, and specific URLs
Manage the rules remotely from a cloud based parental dashboard
After extensively testing more than 30 parental control apps on my son's Chromebook, I found that Qustodio outperformed the competition in every aspect. It had the tools and features I needed to monitor activity and set screen time limits that couldn't be easily bypassed.
With Qustodio, I had the ability to set up customized usage schedules, ensuring a healthy balance between online activities and other aspects of my child's life. It was incredibly convenient to have this level of control at my fingertips, allowing me to promote responsible digital habits while still granting my child ample time for leisure. I can adjust the settings to block the internet or lock down the Chromebook when my son uses all his screen time, or the schedule shows the Chromebook should be off.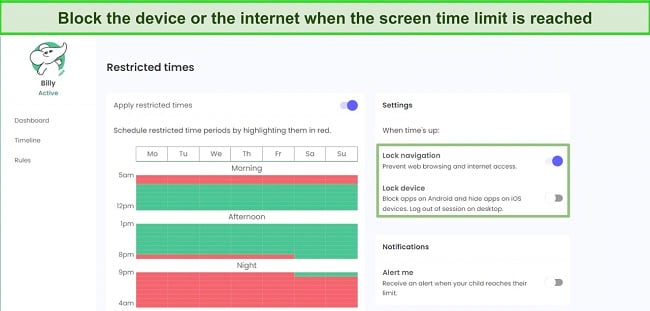 The app's automatic blocking of adult and harmful websites was a game-changer. Qustodio's robust filtering system has more than 30 categories and it consistently keeps my child safe from inappropriate content. I no longer had to worry about my son stumbling upon websites that were not suitable for his age. Additionally, Qustodio allowed me to block specific apps, websites, and video games that I deemed unsuitable or distracting.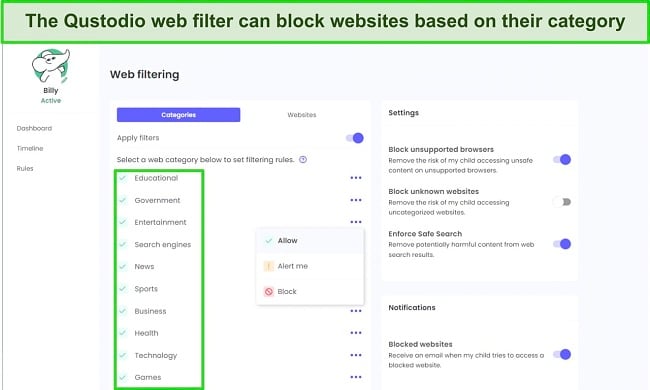 Qustodio does more than just set screen time limits and filter content. It gives me the ability to check YouTube views and browsing history, providing me with valuable insights into my child's online behavior. I could effortlessly review the content my child was consuming, ensuring it was appropriate and aligned with our family's values. The app's intuitive interface made it a breeze to navigate and access these critical monitoring features.
Furthermore, Qustodio provided detailed activity reports and sent helpful alerts when necessary. These reports can be viewed in chronological order, showing each action, website visited, searches on Google, and apps usage. This information makes it easy for me to identify patterns, detect any potential issues, and initiate necessary discussions.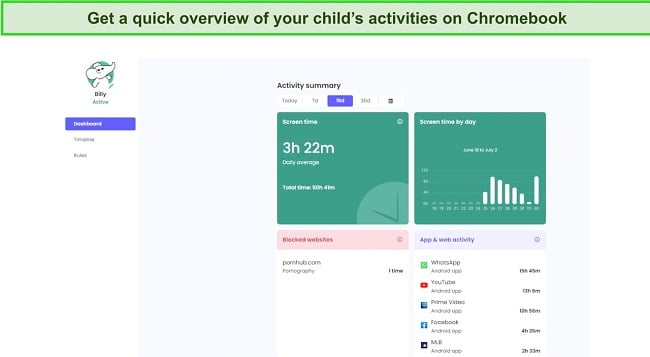 Qustodio can be installed on up to 25 devices, including Chromebook, Android, iOS, Mac, and PC. This is important to me because it means I can have one app to monitor all my kids and all their devices from a central dashboard. Qustodio comes with a 30-day free trial that can be activated without a credit card. This will give you enough time to test all the features yourself and see if Qustodio makes sense for your family.
Try Qustodio Free for 30 Days!
Smart web filter with 17 categories and custom block lists
Manage app use and web filters based on the time of the day
Alerts include screenshots, timestamps, and advice for parents
Bark specializes in providing comprehensive monitoring specifically for social media platforms, Gmail, and Chrome. During my search for the best parental control app for Chromebook, I discovered that Bark outperformed others in this particular aspect.
Bark's standout feature is its ability to monitor over 30 social media apps and the Chrome browser. This extensive coverage ensures that I can keep a close eye on my child's online presence across various popular platforms. Whether it's Facebook, Reddit, Twitter, or others, Bark provides in-depth monitoring and analysis of social media activities, empowering me to address any potential risks or concerns promptly.
Another impressive feature of Bark is its capability to monitor emails sent and received from Gmail. This feature provides an added layer of oversight, allowing me to track and analyze the content of email communications.
When Bark's AI and machine learning monitoring tools detect an inappropriate interaction, it sends a real-time alert to the parental dashboard. The alerts go beyond simple notifications; they include screenshots and tags to provide a clearer understanding of the context. This added context helps me evaluate potential concerns accurately and take appropriate action.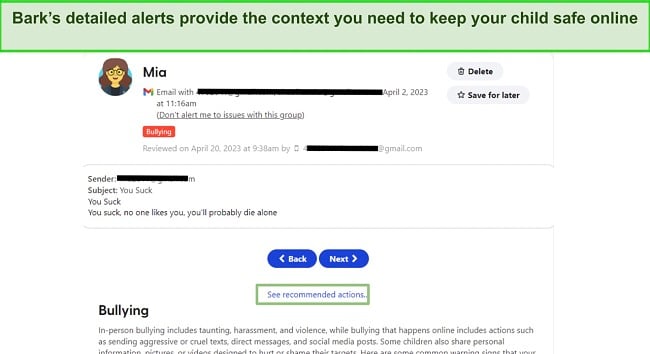 Bark's screen time routine, complemented by its robust filtering capabilities, allows me to manage which websites and apps are accessible at different times. This feature is invaluable for establishing a healthy digital routine, and striking the right balance between productive activities and leisure.
With the ability to customize filters, I can align the online experience with my child's specific needs and our family's values. I also found it helpful to limit what websites and apps are available during school and at night as my son goes to bed.

Bark offers a 7-day free trial, allowing users to experience its comprehensive monitoring tools firsthand. This trial period enables parents to assess whether Bark meets their specific needs before committing to a subscription.
Web filter has 17 categories and you can block specific URLs
Monitors Chrome, Facebook, and Instagram
Mobicip offers a range of features and functionalities that helped me maintain control and ensure a safe online environment for my son's child's Chromebook usage.
The screen time tools were very easy to use. I created different rules for every day of the week, based around my son's schedule. This included a daily screen time limit and a calendar for specific times I wanted the Chromebook to be off limits. When setting up the schedule, I was also able to choose what apps and websites I wanted to block for each time segment. This means that I could create different rules for free time, school, homework, bedtime, and more.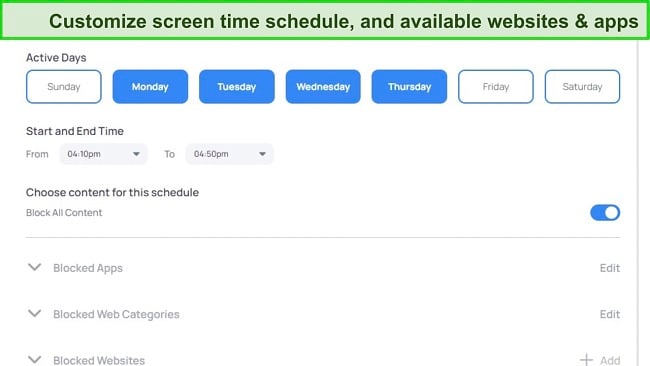 Mobicip provides robust web content filtering capabilities, with 17 categories. I can choose which categories to block or enable, to help maintain a healthy online experience. Additionally, I could add specific URLs to a block list, for any website that my son can access that isn't blocked by the filter, for whatever reason. I viewed this as an extra layer of protection, as it gave me even more control over what websites he can access.
One notable feature of Mobicip is its ability to monitor social media interactions on Facebook and Instagram. It sends alerts when it detects risky interactions, keeping me informed about my son's online social activities.
Mobicip offers a convenient daily activity summary. This gave me a comprehensive snapshot of how my son is using the Chromebook, including the websites visited, apps used, and the overall screen time. The activity summary helps me identify any patterns or concerns that may require attention, and have meaningful conversations about responsible digital behavior.
Mobicip has a 7-day free trial, so you can create an account and install it on your child's Chromebook risk free. This will give you enough time to check out the features for yourself and see if it has the necessary tools to keep your child safe while using a Chromebook.
Why Google Family Link Isn't a Good Parental Control App for Chromebook
Google Family Link may not be the most reliable option due to several limitations. Here are the key reasons why it falls short in terms of effectiveness:
Limited control over web browsing: Google Family Link's web browsing controls are based on URL-based filters, which may not provide granular control or comprehensive filtering options. This can result in the tool being unable to catch all inappropriate content or websites that are not explicitly blocked.
Inconsistent app management: While Google Family Link allows parents to manage and monitor the apps installed on their child's Chromebook, the management features may not be as extensive or reliable as those available for Android devices. Some apps or services installed from outside the Google Play Store may not be properly tracked or controlled, compromising the effectiveness of app management.
Limited monitoring for non-Google services: Google Family Link primarily focuses on monitoring and managing Google services like YouTube and Google Search. However, it may lack comprehensive visibility into other apps or services that a child may use on their Chromebook. This limitation restricts parents from having a complete view of their child's online activities.
Potential workarounds: Depending on the Chromebook model or the child's technical proficiency, there may be ways to bypass or disable Google Family Link. These workarounds can undermine the reliability and effectiveness of the parental controls set in place.
Not relevant for kids over 13: When a child turns 13, they can create their own Google account, and not have to be connected to a parental account. This means that they can disconnect your supervision and you will not receive a notification. A tech-savvy child under 12, can just create a Google account with a fake birthday, to avoid your parental control rules.
Considering these limitations, it is advisable to explore alternative parental control solutions. Qustodio offers a comprehensive set of features including screen time management, social media monitoring, web content filtering, and activity tracking. With its robust capabilities, Qustodio provides parents with greater control and visibility over their child's Chromebook usage, ensuring a safer and more secure online experience.
Try Qustodio Free for 30 Days!
How I Tested and Ranked the Best Parental Control Apps for Chromebook
To identify the best parental control apps for Chromebook, I conducted extensive testing on more than 30 free and premium apps. My aim was to find a reliable and effective solution that would provide comprehensive features to ensure a safe online environment for children. To ensure there was no bias, I didn't contact any of the companies I was reviewing. Instead, I took advantage of free trials, when available, or money back guarantees, when creating the accounts. Here are some of the factors and features that I valued during the testing and ranking process.
Compatibility with Chromebook
While it seems obvious, many apps I tested claimed that they worked with Chromebook, but when I installed them on the device, they didn't work. Some apps only worked with older versions of Chrome OS, and others were just Chrome browser extensions. I also had to see whether the app affected the performance, speed, and battery life of the Chromebook.
Comprehensive Screen Time Tools to Limit When the Chromebook is Available
I focused on parental control apps that offered robust screen time management features that were difficult for children to bypass. These features allowed parents to set and enforce healthy time limits for device usage, ensuring a balanced digital lifestyle for their children.
Custom Web Filter for Blocking Inappropriate Content
I looked for apps that provided a customizable web filtering feature capable of blocking various types of inappropriate content. The ability to tailor the web filter to suit different age groups and specific parental preferences was a key consideration in determining the effectiveness of the app.
Ability to Block or Limit App Use
I evaluated the app management capabilities of each parental control app. This involved assessing the app's ability to block or restrict access to specific applications or games on the Chromebook. A comprehensive app management feature allows parents to manage and control their child's app usage effectively.
Value for Price
I considered the pricing plans of the parental control apps and evaluated whether the features and functionality offered justified the cost. I looked for apps that provided a good balance between the price and the value they delivered in terms of effective parental controls and a safer online environment for children.
Try Qustodio Free for 30 Days!
FAQ
Why is Google Family Link not considered reliable enough for Chromebook?
Family Link is an extremely basic parental control app that is
very easy for kids to disable or bypass
. Furthermore, once a child turns 13, or creates a fake Google account with a birthday that makes them over 13, they can opt out of the Family Link supervision. Other than being free, there is no benefit of using it to set parental control rules on a Chromebook.
Can I control my child's Chromebook from my phone?
Are kids able to bypass the parental control rules on a Chromebook?
While some parental control apps I tested on Chromebook were easily bypassed by my kids,
Qustodio proved to be different
. It provides a comprehensive solution by overlaying a lock screen over the entire device, making it extremely difficult for children to bypass. Qustodio also offers the ability to block specific apps and make changes to settings, adding an extra layer of protection. To see the effectiveness of Qustodio for yourself, you can take advantage of their 30-day free trial and experience how it works with your children's Chromebook.
Only a Premium Parental Control App Can Help You Monitor and Limit Chromebook Usage
Disappointment with Google Family Link's limitations and ease of bypass led me on a quest to find a reliable parental control solution for Chromebook. After testing over 30 different apps, the majority of which fell short of expectations, I discovered three standout options. Among them, Qustodio emerged as the clear winner, surpassing the competition in terms of features, performance, and value.
Qustodio has a comprehensive set of features that address all my needs. From robust screen time management and web content filtering to app blocking and social media monitoring, Qustodio provided a well-rounded suite of tools for effective monitoring and control. Additionally, its user-friendly interface made it easy to navigate and configure the desired settings. What further impressed me was the 30-day free trial, which required no credit card information upfront, allowing me to thoroughly test and evaluate the app's capabilities before committing to a subscription. This combination of functionality, ease of use, and a free trial period solidified Qustodio as the best parental control app for Chromebook.