3 Best Parental Control Apps for Amazon Fire Tablets in 2023
Last Updated by Shauli Zacks on January 23, 2023
All parental control apps claimed to be the best for the Fire tablet, so I was pretty surprised to find that many of them aren't even compatible with the Amazon operating system.
I downloaded and tested dozens of parental control apps to find the best ones for monitoring and setting screen time limits on my daughter's Amazon Fire tablet.
After thoroughly testing each app on our Amazon Fire tablet, I concluded that Qustodio outperformed them all. It has powerful screen time limits, both for the tablet and individual apps, a comprehensive filter, and app management tools that allow me to block apps and websites. You can test Qustodio for yourself free for 30 days, with no credit card required, and see for yourself how well the comprehensive parental control feature work on the Amazon Fire tablet.
Try Qustodio Free for 30 Days!
Short on Time? Here Are the 3 Best Parental Control Apps for Amazon Fire — Tested in January 2023
Qustodio: Set screen time limits on the tablet or individual apps, customizable web filter with 29 categories, and detailed reporting on the apps used and websites visited. Try it free for 30 days – no credit card required.
Bark: Powerful web filter monitors web browsing and content on 20 popular apps, but no screen time features.
Mobicip: Customizable screen time settings, app blocking, and location tracking, but you can't set screen time limits for individual apps.
Try Qustodio Free for 30 Days!
3 Best Parental Control Apps for Amazon Fire Tablet in January 2023
Set a daily screen time limit and restricted times for the tablet
Powerful web filter is compatible with Amazon Silk and other major browsers
Lock the tablet settings to block attempts at bypassing the rules
Generate detailed reports about the child's usage habits
After just a few weeks of testing, I could tell that Qustodio was exactly what I was looking for in a parental control app for Amazon Fire. Not only does it have the features I needed, such as screen time limits, app monitoring, and a comprehensive web filter, but they actually work. While this shouldn't be surprising, I can say that based on my experience, it is.
The screen time tools were very easy to set up, and I liked that I could manage it all from the parental dashboard. There are three ways to set screen time limits:
A daily limit: How much time each child can use the tablet each day.
Restricted times: I can block the tablet for certain times during the day when I don't want my daughter to use it, regardless of how much screen time she has used. The only downside of this feature is that it works in hour-long blocks. This means that I can't block it from 2:30 – 3:00, only 2:00 – 3:00.
Time limits for apps: I was a bit surprised during the initial setup because I didn't see any apps located in the Apps and Games area. However, once my daughter used an app, it was registered on the dashboard, and I could set time limits for each app.
On other apps that I tested, my kids could change the clock on the tablet to prevent it from locking during the restricted time. However, Qustodio prevents that with an option to lock the Fire tablet settings, so they can't change the time. When the screen time limit is reached, or it's a restricted time, Qustodio places a lock screen over the device letting the child know that time is up. The only way to get around this is if the child knows my account username and password.
The web filter has 29 categories and is fully customizable. I could choose which categories I wanted to allow, block, or receive alerts when my daughter triggered the category filter. I tested the filter on Amazon Silk and Chrome, including their private browsing modes, and it worked without any issues.
I can monitor my daughter's activity through the dashboard. It shows me how much time she spent on the tablet, including a breakdown by the hour. I found this helpful when I wanted to create screen time limits and set up the restricted time. There is an activity timeline that shows exactly what apps she uses and the websites she visits, including time spent on the particular activity.
Overall, I was extremely happy with Qustodio. But you don't have to take my word for it. Qustodio offers a 30 day free trial, with no credit card required, so you can see what your child is doing on the Fire tablet and create powerful rules to keep them safe online.
Try Qustodio Free for 30 Days!
AI-powered web filter with 17 categories
Customizable sensitivity levels that trigger alerts
Detailed insights into the child's online activities
After installing Bark on our Amazon Fire tablet, I connected it with my daughter's social media accounts, so I could test how well it monitors the interactions and content.
The app's rise in popularity was largely due to its smart web filter, which detects content related to issues such as cyberbullying, suicide, violence, drugs and alcohol, self-harm, and more. There are a total of 17 categories, each with adjustable sensitivity levels, depending on how many alerts you wish to receive.
Bark can scan email, Chrome and Silk browsers, and 20 popular apps, such as TikTok, Instagram, Google Drive, Facebook, Spotify, and more. Not only does it alert me when there is potentially troublesome content, but it also has an explanation of why the content can be problematic. For example, I got an alert about a viral trend that was recognized on the tablet. I found this to be incredibly helpful since it's nearly impossible to know all the latest crazy trends and how they can be dangerous or harmful.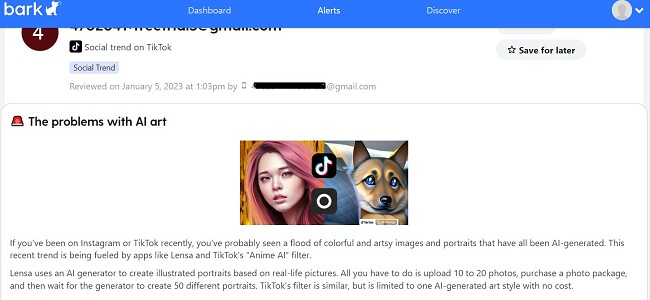 During the Bark setup, I indicated which apps my daughter uses, and then Bark sent instructions on how to connect them with the Bark account. Once connected, it monitors the app on any device, not just the Fire tablet. This way, if my daughter logs on to her TikTok account on a different device, I'll still get alerts when something triggers the web filter.
Unlike Bark for Android and iPhone, the Amazon Fire app doesn't have any screen time features. The two solutions offered by Bark are:
Order the Bark Home router, which allows you to set screen time rules for all connected devices.
Use the integrated Fire screen time settings. Unfortunately, the Amazon screen time feature only has a once-a-day curfew and no screen time limits.
If you need to limit how much time your kids spend on the Fire tablet, check out Qustodio, as it has multiple tools for preventing too much screen time.
The Insights section of the parental dashboard gives a complete overview of my daughter's online activities. It has two sections, one for monitoring and the second for internet usage. I can see how many activities or websites Bark analyzed over the previous 7 days and links to any alerts I should review. Alerts can also be sent instantly via SMS or email.
If you're serious about enforcing parental control rules and monitoring your child's online interactions om the Fire tablet, try Bark free for 7 days. It will give you enough time to connect and monitor your child's social media and email accounts. All Bark plans work with unlimited devices, which is great if your family has multiple smartphones and Fire tablets.
Comprehensive web filter with 18 categories and customizable restricted list
Multiple screen time management tools and Instant Lock feature
24/7 location tracking
I installed the Mobicip app on our Amazon Fire tablet and was happy to see that it came with all the same features as the Android and iOS apps. After a week of testing, I can confirm that my daughter couldn't find a way to get around the restrictions. The one annoying feature is that it required a PIN or lock screen design to be enabled to use the tablet. In my opinion, having screen time rules should be enough. Now I either needed to tell my daughter the PIN, or she could only use the Fire tablet when I was home.
Speaking of the screen time rules, Mobicip has three options:
A daily free time limit: Set the total amount of screen time before the device locks.
Create a custom schedule: I was able to create a schedule of the times the Fire table is available, and I could customize it to block apps, websites, or web categories.
Pause Devices: I can lock the tablet from anywhere by pressing the Pause Device button on the parental dashboard.
The screen time tools worked very well. The Mobicip lock screen covered the apps with a message that it was time to take a break. There is a button for the kids to request additional screen time, which is nice if they want more time and I'm not home. I'll see the alert on the dashboard and decide whether to allow more time.
A cool feature that I haven't seen elsewhere is Vacation Mode. It lets me pause the screen time rules and create new temporary ones, if I want, for vacation time. The feature includes a start and end date, so I don't have to worry about remembering to reset the regular rules.
I like that Mobicip has a detailed activity timeline on the dashboard. I can see exactly what apps or websites my child visits and how Mobicip categorizes that activity. While there is no list of all installed apps, once an app is listed in this timeline, I can block it.
There is a feature for placing time limits on apps, but it needs a lot of improvement. Instead of setting limits on individual apps, Mobicip divides all apps into three categories: Games, Entertainment, and Educational, and the time limits are enforced for the entire category. Another disappointment with this feature is the Games category doesn't work with FireOS; it's only compatible with Android.
The filter did a good job of blocking inappropriate websites. There are 18 categories that cover pretty much every type of content, and I can enable or disable categories based on what I allow for my kids. Additionally, I can add URLs to a "restricted" or "allowed" list, and these rules are implemented regardless of what the web filter rules say. I really like that Mobicip has a section for adding words or phrases that I want to block. While it has its own internal list, I can add my own list of words and phrases that I wish to block and I want to receive an alert if they are being used.
There is a device locator that works on my Fire, and it was actually useful in locating the Fire when one of my kids couldn't remember where they left it. Not all Fire tablets have GPS, so it also works by tracking the WiFi location.
Not only was Mobicip easy to use, but the dashboard is really well-designed. It gives a clear overview of screen time and activities and shows a breakdown of the app categories that are being used. I found this helpful when creating the screen time limits since I could see if my daughter was using the Fire for educational purposes or spending most of her time playing Roblox or watching Netflix.
The Amazon Built-In Parental Controls Settings Are Not Good Enough
All Amazon Fire tablets have an integrated tool called Amazon Parent Dashboard, which is supposed to let you set parental control limits on the device. However, these parental control settings are not very good, and kids have no trouble bypassing the rules.
Some other issues I noticed with the Amazon Parent Dashboard include the following:
Limited filtering and blocking options: The Parent Dashboard allows you to filter content based on age ratings, but it does not allow you to block specific apps or websites. This can be limiting for parents who want more control over their child's online activity.
No detailed monitoring and reporting: The Parent Dashboard does not provide detailed reports on your child's device usage, such as which apps and websites they are using and for how long. This can make it difficult to stay informed about your child's online activities and ensure that they are not accessing inappropriate content.
No customization for different children or devices: The Parent Dashboard does not allow you to set different rules or controls for different children or devices. This can be problematic for families with multiple children or devices with different usage needs.
As you can see, relying on the built-in parental control features won't do a good job of setting screen time limits or giving you the ability to create custom web filters. Using it just because it comes installed on your tablet would be a mistake, and it would give your unrestricted access to most websites and apps. Get the Qustodio 30-day free trial and see how easy and affordable it is to enforce powerful parental control rules that your child won't be able to get around.
Why You Should Avoid Free Parental Control Apps
After testing multiple free parental control apps, I can assure you that they aren't worth the time it took to download, install, and set up. I had to uninstall them pretty quickly after seeing how poorly they performed, the ads they displayed, and the privacy concerns. The one exception I saw was Qustodio, which has a limited free app. But even there, the features are limited, and I could only connect it to one device. So, I had to choose if I wanted to monitor the Fire tablet or my daughter's phone.
Some of the most common issues I've seen with free apps are:
They don't work: I downloaded several free apps that claimed to have a web filter or screen time controls, and my kids disabled the rules without any trouble. Several apps just didn't work, and my daughter didn't even have to try and find a hack to bypass the rules.
Limited features and functionality: Many premium parental control apps have a free version, and while they claim to have powerful filters and multiple screen time tools, I only found out after installing the app that they were locked behind a paywall.
No comprehensive protection: Free parental control apps don't cover all types of online activity or content. For example, they may not monitor messaging apps or social media platforms, or they may not detect all types of inappropriate content, such as slang or misspelled words. This will leave gaps in your child's online protection.
Data privacy concerns: Some free parental control apps may collect and use your data for their own purposes, such as targeted advertising or data mining. This can be a concern for parents who value their child's privacy.
Lack of customer support: Free apps may not offer customer support or technical assistance, which can make it difficult to resolve any issues you encounter while using the app.
With all these issues, it's easy to see that the free apps have little to no value at all. When talking about my kids' safety, I'd rather go with a premium parental control app that costs about the same as a cup of coffee, and provides real value in helping me to keep my kids safe online. You can try Qustodio free for 30 days and see for yourself what a big difference it brings compared to the free apps.
Try Qustodio Free for 30 Days!
How I Tested and Ranked the Best Parental Control Apps for Amazon Fire
Testing the parental control apps was a lengthy process that took me several months to complete. I downloaded more than 30 free and paid apps and installed them on my Amazon Fire tablet. I kept most of the apps on the tablet for a week, so I could see how it worked in different scenarios and how it affected the battery. However, some of them were so bad or buggy that I uninstalled them pretty quickly.
Whenever possible, I used a free trial or tested the money-back guarantee policy. But I never requested a free version or test copy from the company. This way, there is no bias or favoritism on my part.
Some of the major factors I used to set the ranking order were:
Does it work?
I was surprised at how many of the apps I tested didn't work. I downloaded the app on the Fire tablet and created an account and profile for the device, and it never blocked the tablet or apps and didn't enforce any of the rules.
I also tested for features that can block the common ways kids get around parental control apps. For example, if the filter only works on the Chrome browser, can the app block Silk or prevent my daughter from downloading another unsupported browser. Changing the settings, such as date and time, is a common hack for bypassing screen time rules; if the app can't prevent setting changes, I need to at least get a notification when it happens.
Tools to limit screen time
I tested the screen time filters to check if they are flexible, give me control over when the Fire tablet could be used, and see what happens when the time expires. Some of the apps I tried just blocked the tablet's internet connection. This has some benefits, but it doesn't help if my daughter downloaded a show to watch offline or wants to play a game that doesn't require an internet question. Other features that I looked for were the ability to set screen time limits for individual apps and the option to lock the device remotely.
The web filter
Every app I test says that they have a good web filter. I make sure that they can back up the claim. After enabling the different categories, I try to access sites that I know should be blocked, such as porn, gambling, drugs, alcohol, and the like. Most decent apps pass the first round of tests, but then I get creative. I use slang or search terms that aren't so obvious. I try different tricks to bypass the filter, such as opening websites using private browsers or turning on a VPN. If there is a weakness, I check the app rules to see if there is a way to stop my daughter from exploiting the app in the same way I did.
Cross platform compatibility
While my daughter primarily uses the Fire tablet, I have other children that have phones, and I wanted one parental control app that could manage the tablet, Android, and iPhones, all with one subscription and from a centralized dashboard. This makes it significantly easier to use the parental control app and not give up after trying to manage different apps for different devices.
Ease of use
A parental control app that is easy to use is a major advantage. It shouldn't take me more than 20 minutes to navigate through the dashboard and understand where the web filter, screen time features, app blockers, alerts, and reports are all located. The same is true for setting or changing rules. It shouldn't take more than a couple of clicks to set everything up, and the tablet should sync with the new changes automatically.
Value for my money
The monthly subscription price is important, but it's not the most important factor. I'm OK paying more money per month as long as I know I'm getting good value for my money. I would never recommend an expensive app that doesn't have better features than a less expensive one, but I will give a more expensive app a better score on pricing if it gives me more value. I also like parental control apps that have a free trial offer, so I can see how well the features work, or at the very least, a proven money-back guarantee.
FAQ
Are there any good free screen time limit apps?
I tested plenty of free screen time tools, and they always disappointed me. The one exception is Qustodio, which has a limited free version that includes screen time and web filter features. However, the advanced features, like YouTube monitoring, blocking apps and games, and the panic button, are reserved for premium users. Additionally, there is a one device limit per free account. Instead, try the premium version free for 30 days, with no credit card required, and get unlimited access to all the premium features.
Can I control my Kid's Amazon Fire from my phone?
Yes, all of the top parental control apps for Amazon Fire work remotely. After you install the app on the tablet and log in, you won't need to handle the tablet again. Everything is managed from a cloud-based parent portal or dashboard, which can be accessed either through a browser or by downloading the parental control parent app to your Android or iPhone.
Can kids bypass the parental control rules on the Amazon Fire?
Most of the parental control apps I tested on my Fire were easy for the kids to bypass; however, Qustodio was different. It placed a lock screen over the entire screen, and my kids had no way of getting around it. Qustodio also allows me to block certain apps and make changes to settings, which is helpful in preventing my kids from finding different ways to get around the rules. You can try Qustodio free for 30 days and see for yourself how it works with your children.
Only a Premium Parental Control App Can Really Monitor Amazon Fire
I had no trouble finding plenty of apps that claim to be "powerful" or "comprehensive" parental control apps for Amazon Fire. However, based on my testing, most of these apps aren't worth the time it took for me to create accounts, download, and set up the parental control rules.
I only found 3 parental control apps that I could recommend. They each have screen time limits, app monitoring, and a web filter that works. Of those 3, Qustodio proved to be the best. The screen time tools were flexible, it has a web filter with 29 categories, and I could monitor and set limits for individual app use.
Not only that, but Qustodio has a free 30-day trial, no credit card needed, so you can test it yourself and get unlimited access to all these premium features.
Try Qustodio Free for 30 Days!