3 Best Free Krisp Alternatives With Similar Features! [TESTED in 2022]
Last Updated by Shauli Zacks on August 07, 2022
Quick Summary: While I stand behind all the Krisp alternatives below, Zoom stood above the others. It's not as good as Krisp, but it has built-in noise suppression capabilities, high-quality video conferencing, virtual backgrounds, and you can record the meeting.
Krisp is an excellent noise cancelation software. It uses advanced AI to recognize and remove ambient noises, such as people talking in the background, babies crying, traffic, fans, and clicking from your keyboard.
However, Krisp limits you to 240 minutes per week and while I found it very generous, for some people that might not be enough.
I tested dozens of free communication tools and noise reduction plugins, but I quickly saw that they were not very good. The biggest issue I had was that the software didn't do a good job reducing the noise, had unstable sound quality, and kept crashing.
To be honest, Krisp remained at the top, for me, but in case you need something else, I'd go with Zoom. The default setting filters out distracting noises, and you can adjust the settings to be more or less sensitive.
Zoom is an all-in-one video conference tool. The free account allows you to host high-quality video calls, although there is a 40-minute limit for each meeting. While it has an integrated noise filter, you can always integrate Krisp if you feel you need to upgrade the noise reduction quality.
Quick Guide: The 3 Best Krisp Alternatives in 2022
Zoom: Customize the noise cancelation sensitivity levels based on your environment, high-quality video and audio calls, but limits your video conference to 40 minutes
RingCentral: Lowers volume on background noises, and you can transfer calls between devices, but the noise filter doesn't work on mobile devices.
Skype: Reliable noise reduction filter, but it doesn't have detailed analytics like Krisp.
What I Look for in a Free Krisp Alternative
As an add-on or plugin, Krisp is in a league of its own. Its entire focus is on removing noise and providing a quality audio experience. It also has some side features, such as adding a virtual background, detailed analytics, and it's compatible with over 800 communication tools.
However, if you don't want to manage multiple platforms, you can find communication tools with integrated noise cancellation features for an all-in-one experience. I focused on the following criteria while testing free Krisp alternatives:
High Quality Noise Canceling Capabilities: I found that the quality and accuracy of the noise cancelation varies. Some tools don't actually remove background noises, just lower the volume or muffle the sounds, which can be an even greater distraction.
Advanced Features: I prefer a tool that can handle a broader range of audio improvement features. Some examples are echo removal and audio quality improvement by removing specific tones or changing the levels and recording the conversations.
Compatibility with Multiple Operating Systems: I was surprised that many of the apps I tested were limited to one operating system, either Mac or Windows, or they only work with mobile devices.
Ease of use: My preferred programs are easy to use, with an interface that clearly labels the buttons and lists its features. I try to avoid watching tutorials or spending hours learning a new system and then having to train my staff on how to use it.
Free: As long as the free version of the alternative has similar features as the free version of Krisp, I'm satisfied with the choice as an alternative.
3 Best Free Krisp Alternatives with Similar Features
1. Zoom: Integrated Noise Reduction Filter and Compatibility with Hundreds of Plugins (Including Krisp)
720p video quality
Record all meetings
Add a virtual background
Powerful encryption to prevent unauthorized users from joining or hearing calls
When it comes to noise reduction filters, I couldn't find a software that is as good as Krisp. Having said that, Zoom was the closest. The popular video conferencing tool has customizable noise suppression tools.
There are four options:
Auto: This is the default mode. When it is on, Zoom will automatically adjust the noise reduction level based on what is going on in the background. Auto mode doesn't consider music as background noise.
Low: Most noises will not be blocked.
Medium: The ideal noise reduction level for a standard working environment. It will block out fans, traffic, and some conversations.
High: This is a highly aggressive level that removes most background noises, including barking dogs, typing on the keyboards, and general noise in your area.
Open the Zoom client, press the Settings gear, and open the Audio tab to adjust the sensitivity level.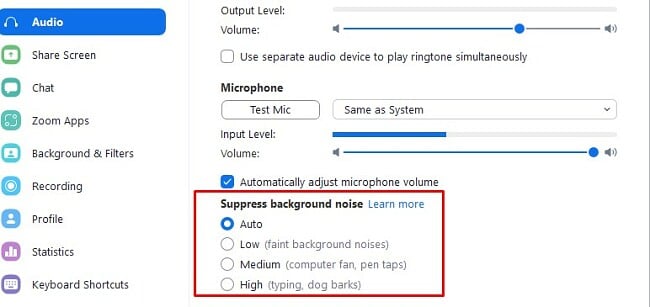 While I was happy with this level of noise reduction, it doesn't have the same detection rate as Krisp when it comes to removing specific voices and echoes and keeping my audio quality at its peak.
Once your noise suppression settings are enabled, you can host or join a video conference. It is a feature rich program with plenty of integrations with other business tools, so you can work more effectively.
You can share your screen with other viewers, create an interactive whiteboard to illustrate your point or start a brainstorming session. As the meeting host, you can record the meeting, require all new participants to go to a waiting room until you grant them entrance to the meeting, and mute anyone on the video call.
The free version of Zoom limits the video quality up to 720p, meetings to 40 minutes, and you can have up to 100 participants in a meeting room.
No time limits on video calls
Integrated task management and to-do list feature
Works with third party extensions
RingCentral is one of the top VoIP programs. It has plenty of tools geared at improving productivity and collaboration. It has a task manager, shared calendar, audio and video calling, and chat boards.
While you can use RingCentral on many devices, the noise reduction software is not available for mobile devices. By default, the feature reduces constant background noises, such as traffic, the hum of a fan, and wind that blows into your microphone, but it isn't on the same level as Krisp.
If you also want to reduce sudden noises, like dogs barking, crying children, or the person talking by the desk next to you, you will need to activate the Advanced background noise reducer.
You can adjust the background reduction feature during a meeting. Click on the blue arrow next to the microphone icon on the bottom menu bar. Next, under Remove My Background Noise, press the Advanced option.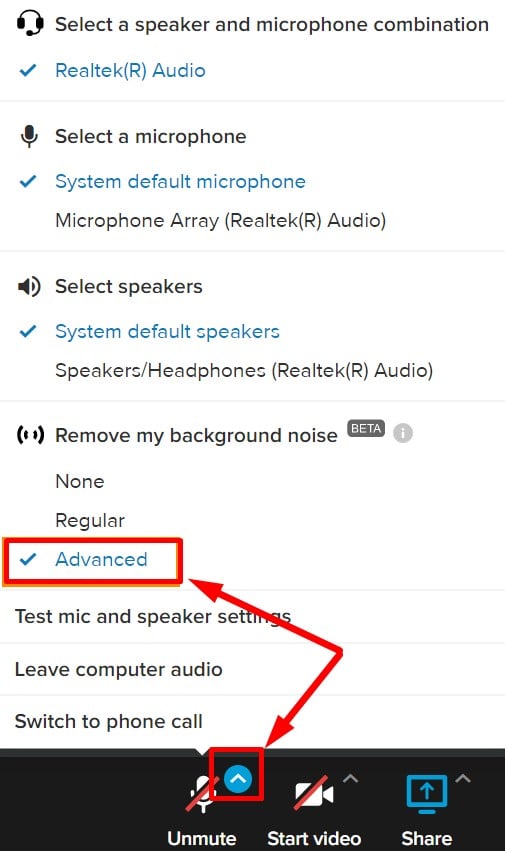 It's important to note that your CPU output will increase while using the Advanced option. Depending on your computer, this can cause an unstable connection. If RingCentral detects that your CPU usage is too high, it will automatically switch you back to the regular setting. If you integrate Krisp into your RingCentral app, you'll always have advanced detection without worrying about the CPU issue.
With a free RingCentral account, you can host a video conference with no time restrictions for up to 100 people. The video will be recorded and stored in the cloud for 7 days.
Free video calls and group calls
Make international Skype to phone calls
Skype is one of the original mainstream video calling apps. You can use it for making high-quality video calls, phone calls, chats, and send files up to 300MB.
Whether you're video calling one person or taking part in a group call, you can adjust the level and sensitivity of the background noise. When you open the Audio & Video settings, you'll see the Noise Cancellation section. You can leave the default setting active, which removes constant background noise. The other options are low, high, or turn it off completely.

I tested the noise cancelation on the highest level, and it had to take up so much power from the CPU, that it affected the quality of the video call.
Skype has seamless integration with Microsoft Team and Microsoft 365 apps.
FAQ
Is Zoom free?
Yes! You can download the software and create a free Zoom account. It gives you access to hosting and joining video calls, although the call will cut off after 40 minutes if you're the host. The free account has plenty of features, including multiple noise reduction levels, virtual backgrounds, and cross platform compatibility. It also works with third-party plugins, so you can take your noise reduction to the next level if you integrate it with a free Krisp extension.
Is Zoom secure?
While Zoom was in the news in 2020 for some security vulnerabilities. The company has updated its technology to prevent unauthorized users from joining a video call. All calls and meeting rooms use top-level encryption, and there is TLS level encryption to protect files while they are being transferred.
Which is better, Zoom or Krisp?
Krisp is better when it comes to noise reduction, removing echoes, and keeping the audio quality at a high-level. However, it doesn't have a video calling platform, and therefore you will need to combine it with other software, such as Zoom.
Zoom is an all-in-one communication tool. It has an integrated noise reduction tool, but it's not as good as Krisp. The ideal solution is to use Zoom with Krisp, for the best quality video calls.