How to unblock Crunchyroll and Watch Anime from Outside the US

Last Updated by Denise Sullivan on June 28, 2019
Can't access Crunchyroll abroad? Take advantage of a VPN to bypass restrictions and beef up your security at the same time.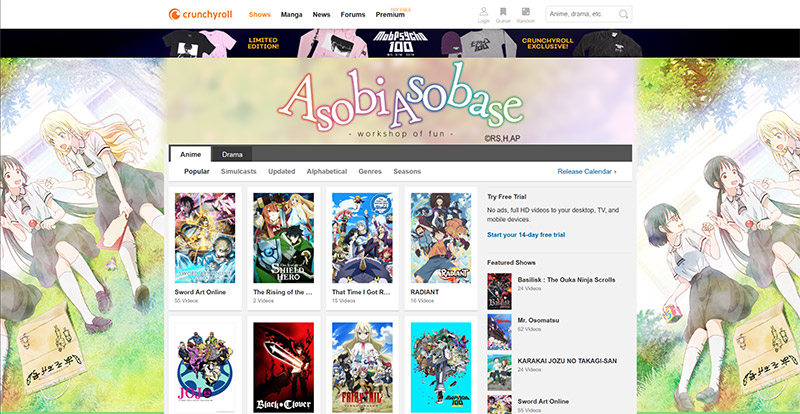 Crunchyroll
is often restricted in many territories outside of the
United States of America
. Users are also finding that the
Crunchyroll Unblocker extension offered by Firefox, Chrome and the Microsoft Store, isn't working either
.
The best option is to use a Virtual Private Network (VPN) to access Crunchyroll content from anywhere in the world.
Crunchyroll Unblocker Issues
Crunchyroll Unblocker is an app or extension that resets the user's location to an American Session ID. This change allows the user full access to the American Crunchyroll catalog.
Until recently, the Unblocker app was available on Chrome and Microsoft store, with Firefox and Opera also offering extensions for their respective browsers.
However, Chrome and Microsoft have both recently pulled the applications from their services. Many users had problems when trying to connect — the problems became so extensive that the companies had to pull them from their stores.
Crunchyroll has been honest; stating that they are not the cause of the removal. While they don't condone the use of such apps, they haven't made any moves to block the use of these tools either.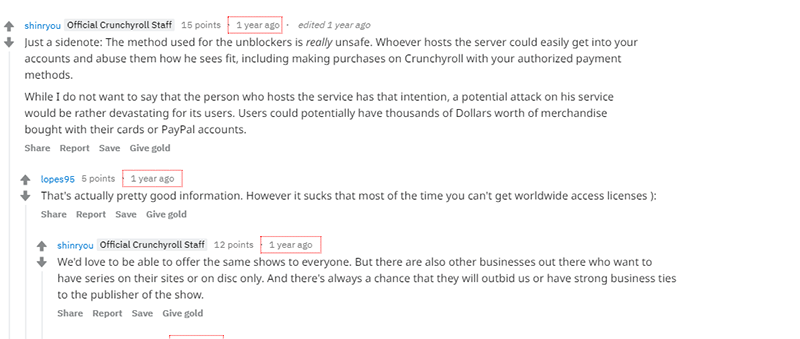 The response of the Official Crunchyroll Staff on Reddit regarding Unblocker
The danger with using the unblocker tool is that Crunchyroll does not regulate the developers, so they may have easy access to user information – i.e. payment information which might be abused by the app host.
Alternate Methods to watch Crunchyroll streaming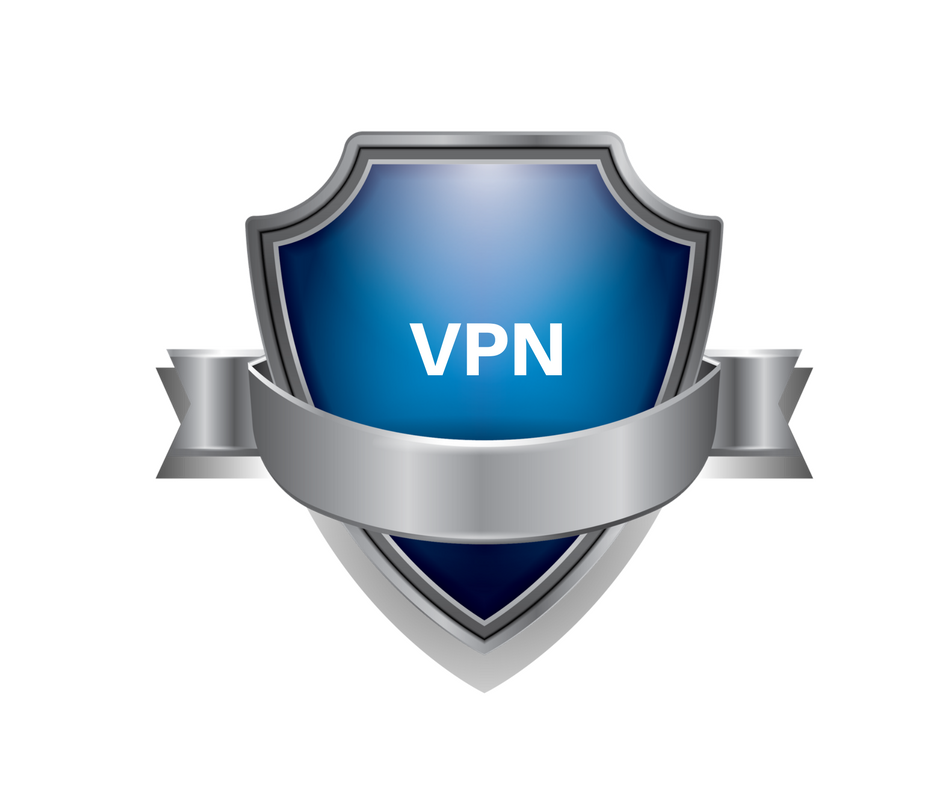 There are other ways to access Cruchyroll's American catalog, even if you aren't in the country.
You can use a VPN
instead of the unblock application. With a VPN, a user's exact
location is masked
and the VPN makes it appear to Crunchyroll that they are in the United States.
When you connect to a VPN, the server you connect to sends the IP address of the server to Crunchyroll's site. With the masked IP, you can access the full US catalog, while the VPN encrypts your information.
They keep no logs, so no one knows which sites you visited or how long you stayed on them for. As there are no logs, there is no way to sell your search information to third parties.
VPN Services to Stream Crunchyroll
Several VPN service providers work well with Crunchyroll, but these providers work the best with any video streaming service.

Servers in over 60 countries around the globe
No logs
256-AES Encryption
ExpressVPN is a fast, virtual private network service for streaming videos. Users can connect to one of their over 2,000 servers across the world – they have 33 server sites within the US, with over 1,500 servers.
This VPN service uses military-grade, 256-bit AES encryption to keep user information safe. They also offer a kill switch to block internet access if the VPN disconnects for any reason.
ExpressVPN does offer limited customization options. Novice users will enjoy the instant setup and access service without having to make changes. More advanced users may become frustrated with the limits to their settings. Families can also take advantage of the simultaneous streaming feature, but it is limited to five devices at one time.
Over 1,800 Servers in the US
Kill Switch Feature
Six simultaneous connections
For users who want to ensure their information stays private, NordVPN is one of the best options. Headquartered in Panama, this country has strict privacy laws and does not have data retention laws governing company policy. They have a no logs policy which means they don't retain activity logs or connectivity logs for any of their users.
NordVPN uses a 256-bit AES military grade encryption protocol to keep hackers from accessing data in transit. They also use a 2,048-bit SSL Key to protect against DNS leaks. Users can turn on the optional kill switch feature to block internet connections in the event of VPN signal disruption.
This VPN is perfect for families. With six simultaneous connections, everyone can enjoy coverage while he or she watches their favorite shows. Families with more than six devices can set up NordVPN on their wireless router instead. The router must support L2TP, OpenVPN, or PPTP as a "client" instead of a "server" to work.
Over 2,000 Servers
Servers in over 60 countries, including the US
Additional Malware Blocker built-in
CyberGhost VPN encodes all transmitted data with 256-bit AES encryption, the same level of protection as the military. This VPN also has a built-in malware blocker to help protect users from malicious sites.
CyberGhost also has a no logs policy, with a built-in kill switch feature to block internet connections anytime the VPN connection terminates. CyberGhost has over 2,000 servers in over 60 countries across the globe.
While CyberGhost does have plugins for Chrome and Firefox, they are not recommended for streaming videos. These plugins tend to restrict streaming. Instead, download the CyberGhost software for your operating system and turn off the browser plugin to watch your favorite Anime on Crunchyroll.
Shows to Stream on Crunchyroll
Crunchyroll covers a wide range of anime for viewers. Users can search by most popular titles, genres, or seasons to find their favorite shows.
Some of the more popular shows include:
That Time I got Reincarnated as a Slime
Golden Kamuy
Hunter x Hunter
Bleach
Conception
Haikyu
The Ancient Magus Bride
Lilpri
Magi
Dragon Ball Super
Final thought
When streaming Crunchyroll on a VPN, we recommend not using a free VPN service. These services pose many of the same privacy risks as the unblocker app. They also tend to limit bandwidth making it challenging to enjoy your anime binge.
Instead, we suggest you try one of our favorite VPNs listed above, as they all offer a money-back guarantee and ensure security all-round.