25 Best Working Kodi Addons for Movies and TV (Tested 2022)
Last Updated by Ari Denial on August 01, 2022
I love using Kodi to stream movies and TV shows, but it's not easy to find working Kodi add-ons. I often think I've found the perfect add-on, only to realize the link is broken or the streaming quality is unwatchable. Even worse, some add-ons are filled with malware and can expose your sensitive data (like banking transactions and passwords).
After testing over 50 add-ons to save you time on your search, I have shortlisted the 25 best Kodi add-ons in May 2021 for streaming movies and TV shows. Every add-on is fast, reliable, and compatible with Kodi Leia 18 and earlier versions.
Stream safely on Kodi with ExpressVPN
Haven't Got Time? Here's a Quick Guide to Top Kodi Addons
I've sorted the best 25 Kodi add-ons into the categories below to make it easy for you to find the content you want to watch.
Best Kodi Addons for Films and TV Series
Netflix
You can watch Netflix on Kodi with the CastagnaIT add-on (Netflix is yet to launch an official Kodi add-on). This third-party Kodi add-on works with Netflix libraries in the US, UK, Australia, and Japan. During my tests of this add-on, I could watch TV shows and movies in HD quality with minimal buffering.
While there's many unofficial Kodi add-ons for Netflix available, I like the CastagnaIT add-on as the developer is well-established and trusted within the Kodi community. The add-on also has strong security measures – it encrypts your personal Netflix login details and connects you to the official Netflix website using the secure HTTPS internet protocol. When you log out, your credentials are permanently deleted.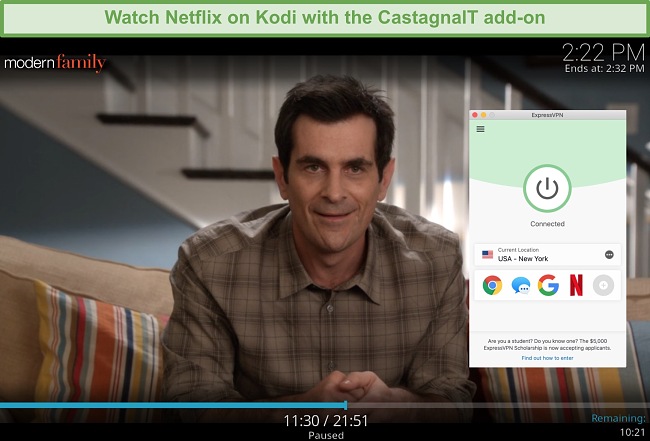 Disney+
You can download an unofficial Disney+ add-on from the SlyGuy repository, which is another highly-trusted and regularly maintained Kodi repository. I tested the SlyGuy Disney+ add-on, and it works perfectly and streams in HD. I particularly liked the "Search" feature, which made it much easier to navigate between TV shows and movies.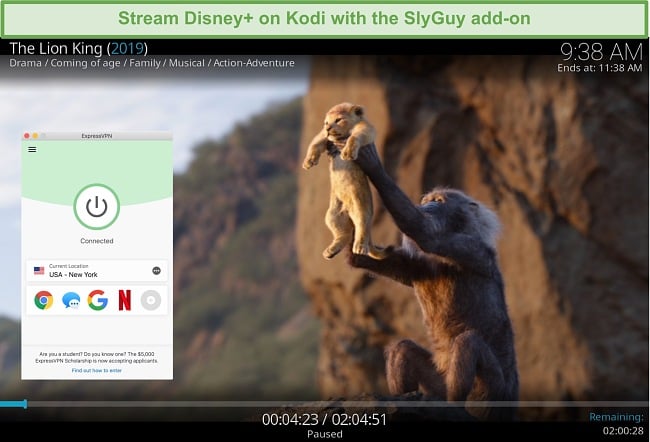 This Kodi add-on only works in countries where Disney+ is available, which includes the UK, US, Canada, Australia, and New Zealand. I used ExpressVPN to test if I could stream Disney+ and am happy to report it worked perfectly.
Exodus Redux
Exodus Redux is a popular Kodi add-on that you can use to watch films and TV shows. I spent hours browsing the selection and was really happy with the quality of content and quick streaming.
My team and I don't condone illegal activities, so make sure any content you're streaming is copyright-free. In addition, I strongly advise you to use a trustworthy Kodi VPN at all times as Exodus Redux is an unofficial third-party Kodi add-on. This ensures your personal data and identity is kept safe from any malicious third parties.
Venom
I was really impressed by Venom's huge amount of content. You can find and watch thousands of movies and TV shows using this add-on! Even better, Venom makes it really easy to find something to watch.
However, you should still double-check which links you follow, so you don't accidentally download copyrighted material. I also make sure to protect myself from web trackers or advertisers with a VPN in case I unknowingly click the wrong link. If you don't have a VPN yet, you can try ExpressVPN risk-free for yourself. If you decide it's not right for you, you have up to 30 days to get your money back.
Protect yourself on Kodi with ExpressVPN
Magic Dragon
Magic Dragon is a popular Kodi add-on for documentaries, TV shows, movies, radio, and sports. While there's a huge selection, you'll need to be careful what links you follow as some are full of ad trackers. For that reason, I always make sure to protect myself with a VPN It's often difficult to pick out the safest links to follow, but services like CyberGhost will encrypt your internet connection and even block malware.
Stream safely on Kodi with a VPN!
Covenant
Similar to Magic Dragon, Covenant has a fantastic catalog of free TV shows and movies – but you'll need to carefully research this library so you don't accidentally download illegal content. Fortunately, the developers made it easy to find the legal shows and movies with a filtering feature.
I still recommend that you protect yourself with a VPN when streaming this Kodi add-on from any spying third parties.
Gaia
Gaia is perhaps one of the most powerful and advanced Kodi add-ons out there. I was really impressed by its browsing interface – in fact, it's one of the best of all the Kodi add-ons on this list. The different streaming choices show all the information you need to choose your host: quality, file types, language, and source, reducing the chance of getting a bad link.
But it's important to know that this add-on is infamous for being difficult to set up because it's fully-optimized for debrid streaming services like Premiumize and Real Debrid. That means Gaia can let you stream movies in 4K by accessing premium links, but you will need to subscribe to a debrid service first. You'll find it difficult to find a quality stream without a subscription.
iPlayer WWW (BBC iPlayer)
The best Kodi add-on for watching the BBC iPlayer is iPlayer WWW. This add-on allows you to stream "Live", "Catchup TV", and even "Radio" content directly from the BBC iPlayer website. However, iPlayer WWW is a UK-only streaming service and you also need to have UK TV license.
As this is a UK-based streaming service, a VPN can help you access BBC iPlayer content like Killing Eve and Doctor Who if you're normally a UK resident but traveling abroad for work or holidays.
Tubi
Tubi is a free US-based streaming service owned by Fox Corporation. Similar to Netflix, Tubi doesn't offer an official add-on for Kodi. However, you can download a third-party Tubi add-on via the Diamond Wizard Repository, which is one of the most trusted and popular repositories on Kodi today. Best of all, this add-on for Tubi hides all ads during streaming!
You don't need to create a Tubi account to start streaming on Kodi (unless you want to watch M or R-rated programs). But if you're traveling outside the US, you'll need to use a VPN to continue watching TV shows and movies on Tubi.
Stream Kodi safely using a VPN
Crackle
You can watch Hollywood movies and TV shows for free with the Crackle add-on, which is an ad-supported streaming service from Sony. You don't need to create an account either — just download the Crackle add-on from the Official Kodi Add-on repository and you can start streaming immediately.
While Crackle is only available if you're in the US, you can get a Kodi VPN to access the complete Crackle library if you're temporarily overseas and you want to keep up with your favorite shows.
Popcornflix
The Popcornflix Kodi add-on offers a huge selection of popular movies and TV shows, like Teenage Mutant Ninja Turtles: Out of the Shadows and What's Eating Gilbert Grape. This is an official Kodi add-on, so you can download it directly from the Kodi repository. The only downside is that this add-on only works in the US and Canada.
Cypher Media
This is an all-in-1 add-on for Kodi with a massive selection of TV shows and movies. Cypher Media also gives you access to anime, IPTV, and a TV Calendar.
During my tests, Cypher Media only had a few seconds of buffering before playing the stream flawlessly. Unfortunately, like Venom, some streams on this add-on are from illegal websites, so you should be careful you don't accidentally download copyrighted content. You should also make sure to take precautions against potential hackers by encrypting your internet connect with a quality VPN.
Luxray Video
Luxray is a much-hyped add-on in the Kodi community. I found the add-on really easy to use, and Luxray's selection is sorted into categories like movies, TV shows, animations, superheroes, crime, etc. Just make sure you're only streaming copyright-free content.
You may find the standard selection on Luxray is a little limited, but (like GAIA) you can easily find a bigger selection by connecting to a Real Debrid account. However, a warning: Luxray does include some torrenting links, so make sure to protect your personal information and IP address from hackers with a reputable VPN.
Stream Luxray safely with ExpressVPN
Top Kodi Addons for Live TV and News
USTVNow
You can watch live TV in the US with the USTVNow Kodi add-on. The free version includes ABC, CW, CBS, PBS, and My Network TV. If you get the paid plan, you can also access Comedy Central, Animal Planet, Bravo, ESPN, and more. As USTVNow was originally launched for US military and expatriates abroad, the Kodi add-on works globally (including in the US).
XUMO.TV
The XUMO.TV add-on gives you access to over 190 channels worldwide, which are all free to watch. Although there are some channels from Canada, Brazil, Mexico, Germany, France, Italy, Spain, and the UK — most networks are US-based and only available if you're in the US. If you're temporarily outside the US for work or a vacation, I recommend you get a VPN so you can rightfully access content from your home country.
Deutsche Welle
The Deutsche Welle Kodi add-on streams international news and current affairs programs, such as Close Up, The 77 Percent, and DocFilm. You can change the language of the add-on from English to either German, Spanish, or Arabic. Best of all, the add-on is completely free and works in any country.
Popular Kodi Addons for Sports
The Crew
If you want to be able to stream the NFL, NBA, MLB, UFC, FIFA, and many more, The Crew add-on is a must-have.
While this is the most complete sports add-on I could find during my testing, it is a little frustrating to install. Many Kodi users also have the Indigo add-on installed, but Indigo stops The Crew from working. It's pretty easy to fix — just disable the Indigo add-on and any other dependencies.
Safely stream live sports on Kodi now!
DAZN
You can download DAZN's official Kodi add-on to stream live sports. This is one of the most user-friendly Kodi add-ons I've tested, and it's easy to navigate between the UFC, tennis, basketball, NFL, and more.
However, you will need a subscription to use this add-on. If you regularly travel for work or leisure, you might want to invest in a VPN as well. Not only is DAZN restricted to certain countries, but each country also has exclusive access to different sports. You can use a VPN to watch your home country's games, matches, and fights on DAZN while you're abroad.
ESPN3
The ESPN3 Kodi add-on has live sports, highlights, and replays of college football, basketball, tennis, golf, soccer, cricket, and more global sports events. While a subscription offers complete access to every game, you can still watch dozens of short clips from ESPN3 and ACCExtra.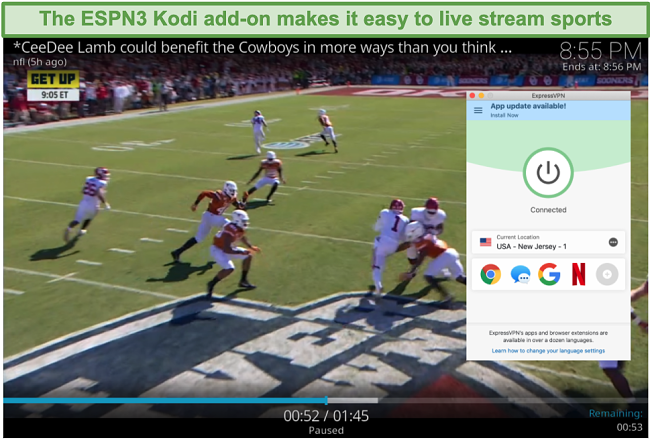 Top Kodi Addon for Watching Videos
YouTube
I love using the YouTube Kodi add-on to stream music, videos, and clips from my favorite YouTubers — especially since there are zero commercials. You won't even see any ads on the side banners or in the video suggestions.
Only the installation process is slightly tricky. Due to a recent update, you now need to supply your own API Keys. I had no idea how to do this, so I simply followed the on-screen instructions when installing the add-on. The steps were easy and I could stream YouTube on Kodi successfully afterward.
Favorite Kodi Addons for Cartoons and Anime
Crunchyroll
Crunchyroll has the world's largest collection of Japanese anime with English subtitles, as well as exclusive original programming. However, you'll need to sign up for a subscription to use the Kodi add-on.
Keep in mind that most anime titles are only licensed for specific regions — for example, I found the US library had at least 100 more shows than countries in Europe. If you're traveling overseas for work or a holiday and you want to keep up with your favorite shows, a VPN can help you regain access to your home country's Crunchyroll library.
FunimationNOW
FunimationNOW is another popular Kodi add-on for streaming anime, especially if you prefer English-dubbed anime instead of the original Japanese audio. As a bonus, the Kodi add-on is incredibly user-friendly. I found it really easy to browse anime with the quality images, filter options, and preview screens.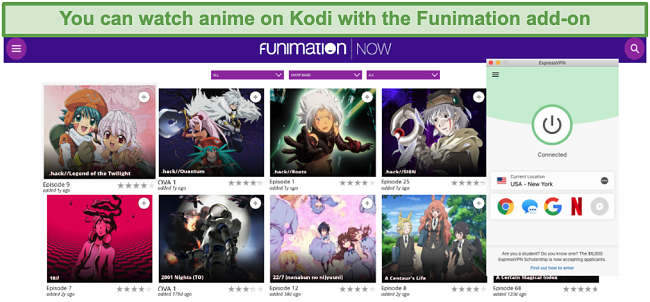 While there's a free version on desktop and mobile, you'll need to get a paid subscription to use the Kodi add-on. It's also only available in the US, UK, Canada, Ireland, Australia, and New Zealand. A VPN can access your FunimationNOW account if you're abroad temporarily in a country that doesn't support it, so you can rightfully access the content that you paid for.
Best Kodi Addons for Documentaries
National Geographic
National Geographic's Kodi add-on has thousands of clips to stream for free. Unfortunately, you can't watch full episodes and the library isn't easy to navigate — there are so many clips that it takes a long time to search through every option. Overall, I still like this add-on as I can watch quality content at zero cost.
Seeker
Seeker has a huge catalog of science, technology, and culture shows. The channel is from the same company that owns the Discovery Channel, so the content is high-quality and original. However, this add-on only pulls content from Seeker's YouTube channel. If you're already using the YouTube add-on you may prefer to stream Seeker from there.
Best Kodi Addon for Bollywood, Indian and Hindi Movies
Disney+ Hotstar
If you want to watch Bollywood, Indian and Hindi movies, this Indian subscription streaming service should be at the top of your list. As you would suspect by the name, Disney+ Hotstar includes the full Disney+ catalog — but as an added bonus, it has lots of other content, including HBO series like Silicon Valley and Chernobyl.
If you're traveling outside India, a quality VPN can help you access the full amount of content since some movies and TV shows are blocked abroad. In tests, ExpressVPN's Indian servers accessed Disney+ Hotstar in HD with zero lag.
Warning! Don't Download These Kodi Addons and Repositories
Based on my tests, I can confirm these add-ons don't work anymore: Amazon VOD, Einthusan, Elementum, Genesis and Genesis Reborn, Mobdro, Planet MMA, SnagFilms, and UKTurk. You should also avoid the following broken repositories: KodilRepo, Maverick TV, SuperRepo, and XLordKC Repository.
You'll find many review sites still promote the above add-on and repositories — but unfortunately, you'll just be wasting your time.
Do You Need a VPN for Kodi?
Kodi add-ons are downloaded from the web, and some can contain malicious code that can install malware, viruses, or steal your data (like login credentials!). While a VPN can't stop viruses, a good VPN has advanced security features (like military level encryption) to keep your internet traffic and browsing history private. Some even include features that can identify malicious websites to keep you safe!
But with so many options, choosing a VPN for Kodi can be a huge task. To make your life easier, I've rigorously tested all the top VPNs for their ability to access the fastest streaming speeds, and for top-of-the-line security features — here are the top VPNs to use with Kodi for the ultimate streaming experience.
Best Kodi VPNs in August 2022 (100% Fast and Secure)
Key Features:
When my team and I tested ExpressVPN, its servers worked with every Kodi add-on. I'm also pleased to report that this VPN lives up to its name with blazing fast speeds. There's nothing worse than using a VPN for Kodi only to be stopped by slow load speeds or buffering — but that wasn't an issue when I connected with ExpressVPN. I used the Smart Location feature to measure latency, speed, and distance and find the fastest possible server for streaming. The only time I experienced a little lag was while using the Covenant add-on. Thankfully it wasn't enough to stop the stream, so you will be able to safely watch without interruptions.
Speaking of safety, my research shows ExpressVPN has some of the best security of all the VPNs I tested. It uses the same encryption standard as the US government, and my DNS leak test proved it kept my true IP address hidden. It's also the only VPN on this list that uses TrustedServer technology to wipe your data from its servers' RAM every time the server reboots. That means your ISP or hackers can't track your streaming or internet activity because your browsing history doesn't exist.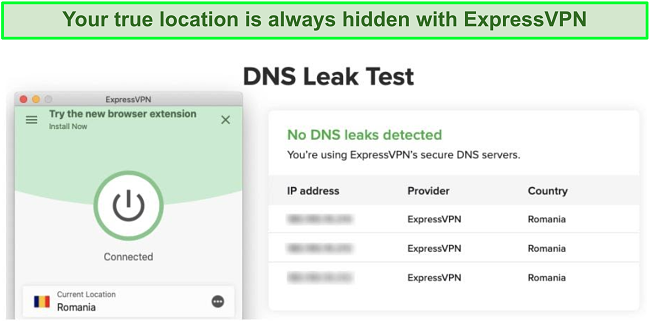 Kodi isn't always the most user-friendly experience when it comes to accessibility, so I'm glad that ExpressVPN also has an app for virtually every device you can think of. I could even download the app onto my Amazon Fire Stick and launch Kodi knowing my browsing was completely protected.
Out of the 27 VPNs I tested, ExpressVPN was the best by far. But don't take my word for it – ExpressVPN offers a 30-day money-back guarantee, so you can test its speeds and security features for yourself. If you find ExpressVPN doesn't fit your needs, you can get a refund within the first 30 days (no questions asked). I tested it myself and I got my money back in 5 days.
Key Features:
CyberGhost is not only budget friendly, but also has an entire list of servers that are optimized specifically for different streaming providers. I tested its Disney+ and Amazon Prime Video servers and found I could stream on Kodi instantly, without waiting for any annoying buffering.
CyberGhost is safely located in Romania, so your data is out of sight from the 5, 9, and 14 Eyes countries who can spy on your activities and share them with others. Meanwhile, while many VPN companies do log your data for their own purposes, CyberGhost has a strict no-logs policy.
You can install CyberGhost on 7 different devices simultaneously, so you can even share it with family or friends. It also has one of the longest money-back guarantees I've seen for a VPN – you can get full access to all its features for 45 days so you can find out if it's right for you.
Try CyberGhost free for 45 days!
Installation Guides: Download and Stream Kodi Addons Easily
Make sure to protect yourself with a reputable VPN when downloading and streaming Kodi add-ons. This will ensure your identity and Kodi activities remain hidden from spying third parties, like hackers.
How to Download Kodi Addons From the Official Kodi Add-On Repository
Here's a step-by-step guide to installing add-ons from the official Kodi add-on repository.
How to Install Kodi Addons From Third-Party or Unofficial Repositories
Help! Why Aren't My Kodi Addons Working?
Many Kodi add-ons are created by casual developers, so they're not always kept up-to-date or bug-free. While I've personally tested that all of the add-ons on this list work perfectly, some Kodi add-ons can conflict with each other — or with future Kodi updates. Here are some of the most common Kodi add-on problems and how to fix them.
Stop Kodi Addons From Freezing or Buffering
Add-on conflicts are the most common causes of freezing and buffering issues. If your Kodi add-on is freezing, ask yourself: did you install a new add-on? Did an add-on update?
If you're unable to identify an issue from an add-on, the next step is to disable your hardware acceleration. That might sound complex, but it's actually very simple.
If you're still experiencing issues with your Kodi add-on, sometimes a fresh install of Kodi is necessary. While it sounds drastic, it makes sure you're running the newest update of Kodi and your Kodi add-ons. This should stop any freezing issues.
Avoid the "Failed to Install a Dependency" Error Message
Most Kodi add-ons rely on other files and programs to work properly. These are listed when you try to install an add-on and normally install automatically – but can sometimes cause errors. Luckily, they're easily fixed.
To troubleshoot your error, begin by clearing your Kodi cache. The easiest way to do this is with the Indigo add-on.
Fix the "Unable to Connect" Error Message When Adding Sources
You'll get this error when a repository has been shut down. Jump to see why Kodi add-ons disappear.
Before you give up on an add-on, you should try these troubleshooting tips:
Double-check the repository URL is input correctly.
Check your internet is working well.
Use a trustworthy VPN to change your IP address in case you're having technical issues with your ISP.
Look for an alternate link to the repository, or see if your add-on is included in a different repository.
Resolve the "Check Log for More Information" Error Message
The quickest way to view your log is with the Log Viewer for Kodi add-on from the Official Kodi Add-on repository.
To view your Kodi log:
If you've tried the above instructions and are still receiving the error message, you're likely experiencing technical difficulties with your IP address. If that's true, the easiest solution is to use a VPN to get a new IP address that'll work.
I've been using ExpressVPN for years and have always been able to access the content I want. But don't take my word for it – you can try out ExpressVPN for yourself. It's backed by a 30-day money-back guarantee, so it's simple and easy to get a refund if the service isn't for you.
FAQs: Kodi Addons and VPNs
Are Kodi addons safe?
Kodi add-ons are open-source files, which means anyone can create them. There are two main types of Kodi addons:
Official Kodi Repository Add-Ons: these add-ons are easy to install, and are maintained by the team behind Kodi. The selection is a bit more limited, but the add-ons typically work well.
Third-Party Kodi Add-Ons: These can be downloaded from GitHub and direct URL links. The majority of third-party add-ons are installed through zip files, so it can be easy to hide malware. I recommend using a VPN to make sure you're protected.
I've personally tested all the add-ons on this list, so I know they're safe if you use them responsibly. But no matter what, I always use a VPN when using Kodi. A good quality VPN has a feature to warn you before your device accesses a dangerous or malware-infected site.
Is it illegal to use Kodi addons?
It's perfectly legal to use Kodi add-ons, unless the add-on hosts illegal content. My team and I don't condone participation in any illegal activities, so please check the rules and regulations in your country to ensure you're not in breach of any laws.
Can I use a free VPN with Kodi?
You can install a free VPN for Kodi, but if you want to stream movies and TV shows you might run into some major issues. The majority of free VPNs heavily restrict the bandwidth you can use. For example, Hotspot Shield is popular, but limits you to just 500MB per day – that's around 1 episode of the show Community, or just under 30 minutes of streaming.
Even worse, many free VPNs aren't secure at all — even if you're just using it for video streaming. Free VPNs can be malicious by exposing you to things like financial fraud and identity theft. Others sell your browsing data to third parties or install malware on your devices.
But here's a tip: you can get all the advantages of a top-quality VPN with no financial commitment. Just sign up for CyberGhost's 45-day money-back guarantee. You'll get unlimited access to their features and security benefits, and can watch the content you want. If you don't love it, just message to cancel — CyberGhost has a no questions asked policy, so there's zero risk. I tested this out and had a refund sent within 3 minutes!
Why is Kodi better with a VPN?
Using Kodi without a VPN can put you at risk. Many add-ons are unregulated and can expose your private data to unwanted third parties. Just make sure you choose the right VPN — some don't work with Kodi and others will sell your browsing data to third-parties. I've undertaken extensive testing on all the top VPNs and can confidently say that ExpressVPN is the top choice to use with Kodi.
Why do Kodi addons disappear or stop working?
Many well-known Kodi add-ons were shut down by authorities in recent years during a major crackdown on streaming services that hosted pirated content. Popular repos like Genesis and Cloud TV stopped working for good.
Additionally, many Kodi add-ons are made by unofficial developers. If Kodi releases a new update, the add-on may stop working unless the developers update it too. Don't stress though — I regularly test every Kodi add-on on this list to make sure it's updated and still works.
Can Kodi addons contain viruses?
Kodi add-ons can contain viruses, so you should always be cautious when using your device. A Man-In-The-Middle attack can occur at any time data is being transmitted, like while you're streaming a movie. While add-ons from the Official Kodi Add-on repository are inspected for viruses, unofficial add-ons can have password sniffers, cryptojackers, or malware hidden deep in their code. Meanwhile, clever hackers can sneak past firewalls and virus scanners undetected.
If you don't want your personal information to be exposed, I recommend installing a trustworthy VPN. A VPN encrypts your internet traffic and reroutes it through an additional server. This hides the content of your activity and its destination. That means while you're streaming on Kodi, no one knows what you're watching or can hijack your connection. ExpressVPN is my number one choice for streaming movies and television on Kodi because it offers military-grade security (like blocking blacklisted websites) without sacrificing streaming speed.
What's the best addon for my device?
The best 25 Kodi add-ons for streaming movies and TV shows will work on all popular devices. This includes Amazon Fire Stick, Amazon Fire TV, Windows, macOS, Xbox One, Playstation, Raspberry Pi, Chromecast, Roku, Linux, Nvidia Shield, smart TVs, tablets, Android and iOS.
What's the difference between a Kodi addon vs repository vs build?
All these terms can be a little confusing when you start using Kodi for streaming movies and TV shows. Let's look at the differences.
A Kodi add-on is like a program or app. An add-on makes it possible for you to stream content to your device from a specific source. For example, you can download the BBC iPlayer add-on to watch BBC shows on your Kodi device.
A Kodi repository (or repo) is a collection of add-ons. You may download one repository which will give you access to multiple add-ons. To get the BBC iPlayer add-on, you need to install it from the Official Kodi Add-on repository. This repo is included when you install Kodi, but if you want to get access to non-official add-ons (like Netflix) you need to install additional repositories. (Jump to find out how!)
A Kodi build is a quicker way of installing Kodi. A build typically includes popular add-ons, repositories, and a skin. You save time by not having to install these items yourself, but Kodi builds are known to slow your system, run risks of malware, and increase user problems. I recommend picking and choosing your add-ons, so you can stream the content you want safely and easily.
Start Streaming Popular Kodi Addons That Really Work!
Many Kodi add-ons don't work, are insecure, or can leave you vulnerable to malware. To get access to the content you want to watch and to protect you from dangerous websites, I highly recommend you use a VPN.
I tested 27 VPNs to see how they performed watching movies and TV on Kodi and can confidently say ExpressVPN is the clear winner. If you want to test it out for yourself, you can try ExpressVPN with Kodi. It comes with a 30-day money-back guarantee, so if you find the service isn't right for you, you can always get a refund before the time is up.
---
Summary — Best VPNs for Kodi in 2022