How to Watch Black Is King on Disney+ From Anywhere in 2020
Last Updated by Julia Olech on October 01, 2020
As a huge Beyoncé fan, I couldn't wait to watch her one-of-a-kind visual album, Black Is King. Disney+ is only available in certain countries (like the US, Canada, and New Zealand), so I knew I needed a VPN to watch it. Yet, I still saw this annoying error message when I tried to log in:
Sorry, Disney+ is not available in your region.
Not all VPNs do what they claim to, so I shortlisted the 3 best VPNs that actually unblock Disney+ and reduce buffering and lag to a minimum. ExpressVPN is #1 on this list for its reliably fast speeds. But don't take my word for it, you can try it for yourself risk-free for 30 days with its money-back guarantee.
Watch Black Is King with ExpressVPN!
Quick Guide: 3 Simple Steps to Watch Black Is King From Anywhere
Watch Black Is King with ExpressVPN!
Why You Can't Watch Black Is King Without a VPN
Disney only has the rights to stream shows and movies in a limited number of countries (such as Canada, Germany, Spain, and the UK). While it's constantly expanding its service area, if you're not in the right country you'll be blocked from watching Black Is King or anything else.
Connecting to a VPN service immediately masks your location and changes your IP address. That's why, despite visiting Poland, I could access Disney+ by connecting to a US server as the platform wouldn't recognize my actual location.
All 3 of the VPNs listed here have a 30-day money-back guarantee that lets you test their services for 4 weeks completely risk-free! This means you'll be able to watch Beyoncé's performance as many times as you want during the 30 days and only pay for a month of Disney+ subscription.
Useful Tip: As Disney+ signed a distribution agreement, Black Is King will be available to view throughout African countries, including Nigeria, Ethiopia, Cameroon, Ghana, and more. Viewers can also watch it through M-Net.
Access Disney+ with ExpressVPN now!
3 Best VPNs to Watch Black Is King on Disney+ in October 2020
Key Features:
3,000+ servers in 94 different countries with 1,000+ servers in Disney+ countries
Unlimited bandwidth for watching Black Is King and anything else you want
Fast download speeds for streaming any Disney+ content in 4K definition
Watch Beyoncé's live album on up to 5 devices simultaneously
30-day money-back guarantee
ExpressVPN is my #1 choice for watching Black Is King on Disney+ for its unbelievably fast connections. During my tests, I was pleasantly surprised to have steady, fast speeds on every server I connected to with an average of 30Mbps. Combined with fully unlimited bandwidth, ExpressVPN's speeds deliver the best quality streams to help you watch Queen B perform with zero interruptions.
As server speeds can fluctuate throughout the day, connecting to the same server may give you different speeds depending on when you're trying to connect. Luckily, I could quickly find the fastest server available using ExpressVPN's built-in Speed Test feature. With just one click of a button, I knew exactly which location was the best to use and was able to set up a connection in under 10 seconds. This ensured I could watch Black Is King without buffering.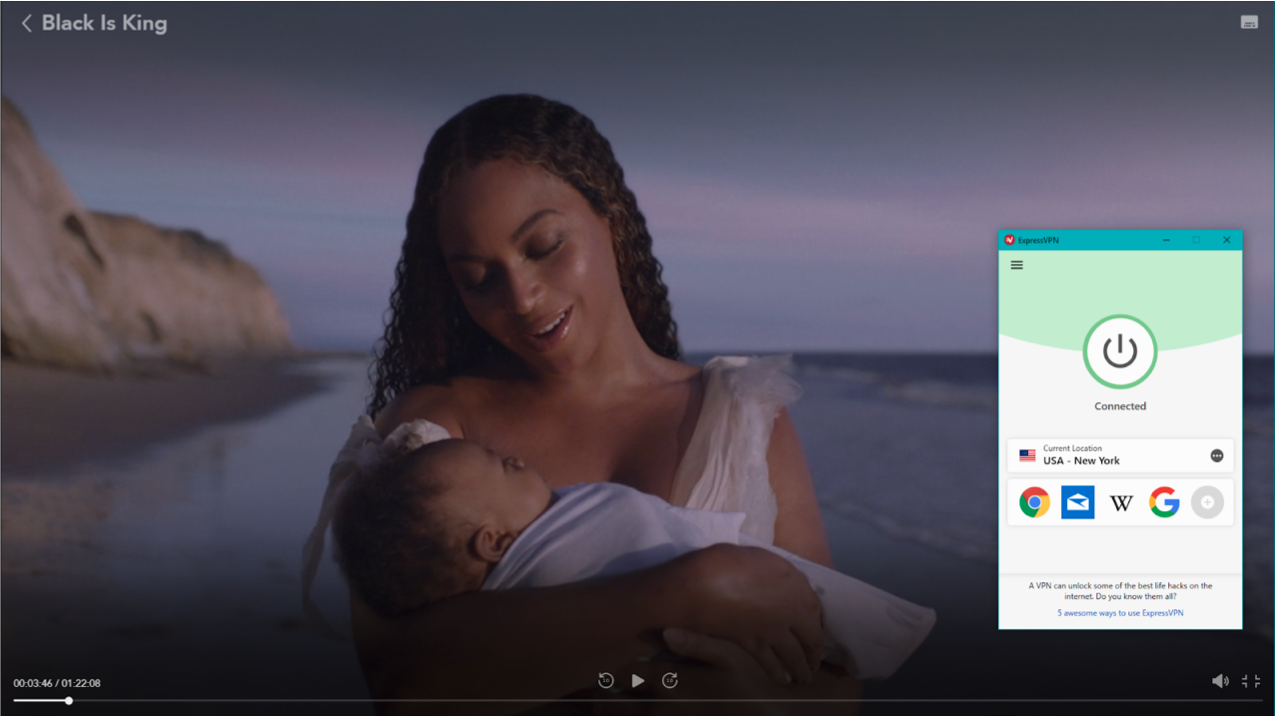 You'll have no trouble navigating ExpressVPN's simple and straightforward design. Both its desktop and mobile apps are extremely easy to use due to their simple interfaces. Just one click allowed me to create a connection, while searching for a specific location in the search bar took me less than a minute. I could also create a specific Disney+ shortcut within the ExpressVPN app that let me open the streaming platform directly through the VPN.
With its impressive features, it's not surprising that ExpressVPN comes with a slightly higher price tag than its competitors. However, you can try ExpressVPN for free for 30 days with its money-back guarantee. I received a refund myself after testing its features for 3 weeks. My request was processed through live chat in under 2 minutes and the money was back in my account within a week — no questions asked!
ExpressVPN also unblocks: Netflix, Amazon Prime Video, Hulu, HBO NOW, HBO GO, BBC iPlayer, SkyTV, SlingTV, SHOWTIME, and more.
ExpressVPN works on: Windows, Android, macOS, iOS, Chrome, PlayStation 4, Linux, Xbox One, and more.
Get ExpressVPN for free for 30 days!
October 2020 Update: ExpressVPN has dropped prices so you can save up to 49%! This is a limited offer so be sure to grab it now before it's gone. See more deal information here.
Key Features:
5,500+ servers globally, including 3,000+ servers in Disney+ countries
Reliable fast speeds for bufferless streaming
No bandwidth restrictions for watching as much Disney+ as you want
Watch Black Is King on up to 6 devices at the same time
30-day money-back guarantee
NordVPN has more than 3,000 servers in Disney+ supported countries that allow you to easily connect to a working server. This means you'll have plenty of options to avoid any Disney+ geo-restrictions and watch Black Is King from anywhere. Having more servers also minimizes the possibility of getting an overcrowded connection (which causes inconsistent streaming speeds and lag).
I was worried I would have to scroll endlessly to find the best server, but NordVPN's Quick Connect feature automatically found the fastest connection for me. To check how well it worked, I connected to 12 Disney+ countries and tested each connection. Every server maintained steady speeds of around 26Mbps! Even though NordVPN's average download speeds were a little bit slower than ExpressVPN's, I could still watch Disney+ with no interruptions at all.
You don't have to blindly believe my tests either — you can try NordVPN for free for 30 days with its money-back guarantee! To receive my money back, I simply told an agent on the 24/7 live chat that I wanted to cancel. When she asked what was wrong, I simply responded that I wasn't interested in the service anymore. My refund was processed within a few minutes and I got my money back in just 5 days.
NordVPN also unblocks: Netflix, Amazon Prime Video, Hulu, HBO NOW, HBO GO, BBC iPlayer, SkyTV, SlingTV, SHOWTIME, and more.
NordVPN works on: Windows, Android, macOS, iOS, Chrome, PlayStation 4, Linux, Xbox One, and more.
Watch Black Is King with NordVPN!
Key Features:
6,000+ servers globally with 2 servers optimized for Disney+
Quick speeds with thousands of streaming-optimized servers
Unrestricted bandwidth for limitless streaming
Access Disney+ on 7 devices
45-day money-back guarantee
CyberGhost offers its subscribers hundreds of servers dedicated to streaming — and 2 specifically for Disney+ (in the US and India). These servers are designed to bypass location restrictions and access the platform in seconds. Despite a slightly lower average download speed of 21Mbps, I didn't notice any change in my viewing experience. Even when I was watching Disney+ shows in 4K resolution, I didn't experience any lag or buffering with CyberGhost.
If the optimized CyberGhost streaming servers are too crowded, you can switch to the regular servers to watch Black Is King. I only noticed slightly slower download speeds (of around 17Mbps) — but I still had high-quality streams.
Luckily, CyberGhost offers a very generous money-back guarantee. This allows you to stream any movie (or show) on Disney+ for free for as long as 45 days! I was able to get my money back within a week after requesting a refund through the 24/7 live chat.
CyberGhost also unblocks: Netflix, HBO NOW, HBO GO, BBC iPlayer, SkyTV, SlingTV, SHOWTIME, and more.
CyberGhost works on: Windows, Android, macOS, iOS, Chrome, and more.
Watch Black Is King with CyberGhost!
CyberGhost's Latest Deal October 2020: Get an 18-month subscription for the price of the 12-month plan — which means you get 6 months completely free! Prices start at only $2.75/month. See more information on this offer here.
Why a Free VPN Won't Help You Watch Black Is King
Since you already have to pay for a month of Disney+ to watch Black Is King, you may be tempted to find a free VPN provider. However, I wouldn't recommend it if you want to be sure you can watch Beyoncé's visual album. Even though there are some good free providers, I had to overcome multiple streaming issues before giving up altogether — and that's if I could unblock Disney+ to begin with.
If you find a free VPN that gives you access to the platform, you're very likely to experience annoyingly slow streaming speeds, neverending buffering, and annoying ads. That's because many of those providers have fewer servers which get overloaded very quickly, meaning longer loading times for you.
If that's not off-putting enough, most free VPNs put your personal data at risk as they profit from selling customers' information to third-parties, including advertising companies and even the government. You should never gamble your safety in exchange for a mediocre and interrupted Black Is King streaming experience.
If you don't want to spend extra money on yet another subscription, you can choose a premium VPN provider that offers a money-back guarantee. All 3 VPNs on this list allow you to test their services before committing to a long-term contract. It's a fully risk-free option that I tried myself — in all 3 cases, I received my refund without a problem through live chat. ExpressVPN offers a "no questions asked" refund policy so getting your money back is truly hassle-free.
Try ExpressVPN for free for 30 days!
Common FAQs About Disney+ and VPNs
🤑 Is Disney+ worth its price tag?
Disney+ is a great streaming platform for viewers of all ages and backgrounds. Its library features the biggest collection of both classic movies, like The Lion King and The Little Mermaid, and latest releases (including Frozen 2 and Maleficent: Mistress of Evil). All Disney+ subscribers get to enjoy exclusive original Pixar, Marvel, and Star Wars shows, such as the legendary Star Wars series, The Mandalorian. You'll be presented with a choice of various National Geographic documentaries as well.
Disney also caters to those fond of popular theatre musicals. Alongside its latest addition of a highly-demanded Broadway show, Hamilton, the platform boasts an impressive selection of musicals, including Newsies, Hello Dolly, and Annie.
If you want the best deal, I'd recommend purchasing it in a bundle with other streaming platforms. One of the most popular bundles includes Disney+, ESPN+, and Hulu, which saves you from paying for them separately. Even if you just want to watch Black Is King on Disney+, you can share the subscription with your friends or family while you watch your favorite TV shows through other platforms. This bundle is only available in the US, but you can easily sign up for it using a VPN connection.
🤓 What devices can I watch Disney+ on?
Disney+ is currently available on a range of devices and operating systems:
Mobile phones: Android and iPhone
Tablets: Android, iPad, Amazon Fire Tablet (only in the US and Canada), and Windows Surface
Laptops: Windows, macOS, and Chromebook
Gaming consoles: PlayStation 4 and Xbox One
Smart TVs: Samsung Tizen TV, Android TV, LG WebOS TV, Apple TV, and Roku TV
Streaming devices: Amazon Fire Stick, Roku, and Chromecast
Unfortunately, Disney+ isn't compatible with older gaming consoles, such as PlayStation 3 or Xbox 360. You also won't be able to use your Nintendo Switch to watch Black Is King as neither Nintendo nor Disney has confirmed any plans of collaborating.
🤩 What else can I use a VPN for?
All reliable VPN providers offer thousands of servers to connect to across the world — and with that an ability to make it seem like you're in a country of your choice. This means you'll be able to watch your favorite shows on Netflix, HBO, Hulu, BBC iPlayer, Amazon Prime Video, and many more, with just one click of a button.
Even better, a VPN connection gives you full online protection and complete anonymity. That's because rerouting your online traffic through a VPN server creates a direct tunnel between your device and the server itself. This connection is protected with military-grade encryption that's impossible to intercept by both cybercriminals and network providers. These security features are perfect for torrenting, bypassing online censorship, and general data protection.
Get ExpressVPN for free for 30 days!
Start Watching Black Is King From Anywhere!
Black Is King has already sparked a controversial discussion, and while everyone posts spoilers and selected clips on social media — you don't have to miss out on seeing the real thing. Simply download a VPN and join the hype online!
Remember that you can try ExpressVPN for free for the first 30 days. Taking advantage of the money-back guarantee will give you access not only to Beyoncé's movie, but also the live remake of The Lion King and its classic 1994 version. It's perfect for all fans of the franchise!