How to Watch The Final Season of the Good Place from Anywhere
Last Updated by Chase Williams on September 24, 2019
Oh Fork! It's the last season of The Good Place.
Will Chidi and Eleanor make it work? What about Janet and Jason? Will Michael find a way to sneak them into the real Good Place?
You don't want to wait a year for this season to hit Netflix. Especially when every episode will stream for free on NBC.com. However, NBC only allows viewers in the US to watch new episodes.
That's where a VPN comes in. It's a easy to download software that can make it appear that you're in the US, allowing you free access to the site. Check our quick guide for the 3 easy steps you need to watch the Final Season of the Good Place from outside the US.
Quick Guide: How to Watch New Episodes of the Good Place
Get a VPN. I've used ExpressVPN without any trouble. It's fast, which is great for streaming, and wasn't detected by the NBC.com geo-block.
Connect with a US server
Go to NBC.com and find new episodes. It's important to point out that NBC will only allow free access for the five latest episodes. If you want to watch more, or catch up on old seasons you will need a US cable account.
Why You Need a VPN
A VPN is essential to everyone accessing the Internet, not just for streaming. VPNs encrypt your data and also re-route your traffic through private servers. This gives you total anonymity and security while online.
To utilize a VPN, you'll connect to one of their servers. This causes your IP address to change. Since websites and ISP providers track you with your IP address, you remain protected. They won't be able to figure out where you are or what you're doing.
To get online with American sites such as NBC or Netflix, you need to connect to a server in the United States. This applies a U.S. IP address to your connection and fools sites into letting you in.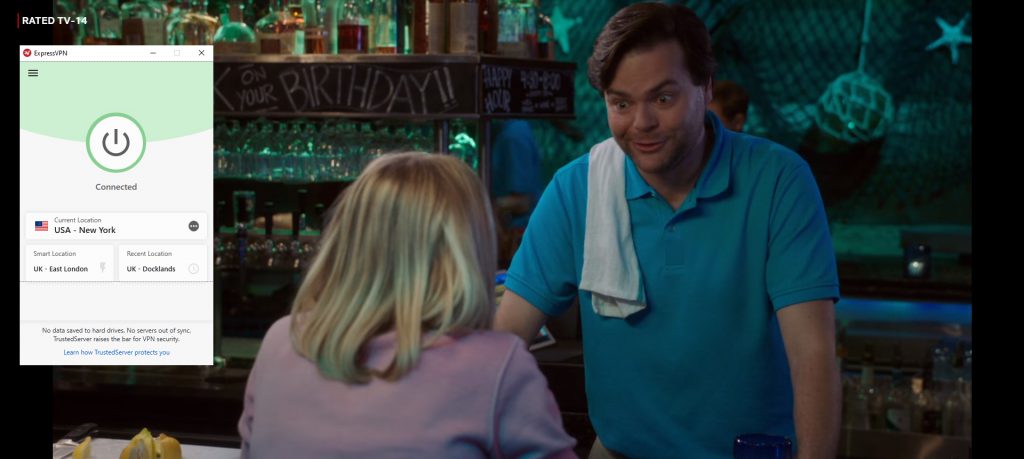 We highly recommend signing up with ExpressVPN. They offer the fastest servers, which is a must-have when streaming online. They do have a higher price than other VPN providers, but the security and privacy they provide makes it a good value.
ExpressVPN has servers located all around the world which gives you access to anything online.
They are also known for their superior customer support team and feature a no-log policy for your protection. Try them out during their 30-day money-back guarantee without any risk.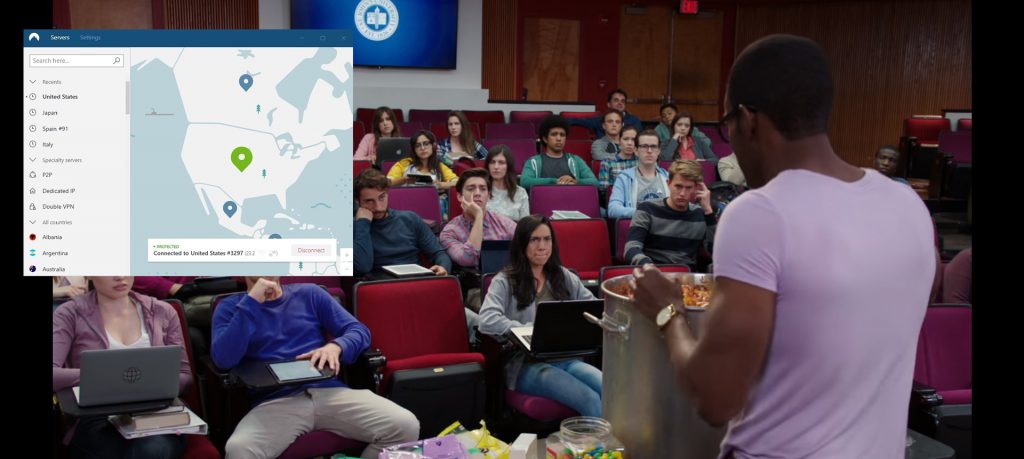 NordVPN continues to be a popular option for anyone looking to stream. They have an extensive server network all offering high speeds.
They've successfully worked around the blocks imposed by NBC, BBC iPlayer, Netflix, HBO, and more. They even allow up to six connections at once, so everyone in your home receives protection.
They don't log your information and have some advanced features for further protection. Utilize the automatic kill switch, Cyber Sec, and DNS leak protection. They have apps for Android, iOS, Windows, and MacOS plus offer a 30-day money-back guarantee.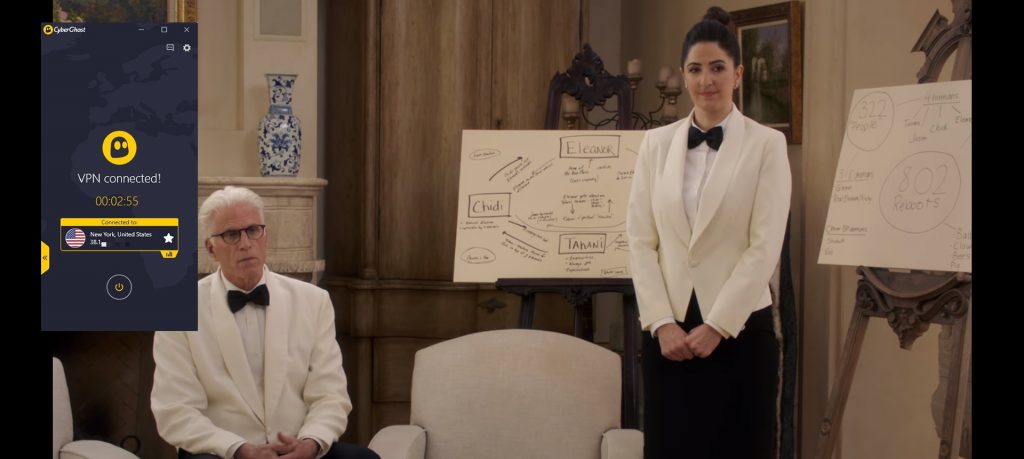 CyberGhost VPN keeps you protected online with their long list of server options. This service allows safe torrenting, unblocking of geo-restricted sites, and complete anonymity. It's a simple program to use and offers support for many devices.
They also have a kill switch, ad-blocker, forced HTTPS, and anti-malware options. They won't log your activity plus offer further protection for IPv6, port forwarding, and DNS leaks.
Finally, they provide a 45-day money-back guarantee which offers some additional time to try it out.
Avoid Free VPNs to Watch The Good Place
While the temptation exists to use a free VPN when you want to watch The Good Place, you must avoid it at all costs. You have two different free VPN options available and both aren't going to help you.
Free VPNs provided by reputable companies – Some of the premium providers offer a free version of their VPN. While there's no security risk with these options, they simply won't work for streaming. Often, there's a select amount of server options and the speeds aren't as great.
Furthermore, they cap your bandwidth and data, so streaming is simply impossible. The goal behind these free services is to get new customers to the premium version.
Free VPNs provided by shady companies – The other option you have is to go with a completely free service. Before doing that, ask yourself how they can stay in business if they are free? Obviously, they make money somewhere. Unfortunately, that makes you the fool.
Some of them choose to sell your information to third-party companies. Other services simply inject ads and malware directly to your system. The worst case scenario is a complete bot attack using your computer as a source.
Neither of these options helps you! For the amount of money it costs to utilize a premium VPN provider, it's not worth the risk to go elsewhere. Isn't your security and privacy worth a few bucks each month?
Final Thoughts
Don't waste another minute missing out on The Good Place. Catch up on the previous episodes on Netflix and then stream them live from NBC.