Avira is one of the leaders in the online security world, and now you can use its powerful antivirus software for free. Create daily, weekly, or monthly scans and protect yourself from viruses, malware, spyware, adware, ransomware, Trojans, worms, rootkits, and more.
It also comes with an impressive collection of online security tools, including a free VPN and password manager, for added protection.
How to Download Avira Antivirus for Free
Click on this hidden link to go directly to the free Avira Antivirus download page.
When you click the Download for Free button, the .exe file will instantly download to your computer.
Secure Your Computer with Avria Antivirus for Free! 
How to Uninstall Avira Antivirus
If the free version of Avira Antivirus isn't powerful enough or you're looking for different features, check out the free antivirus alternatives below. Removing Avira from your computer is an easy process. Just follow these steps:
Type Add or Remove Programs in the Windows search bar.
You will need to restart your computer to complete the removal process.
Avira Antivirus Overview
The free version of Avira Antivirus is a lightweight online security tool with a powerful virus and malware detection engine. Thanks to its "'Protection Cloud" feature, Avira doesn't require a lot of your computer's resources. Instead, it identifies the programs and drivers on your computer and analyzes them on the cloud. There are several advantages to this method. Most importantly, Avira can use more resources, has stronger processing power, and access to more RAM on its cloud than it would on the average computer or mobile phone. Additionally, Avira can scan any file and assess its threat level significantly faster on the cloud than it would if it had to analyze the files on your device.
User-Friendly Interface
I'm a big fan of things that are easy to use and laid out very clearly. Each time you open the program, you'll see an overview of your security, privacy, and performance. If you want to run a scan that checks everything, click on the Smart Scan button.
The Smart Scan will look for privacy and performance issues, viruses, outdated apps that could be a window for malware or viruses to come through in the future, and network threats.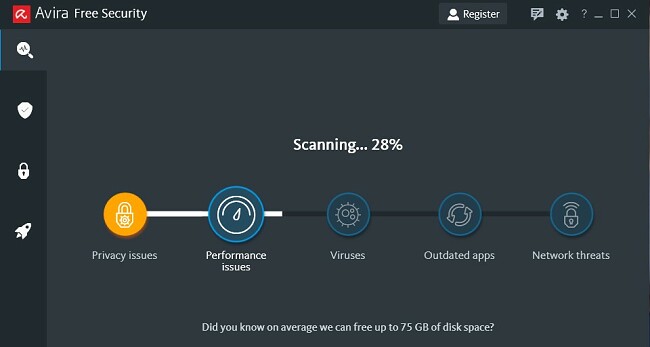 The only trouble with the free Avira antivirus is that it can only fix some of the issues it finds. If you want complete protection, check out this hidden deals page to get the premium plan for the best price available.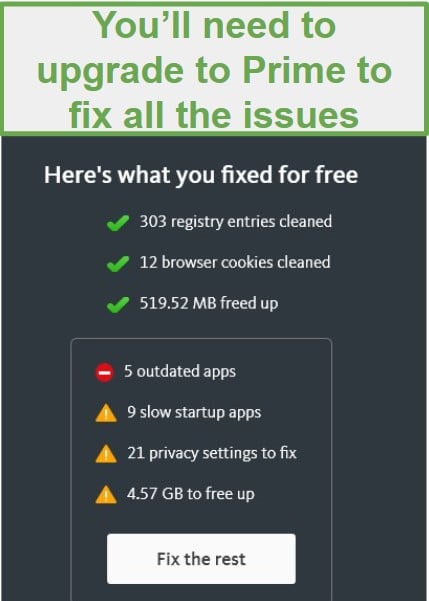 Improve your Online Security with Avira Free Antivirus
Try Avira Prime for Free
If, after you run your first scan and see that there are a whole lot of issues that the free version won't fix, you can get a free Avira Prime account for 30 days. This will give you plenty of time to take full advantage of all the powerful online security tools.
Some of the Prime member benefits include:
Fix flaws in your software
VPN with unlimited data
Cleans old and broken files from your computer to increase storage space
VIP customer support
I recommend starting out with the free Avira Antivirus and use it for a month. This way, you'll have all the data and statistics from the reports, and you'll know exactly what to expect if you upgrade. Then, during your free month, clean up all the issues, free up all the possible space on your hard, and get your computer running like new again.
Try Avira Prime Free for 30 Days!
Multiple Scanning Options
In addition to the Smart Scan, you can choose from 3 different scanning options.
Full Scan: This in-depth scan will go through each folder and driver on your device and search for malicious files. It is very thorough and can take over an hour, depending on your computer.
Quick Scan: Avira will look in the common areas that viruses and malware are often found.
Manage Scans: You can customize which folders are scanned.
You can create a schedule for each of the scanning options, whether it's daily, weekly, monthly, and what time it should start.

Best Features Included with the Avira Free Antivirus
Avira is much more than just antivirus software. It comes with several powerful tools that will increase your online security, protect your privacy, and improve your computer's performance.
VPN: Get up to 500 MB of data free each month. When the VPN is connected, your IP address is hidden, so nobody, including your ISP and government agencies, will know what you're doing online. It can also be helpful if you want to access blocked or restricted websites in your country.
Firewall: You should always have a firewall enabled to prevent unauthorized users from gaining access to your device.
Software Updater: Old or outdated versions of software can be exploited by hackers to place malware, viruses, and trojans on your device. Avira will list all programs that you should update. However, unless you purchase the Prime subscription, it won't automatically update the software – you'll have to do it manually.
File Shredder: Simply deleting sensitive documents isn't enough to guarantee that hackers won't have a way to restore and look at the file. The File Shredder completely destroys files to make sure that it will be impossible for someone to recover it.
Improve Computer Privacy Settings: Most people don't really pay attention to their Windows privacy settings. The Avira Privacy Setting feature will walk you through the privacy settings to give you control over what others can see, what data will be shared with Microsoft and other third-party software developers. This is really easy to follow, even if you have no technical knowledge.
Optimizer: Restore your computer to its original speed and performance by clearing the cache, removing unnecessary files, stopping unnecessary programs from running, and more.
Battery Saver: This will adjust your energy usage to maximize battery life for your computer.
Improve your Online Security with Avira Free Antivirus
Free Online Security Extensions
During the installation process, Avira will also download two browser extensions that can improve your online security.
Password Manager: You will only need to remember one password when you use the secure Avira Password Manager. It auto-fills forms, secures your digital wallet, has a password generator, and more.
Safe Shopping: This is more than a shopping extension. It will help scour the web for better deals while you're shopping and alert you if the website is infected, so you avoid phishing and ransomware attacks, blocks tracking cookies, and more.
Free Alternatives to Avira Antivirus
Panda Dome: The free antivirus software is compatible with all major platforms. It has a powerful antivirus engine with a near-perfect detection rate. In addition to multiple scanning options, Panda will also scan external devices, such as a USB stick, to prevent infected files from being installed on your computer.
Sophos: An antivirus with real-time protection, Sophos can protect you from viruses, malware, trojans, worms, and more. When you download the Sophos free antivirus, you'll get access to parental control filters, web protection, and remote management of your PC.
FAQ
Get the Free Avira Antivirus Software Today!
Read More