By most statistical metrics, Opera is located in 5th place among the most popular browsers with a 2.3% market share and around 300 million active users. However, its proven speeds and privacy features made me curious about it and I wanted to give it a thorough review.
Unlike the other browsers that provide a blank framework, and you have to install extensions and third-party apps, Opera comes preloaded with innovative social and security tools. It has integrated apps for several social media networks, an ad blocker, and a free VPN built into the browser interface.
It's built on the Google Chromium framework, which means that it's on the same level as any other major browser as far as stability, security, speed, and compatibility with extensions.
Follow the instructions below, and I'll show you how to download and set up the latest version of the Opera browser for free.
Opera Overview
Opera takes a minimalist approach to the browser interface. You'll see the "Speed Dial" page when you open your browser. This has icons for popular websites, which you can easily customize to your favorite websites.
One more useful feature is the Workspaces. You can create up to five workspaces for your browser. Each workspace separates your settings, bookmarks, and browser data. This way, you can create a different workspace for home and work, let your spouse, partner, roommate, children, etc., create their own workspaces, so you won't have their browser history and cookies interfering with your browsing experience.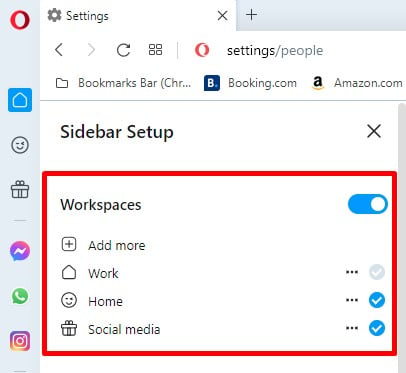 Opera Browser Features
While most browsers these days are empty shells that require you to download third-party add-ons and extensions to do anything more than visiting a website, Opera is different. The browser comes with plenty of built-in features that make it a powerful browser. Of course, it's also compatible with thousands of extensions that work with any Chromium browser.
If you're a casual gamer, Opera is a solid choice. It's fast, lightweight, and doesn't take up too many resources. However, if you're a serious gamer, check out Opera's dedicated gamer browser, Opera GX.
The Sidebar
On the left side of the Opera browser is a sidebar that gives you quick access to some of the built-in features without cluttering your desktop.
The sidebar is divided into several sections:
Workspace: You can manage your workspaces, add new ones, and switch between them from here.
Special Features: There are 3 special features that you can access from the sidebar:

Player: Opera will connect with some of the most popular music and podcast apps, such as Spotify, YouTube Music, SoundCloud, and more. You can control the playback directly from the sidebar.
My Flow: Download Opera for your phone, and you can sync the two mobile and desktop browsers. Once synced, you can seamlessly send pictures, URLs, links, files, and more from one device to the other. It's incredibly easy to use, just drag and drop an item onto the My Flow section or press the arrow My Flow icon on your browser to send a website directly to the other device.
Crypto Wallet: Opera makes it easy to make cryptocurrency transactions. However, it does seem like Opera is slowly phasing out this feature in favor of its Crypto Browser.


Opera Tools: The bottom half of the sidebar are shortcuts for tools like bookmarks, browsing history, extensions, pinboards, a personal news feed, and tutorials. You can customize which tools appear here through the sidebar settings.
These are just the built-in features. You can find hundreds of Sidebar Extensions to add that can increase productivity and save time. To add extensions, open the Sidebar Settings by clicking on the three dots at the bottom of the sidebar and pressing the Add More button under Sidebar Extensions.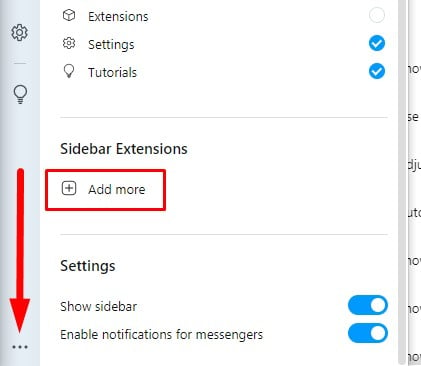 Watch Videos While Browsing Other Tabs
If you're watching a video but don't want to stay on Netflix, YouTube, Facebook, or whichever site from which you're streaming the video, you can click on the icon on the top of the video to detach it from the website. The video player will detach from the page and can be moved anywhere on your computer screen. You can adjust the location and size of the video player so it doesn't interfere with the content on the new tab.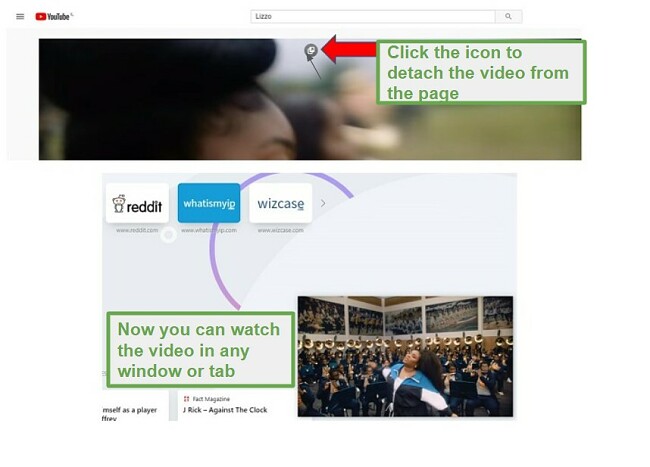 Built-in Screenshot Tool with Editing Options
Before I made the switch to Opera, I had two screenshot tool extensions on my browser. With Opera, it's built-in to the browser interface. The tool is called Snapshot, and you can access it by clicking on the camera icon at the end of the address bar.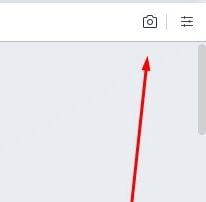 Snapshot lets you capture the entire page, select a specific section, or save the pages as a PDF. After you make your selection, you can edit the image, create a meme, add text, add highlights, draw shapes, save it to your Pinboards, and more.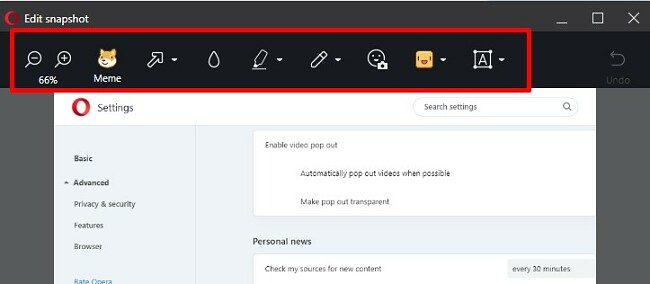 Use Pinboards to Brainstorm and Create Vision Boards
As part of its mission to be more than just a browser, Opera has a nice feature called Pinboards. It's a private space where you can add images, links, files, websites, write notes, and more. It allows you to create a vision board, brainstorm ideas, or just collect cool things you see online and save them in one place.
There is a Pinboards icon on the address bar, so you can save any website or element on a website directly to your board. You can open your pinboard from the sidebar by clicking the Pinboard icon in the Opera Tools section.

Reader Mode Makes it Easier to Read Web Content
Whether you have ADHD or just get distracted easily, the Reader Mode can really improve your reading experience online. It removes the extra elements such as ads, unnecessary page breaks and clutter from the page. It then reformats the content and images with an easy-to-read flow.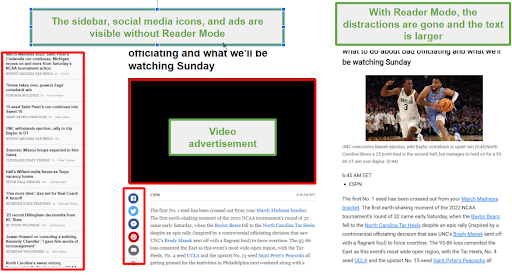 To activate Reader Mode, click on the book icon at the end of the address bar.

Download Opera Browser for Free!
Privacy and Security
Opera has some of the best integrated security and privacy features that you won't find in other browsers. You'll find a free VPN that encrypts your data and keeps you anonymous online, an ad blocker that also prevents unauthorized cryptocurrency mining, and a secure password manager.
Opera works with Yandex and Phishtank to detect malicious websites, and same with other Chromium browsers, If you go to a website that isn't secured with HTTPS, you'll receive a warning icon and a "Not Secure" message that replaces the secure lock icon.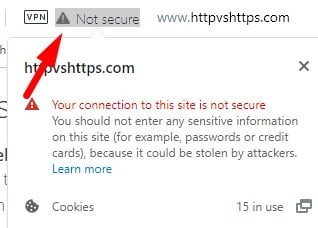 This is a crucial security feature that can protect you from phishing attacks, by alerting you the site may be spoofing or copying the real website.
Integrated Privacy Protection Tools
The one downside of having so many built-in features that connect with third-party applications and websites is that Opera has to collect more user data than the average browser. Each of the extensions needs different data sets, and it isn't 100% clear what they all have access to. What is clearly stated in Opera's privacy policy is that they don't collect any identifiable data.
The data they collect is needed to run the browser effectively and includes information on your device, hardware specs, feature usage, and OS data.
You can also protect your privacy from the websites you visit by activating the built-in ad blocker and blocking all trackers. In addition to blocking the ads and trackers, these features will allow websites to load faster and look cleaner. The ad blocker is also designed to block cryptocurrency mining scripts.
To activate the ad blocker and cookie cleaner, open the browser setting menu, and you'll see it under the Privacy Protection section. These features are turned off by default, so you will need to enable them.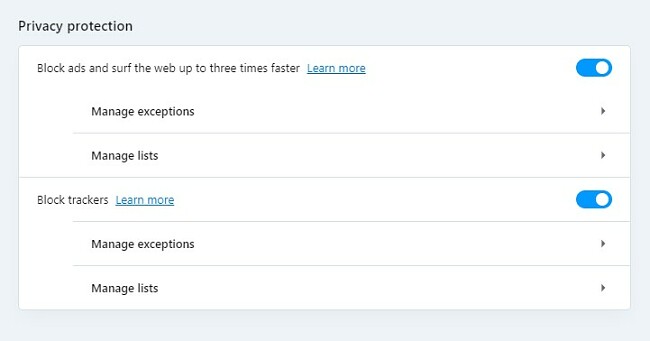 If you don't want to turn off the cookie tracker and ad blocker but want to maintain privacy, Opera has a Private Mode browser. All cookies and browsing history are deleted when you exit the browser, but it keeps your bookmarks, workspaces, and speed dial settings, so you can easily access your favorite sites.
Keep Your Privacy With a Free Built-in VPN Tool
Opera was the first mainstream browser to add a free VPN built into the browser interface. As far as free VPNs go, the Opera VPN is pretty good. It has no data or usage limits, has a no-log policy, and does a good job maintaining your speeds.
To activate the VPN, open the browser settings menu and scroll all the way to the bottom of the page. Click on the Advanced Settings option and scroll down a little more until you see the VPN section. Once you enable the VPN, you'll be able to control it directly from the browser by pressing the VPN icon at the beginning of the address bar.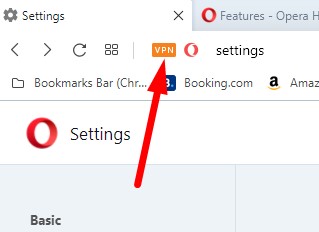 One of the neat features that come with Opera VPN is that it excludes major search engines from the VPN tunnel. This is helpful because when you're searching from something local, you'll get local results instead of results based on the VPN server location. If you want to anonymize your search engine activity as well, you can disable this feature in the Settings menu.
The Opera VPN is purely a privacy tool and is not designed to bypass geographic restrictions, such as watching Netflix, Hulu, or other streaming services that are not available in your physical location. While there are Opera VPN servers worldwide, you can't choose to connect to a specific country. Rather, the VPN will automatically connect to the "optimal server," which is closest to your physical location and allows for the fastest connection speeds.
Secure Auto Fill Manager for Safe and Quick Access to your Accounts
Opera has a built-in password manager. When you log into an account for the first time on the browser, it will ask for permission to store the password. Then, each time you go back to that site, it will auto-fill the username and password, making forgotten passwords a thing of the past.
It has the same functionality for credit cards. You can store your credit card number, name on the card, and billing address, and it makes buying things online easier. For security purposes, you will need to enter the 3-digit CVV code before your credit card number will autofill to the website.
The password and credit card auto-fill feature is encrypted to prevent unauthorized users from viewing or accessing your personal information.
How to Download the Opera Browser for Free
Go directly to the official Opera website.
Open the EXE file, and the setup wizard will appear.
How to Import Your Browser Setting and Bookmarks to Opera
If you're making the switch from Chrome, Firefox, or Edge, you can easily import all your browser settings and bookmarks.
Click on the Opera logo on the top right corner to open the browser menu.
A window will open. Select your previous browser, and choose which settings to import. The options are browsing history, favorites (bookmarks), saved passwords, and cookies. Click the Import button, and Opera will personalize your browser for you.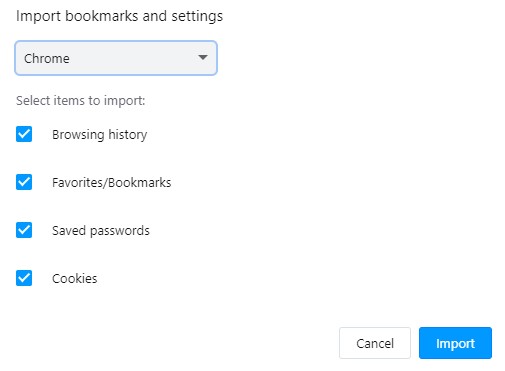 Repeat this process for each browser from which you want to import settings.
Additional Opera Browsers
In addition to the main Opera browser, Opera has developed niche browsers for gamers and cryptocurrency users with dedicated features focusing on specific needs. These browsers also incorporate all of the Opera browsers features, so you don't need to separate browsers for everything. It also has two mobile browsers that were designed for easy use on smaller screens.
The Opera Crypto Browser is a secure browser that provides a smooth Web3 experience for cryptocurrency users. The browser combines the Opera browser features with access to DApps and metaverse platforms. Opera Crypto already has partner agreements with influential key ecosystems and blockchains, such as Polygon, Solana, Unstoppable Domains, and ENS, with more partnerships reportedly coming soon.
Designed specifically for gamers, Opera GX has Discord and Twitch integrated with the sidebar. The entire browser optimizes your gaming experience with features like CPU, RAM, and Network limiters. These features improve your speed and cut down on wasted resources, so you can enjoy playing games without buffering or choppy connections.
The Opera mobile browser has many of the same advanced features as the desktop browser. It was developed to limit data usage, saving up to 90% of your data while allowing for fast web surfing, even on slow networks. It includes a Smart Browsing feature that selects the best browsing mode based on the websites or activities you're doing. Other features include an ad blocker, safe and private browsing, offline file sharing, and more.
Opera Touch is an Android only web browser that is designed for one-handed use. All the features are easily accessible at the bottom of the screen, with a remote control-like user interface. Swipe up to see your options and open the settings menu. After swiping up, you can also add new tabs, Scan QR codes, and activate gesture-based options.
How to Uninstall Opera Browser From Windows
If you're not satisfied with Opera, it's really easy to completely remove it from your Windows computer.
The Opera installer will open and ask if you're sure you want to remove the browser. Click Uninstall, and another pop-up will open and ask if you really want to leave Opera. Click Yes, and the program will immediately uninstall.
If the standard Opera browser isn't for you, check out these specialty Opera browsers that focus on gaming, crypto, and mobile devices.
FAQ
Is Opera a safe and secure browser?
Opera has multiple security measures in place to protect user privacy and prevent phishing attacks, malware, and more. In addition to the secure Chromium platform, Opera works with Yandex and Phishtank to detect malicious websites. It also comes with a built-in VPN, ad blocker, and cookie & tracker blockers.
Is Opera's VPN enough?
There is always a risk when using a free VPN, and Opera is no different. But while it doesn't have the same benefits as a premium VPN, it will keep your browsing data anonymous.
Can I add extensions to the Opera browser?
Opera comes with plenty of popular built-in features, such as social media apps, messengers, ad blockers, music and podcast players, an ad blocker, a VPN, and more. But it is also compatible with thousands of extensions, if you wish to add more.
Does the Opera ad-blocker work efficiently?
Yes, the ad blocker does a great job of preventing all types of intrusive ads, including pop-ups, banners, and ads that open new tabs. You have to enable the ad blocker, as it's turned off by default. Open the browser settings and scroll down to the Privacy & Security section. There you'll be able to turn on ad and tracker blocking.
Is Opera a good browser for gamers?
While Opera is a decent gaming browser, serious gamers should download Opera GX. It's a dedicated gaming browser that optimizes the resources for lower CPU, RAM, and network limiters.
How do I turn on Private browsing with Opera?
There are two ways to access Opera's Private Mode. You can press CTRL+SHIFT+N to instantly open a new private browsing window, or open the menu by clicking the Opera logo on the top left corner of the page and selecting "New Private Window".
Visit Opera Website