Sophos Home is one of the most recognized names in the antivirus industry. It's a lightweight program that can be managed remotely through a well-designed user dashboard. The Sophos Home free antivirus includes some excellent features that help create a safe environment while you or your family are online. This includes a customizable web filter that can block websites or warn users about entering a potentially inappropriate website.
You can download Sophos Home from this hidden link and get 30 days for free, without having to create an account or providing payment information.
How to Download and Install Sophos Antivirus for Free
Click on this link to go directly to access the hidden deals page where you can download Sophos Home antivirus for free.
Choose the Sophos Home free option and click the Download Now button. The .exe file will instantly download to your computer.
After the .exe download is complete, open the file to begin the installation process.
When the setup wizard opens, agree to the License Agreement, and Sophos Home will install on your computer. This can take up to 10 minutes to complete.
Click Finish to complete the installation. Sophos Home will immediately open and begin scanning your device.
Get Sophos Home Antivirus for Free!
How to Uninstall Sophos Home
If, for whatever reason, Sophos Home isn't the right antivirus software for you, check out the free alternatives below. You can completely remove Sophos Home from your computer by following these simple steps.
Type Add or Remove Programs in the Windows search bar.
Look through the list of installed programs and apps and find Sophos Home. Click Uninstall.
A warning will appear saying that uninstalling Sophos leaves your computer at risk. Click Uninstall and Sophos Home will be deleted.
Sophos Home Overview
The first thing that jumped out to me after downloading the free Sophos Home antivirus is that since I downloaded it from this hidden page, I started out with a free Sophos Home Premium trial instead of the limited free version.
Sophos Home is one of the most reliable antivirus programs, scoring excellent grades for virus and malware detection during independent lab tests. It's extremely easy to use and it features a single click scan option instead of multiple scan options that can confuse some users.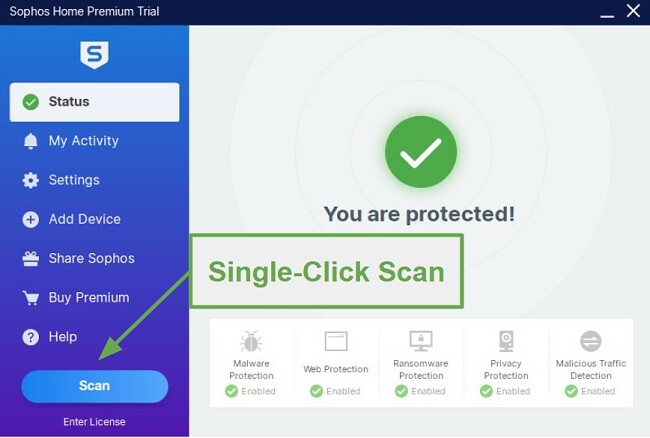 Sophos uses predictive Artificial Intelligence (AI) threat detection to locate and block new malware and viruses.
Sophos Home Antivirus Features
Even when the Sophos Home scan isn't running, the software works behind the scenes to protect your computer day and night. The real-time antivirus software is constantly preventing viruses, malware, Trojans, worms, potentially unwanted applications (PUA), spyware, and more from infecting your computer and compromising your personal data.
Sophos Home also protects you while browsing the internet. It has an extensive blacklist of malicious websites that is updated daily.
Remote Access Dashboard
You can manage your Sophos Home protection from anywhere through the dashboard.
The dashboard is the brain of Sophos Home. It allows the software that is installed on your computer to remain lightweight and not use up too much of your computer's processing power. You can check your device's current status, the history of what viruses and malware have been detected and removed, and when the previous scans occurred. The Protection tab is where you can set up a weekly schedule scan and adjust settings to AI and real-time scanning capabilities. You'll also see options for preventing ransomware, secure banking, and creating exceptions for websites that you want to visit, even though Sophos Home would generally block it.
Sophos Home also has a Webcam Protection feature, located in the Privacy tab. While it can't prevent an unauthorized user from accessing your webcam, it will alert you if your webcam has been activated, so you can turn it off and run a scan to see how someone was able to turn your webcam on remotely.
Strong Web Filter
Sophos Home comes with a comprehensive web filter that can work based on website categories. From the dashboard, click on Web Filtering to manage which categories you want to either Allow, Warn, or Block. There is also an option to enter URLs you don't want Sophos Home to block, regardless of the category.
The web filter is divided into three sections, and within each section are different categories. The sections are:
General Interest: This includes websites that deal with sports, religion, entertainment, gambling, shopping, and more.
Social Networking & Computing: This section has chat rooms, blogs, ringtone and app downloads, web-based email, P2P, and dating sites.
Adult & Potentially Inappropriate: Here is where you can block porn, hacking, sex ed, violence, weapons, drugs, and racism based websites.

The Difference Between Sophos Home and Sophos Home Premium
At the end of your 30-day free trial of Sophos Home Premium, you'll have to decide if you want to continue using the free version or create an account and subscribe to the Premium subscription.
With the free Sophos Home antivirus software, you will have access to the features that I've detailed above. It's pretty impressive for free software.
The premium account comes with some of the most powerful security features.
It includes:
Advanced Real-Time Threat Protection: Takes the real-time threat protection one step further. It is able to recognize new and developing viruses and malware, in addition to the ones already in its database.
Ransomware security: Prevents ransomware from stealing and encrypting your files and drivers from your computer.
Advanced web security: Prevents phishing attacks and blocks malicious websites from installing dangerous files on your computer.
Identity theft protection: Secure your usernames and passwords to prevent malware from accessing them.
Advanced malware scan and cleaner: Completely removes all traces and evidence of viruses, malware, adware, etc. that attack your computer.
Increase the number of supported devices from 3 to 10.
The nice thing about Sophos Home is that you'll be able to test all of these advanced features during your initial 30 days of using the antivirus software. That way, you'll be able to make an informed decision as to whether these features are necessary for you.
Try Sophos Home Premium for Free!
Free Alternatives to Sophos Home
Avira Free Antivirus: An excellent free antivirus software, Avira will protect your computer from all types of malicious files, such as viruses, malware, ransomware, Trojans, and more. Not only that, it comes with excellent online security tools like a VPN, password manager, web browsing protection, and computer optimizer to restore the performance and speed of your computer.
Panda Dome: Get the powerful, free Panda Dome antivirus to protect your computer from all types of dangerous cyber threats. It has a high-detection and can prevent and remove even the newest viruses and malware. Panda Dome will also scan external devices, such as a USB stick, to block malicious files from being uploaded to your device.
FAQ
? Is Sophos Home free?
Sophos Home antivirus is 100% free. You don't even need to register for an account. Simply download the software and start using it. You will be able to access your dashboard directly from the antivirus client installed on your computer and manage the program remotely. However, if you visit this hidden page, you'll be able to try Sophos Home Premium free for 30 days, also without having to create an account. This way, you'll be able to see whether you need all the extra features and benefits that come with a paid subscription.
? Is Sophos Home a secure antivirus software?
As long as you follow the steps above and download an official version of Sophos Home, you'll have a very secure and safe antivirus program. It's only if you download the program from a third-party website or try and find a "free" premium version on a P2P site that you have to worry about. This is because those websites are able to build a backdoor entrance or upload their own malicious files into the installer so they can have easy access to the private information on your computer.
? Does Sophos Home have Parental Control features?
Other than a comprehensive web filter, Sophos doesn't have parental control features. If you're looking to set up screen time limits and location tracking for your children's devices, here are some excellent parental control apps.
? Does Sophos Home come with a VPN?
While it has become common for antivirus software to include a VPN, Sophos hasn't joined that trend yet. If you're looking for a quality VPN that will hide your IP address, follow a strict no-log policy, access websites that are behind a firewall, and work with Netflix, check out the best VPNs based on tests done by the online security experts at WizCase.
Visit Sophos Home Website