Download the free Panda Dome antivirus and you'll get an easy to use program with 100% virus detection rate. It has a strong firewall that does a good job of blocking cyberattacks from gaining access to personal data on your computer.
How to Download Panda Dome Antivirus
Go directly to the official Panda Security website and download the Panda Dome Antivirus software for free
You might get a pop-up message with the latest paid plan, you can ignore this and continue to your free download.
You'll be redirected to a 3rd party website that hosts the download file.
Once again you'll have to click the DOWNLOAD button – but this time the file will download on your computer.
Double click or choose to run the file and the installation program will open.
Follow the steps and then click Accept & Install and the installation will automatically begin.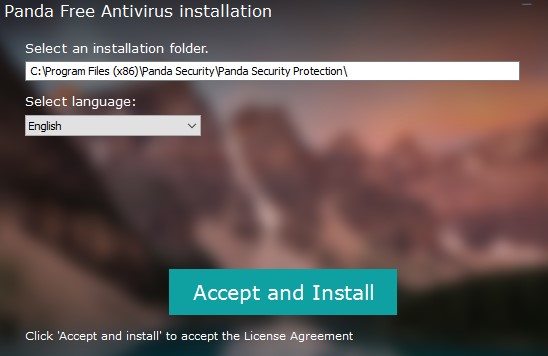 Download Panda Dome Security for Free!
3 Steps to Uninstall Panda Dome Antivirus from Windows
If Panda isn't right for you, you can completely remove it from your computer in 3 easy steps. Since you'll still need protection from cyber threats, check out these free alternatives below.
After you give the system permission to change your setting, Panda will try one more time to check if you're sure you want to remove the program. If you are, click YES.
After the uninstallation is complete, a survey from Panda will open in your web browser. You can answer the questions if you want, or just exit the page.
Panda Overview
With a 100% virus detection rate, Panda Dome is one of the most powerful free antivirus programs I've tested. It has a good selection of features and I found it very easy to use. There is no need to worry about advanced settings or learning how to use it. As you can see in the image below, the dashboard is very organized and free from clutter.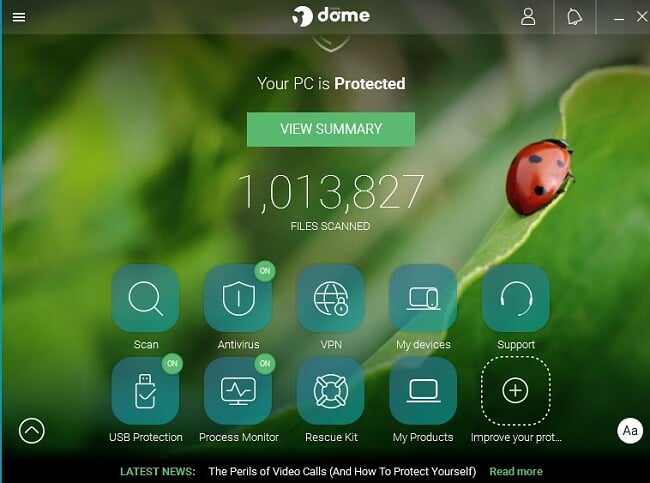 Customize Your Scans
There are a few different scanning options.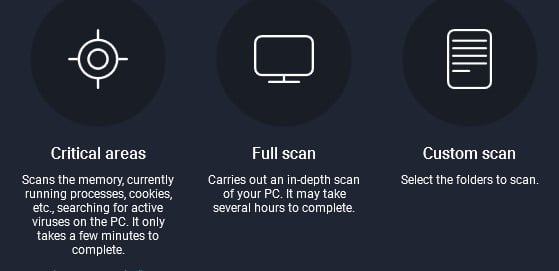 Critical Area – This is a quick, but important scan that looks at the computer's memory, processes that are running, cookies, and other areas where a virus may be operating.
Full Scan – A deep scan that inspects every folder and file on your computer.
Customize – You can choose which folders to scan. This is a good feature if you've downloaded something that you fear may contain a virus or malware.
USB Scan – You won't have to worry about installing a virus or malware through the USB port. Just turn on the USB Drive Protection and Panda will automatically scan all devices that are plugged into your USB.
You can either manually start the scan or create a schedule of when the scan should start. There is no limit to how many times you can schedule a scan per week. So if, for example, you want to have a critical scan twice a week and a detailed scan once a week, just create the schedule and you'll never have to worry about it again.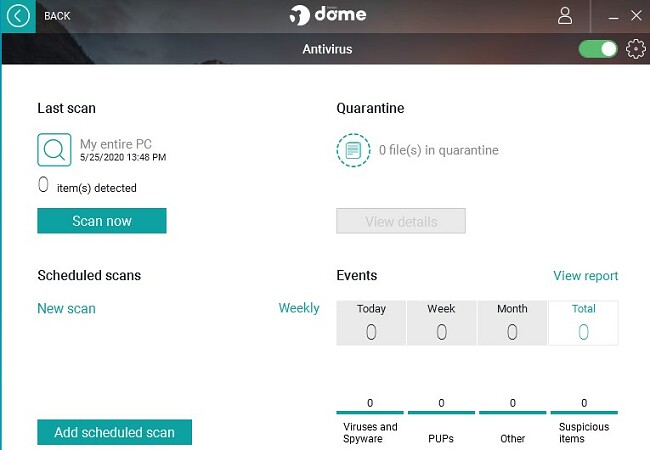 Panda will quarantine any suspicious files it finds and holds them for a week for you to inspect. You can either remove them manually, restore them if you believe the file isn't dangerous, or have the program delete it after a week in quarantine.
Panda is working even when the scan isn't running. It's blocking viruses and malware from infecting your computer. It will scan every file before you can download and install it. There is also a Process Monitor feature that is always checking the processes that are running on your computer, to ensure that they don't get infected or attacked.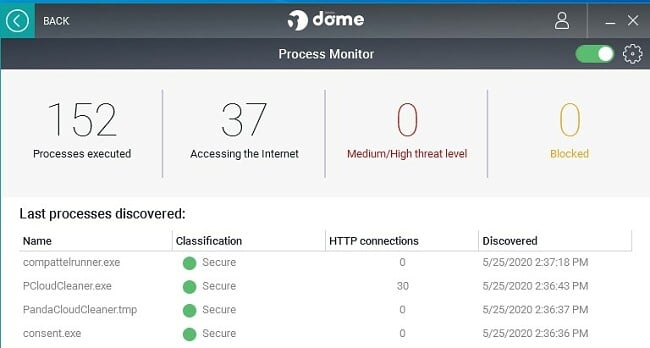 Download Panda Dome Security for Free!
Limited VPN Protection
A VPN is an excellent way to protect your privacy and data on your computer. When you download Panda it includes a free VPN, with a daily limit of 150MB per day and access to a few different servers. While that won't last very long if you want a VPN for watching Netflix, streaming, or gaming, it should be enough if your goal is to protect your computer while using public wifi, or for light browsing. (If you want the best VPN, check out our ExpressVPN review).
Free Alternatives to Panda Dome
Avira: One of the most complete free antivirus programs, Avira has nearly a 100% detection rate for all types of viruses and malware. Download it today and get 30 days of Avira Premium for free. It also includes online security tools, such as a VPN, secure firewall, and a system optimizer that cleans od and unused software from your computer to improve performance.
Bitdefender: An extremely easy-to-use free antivirus program, Bitdefender will work to protect your device 24/7. Run a comprehensive scan of your entire system, or select a specific file or folder to scan. While it's lacking any advanced features, based on independent testing, Bitdefender has a nearly 100% virus and detection rate.
FAQ
?Is Panda Dome really free?
?Is Panda Dome safe?
Panda Dome is 100% safe to download and use on your computer. Not only is it safe to use, but it will protect you from viruses, ransomware, spyware, trojans, and dangerous URLs.
?How do I temporarily disable Panda Antivirus?
Click on the "Hamburger" button on the Panda Dome dashboard and then click on the setting gear. You'll see a list of setting options, click on Antivirus and the first option is "Enable Permanent Protection", turn it off, and the antivirus will be disabled. Don't forget to restart the permanent protection after you're done doing whatever you were doing that required your antivirus protection to be disabled.
?Is there a free Panda Dome package for Mac?
Panda Dome does have a Mac application. Unfortunately, at this time there is no completely free option, but you can try it out for free for the first month.
Visit Panda Dome Antivirus Website