How to Download Torrents Safely in February 2023 – Beginner's Guide
Last Updated by Kate Hawkins on February 01, 2023
Downloading torrents on an unprotected internet connection is dangerous. You could expose yourself to viruses, malware, and hackers, or even face legal consequences if you breach copyright laws.
I've put together a set of easy tips to download torrents safely and avoid online attacks — but for a quick solution, a VPN is the best tool for secure torrenting. With a VPN, your real IP address is encrypted and hidden from anyone watching.
ExpressVPN is the best option for secure torrenting, offering a global network of P2P servers optimized for fast file-sharing. Plus, you can test ExpressVPN risk-free for 30 days to see if it's right for you. If not, you can easily request a refund.
Secure your torrents with ExpressVPN
Important! My team and I don't condone illegal activities, including downloading copyrighted content. Make sure the content you access is copyright-free, and use a VPN to keep your personal data and identity safe from third-party hackers, fellow peers, and advertisers on the site.
Easy Guide: How to Safely Download Torrents
Download a torrenting VPN. All of ExpressVPN's servers are optimized for P2P file-sharing — plus you can test ExpressVPN yourself completely risk-free.
Open your VPN and connect to a P2P server. Choose a nearby P2P server for the fastest speeds and a reliable connection.
Install a trustworthy torrenting client, such as BitTorrent, uTorrent, or Vuze.
Start downloading files! You can check out my list of recommended torrenting sites that provide high-quality, safe torrents.
Torrent safely with ExpressVPN
The Best VPNs for Fast and Safe Torrenting (Tested February 2023)
Key Features:
3000+ torrent-friendly servers in 94+ countries
No bandwidth limits for torrenting even the biggest files
Best-in-class AES-256 encryption
Torrent on 5 devices simultaneously
30-day money-back guarantee
ExpressVPN is one of the fastest and most secure VPNs on the market, making it a great choice for torrenting. During my tests, I could download torrents quickly and anonymously, protecting my data from hackers and completing my downloads in record time.
I was pleased to learn ExpressVPN supports torrenting on all of its 3000+ servers, so you can use its ultra-fast connections regardless of which location you connect to. I tested over 20 different locations and no matter what server I connected to, my download speeds barely dropped from my base speed of 110Mbps. With such high speeds, I could not only torrent but also stream HD-quality content on Netflix at the same time.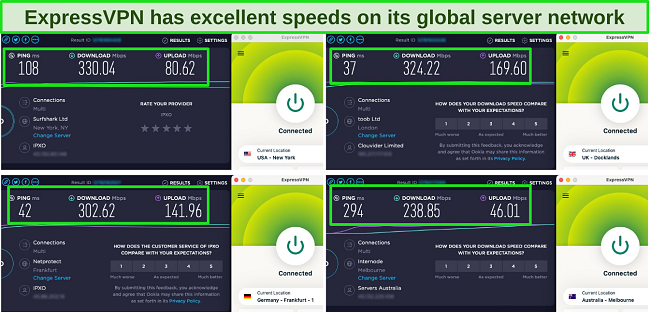 I could torrent a movie in less than 5 minutes while downloading a music album at the same time (which only took 1 minute)! ExpressVPN was equally fast when I was torrenting a 38GB file – it downloaded in just 20 minutes.

ExpressVPN has very strict privacy policies aimed at providing fully anonymous access to the internet. Its TrustedServer technology deletes all your data from the system every time you turn it off. Alongside the provider's top-of-the-range encryption, your torrenting activities are always untraceable.
To further secure your connection when torrenting, ExpressVPN has a kill switch to ensure your data won't be exposed if the VPN connection is interrupted. While the kill switch isn't available on iOS, I had zero issues with connection stability during my tests. Plus, ExpressVPN has DNS, IP, and WebRTC leak protection to guarantee all traffic stays within the encrypted tunnel. As a result, you can safely download torrents anonymously and be safe from the prying eyes of hackers or your ISP.
At $6.67 per month on a 1-year + 3 months plan, ExpressVPN's features come with a bit higher price tag than other VPNs. However, I think having access to unlimited and uninterrupted torrenting is worth the extra cost. If you're unsure, I suggest you test ExpressVPN's optimized torrenting servers for yourself risk-free to see if it's right for you. ExpressVPN is backed by a 30-day money-back guarantee, so you can get a full refund if you change your mind.
I tested the refund process myself and was surprised by how easy it was. I requested a refund after 24 days through the 24/7 live chat and the agent processed it quickly, no questions asked. Best of all, I received my money back within a week.
ExpressVPN works on: Windows, Mac, iOS, Android, Chromebook, PlayStation, Xbox, Linux, Smart TVs, Chrome, Firefox, and routers.
Torrent securely with ExpressVPN
February 2023 Update! ExpressVPN has dropped prices for a limited time to a crazy $6.67 per month for the 1-year plan (you can save up to 49%) + 3 months free! This is a limited offer so be sure to grab it now before it's gone. See more information on this offer here.
Key Features:
Over 9736 servers in 91+ countries (select locations optimized for P2P)
Zero data caps for uninterrupted torrenting
AES-256-bit encryption secures your downloads
Download files on 7 devices at the same time
45-day refund guarantee
With a vast network of servers optimized just for torrenting, CyberGhost is a great choice for safe and easy P2P file sharing. Optimized servers ensure the fastest download speeds and seamless file sharing. During my tests, I successfully downloaded a 40GB file in just 40 minutes – considerably less time than when I was connected to other VPNs with slower download speeds.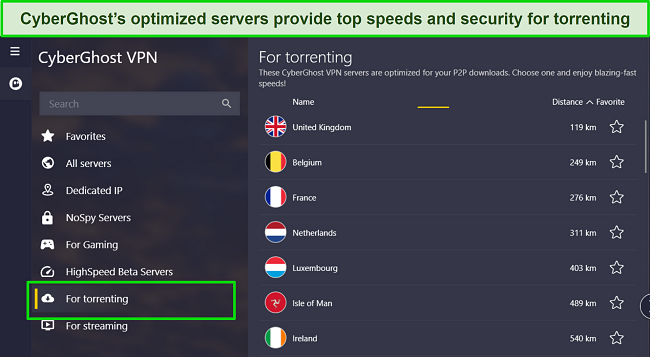 Usually, the closer the server the better the download speed, but that wasn't always the case for me. I found that CyberGhost's optimized servers in less popular locations often had better download speeds due to a lower number of simultaneous users — servers not in the UK or US, for example. To ensure I consistently had fast speeds while downloading, I clicked the "Favorite" star next to reliable servers. That way, I could connect quickly to fast servers, maintaining high speeds and quick torrent times.
I was pleased that CyberGhost's high-level security protected my data while torrenting. Like ExpressVPN, CyberGhost uses RAM-based servers that guarantee no online activity is stored. It also uses military-grade encryption to secure traffic and has a kill switch available on all apps.
Even more impressive, CyberGhost has its own ad, tracker, and malware-blocker included on its Windows, Mac, and Android apps. I was surprised by how well it worked to block torrents containing malicious files and tracking cookies. Plus, it blocked annoying pop-up ads from appearing on torrent sites so I could browse more easily. CyberGhost's blockers aren't automatically active, so you'll need to switch them on in the settings to be fully protected.
CyberGhost has a 45-day money-back guarantee, which is considerably longer than other VPNs. This means you can subscribe to CyberGhost's 2-year + 2 months plan for $2.19 per month risk-free and get a full refund if you're not satisfied. I tested the refund process and CyberGhost's customer service was very helpful. I asked for a refund through the 24/7 live chat and the agent processed it in less than 5 minutes. I had the money back in my account in a week.
CyberGhost works on: Windows, Mac, iOS, Android, Chromebook, game consoles, Linux, Smart TVs, Chrome, Firefox, and routers.
Safely torrent with CyberGhost
February 2023 Update! You can subscribe to CyberGhost for as low as $2.19 per month + get extra 2 months free with the 2-year plan (save up to 83%)! This is a limited offer so grab it now before it's gone. See more information on this offer here.
Key Features:
A vast network of 35000+ global servers in 84+ countries, all P2P-friendly
Unlimited data for unlimited downloads
AES-256-bit encryption protects your data while torrenting
Connect with up to 10 devices simultaneously
30-day refund guarantee
Private Internet Access (PIA) has an enormous network of 10+ servers that support torrenting. During my tests, I didn't have to worry about congestion: PIA automatically connected me to the fastest server available so I could torrent immediately.
I was pleased to find I could configure PIA's connection settings to increase security or boost download speeds. Most VPNs don't have configurable encryption, the higher the better. However, if you find your speeds are slow PIA lets you decrease encryption from AES-256 to AES-128 bit. While this doesn't massively affect your security (AES encryption has never been broken), it gives you a speed boost for torrenting as 128-bit is less resource-intensive.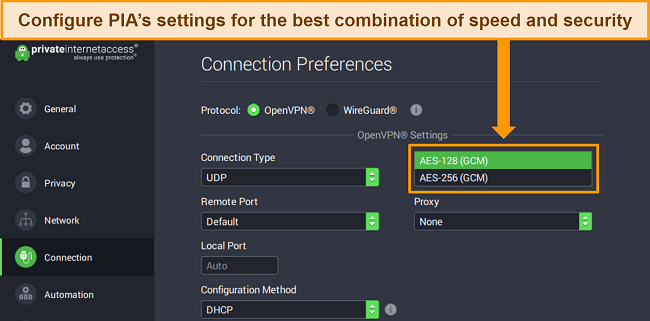 Boosting speeds for torrenting is important as I found PIA's download speeds drop significantly over long distances. I tested multiple servers and from a base speed of 110Mbps, PIA's average download speed was 75Mbps. With these speeds, I downloaded a 40GB file in just over an hour.
PIA also has a kill switch, leak protection, and its MACE ad-blocker as part of its security package. These features work well to secure your connection, protect your data from hackers, and stop potentially harmful pop-up ads when visiting torrent sites. PIA claims to have a zero-logs policy, but this hasn't been independently audited and confirmed. As PIA is based in the US (part of the 5, 9, and 14 Eyes intelligence-sharing alliances), I'd like to see PIA guarantee that it doesn't log or store user data to guarantee anonymous torrenting.
At $2.19/month on a 2-year + 2 months plan, PIA is more affordable than ExpressVPN or CyberGhost but its lower price comes with slower torrenting speeds. If you'd like to try the service, you can test PIA's torrenting ability risk-free for 30 days. I tested the refund process by contacting PIA's 24/7 live chat. The agent asked if I wanted to troubleshoot any issues, but when I confirmed I'd like a refund, they processed it quickly. I had my money back in just 4 days.
PIA works on: Windows, Mac, iOS, Android, Chromebook, game consoles, Linux, Smart TVs, Chrome, and routers.
Key Features:
200+ servers in 63 countries all support P2P connections
No data caps or bandwidth restrictions
AES-256-bit encryption keeps your data and torrent activity secure
Protects up to 10 devices at the same time
30-day refund guarantee
PrivateVPN's port forwarding can help boost your torrent speeds, making it faster to complete your file-sharing and downloads. Port forwarding lets your torrent client become an "active node," meaning other seeders can communicate with your device (usually, your torrent client would have to seek out other active nodes instead). PrivateVPN allows two-way communication, meaning more active connections and faster torrenting.
I was pleased that PrivateVPN maintains reliable speeds across its global network. This surprised me, as PrivateVPN's network is small at just 200 servers. With my nearest connections, my speeds didn't drop by more than 50%, fast enough to download a 30GB torrent file in an hour.
PrivateVPN also maintains high levels of security and data privacy for anonymous torrenting. All connections use military-grade encryption and have a kill switch, plus DNS, IP, and WebRTC data leak protection. I checked PrivateVPN's privacy policy and can confirm it never logs or stores user data. However, PrivateVPN has yet to undergo an independent audit to prove this.
The issue with PrivateVPN is that due to its smaller server number, there aren't always nearby connections for torrenting. While my connections were fast, PrivateVPN does slow down considerably over long distances — if you have slow internet speeds, this could significantly impact your torrent downloads.
Connecting to the nearest server delivers the best speeds, but you may find the closest option with PrivateVPN is still some distance away. If server availability and speed are an issue, I suggest taking a look at ExpressVPN instead: its network is much larger than PrivateVPN's and every server is optimized for torrenting.
If you'd like to test it before committing to a subscription, I suggest you try PrivateVPN for yourself risk-free. At $2.00/month (on a 3-year plan), it's a lower-priced option and one of the top monthly VPNs if you have a strict budget. Plus, it has a 30-day money-back guarantee so you can get a full refund if you change your mind.
PrivateVPN works on: Windows, Mac, iOS, Android, Chromebook, Linux, Smart TVs, and routers.
Secure your downloads with PrivateVPN
February 2023 Update! PrivateVPN has dropped prices for a limited time to a crazy $2 per month with the 3-year plan (you can save up to 85%)! This is a limited offer so be sure to grab it now before it's gone. See more information on this offer here.
Key Features:
Over 2000+ servers across 75+ countries
Zero monthly bandwidth caps
256-bit AES encryption secures all torrenting traffic
Ability to torrent on unlimited devices at the same time
30-day refund policy
IPVanish allows unlimited simultaneous connections, making it ideal for torrenting on multiple devices. As each of its servers comes with multiple IP addresses available, each connected device is given a unique IP address. This keeps your identity safe and ensures that regardless of how many devices are connected, connection speeds remain the same.
While testing IPVanish, the kill switch worked seamlessly every time I disconnected or changed servers. The kill switch is automatically disabled, so enable it before you start torrenting to protect your data if the connection drops.
IPVanish offers a free SOCKS5 proxy server, which can help improve torrent download speeds. This proxy doesn't provide the encryption of a VPN connection (meaning faster speeds), but it will mask your IP address for anonymity while torrenting. It's compatible with torrent clients like BitTorrent and Vuze, with easy setup guides available on the IPVanish help site.
Unfortunately, IPVanish doesn't come with a built-in ad blocker. This was frustrating for me as random pop-ups appear on most torrenting sites. Even though it can keep your data anonymous, IPVanish can't protect your device from malware embedded in the ads. I also found IPVanish's interface detailed but confusing — it provides lots of information to help you pick the right server, but this can be overwhelming for users who aren't familiar with VPNs. While IPVanish's configuration options make it a good fit for more experienced users, I recommend looking at CyberGhost or PIA, as both VPNs offer ad blockers and intuitive user interfaces.
You can test IPVanish risk-free for 30 days when you subscribe to a 2-year plan for $3.33 per month, as the service is backed by a money-back guarantee. It's easy to cancel the service too — you don't even have to contact customer support, just cancel through the "Subscription" tab on your IPVanish account dashboard.
IPVanish works on: Windows, Mac, iOS, Android, Chromebook, Linux, Smart TVs, Chrome, and routers.
Quick Comparison Table: 2023's Best VPNs for Torrenting
Overall, ExpressVPN is the top choice for torrenting because of its P2P-optimized server network and fast download speeds. Plus, it provides top-tier encryption and security features to keep you protected and anonymous while torrenting.
| | | | | | | |
| --- | --- | --- | --- | --- | --- | --- |
| | P2P Servers | Speed | Audited Zero-Logs Policy | Kill Switch | Leak Protection | Money-Back Guarantee |
| ExpressVPN | 3000+ | Very Fast | ✔ | ✔ | ✔ | 30 days |
| CyberGhost | 9736+ | Fast | ✘ | ✔ | ✔ | 45 days |
| PIA | 35000+ | Fast | ✘ | ✔ | ✔ | 30 days |
| PrivateVPN | 200+ | Good | ✘ | ✔ | ✔ | 30 days |
| IPVanish | 2000+ | Good | ✔ | ✔ | ✔ | 30 days |
Torrent securely with ExpressVPN
How to Safely Download Torrents on Any Device
To download torrents safely, you need to use a quality VPN service. In these step-by-step guides, I'll show you how to configure your VPN to make sure your data and device are secure when torrenting.
Windows PC, Mac, Linux, and Android
Make sure you've downloaded a torrent client, like BitTorrent or Flud, before you begin torrenting.
Configure your VPN to maximize torrenting security.

Use the highest encryption level — AES-256-bit.
Activate the kill switch.
Use a secure protocol, like OpenVPN. Avoid less secure protocols like PPTP.
Enable DNS, IP, and WebRTC leak protection.

Connect to a torrent-optimized VPN server. Ensure you're aware of the torrent laws in your chosen country and that the server is torrent-friendly.
Visit your torrent site and pick a file to download. Your torrent client will automatically connect so you can download quickly and securely.
Download torrents safely with ExpressVPN
iOS (iPhone and iPad)
As Apple doesn't allow torrent clients on its app store, it is a bit different to download torrents to your iOS devices is a bit different. You'll need to use an in-browser torrent app.
Download a VPN to your iOS device. ExpressVPN is the top torrenting VPN for iOS devices with an intuitive app and P2P-optimized servers.
Configure your VPN app for the best security.

Ensure the encryption is set to AES-256-bit.
Turn on the kill switch if it isn't already active.
Use OpenVPN if it's available, as it's both fast and secure.
Enable IP, DNS, and WebRTC leak protection.

Connect to a VPN server that supports torrenting. Make sure you know the torrenting rules and regulations in your country to ensure you're not breaking the law.
Visit the torrent site and find the file you want to download. Check the file is safe by looking at the number of seeds and positive user comments.
Press and hold the file until you can "Copy" the link. You cannot simply download the torrent file as there is no client on your device.
Paste the link into an in-browser torrent app. There are several you can use, like Seedr and Filestream.
Tap "Go" and download your torrent! The in-browser app acts as a torrent client and the file will download directly to your iOS device.
Torrent safely with ExpressVPN
Is Torrenting Really That Dangerous?
Yes, torrenting can be very dangerous — especially if you don't connect to a top VPN service first. When you download a torrent on an unsecured connection, you put yourself at risk of multiple threats:
Hackers and Spies — When you're downloading or seeding a torrent file, your IP address is exposed to everyone who is sharing that file. Hackers can trace your IP address, discover your location, track your activity, and steal your sensitive data.
Malware — Torrent files that seem safe could be hiding malicious files (like malware, spyware, and ransomware) designed to steal your data. These threats can be downloaded to your device without you knowing, and are tough to get rid of.
Data Security — When you initially download a torrent, it's stored in a shared folder. Seeding the torrent lets others see the contents of that folder — an issue if it contains personal information. While you might not think you're storing sensitive data in torrent folders, you should check thoroughly before downloading anything.
ISP (Internet Service Provider) Throttling — Torrenting files requires a considerable amount of bandwidth. If your ISP thinks you're using too much data, it will "throttle" your bandwidth to prevent data-intensive activities. This not only affects torrenting, but will slow browsing, online gaming, and streaming.
Copyright Issues — Downloading copyrighted content is a criminal offense, even if it happens accidentally. A copyright holder can use your exposed IP address to trace the activity and begin legal proceedings against you. You could face heavy fines or jail time. My team and I don't condone illegal downloads so make sure you're not downloading copyrighted material and you're aware of torrenting laws in your country.
How a VPN Protects You When Torrenting
The safest way to download torrents is with a premium VPN. A VPN tunnels your traffic securely through a remote server, making it impossible for hackers, spies, and other torrenters to see your IP address or torrent activity.
Your IP address is like an online location marker that shows websites and services where your device is located. This can make you vulnerable to malicious third parties seeking to discover your identity to steal your information. When your traffic is routed through the VPN server, it's assigned a new IP address. No one can trace this IP address back to your location, making you anonymous.
The top VPNs for torrenting also add a high-level AES-256 bit encryption, which is impossible to crack — it's the same kind used by the US military and financial institutions. The encryption can only be deciphered by your intended online recipient, such as a torrenting website. Anyone else who tries to see what you're doing will only see jumbled data as they don't have the code to decipher the encryption.
Hiding your IP address and encrypting your traffic makes it virtually impossible to trace your activity when torrenting — and you can only get high-level protection with a quality VPN like ExpressVPN.
Secure your downloads with ExpressVPN
How to Choose the Best Torrenting VPN
While many VPNs claim to be good for torrenting, only a few have all the necessary features to protect you when file-sharing. I thoroughly tested every VPN against multiple criteria and ranked them accordingly:
P2P-optimized servers — I checked each VPN for servers dedicated to torrenting, meaning you get the best performance when connected. Most VPNs have a list of P2P servers, while a service like ExpressVPN is optimized for torrenting on every server.
Top-tier encryption — The recommended VPNs all have military-grade encryption of AES-256-bit, which is impossible to crack. This ensures your torrent activity is secure and anonymous when connected.
Premium security features — To protect your data, VPNs have leak protection (including IP, IPv6, DNS, and WebRTC), a kill switch, and secure protocols like OpenVPN and WireGuard.
Strict no-logs policy — I read the privacy policy of each VPN to make sure your data and activity won't be logged by the service. As a bonus, some VPNs like IPVanish have undergone independent audits to prove they won't log any user data.
No data caps — Torrenting is a data-intensive activity, so your VPN needs to have unlimited data so you can download and share as many files as you want.
Fast connection speeds — All of the recommended VPNs have reliably fast download speeds so your torrents are complete as soon as possible.
Split tunneling — While not strictly necessary for torrenting, this feature lets you decide which apps and data are secured by the VPN connection (like your torrent client) and which aren't, so you can access local sites and services at the same time.
24/7 customer service — I tested the customer contact options for each VPN to ensure quick, helpful responses to questions and issues.
Money-back guarantee — Every VPN has a money-back guarantee available so you can test the service risk-free and make sure it's right for your torrenting needs. I tested the refund process for each VPN and had no issues getting my money back.
Torrent safely with ExpressVPN
Other Top Tips for Safe Torrenting
Here are a few more things you can do to protect your data and devices while torrenting:
Use an Antivirus: Torrents can host malicious files, like viruses, spyware, and ransomware. Using a high-quality antivirus blocks harmful torrents, protecting your devices from attacks.
Only Download Legal Torrents: Popular torrenting sites host both legal and illegal content. It's difficult to check which torrents are copyrighted, so use reputable websites with only legal content.
Use a Trustworthy Torrent Client: A torrent client is an app that accesses, downloads, and manages torrent files. It connects to a torrent server and requests a chosen file from every person sharing it. Some trustworthy torrent clients include BitTorrent, Vuze, and uTorrent.
Configure Your Torrent Client Correctly: Make sure your torrent client is set to update automatically and that it doesn't start when your device powers on — this will prevent unsecured seeding. Also, configure IP binding, which will stop your torrent client from seeding or leeching when your VPN isn't active.
Choose the Right Torrent File: Torrent files that have a lot of seeders are less likely to contain malware and will complete more quickly. The bigger the number of users, the more likely it is to be reliable.
Read the Comments: Check torrents for positive comments. All torrent platforms let users leave comments under files they've downloaded. The comments either praise safe files or warn others against downloading an infected program.
Look for Flair: Sites like The Pirate Bay verify users with a flair system that shows which members (and torrents) you can trust.
Download Files to a Sandboxed Environment: A sandbox environment is an application that creates an isolated, virtual space on your device. This lets you safely delete harmful programs contained in torrents without them attacking your device.
Join a Community: Torrenting communities are groups of peers who share moderated files between members, removing files that don't meet community standards. Members can torrent files free from viruses, scams, and malware. These communities work on an invitation-only basis. The best way to get invited is to participate in discussion boards, like r/torrents on Reddit.
Avoid Proxies: While proxies change your IP address to mask your true location, they don't encrypt your connection — your torrent activity will be visible to anyone watching and your ISP could potentially throttle your connection.
Glossary of Key Torrenting Terms
BitTorrent — A torrent client (software) designed specifically for P2P file-sharing.
Copyright trolls — A person or company that aggressively enforces copyrights to make money through litigation.
IP binding — Configuring an IP address to a specific device makes it easier to identify the root of online activities.
ISP throttling — The intentional slowing of internet service by an internet service provider.
Leechers — Peers or clients actively downloading a file and not having 100% of the data.
Magnet link — A method of downloading torrents that directly links your torrenting client to the .torrent file.
NAT firewall — Operates on a router and protects the identity of the private network and internal IP addresses.
Peers — A client running on a computer that connects to other clients to transfer (upload or download) data.
Port forward — A technique that allows external devices access to devices on private networks.
Proxy — A server that acts as a "middle man" for data requests from clients to the servers holding the requested data.
Seeders — Peers or clients that have 100% of the file data and continue or start uploading for other peers to download from.
Swarm — All seeds and peers that are sharing the same torrent.
Trackers — A server that keeps track of the seeds and peers in a swarm.
FAQs About Torrenting
What's the safest way to download torrents?
The safest way to download torrents is on a connection secured by a reliable VPN service. All of my recommended VPNs are ideal for torrenting safely as they encrypt your connection, making it impossible for your data to be exposed to hackers or trackers. A service like ExpressVPN has optimized P2P servers designed to keep you safe when you're torrenting. Plus, ExpressVPN has native apps for Windows, Mac, Android, and iOS so getting set up and ready to torrent is quick and easy.
It's also important to use reputable torrent sites with legal files. To find a safe file to torrent, make sure you look at the number of seeds it has (the higher the better) and also read the comment section — other users can verify the quality of the torrent.
I recommend using a trusted torrent client too, like BitTorrent or uTorrent. This way, you avoid downloading a disreputable client that could be hiding malware. Another benefit of these torrent clients is IP binding — a safety feature that stops the client from working unless it's using the correct IP address. With this, you can link your client to an IP address that belongs to your VPN, so you can only torrent when the VPN is active.
Is torrenting legal?
It depends — in most countries, torrenting isn't illegal provided you don't download copyrighted content. As long as you use a reliable VPN that secures your data while torrenting, you can safely and legally share files with other users.
Similarly, torrenting websites are legal to access and use but many of the files uploaded to those sites aren't legal. Luckily, there are many torrenting sites that allow users to share only legal files like open-source software or old movies.
Keep in mind that in some countries, like China and Australia, torrenting is illegal. This means that even if you don't download copyrighted material, you can still be prosecuted. I recommend making sure you know your country's torrenting laws and regulations before you start P2P file-sharing.
Are torrent sites safe?
Some torrent sites are safe, but not all. I've found a handful of reliable, safe torrent sites you can use to access legal downloads. These sites have high-quality torrents that are verified by the community so you can trust the available files.
However, even the safest torrent sites can contain risky downloads. A file that seems safe may be hiding malware or illegal content, compromising your device and data security. That's why I recommend always connecting to a VPN before visiting a torrent site. A service like ExpressVPN hides your IP address from potential hackers and trackers, protecting your online activity and personal information.
How do people get caught torrenting?
Users are caught torrenting because they don't protect their data privacy with a VPN. When you connect to a torrent file to download it, everyone else torrenting or seeding that file can detect your connection. Details like your IP address are available for anyone to see, meaning hackers, spies, and copyright trolls can use it to discover your identity.
The best way to keep your torrenting anonymous is with a top-tier VPN. A VPN not only masks your IP address, but it also encrypts your connection — this hides your torrent traffic from anyone watching, ensuring that no one can tell you're torrenting. A VPN server makes it almost impossible to detect your P2P activity, so you won't get caught.
It's important to note that people who get caught torrenting are often downloading copyrighted content or P2P file-sharing in countries where torrenting is illegal or heavily regulated. In most countries, torrenting is legal provided the files are in the public domain. You should make sure you're aware of torrenting laws and regulations in your country before file-sharing, and only download legal content.
How to hide my IP address when torrenting?
The best way to hide your IP address when torrenting is with a quality VPN. A reputable VPN will mask your true IP address, replacing it with one from the server you connect to. This way, your real IP address is hidden and all the website, torrent client, or other torrenters can see is the VPN's IP address.
When you participate in P2P file-sharing, your IP address is public, which means both your ISP and cybercriminals can trace your activities back to you. If your ISP notices you're using torrenting sites, it has the right to restrict your bandwidth or cap your internet speeds. As for hackers, they're known to use unconcealed IP addresses to gain access to your device. By using a VPN, you mask your real IP address with a temporary one — as a result, you'll remain completely anonymous while torrenting.
Can I use a free VPN for torrenting?
You can, but I don't recommend it. There are hundreds of free VPNs to choose from, but only a few free VPNs allow you to download torrents.
Reputable free providers compromise on features to offer services for free. They often cap your data allowance (sometimes to just 500MB per month), limit download speeds, or offer fewer server options to their free subscribers. These restrictions make it almost impossible to torrent even the smallest files.
With a free service, you may also be compromising on your safety. To make a profit, free VPNs are known to collect and sell your data to third parties. Disreputable free VPNs can fill your device with pop-up ads, many of which are infected with viruses. This makes you vulnerable to potential hacker attacks and identity theft.
As tempting as it may be, I wouldn't compromise my online security, especially when downloading potentially dangerous torrents. I recommend using a premium service like CyberGhost, which offers both a 24-hour free trial and a 45-day money-back guarantee. With CyberGhost, you get dedicated torrenting servers and unlimited data for fast, anonymous downloads.
Download safely with CyberGhost
Protect Your Identity and Torrent Safely with a VPN
Torrenting is a great way to share files and data with others, but it comes with risks that can put you in dangerous situations. To protect yourself from hackers and keep your data safe, download a quality VPN. That way, you can access torrents while keeping your details hidden from prying eyes. ExpressVPN is a perfect choice for torrenting as it offers more than 3000 torrent-friendly servers optimized to provide fast speeds and unbreakable security.
You don't have to commit to a service without testing the VPN for yourself first. It's backed by a 30-day money-back guarantee so you can try ExpressVPN for yourself completely risk-free! If you change your mind about subscribing, you can easily get a full refund.
---
Summary: Best VPNs to Download Torrents Safely in 2023