10 Best Torrent Sites in August 2022 (100% Safe + Working)
Last Updated by Kate Hawkins on August 01, 2022
If your favorite torrent site gets blocked by your ISP or government, searching for alternatives on Google is dangerous and a waste of time. That's because the search engine hides these sites and shows you a hoard of shady proxies that bombard you with disturbing porn ads and malicious links.
To save you the hassle of checking these sites yourself, I tested over 20 torrenting platforms to shortlist the best options with high-quality torrents. Before you get started, I strongly recommend getting a VPN to keep you safe from trackers, potential hackers, and fellow peers. Top services like ExpressVPN and CyberGhost are fast and hide your IP address, so third parties can't see your torrenting activities.
Torrent faster and safely with a VPN
Important! Torrenting may be subject to legal repercussions based on where you live and local laws. Please note that my team and I do not endorse the illegal downloading of torrents, so be sure to check the laws in your area and make sure that the content you are downloading is copyright-free.
Quick Guide: Best Torrent Sites That Still Work in August 2022
How to Securely Torrent With a VPN in 3 Easy Steps
Get a VPN. I suggest ExpressVPN as it has fast speeds, military-grade encryption, and a 30-day money-back guarantee.
Connect to a server. I found ExpressVPN's servers in Norway worked well with all the best torrenting sites in 2022.
Go to the torrent site and start downloading!
Torrent securely with ExpressVPN
How to Choose the Best Torrent Site
Security shouldn't be taken lightly when you torrent. These sites can contain infected ad banners and links that plant malware on your device. Also, your ISP can report you to authorities even if you're not doing anything illegal online. To keep your data safe, protect your connection with a quality VPN service like ExpressVPN.
Reliability is necessary, as torrenting sites are common targets to get shut down by the government due to copyright laws. A site's founding year shows if a torrent site is reliable enough to last a while without being closed down by authorities. Trustworthy torrent sites often have proxy/mirror sites too, and you can try to use these if the main site gets blocked.
Download speeds determine how fast you can get the content on your device. I tested this by downloading the same file from all of the torrent websites while connected to ExpressVPN's Norway server (where most torrent sites are based).
Library size and variety are vital metrics because they show how easy it is to find the content you're after. A quality torrent site should have lots of torrents for popular content, and each torrent should have a decent number of seeders (users who upload the file). Torrents with many seeders usually download much faster.
Popularity is easy to determine from the site's monthly traffic. The more people access the site, the likelier it is to have a vast content library with lots of seeders.
The Best Torrent Sites For Fast and Reliable Downloads
1. The Pirate Bay (TPB) — The Undisputed Torrent King
Founded: 2003
Number of torrents: 3,300,000+ torrents
Average download speed: 66Mbps
Support for instant downloads? Yes
The Pirate Bay (TPB) is the oldest and most well-established torrent site on the internet. Over the decades, it has evaded numerous government shutdowns and blocks, so you know it's a reliable site.
The site has a simple interface and is easy to navigate. Its filtering system lets you specify what file format, definition quality, and console you're looking for. When I wanted to find a torrent for the film A Farewell to Arms, I was able to filter out all results for other gaming systems. This saved me a lot of time as I didn't need to check each torrent individually to figure out which console it was for.
While it's impossible to be 100% sure of your safety when torrenting, I feel secure using TPB. The site indicates if torrents are from trusted users — verified uploaders who share good quality content without hidden infected files — so you can rest assured you won't accidentally download malware or spam with your torrent. It contains a few ads, but those quickly disappear if you turn on an ad blocker. If you want to be extra safe when torrenting, CyberGhost is a good VPN option as it has a built-in ad and malware blocker.
2. RARBG — Get High Quality, Verified Torrents Every Time
Founded: 2008
Number of torrents: 800,000+
Average download speed: 92Mbps
Support for instant downloads? No
RARBG has a smaller collection of torrents, but there's a good reason for it. The general public can't upload to it as all uploaders need to be verified by the moderators. Of course, that doesn't completely eliminate the risk of getting a bad torrent, but the site has a reputation for providing high-quality downloads.
Of course, RARBG's good reputation means many authorities are trying to shut it down. Fortunately, I found ExpressVPN works perfectly with RARBG when I tested its servers in Norway.
I found locating and vetting torrents on RARBG to be super simple. Movies and TV shows often feature screenshots directly on the torrent page. Posters, album art, and software brand images appear in pop-ups when you hover your mouse over the search results. Users can leave comments and star ratings on torrent pages to show the quality of the file.
Since RARBG doesn't show you the highest-seeded torrents by default, make sure to click the "S" header columns of the search results to sort it. For movies, you can search by compression standard and pixel definition. If you're looking for a game, you can also filter by the type of console. When I wanted to find a torrent for Night of the Living Dead in 1080 pixel definition and x265 compression, I could do so easily by checking the boxes for these categories. This saved me from sorting through hundreds of torrents for the same movie with different specifications.
The website has lots of pop-ups that your Chrome extension ad blocker won't be able to stop. These can be annoying, disturbing, or even dangerous if they link to malicious sites. Use a VPN like CyberGhost to ensure you're not interrupted by these pop-ups.
3. 1337x — Massive Collection of Quality Torrents
Founded: 2007
Number of torrents: 2,400,000+ torrents
Average download speed: 69Mbps
Support for instant downloads? No
As one of the most popular torrent sites in the world and one of the oldest still in operation, 1337x is a reliable option with plenty of high-quality torrents in every category. New content is uploaded daily by a loyal group of users. You can find everything from old movies to the latest TV shows, music, and games.
1337x's user-friendly interface makes it easy to find the torrent you want. It has information listed for each download, including the number of times it's been downloaded, the number of seeders and leechers, and when the torrent was last checked by moderators. When I wanted to find a torrent for Meet John Doe, I was able to quickly find one with a good number of seeders. This made it clear that the torrent was most likely reliable.
However, it's possible that the site might host an occasional bad torrent with malware or spyware. To guarantee your safety while downloading from the site, I'd recommend that you use a VPN that blocks malicious links.
4. LimeTorrents — Millions of Torrents in Every Category
Founded: 2009
Number of torrents: 9,800,000+
Average download speed: 39Mbps
Support for instant downloads? Yes
With nearly 10 million files available to download, LimeTorrents is one of the biggest torrent sites on the internet. It has tons of movies, TV shows, music, games, and more. Each search I performed came back with plenty of results, so you should have no trouble finding the content you want.
The site focuses on more recent files, so you can usually find new and popular releases with lots of seeders, which helps you download the files quickly. However, this also means older torrents aren't so easy to find.
LimeTorrents has a comprehensive tracker list and directories of the most popular recent torrents. There's a separate section for verified torrents where you can find links that have been vetted by the site administrators. You can also check the torrent "Health" in the search results to see how many people are actively seeding the torrent. The more active seeds, the faster you can download the files. When I wanted to find a torrent for Manos: The Hands of Fate, it only took me a couple of clicks to sort through and find ones that looked reliable.
There were some fake links and pop-ups on the site that I wasn't able to block with my Chrome extension adblocker. To make sure you don't accidentally click on anything that could infect your device, connect to a VPN that has a built-in ad and malicious link blocker while surfing the site.
5. TorrentDownloads — For Content You Can't Find Elsewhere
Founded: 2007
Number of torrents: 16,000,000+
Average download speed: 56Mbps
Support for instant downloads? No
With one of the biggest databases on the internet, TorrentDownloads is the site to visit if you're looking for an obscure torrent that you can't find anywhere else. It's also a good multipurpose site with a wide selection of TV shows, movies, games, apps, and more.
The website's interface is simple and easy to use. An advanced search option lets you filter results by category and status. Each torrent contains information about the number of seeders and torrent health, helping you choose safe links. You can also check out comments and ratings for each torrent to get some assurance that you're not downloading a fake file. With these intuitive features, it never took me longer than 30 seconds to find and find the torrent link I wanted.
The site contains some annoying pop-ups, but you can use a VPN's blocker for ads and malware to protect yourself from shady ads and suspicious links.
6. Torrentz2 — Ultra-Fast Torrent Search Engine Good for Music
Founded: 2016
Number of torrents: Over 61,000,000 torrents indexed
Average download speed: 87Mbps (download speed from EZTV)
Support for instant downloads? No
Torrentz2 is a basic search engine that scans every peer-to-peer sharing site in its database using your search terms and lists the sites that have related files. Then you can download the torrent directly from the site that hosts the file or through a magnet link (a link your torrent client uses to find seeders with the file you need). This makes it a great backup option if your regular torrent site doesn't have the content you want.
One downside I found is that Torrentz2's search function wasn't as good as other sites I tested. However, if you're willing to spend a bit of time searching through results, you'll definitely be able to find a lot of torrent options for the content you want. Just be sure to filter by "Verified" to only view verified torrents to make sure you're downloading safe content.
Like many other sites on this list, Torrentz2's website has some ads, pop-ups, and fake links that lead to suspicious websites. To make sure you're browsing it safely, use a VPN with a blocker like CyberGhost.
7. Zooqle — Movies and Shows at All Resolutions
Founded: 2013
Number of torrents: 3,500,000+ torrents indexed
Average download speed: 39Mbps
Support for instant downloads? Yes
Zooqle is one of the newer sites on this list. Although it's been under the radar for a while, this indexing site has been gaining in popularity because of its massive database. Zooqle focuses on movies and TV shows but also has a good range of games, software, and ebooks.
The site has an easy-to-use interface. Each torrent contains information about the ratio of seeders to leechers, how long ago the file was uploaded, and resolution quality. I was able to find a torrent for one of my favorite shows in the public domain. It took less than a minute and was in the format and quality I wanted.
I got a lot of pop-ups when I was trying to navigate the site and found it pretty annoying to keep closing them. If you're thinking of trying Zooqle, I suggest you protect yourself from malware with CyberGhost's feature that blocks ads and malicious links.
8. YTS (YIFY Movies) — Download High-Quality Movies
Founded: 2011
Number of torrents: 8,000+ torrents available
Average download speed: 30Mbps
Support for instant downloads? No
YTS is famous for its library of high definition movies that you can download at fast speeds. Its files have small sizes but don't compromise on quality, so it's a great choice if you have limited bandwidth.
The reason why the popular and well-known site ranks low on this list is that its content is quite limited. The site only hosts movies, so you'll have to visit a different site if you're looking for TV shows, music, or games.
The current yts.am and yts.gd sites have a lot of pop-ups that could compromise your privacy. Make sure you protect yourself with a VPN like CyberGhost, which has an ad blocker.
9. EZTV — Wide Selection of Popular TV Shows
Founded: 2015
Number of torrents: 155,000+ torrents
Average download speed: 110Mbps
Support for instant downloads? Yes
EZTV is widely known as the top torrent site for TV shows with an enormous selection, clean and ad-free interface, and range of resolution options. You can also follow popular shows with EZTV's "countdown list," a live countdown for shows due to air soon. I advise you against downloading copyrighted content on EZTV or any other torrent site — the activity is illegal in most jurisdictions and can get you in serious legal trouble.
However, the selection has more older shows than newer releases. There also isn't an option to download full seasons, so you have to torrent each episode individually. You'll find it safer to download multiple episodes with a reliable VPN that offers fast speeds.
10. TorLock — Verified Genuine Torrents Only (No Fake Files)
Founded: 2010
Number of torrents: 1,000,000+ torrents available
Average download speed: 73Mbps
Support for instant downloads? Yes
TorLock is a solid option for first-time torrent users as you can guarantee all files are genuine. If users come across a fake torrent, they can report it to the site and be paid $1 for the discovery — a great incentive for users to keep the site fake-free. TorLock is well-established, still using a .com domain name, and has a good variety of books, anime, and music.
The site itself is easy to navigate, with clear categories for different files so you can easily find what you're looking for. The homepage has the most popular torrents in each category — these are usually recent torrents and as such, likely to be under copyright and illegal to download.
The specifications for each file, including size, seeders, and upload date, are found listed next to the title. This makes it simple to find a recent torrent that results in a fast download.
The Best Free Torrent Client and How to Download It
I recommend uTorrent as it's free, easy to use, and has no ads. This makes it stand out among other similar apps, which often run annoying ads and push you to purchase "pro" or paid features.
You need to install a reliable torrent client to download your torrent. It communicates, sends, and receives the files you want to download with other peers of the same torrent.
Start by downloading the uTorrent client, which is available for Windows, MacOS, Android, Linux devices, and popular browsers like Chrome, Firefox, Edge, and Opera.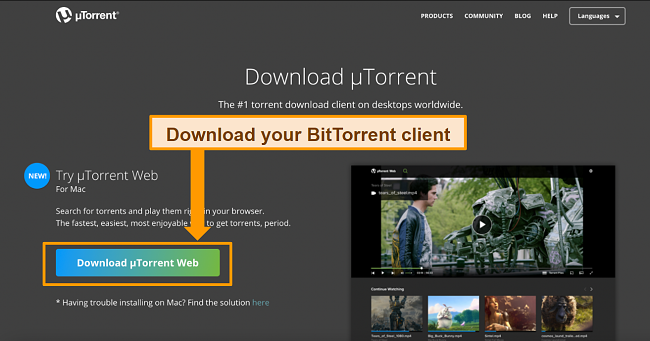 Next, navigate to a torrent site and download your chosen file. When you open the file, you'll be prompted to confirm the download before your torrent client starts downloading.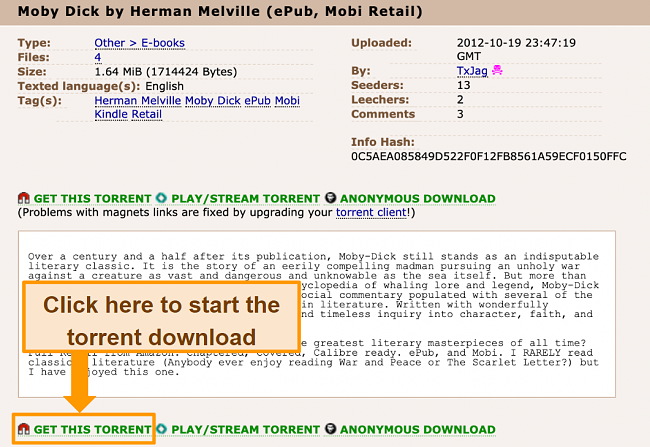 Before you start torrenting, remember that unprotected torrenting isn't safe. While some torrent sites try to protect their users with encryption and mandatory registration, it's not enough to shield you from media companies that often join torrent swarms and collect the users' IP address. If you want to torrent anonymously, you must use a quality VPN service that doesn't allow DNS leaks.

How to Use The Torrenting Alternative Usenet
Usenet — a common alternative to torrenting — stores all files on its centralized servers instead of relying on peer-to-peer file sharing. This arrangement means that leechers (users who download files) don't have to seed, or share the files when they download them.
While it provides a faster and more private way of downloading content than most torrent sites, Usenet is only available through a paid subscription and using it to obtain copyrighted material is still illegal. If you plan to try out Usenet, I'd recommend that you still protect yourself with a top-tier VPN, and stay away from copyright infringement.
Torrenting Risks and Essential Safety Tips
Torrenting websites have minimal built-in security, so cybercriminals often exploit them to inject malware into users' devices. Through malicious pop-ups, fake links, and infected downloads, hackers can take your files hostage and steal your sensitive information. No matter which torrenting site you use, you risk infecting your device unless you secure your connection with a quality VPN that also blocks malicious links.
Torrenting Tip: If a link takes you to a page you didn't expect to go, exit as soon as possible. You could be directed to a malicious website designed to attack your device with viruses or malware.
Torrenting can also expose you to the prying eyes of your ISP, which can report your activities to the copyright holder or law enforcement. Since downloading copyrighted content is illegal in many countries, the resulting criminal or civil investigations can lead to fines or a prison term. In the UK and most of the EU, it's a criminal offense and carries fines of tens of thousands of heavy fines and jail time. In the US, you can be fined up to $150,000.
While the authorities mostly target site owners and avid seeders, you don't want to get caught at the wrong time and site when downloading a file from a torrent site. When you leech (download), you're automatically seeding (sharing) the file with other users. It's this act of file sharing that most jurisdictions deem illegal and the basis of criminal prosecutions for users who get caught.
If you spend time on internet message boards such as 8chan or Reddit, you may come across invitations to private torrenting communities. Since these sites aren't easily accessible to the public, they may appear to be more anonymous and secure. Be aware that private torrenting sites' obscure nature can't guarantee an absence of copyright enforcers, and using them for file sharing can also lead to legal consequences.
The privacy risks associated with torrenting extend beyond law enforcement. Anyone with your IP address can breach your device, find your physical location and personal data, steal your identity, harass, or even "SWAT" you. Swatting — fake-calling an emergency dispatcher to trigger a SWAT team response on an innocent individual — is sadly a common prank in the gaming community, and it's gotten people killed in the US. When you torrent without using a VPN to mask your true identity, your real IP address is exposed, which creates a massive lapse in privacy and personal safety.
Torrent securely with ExpressVPN
How to Stay Safe and Spot Fake Torrenting
Use the DuckDuckGo search engine if you're having trouble locating a torrenting site. It's far more private than Google and less likely to hide URLs due to DMCA (Digital Millennium Copyright Act) requests, which aim to block services that can get around copyright protection measures.
Watch out for fake torrent sites. Multiple windows, demands for registration, and strange-looking URLs are telling signs of malicious sites. Copycat sites often spring up to replace legitimate torrenting sites when they shut down and can also expose you to malware. Use a reputable torrent client like uTorrent for downloading files once you've found a reliable site.
Assess each torrent's safety before downloading. Check the history of an uploader to see if they upload quality and highly-seeded torrents. I avoid new uploaders and download verified torrents only — unverified torrents can easily plant malware on your device. To increase your chance of getting a legitimate torrent, look for a higher seeder-to-leecher ratio. It also helps to read comments on torrent pages to avoid potentially dangerous downloads. Be aware that your antivirus software could trigger a false-positive, even if the files are harmless.
Use quality security software to check RAR, TAR, and ZIP files for malware, and pay particular attention to EXE files. These are a red flag for malicious processes. Avoid the outdated WMA and WMV-format files.
Download a secure VPN and a reputable anti-malware scanner to keep your personal information and device safe when torrenting. You can also get a quality standalone ad-blocking service before you visit torrent sites.
Dangerous Torrent Sites to Avoid
Remember: even unintentional downloads of copyrighted materials can get you in legal trouble. That's why you should avoid unreliable torrenting sites that can expose your activity to copyright enforcers and malware. Here are a few torrenting sites you should avoid at all costs:
IPTorrents requires users to register for a paid membership. Given that there are plenty of free alternatives and no guarantee of added privacy or security, the fee and registration process don't seem worth the hassle.
KickAssTorrents was a reputable site, but the original version has been closed for a while now. The site's founder Artem Vaulin recently violated his bail conditions for copyright infringement and is on the run from US authorities. The mirror site that has popped up since looks similar, but it doesn't offer the same service. You must also install a browser extension before you can use the site — a huge red flag if you care about your online privacy, as such shady extensions are known to log your activities and sell your private data.
PassThePopcorn requires a login and password before you can access the library. There's no way to register properly and several Reddit users report getting invitations to the site. If you come across an invitation on any online message board, I recommend that you ignore it.
SUMOTorrent asks you to download its client before you're able to see the library. If that's not shady enough, the site's pages are riddled with grammatical errors that should scare off even the most daring torrenters.
Torlock has a fantastic library of HD movies and shows, and a fair amount of seeders. However, the relentless ads — some highly inappropriate — make it nearly impossible to start a download safely. Also, most torrents redirect to suspicious windows that more than likely contain malware.
Torrent-Logging Databases Make Your Downloads Public
There are sites that log, store, publish and link torrenting activities to individuals' IP addresses. Anyone who knows your IP address can see what you're downloading.
Torrenting Safely With a VPN
The only way to torrent safely is through a top-tier VPN service. A VPN reroutes your internet connection through a different IP address, anonymizing your online activity. If you get a VPN with malware protection or ad block features, you'll also stop hackers from infecting your device with malware.
Quick Tip: Torrenting ebook and audiobook files is just as illegal as downloading films and shows. If you use torrent sites to get your reading materials and the titles you download aren't in the public domain, you may be subject to civil penalties and prosecution, depending on where you live.
If you feel that torrenting through The Onion Router (Tor) will keep you safe enough without a VPN, think again. As the browser points out in its blog, Tor isn't designed to handle the load of BitTorrent applications, nor can it stop the leaks these apps allow.
I tested over 30 VPNs, and ExpressVPN is one of my top picks as it gets you high torrenting speeds and lets you download files anonymously. If you want to test it yourself, you can try ExpressVPN for torrenting on your own device. If you're not completely satisfied with the service, you don't have to risk your money as you're protected by a 30-day money-back guarantee.
Torrent securely with ExpressVPN
The Best VPNs for Fast and Anonymous Torrenting — Tested August 2022
Key Features:
3000+ servers in 94+ countries that all support P2P torrenting
AES 256-bit encryption and automatic kill switch keeps you safe from prying eyes
TrustedServer technology ensures no data or logs are kept on hard disks
Split-tunnelling lets you choose which applications use the VPN
Unlimited bandwidth and no throttling so you can torrent as much as you want
30-day money-back guarantee
ExpressVPN had consistently fast torrent download speeds. Together with my team, we tested over 30 ExpressVPN servers across the globe and never experienced a speed decline below 25Mbps. This is fast enough to watch Netflix in HD and download torrents quickly.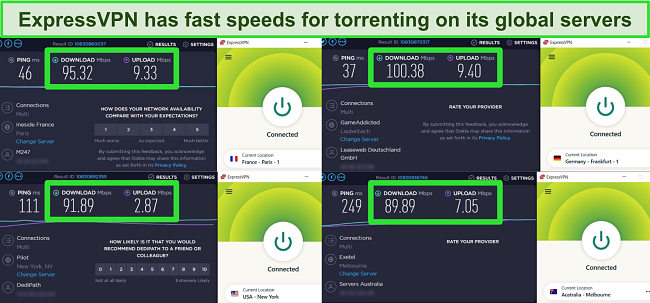 All of ExpressVPN's 3000 servers support P2P downloads. With servers in 94 countries, you're guaranteed to find one near you for the fastest torrenting speeds. With no bandwidth limit, you can torrent as much as you want with ExpressVPN and have zero issues. It won't ever throttle your speed so you'll get consistently fast downloads.
ExpressVPN also has unbeatable security features to keep you safe while torrenting. Its military-grade encryption makes it impossible for your online activity to be traced back to you. Plus, an automatic kill switch means your real IP address won't be revealed even if your connection accidentally drops when your computer goes to sleep or has a power failure.
In addition, ExpressVPN's TrustedServer technology ensures user data or logs are never stored on its hard disks — even accidentally. While a lot of VPNs say they have strict no-log policies, ExpressVPN has actually proven it when authorities couldn't find any logs on its server during an investigation. In 2017, Turkish police seized one of its servers to find information about a user, but the information simply didn't exist. This track record reassures me that government agents, ISPs, or hackers won't be able to get any details about my torrenting activity.
Every plan is backed by a 30-day money-back guarantee, so it's risk-free to download torrents with ExpressVPN and test the VPN for yourself. If you don't like it, you can get a full refund. I tested ExpressVPN's refund policy by contacting its customer support team through the 24/7 live chat function. The representative didn't ask me any questions, and processed the refund in only 3 minutes. The money was back in my bank account after 5 days.
August 2022 Update! ExpressVPN has dropped prices for a limited time to a crazy $6.67 per month for the 1-year plan (you can save up to 49%) + 3 months free! This is a limited offer so be sure to grab it now before it's gone. See more information on this offer here.
Key Features:
8200+ servers in 91+ countries and dedicated P2P servers in over 30 locations
AES 256-bit encryption stops hackers or ISPs from intercepting your connection
Strict no-logs policy makes sure information about your online activity isn't stored
Ad block and malware block features keep your torrenting safe
Unlimited bandwidth and no throttling lets you torrent everything you want
45-day money-back guarantee
CyberGhost's optimized P2P servers give you uninterrupted downloads and fast speeds. I tested these CyberGhost's servers by torrenting a half-hour show that I found in the public domain and was able to download it in just 6 minutes.
Airtight military-grade encryption prevents your data from becoming visible and keeps your torrents completely anonymous. To make sure CyberGhost could hide data like my identity and location, I performed a DNS leak test. The testing system found that the VPN securely masked my IP address every time I connected.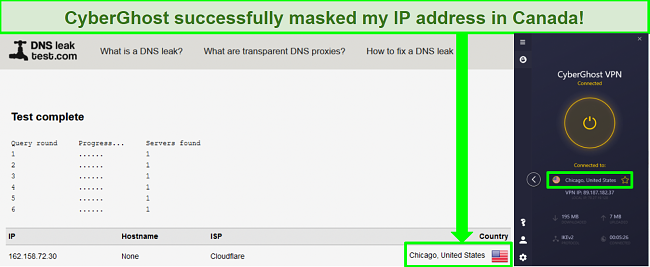 A strict no-logs policy means your ISP won't be able to spy on your torrenting activities since they're never collected in the first place. Also, CyberGhost is based in Romania, so your data is safe from intelligence-sharing agreements with other governments. This means the authorities won't be able to get any information about your online activity through CyberGhost.
With the ability to block ads, malicious websites, and online tracking, CyberGhost makes torrent sites less risky to browse. Given that many torrenting websites are filled with aggressive pop-ups, ads, and links to shady websites, this feature made me feel more comfortable when torrenting.
A minor downside is that CyberGhost can't bypass China's censorship. If you want to torrent while in the country, I'd recommend using ExpressVPN as it's one of the few VPNs with advanced enough technology to get around the firewalls in China. Please note that the protection of a VPN doesn't give you license to commit illegal acts, so please exercise a basic level of caution when using a VPN in China.
With its money-back guarantee, you can try CyberGhost risk-free for 45 days. Getting a refund is as easy as contacting one of its customer representatives through the 24/7 live chat.
August 2022 Update! You can subscribe to CyberGhost for as low as $2.29 per month + get extra 3 months free with the 3-year plan (save up to 83%)! This is a limited offer so grab it now before it's gone. See more information on this offer here.
Key Features:
Huge network of 35000+ servers in 80+ countries
AES 256-bit encryption protects you while torrenting
Independently audited privacy policy ensures no logs are kept
MACE adware blocker stops dangerous torrents from accessing your devices
No data limits to torrent, stream, and browse online as much as you want
30-day money-back guarantee
Private Internet Access (PIA) has over 35000 servers in its global network — all of which are P2P-friendly. This means you can connect to a nearby server for torrenting no matter where you are, keeping speeds fast. Plus, having so many server options meant I didn't experience any user congestion when I connected. It was easy to pick a server and get PIA's protection in less than 10 seconds.
PIA boasts impressive download speeds for torrenting. I was surprised at how fast my speeds were — on average, my speed dropped around 44% from my standard speed of 115Mbps to 64Mbps. I could download a 5GB torrent in just 11 minutes.
If your speeds are slower than mine, PIA offers customizable connection settings that can boost your speed. You can reduce your encryption level from AES-256-bit (the industry standard) to AES-128-bit. AES encryption has never been broken, so you can rest assured that your data is totally secure — the lower encryption level simply improves speeds for slow networks.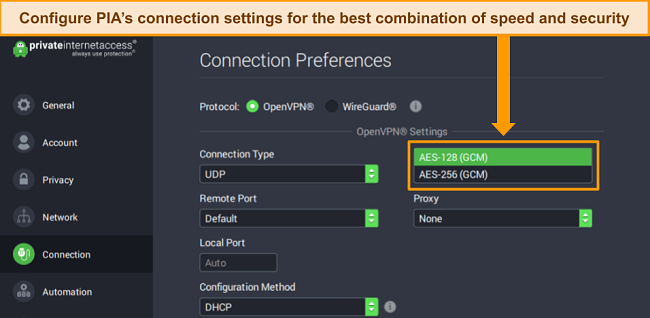 PIA's MACE ad and malware blocker also helps improve download speeds. With MACE switched on, my web pages loaded more quickly as unnecessary ads were blocked and my device was protected against potentially dangerous downloads.
You can try PIA risk-free with its 30-day money-back guarantee. If you want a refund, it's easy. I tested it myself and I had my money back in less than a week.
Key Features:
1040+ servers in 210+ countries (8 P2P servers)
Military-grade encryption and unique security features protect your data
Audited zero-logs policy guarantees no user data is stored on servers
IP Shuffle and App Kill Switch ideal for anonymous torrenting
No data caps for unlimited file downloads
30-day money-back guarantee
HMA offers the unique IP Shuffle and App Kill Switch to boost your security when torrenting. IP Shuffle randomizes your IP address at a user-specified time (e.g. every 30 minutes), making it difficult for torrenting peers to track your activity. I thought the IP address change would affect my download activity, but I was happy to find my torrents resumed automatically after a short pause.
The App Kill Switch allows you to configure specific apps to disconnect when the kill switch is activated (as opposed to the kill switch blocking all internet traffic). You can set up the App Kill Switch to work only with your torrent client — so if there's ever a connection drop, all your torrenting traffic is automatically stopped from leaking out.
HMA only has 8 P2P-friendly servers. I found that due to this small number, I occasionally had difficulty connecting. If you're not located close to one of these servers, you can expect slower torrent downloads.
You can try HMA's torrent-friendly features risk-free with its 30-day money-back guarantee. If you're not satisfied with the VPN, you just fill out a refund request form — I had a response in less than 11 hours and my money was returned within a week.
August 2022 Update! HMA has dropped prices for a limited time to a crazy $2.99 per month with the 3-year plan (you can save up to 75%)! This is a limited offer so be sure to grab it now before it's gone. See more information on this offer here.
Key Features:
Over 2000 servers in 75 locations
AES-256-bit encryption and kill switch protect your data
Strict no-logs policy won't store user data while connected
Free SOCKS5 proxy for faster anonymous downloads
Unlimited torrenting with no data caps
30-day money-back guarantee
IPVanish has a free SOCKS5 proxy for torrenting fans. Using the proxy, I found my download speeds were faster on BitTorrent and Vuze. While this proxy doesn't offer the same high-level encryption as the VPN connection, it will effectively mask your IP address for anonymous downloads.
I was also impressed to find that IPVanish offers unlimited device connections, so you can share your account with friends and family. However, this will slightly slow down your torrenting speeds. In tests, I found my average speed dropped around 34%, taking around 10 minutes to download a 5GB file.
I suggest you try IPVanish for torrenting yourself as it's risk-free with the 30-day money-back guarantee. Best of all, canceling is very easy — just click the "Cancel Now" button in the Subscription tab of your account. I had my money back almost instantly.
Low-Quality VPNs You Shouldn't Use for Torrenting
Using a VPN is the only way to torrent safely, but not all VPNs are created equal. Low-grade VPNs are notorious for leaking IP addresses and DNS requests, which can reveal your identity and location. Even worse, these subpar VPNs can log your information and share it with a malicious third party.
Since a VPN connection typically slows down network speeds, you'll want to torrent with a VPN that offers a proven, fast connection; substandard VPNs typically have below-average speeds. Keep in mind that some VPNs outright don't allow torrenting.
Here's a list of VPN services you should never use for torrenting:
HolaVPN relies on a peer-to-peer computer network where your traffic passes through other users' computers. This way, your device hosts traffic from other people and exposes you to potential illicit activity and an unnecessary load on your network. HolaVPN's connection also lacks the top encryption methods of premium VPNs, so your data is never fully protected.
PureVPN also boasts a no-logs policy, but it was caught sharing online activities that were linked to a specific user account to law enforcement. The service is based in Hong Kong, so it could be under the jurisdiction of the People's Republic of China.
What to Look for in a VPN for Torrenting
When you choose a VPN for torrenting, always check if the service comes with these features:
Proven no-logs policy: The last thing you want when you torrent is a VPN service that helps your ISP by logging your activities. While many VPNs boast a no-logs policy, only a few premium providers have a proven track record of not tracking, logging, or disclosing users' activities.
Military-grade encryption: A top-tier encryption protocol, such as AES-256, is impossible to decipher. With this protocol, you can rest assured that your online traffic will stay hidden from ISPs, governments, and hackers.
DNS leak protection: When a VPN service leaks DNS requests, your online identity is at risk of being exposed. Look for quality providers that don't allow DNS leaks.
Kill switch: If your VPN connection abruptly drops because of a power failure or your computer goes to sleep, your connection and IP address get exposed to your ISP. A reliable VPN comes with a kill switch function that unplugs you from the internet if the VPN connection is severed.
FAQs About Torrenting
What are the best torrent sites for movies, shows, games, music, eBooks, applications, and more?
Here are the top torrent sites for most types of content:
Movies and shows — If you're looking for movies and shows, you should be able to easily find your title in Zooqle's vast, indexed library of over 3.5 million torrents.
Games — TorrentDownloads has over 16 million torrents with a wide assortment of the latest game files.
Music — Torrentz2 is your best option for finding music files.
eBooks — The Pirate Bay is the top choice for books and the best overall site for any torrent genre.
Applications — 1337x has the widest selection of safe torrent downloads for apps for Windows, macOS, Android, and Linux.
With the uTorrent client, you can access all of these sites from Windows, macOS, and Android devices, and through popular browsers, such as Chrome, Firefox, Edge, and Opera.
What happens legally if others see what I torrent?
Rest assured that you can download open source software and content in the public domain without getting in trouble. If you torrent copyrighted material — which includes most new-release films, songs, books, games, and apps — you may face criminal and civil penalties, which range from fines to jail time, depending on your location.
My team and I don't condone illegal torrenting, but it's important to know how to torrent safely. Make sure the torrents you download are copyright-free, and use a VPN to keep your personal data and identity safe from third-party hackers and web trackers on torrent sites.
Why are some torrent sites blocked?
Some governments order ISPs to block access to torrenting sites. Search engines, such as Google, often hide links to torrent sites or demote them from the first few result pages. Chrome's AdBlock extension also filters out torrent site results from your searches. In more severe cases, you'll see a warning from a law enforcement agency that the site you're looking for has been shut down. For example, Kickass Torrents was shut down in 2016, its founder was arrested, and its domains were seized by the US Departments of Homeland Security and Treasury.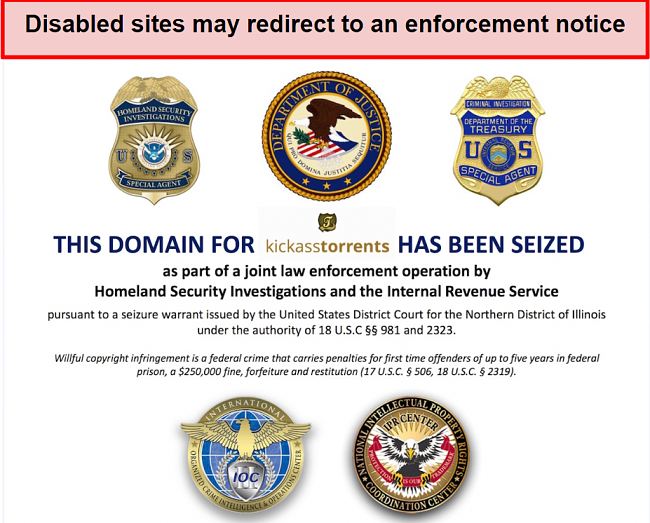 If the site you're looking for is still active — such as those I've listed in this post — you can still access it safely with a quality VPN service like ExpressVPN.
Do free VPNs work with torrents?
There are many free VPNs on the market, but you shouldn't use one for torrenting. Here are a few common and dangerous flaws that you need to avoid from free VPNs:
Logging — Free VPNs often generate revenue by selling your location and activities to advertisers. If you torrent with a free VPN that logs your online activity any third party can easily get access to this information.
Leaks — Your IP address, location, identity, and activities can be exposed to cybercriminals, your ISP, or the government if your data leaks while you torrent. The vast majority of free VPNs are incapable of stopping IP address and DNS request leaks. Popular free VPNs that are known to cause data leaks include HolaVPN, Betternet, and Touch VPN.
Malware — Torrent sites are full of malware, and free VPNs lack the security features to protect you from it. Some free services can infect your device with malware, or even hijack your browser and track everything you do.
Poor encryption — Only military-grade encryption and strong tunneling protocols can safeguard your connection from criminals and law enforcement. Premium VPNs use top-tier AES-256 encryption and advanced protocols, such as WireGuard, OpenVPN, and IKEv2. Free VPNs lack this technology. For instance, Opera's free VPN uses a simple browser proxy instead of a reliable VPN protocol and leaves your online activities at greater risk of exposure.
Slow network speeds — Decent download speeds are essential for torrenting, unless you're willing to wait days to get your files. Free VPNs typically leave you with dial-up era speeds. That's because they have few, overcrowded server locations, and outdated VPN protocols. Some VPNs (like Hola) slow down your network speeds by "borrowing" your bandwidth, sharing it with other users, and even selling it.
Data caps — Torrenting is data-intensive, so you need a VPN that doesn't restrict your data usage. Many free VPNs, such as TunnelBear, Hide.Me, and Windscribe aren't suited for torrenting because they set low monthly caps on your usage.
Paying a low fee for a top-quality VPN like ExpressVPN guarantees you security, protection from tracking, and fast and reliable connections and speeds.
What's the fastest torrent site in August 2022?
I tested and ranked the best torrent sites in 2022, and EZTV produced the top average download speeds during my tests, with Torrent Downloads and Torrentz2 not far behind. Note that these speeds will vary based on your ISP, internet plan, location, device performance, and VPN provider.
How can I torrent faster?
Using a VPN with a vast network of torrent-optimized servers can help you torrent faster. Top-speed VPN providers set up thousands of servers in hundreds of locations to prevent overcrowding and give you lightning-fast download speeds. If your ISP throttles your speed (artificially slows your connection), a VPN can also mask your online activities so the ISP can't penalize you for torrenting or consuming too much bandwidth. If you want a quick recommendation, ExpressVPN provides an enormous network of ultra-fast servers optimized for torrenting.
Get unbeatable security with ExpressVPN
Don't Risk Your Security — Torrent Safely With a Premium VPN
Torrenting can be risky, but it's one of the easiest and fastest ways to share files on the internet. To protect your data and anonymity when file sharing, your best option is to use a reliable VPN on your Mac and any other device that can connect to the internet.
In addition to keeping you safe when torrenting, a VPN protects your sensitive personal information when banking and shopping online. You can also connect to public WiFi without worrying about hackers or spies trying to steal your data. No matter where you are or what you do online, a quality VPN helps keep your activities secure and anonymous.
---
Summary — These Are the Best VPNs for Torrent Sites in 2022