The 8 Best Free VPNs for Netflix That Still Work in 2023
Not many free VPNs can access Netflix, especially since so many are free (and premium!) VPNs are blacklisted by Netflix's proxy-blocking technology.
I've tested more than 30 services to find the best VPNs for Netflix, and I found 8 VPNs that have top-tier streaming features without an expensive price tag. However, even the best free VPNs aren't ideal for streaming and come with frustrating trade-offs — superfast speeds but a tiny data cap, or unlimited data but endless buffering.
While the free VPNs I've found minimize these compromises, I still recommend ExpressVPN as the top choice for streaming Netflix. You can stream without limitations, and buy ExpressVPN for Netflix with confidence — if it doesn't meet your expectations then you can easily request a full refund.
Try Netflix with ExpressVPN risk-free
Quick Guide: Best Free VPNs for Netflix in 2023
The Best Free VPNs for Netflix (Tested 2023)
Key Features:
Though it's not a free VPN, ExpressVPN is the best VPN for Netflix out there. Unlike free VPNs, there are no limitations or restrictions. ExpressVPN has unlimited bandwidth, excellent speeds, and works with streaming sites with no problems. This makes it ideal for binge-watching a season of your favorite Netflix show.
I was pleased to find that all of ExpressVPN's servers had consistently high speeds while streaming Netflix. I didn't have any issues with lag or buffering, as ExpressVPN is expertly able to mitigate the speed loss usually caused by an encrypted connection. My speed only reduced by 18% on average, which is ideal if your standard internet speeds are a little slow.
During testing, ExpressVPN's servers worked with 40+ Netflix libraries in the US, UK, Canada, France, Japan, Germany, and more. ExpressVPN had no issues connecting to local Netflix accounts and streaming while connected to any of its servers..
I could stream my local Netflix library on both desktop and mobile, including my Windows laptop, MacBook Pro, Android phone, and iPhone XS. ExpressVPN supports connections for 5 devices simultaneously.
I was especially pleased that ExpressVPN works with the Netflix app on my smartphone as most VPNs can only access Netflix via a browser app. Using ExpressVPN's MediaStreamer feature, I could set up the VPN on a smart TV (which isn't compatible with standard VPN apps), and stream on the big screen at home.
To keep your data and devices safe when streaming, ExpressVPN has the following features:
Data leak protection: Keeps all location data secure to access your local Netflix account from anywhere.
Kill switch: Cuts access to the internet if the VPN connection is interrupted, maintaining data security.
AES 256-bit encryption: Protects your data with a cipher that would take a hacker a century to decode.
Split tunneling: Configurable to exclude apps and websites from the encrypted connection.
Strict no-log policy: Prevents the collection and storage of your personal and browsing data. The policy has been independently audited and approved.
My only issue with ExpressVPN is that it's a more expensive option than a lot of premium VPNs. Its prices start at $6.67/month for a 1-year + 3 months plan, but I think it's worth the cost for guaranteed Netflix connections, fast speeds, and unlimited data for streaming.
You don't have to take my word for it though. You can try streaming Netflix with ExpressVPN risk-free. If you're not completely satisfied, you have 30 days to request a refund. I tested the refund policy myself to make sure it works, and it does. After I signed up for an account, I contacted a representative via 24/7 live chat to ask for a refund. It was approved within minutes and the money was returned to my bank account in just 4 days!
Stream Netflix with ExpressVPN risk-free
Key Features:
CyberGhost's optimized Netflix servers provide fast, smooth streaming for libraries in France, Germany, Italy, Japan, Sweden, the UK, and the US. These servers are tested regularly by the CyberGhost team to ensure they work, which saved me time as I didn't have to manually try multiple servers. I simply clicked on the Netflix server for my local account and could instantly access the entire library.
During tests, I found that CyberGhost's optimized streaming servers are faster than its regular servers. My speeds were on average 30% faster when connected to the optimized servers. This meant I could stream Netflix content in Ultra HD video quality with no lag and zero buffering. If your standard internet speeds are slow, I recommend always connecting to an optimized server to reduce any speed loss.
I connected to CyberGhost's Netflix servers on multiple platforms, including my Windows PC and Mac, as well as my Android smartphone and iPhone. I was impressed that CyberGhost worked with the Netflix app, so I didn't have to access the site through my phone's browser. Plus, I found it useful that I could connect on up to 7 devices at the same time.
To further improve streaming and security, CyberGhost has the following features:
DNS and IP leak protection: Keeps your true location hidden to ensure you can access your local Netflix account from anywhere.
256-bit encryption: Stops hackers and other prying eyes from reading your information.
Ad, malware, and tracker blocker: Stops websites from tracking your online movements for advertisers, plus blocks ads containing malware for device security.
Smart DNS: Lets you configure streaming options for devices that don't natively support VPN apps, like game consoles and older smart TVs.
The downside to CyberGhost is that it's not a reliable option for Netflix if you're in a country with restrictive internet regulations, like China or Turkey. During tests, it had issues connecting to servers and couldn't access Netflix when in these countries.
However, CyberGhost is an affordable option that works in most countries worldwide. Its plans start at just $2.11/month for a 2-year + 3 months subscription. It's one of the most affordable monthly VPNs available.
If you'd like to test the service for yourself, you can try watching Netflix with CyberGhost risk-free for up to 45 days. I tested the refund process and it's easy! It took less than 5 minutes to have my refund approved using the 24/7 live chat, and I had the money back in a week.
Stream Netflix with CyberGhost risk-free
Key Features:
While many free VPNs restrict your data, Proton VPN has unlimited bandwidth for watching Netflix marathons. This means you don't have to check how much data you've used to avoid hitting a cap. You can stream as much as you want at any time of the day.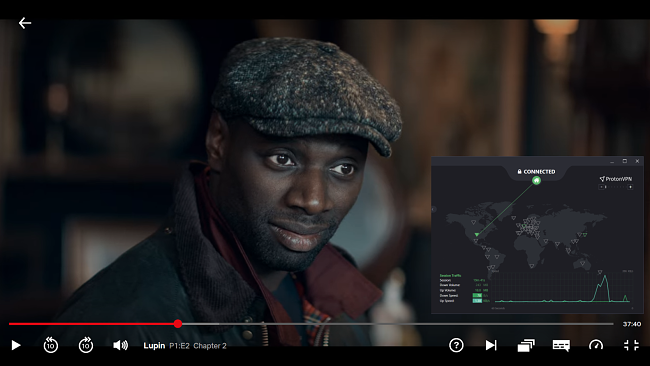 Proton VPN only has 3 free server locations: the US, Japan, and the Netherlands. Despite the limited servers, there were no issues accessing Netflix libraries in these locations during tests, and the streams played lag-free.
To keep your personal and browsing data secure for streaming Netflix when abroad, Proton VPN has multiple features, including:
Military-grade encryption: All servers are protected by AES-256-bit encryption to keep your data and Netflix streaming secure.
Data leak protection: Prevents DNS and IP leaks from revealing your location so you can stream Netflix when traveling abroad.
Kill switch: Blocks access to the internet if the VPN is interrupted, keeping your data and activity protected.
Split tunneling: Choose which apps use the encrypted server, so you can stream your local Netflix library while shopping and browsing locally.
I also like that Proton VPN has customizable profiles that let you quickly connect to specific servers. It is possible to e configure a profile to connect to a local Netflix account in the US using the US-FREE#21 server. After setting it up, all that you would need to to do is click the "Connect" button next to the streaming profile to get the best connection for Netflix.
The main drawback is that Proton VPN's speeds aren't very fast. I only got speeds between 7 to 11 Mbps on my nearest server, which is a significant 80-90% decrease from my base speeds. Your results may vary depending on where you're connecting from and your standard internet speed. My recommendation for using a free VPN to stream is to lower the video quality from HD to SD, as it's less data intensive and might provide more reliable streams.
If slow speeds don't bother you, Proton VPN is a great choice for watching Netflix as it has no data caps. You can download Proton VPN and binge-watch Netflix for free. You'll need to create an account with an email address, but you don't have to provide any billing information.
Stream Netflix with Proton VPN for free
Key Features:
NordVPN is one of the best VPNs on the market — and you can get super cheap prices when you sign up for a long-term subscription. One thing to note, however, is that when it's time to renew your subscription, prices do increase quite significantly.
I was particularly impressed with the high performance of every server I tested. Just because a VPN has thousands of servers doesn't mean they all work. Servers can still struggle to unblock local sites — and some can even fail to connect completely. However, I easily unblocked Netflix, Disney+, Hulu, Amazon Prime Video, BBC iPlayer, and HBO Max on multiple servers in the US and UK.
I did, however, have issues with using NordVPN's native Fire TV app. Although it worked and unblocked some streaming services, it sometimes had issues unblocking Netflix US and kept crashing. I also found that NordVPN's user interface for desktop devices was less user-friendly than ExpressVPN and CyberGhost.
NordVPN has the following security and privacy features:
AES 256-bit encryption
kill switch that cuts your internet access if your connection to a VPN server drops suddenly
built-in ad and malware blocker, so you don't need a third-party ad blocker
fully audited no-logs policy (audited by PwC) – NordVPN doesn't store any personal or identifying data while you're connected to the VPN
In addition, NordVPN includes Threat Protection that protects you from viruses, infected websites, and trackers – and it works whenever you have the NordVPN app open, even if you're not connected to a VPN server.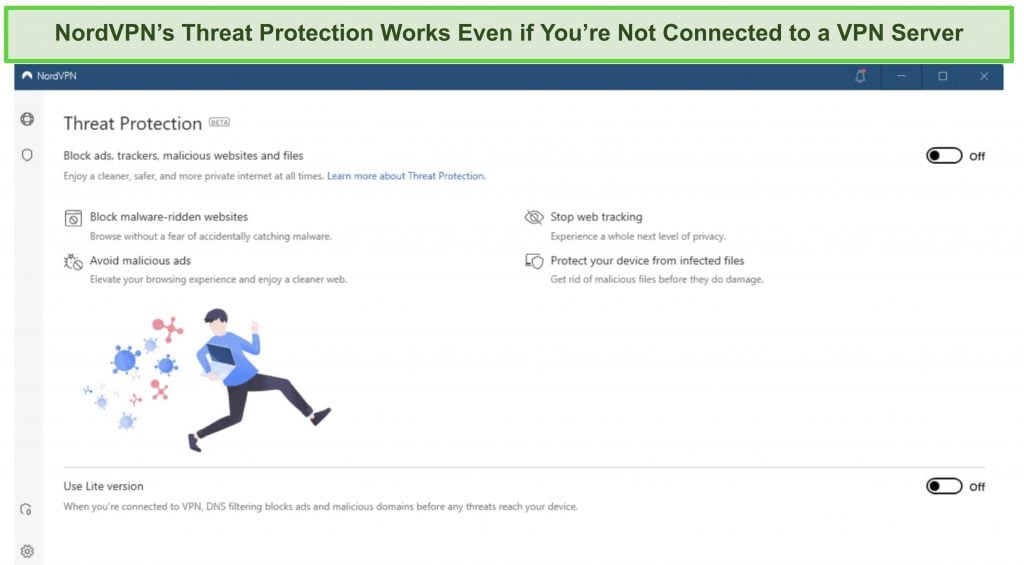 With plans that cost as little as $3.99 per month, it's easy to find a NordVPN subscription plan that suits your needs. You can also stream, torrent, and browse for free for up to 30 days with its money-back guarantee. I tested this to ensure that you'll really get your money back. At first, the support team tried to give me an extended trial period — but they initiated my refund right away after I told them I wasn't interested in the extension. I got my money back in 6 business days.
Key Features:
Surfshark offers the best value for money out of every premium VPN on the market. You can connect an unlimited number of devices with a single subscription, which means you can use Surfshark on all your devices without getting logged out.
I tested Surfshark's simultaneous connections on 2 PCs, 2 phones, a Fire Stick 4K, and an iPad. My connection remained reliable on all 6 devices. Even while I was actively streaming on all my devices, my average speed was 112 Mbps — fast enough for UHD quality.
When I saw the price of this service, I thought it couldn't possibly have top-grade security features for such a low price, but I was pleasantly surprised.
Surfshark has the following security and privacy features:
AES 256-bit encryption on all devices, with ChaCha encryption available for Android users
Wireguard VPN protocol enabled by default
diskless, RAM-only servers to protect your privacy (no data can be physically extracted from any servers)
kill switch (although this isn't enabled by default)
IP and DNS leak protection
Surfshark offers two-factor authentication (2FA) on your account. This feature requires you to enter an extra code before you can log in to ensure that only you can access your account.
While Surfshark does have slightly fewer global servers than rivals such as CyberGhost and PIA, I didn't experience any issues during my tests. I easily connected fast working servers every time, and I had excellent speeds for streaming Netflix in UHD, downloading torrents, and browsing the internet.
You can try Surfshark for yourself with the 30-day money-back guarantee. It has plans that cost as little as $2.30. Requesting a refund is easy with Surfshark's live chat feature. Although the support team asked why I wanted to cancel my subscription, I had no problem getting my money back (and it only took 4 days!).
Key Features:
While the free plan doesn't officially support it, Hotspot Shield's free US server works with Netflix. The app does display a pop-up message warning you that the connection might not work. However, throughout tests, Hotspot Shield didn't have any issues accessing Netflix shows like Bridgerton and Lupin.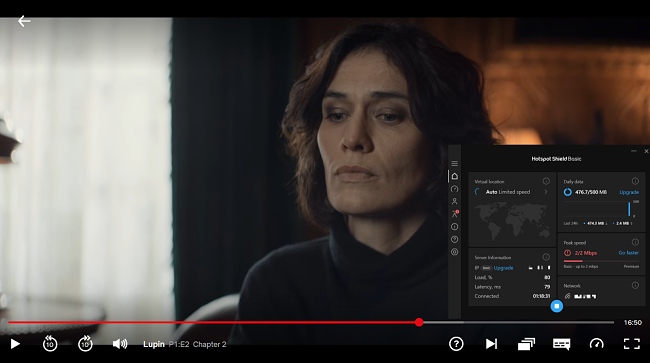 I was concerned my speeds would be dramatically reduced with only 1 server connection, but its speeds are reliably fast. I ran several speed tests and found Hotspot Shield was fast enough for HD-quality Netflix streaming, so I didn't have to reduce my stream quality. There is a built-in speed test in the app, so you can easily check your upload and download speeds before you start streaming. I recommend using the Hydra protocol for the fastest speeds.
With the recent upgrade to unlimited data, I didn't have to worry about hitting a data cap with Hotspot Shield. My connection to the US server was consistent and reliable, so I could stream Netflix for hours without interruptions. This makes Hotspot Shield a good choice for binge-watching your favorite shows or movie series.
To keep your Netflix viewing secure and anonymous, Hotspot Shield has the following features:
Smart VPN: A split tunneling feature that lets apps or websites bypass the VPN connection, so you can browse the web locally while streaming Netflix when abroad.
Kill switch: Blocks your internet connection if the VPN is interrupted, keeping your location data private.
Auto-protect: Connects the VPN whenever you're using public WiFi so you can securely stream Netflix from anywhere.
My issue with Hotspot Shield is that it uses ads to generate revenue on its free VPN. While the company doesn't collect or store any data when you're connected to its server, information like your device OS and general location are used to show you targeted ads. I find this quite invasive, but you can use a free ad blocker with your browser to stop seeing ads altogether.
You'll need to create an account to stream Netflix with Hotspot Shield. It takes less than a minute, and you can download the app to watch Netflix immediately after signing up.
Watch Netflix with Hotspot Shield for free
Key Features:
Despite its website claiming that the free account doesn't allow streaming, hide.me's servers successfully accessed Netflix libraries in the US, Canada, Germany, and the Netherlands.
I was impressed with Hide.me's excellent streaming speeds on its local server. I didn't have any lag or buffering issues when I streamed the show Bridgerton on Netflix. Distant servers experience a little more slowdown than local ones, so make sure you connect to the closest server and use the WireGuard protocol to keep your speeds fast.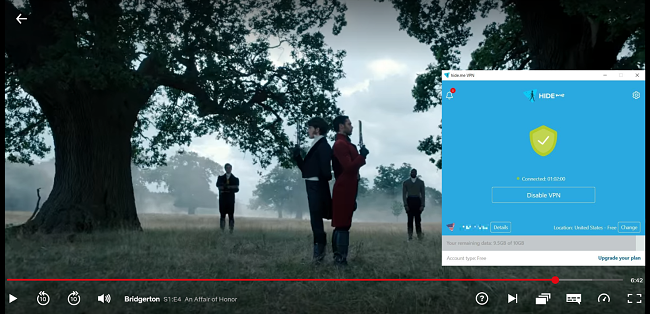 hide.me's free VPN provides 10GB of data per month, with which you're allowed to choose a server location. After you hit the 10GB limit, you can still securely connect to the VPN, but you can't pick your server location. This may mean you're unable to choose a server in your home country, preventing access to your favorite Netflix content. However, this does mean you essentially have unlimited data.
I'm pleased with hide.me's security and privacy features that also improve streaming, including:
Split tunneling: Lets you configure which apps use or are excluded from the VPN.
Auto connect: Set the VPN to connect whenever you open your browser for Netflix or use the Netflix app.
Kill switch: Protects your true location data by blocking internet access if the VPN is interrupted.
The downside is that not all of hide.me's servers can access Netflix immediately. It took me several attempts to connect to Netflix, as I had to disconnect and reconnect multiple times. While it's still decent for a free service, hide.me is much less consistent than Proton VPN and Hotspot Shield.
Even though you have to be patient with the server connections and manage the data allowance, hide.me is still a solid choice for Netflix. Better still, you don't even have to sign up for an account. Simply download hide.me and start watching Netflix — no username or email address is required.
Watch Netflix with hide.me for free
Key Features:
TunnelBear's free VPN comes with 3,000 server locations worldwide. Even though TunnelBear's website doesn't explicitly state that it supports Netflix streaming, every server works with the site. During tests, TunnelBear's servers accessed Netflix libraries in the US, UK, Canada, France, Japan, and Germany.
My average speed on my local TunnelBear server in the UK was very similar to my standard connection, which is fast enough for HD-quality streaming. Speeds decrease over long distances, but as you have access to all of TunnelBear's servers, you'll be able to find a nearby connection for interruption-free viewing. I streamed the show Bridgerton on Netflix with no lag and only a few seconds of buffering at the start.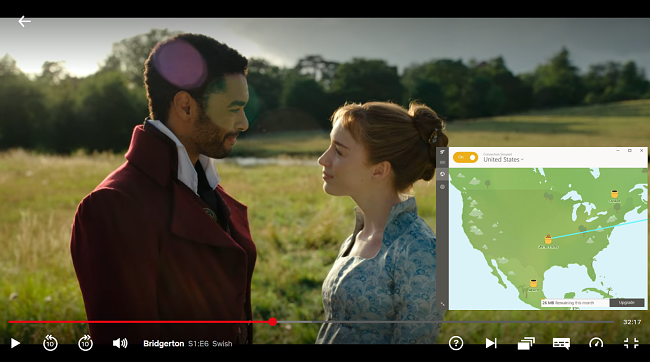 I was pleased to find that all of TunnelBear's security and privacy features are available on the free plan, including:
VigilantBear: Kill switch function that protects your data if the connection is interrupted.
GhostBear: Obfuscates the VPN traffic to look like regular traffic, so Netflix is less likely to detect VPN use or block the connection.
The issue with TunnelBear is its tiny data allowance — just 500MB per month. This small cap meant I could only stream 1 episode of Bridgerton (or 2 in SD quality) before the allowance ran out. Then, I'd have to wait until the limit reset next month to stream more. You do have the option to send a tweet about TunnelBear every month to get an extra 1GB of data credited to your account. However, this does link your Twitter to your TunnelBear account, which could compromise your security.
Despite these limitations, I enjoyed using TunnelBear to catch up on a couple of episodes as it reliably works with Netflix. It even works with BBC iPlayer (not many VPNs do anymore). To start streaming yourself, all you have to do is download the TunnelBear app, sign up for an account, and connect to a server.
Watch Netflix with TunnelBear for free
Easy Comparison Table: 2023's Best Free VPNs for Netflix
Netflix Libraries
Netflix US
Monthly Data
Servers
Speed
Free Plan
Credit Card Signup
ExpressVPN
40+

✔

Unlimited
3,000+
Very Fast

✘


30-day money-back guarantee
Yes
Account required
CyberGhost
7+

✔

Unlimited
9,000+
Very Fast

✘


45-day money-back guarantee
Yes
Account required
Proton VPN
3

✔

Unlimited
2950+
Average

✔

No
Account required
NordVPN
11

✔

Unlimited
5,700+
Fast

✘


30-day money-back guarantee
Yes
Account required
Surfshark
14

✔

Unlimited
3,200+
Fast

✘


30-day money-back guarantee
Yes
Account required
Hotspot Shield
1

✔

Unlimited (with ads)
3,200+
Fast

✔

No
Account required
hide.me
5

✔

10GB
2,100+
Fast

✔

No
Account required
TunnelBear
40+

✔

500MB
3,000+
Fast

✔

No
Account required
Watch Netflix From Anywhere With a VPN in 3 Easy Steps
Stream Netflix with ExpressVPN
What Are the Risks of Using a Free VPN?
Free is always tempting, but it's important to only choose a secure and reliable free VPN. Far too often, 100% free VPNs behave in a shady way by logging your online activity and selling it to third-party advertisers or infecting your devices with malware. This compromises your data security and even puts you at risk of identity theft. Plus, many free VPNs don't have the high-level security features you need to keep your data safe, resulting in data leaks that expose your activity and identity.
All of the free VPNs in this article are "freemium" VPNs (free services from premium VPN providers). You can trust that you'll get the same top-tier security and privacy with the free VPNs on this list as you would with the paid version. While there are some limitations like data caps, speed restrictions, or server connections, you'll always get high-level security that doesn't compromise your data.
Warning! None of These Free VPNs Work for Netflix
Avoid these free VPNs as they don't work with Netflix and could cause security issues:
Stream Netflix with ExpressVPN
How I Tested and Ranked the Best Free VPNs for Netflix
I tested more than 30 free services to find the best VPNs in 2023 for streaming Netflix. I used the following criteria and ranked them according to my test results:
Access to Netflix: All VPNs can access at least 1 Netflix location, with many able to connect to multiple Netflix libraries including Netflix US, UK, Japan, Germany, and more.
Popular server locations: Most VPNs provide multiple server connections so you can access your local Netflix account from anywhere in the world.
Fast speeds: Netflix recommends at least 5Mbps download speed for HD-quality streaming — all of the free VPNs on this list reach that speed easily.
Good data allowance: Several free VPNs provide unlimited data so you can stream as much Netflix as you want. At a minimum, you should be able to stream 30 minutes of SD-quality content with a free VPN.
Top-tier security: Every free VPN has AES-256-bit encryption, data leak protection, and a strict zero-log policy to ensure your online activity is secure and private.
Compatible with multiple devices: My recommended free VPNs have native apps available for a variety of platforms, so you can stream Netflix on your Windows PC, Mac, smartphone, smart TV, game console, and more.
Customer service: All free VPNs offer customer support so you can quickly resolve any issues you may encounter. Most have a knowledge base on their support site, while some offer email ticketing and live chat.
Stream Netflix with ExpressVPN
FAQs: Free VPNs & Netflix
Watch Netflix US, UK, and More With the Best Free VPN
With the right VPN, you can watch your favorite shows on Netflix from anywhere. However, you have to be aware of the limitations and dangers that come with free VPNs. This includes issues from buffering streams to logging and selling your browsing history — making most free VPNs not worth the downsides.
Following the evaluation of over 30 free VPNs, Proton VPN emerged as the leading free service, offering unlimited data, 3 server connections, and satisfactory speeds. Nevertheless, there are certain limitations with Proton VPN, such as its restricted access to Netflix only in the US, Japan, or the Netherlands, as well as potential slowdowns caused by server congestion.
Overall, a premium service like ExpressVPN is still the best choice for watching Netflix. While it's not free, it has plenty of fast global servers for streaming Netflix in Ultra HD. Best of all, if you're not fully satisfied, it's quick and easy to contact ExpressVPN over 24/7 live chat. You have 30 days to get a full refund (no questions asked). When I tested the refund policy to make sure it works, I got my money back in only 4 days.
Stream Netflix with ExpressVPN
---
Other Top VPNs for Netflix in 2023