How To Watch TV Online For Free (Without Popup Ads)

Last Updated by Mackenzie Pringle on January 26, 2021
There's no doubt that the price of cable is rising considerably and the majority of us can no longer keep up with their pricing. This has caused a large group of individuals to turn to online television. It's affordable, reliable, and allows you to watch any show you want, whenever you want.
There are a few ways you can go about watching tv online for free, but the most successful method by far is utilizing free streaming sites. The top 5 free streaming sites include:
Putlocker
Sony Crackle
Flixtor
Couchtuner
TVCatchup
When you're using these free streaming sites, you notice a significantly increased number of popups and advertising. These ads can be incredibly frustrating to deal with while you're trying to watch your favorite shows, so thankfully we have a solution for you. By utilizing an adblocking service, you'll block any adware from flooding your computer screen. Adblockers are also great at protecting your system from any malware lurking on these streaming sites.
If you pair your adblocker with a VPN, you'll be able to watch all your shows wholly protected from any online attacks which can occur when frequenting these free streaming sites. We've got you covered and have a few VPN suggestions that are fantastic for streaming online content.
Free Streaming Sites
When hunting for an excellent free streaming site, there are few things you'll want to keep an eye out for. Firstly, you'll want to avoid any site that requires you to sign up for their service. Any sites that request your information or ask you to complete a survey are a scam, and you need to steer clear at all costs. You'll also want a site that doesn't bombard you with ads. However, it's important to understand that any free streaming site is going to have some ads so don't expect to find one without anything at all.
1. Putlocker – One of the best streaming libraries available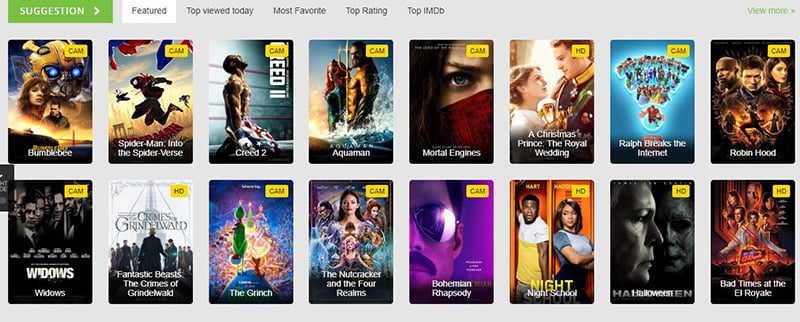 Putlocker is one of the most reliable sites when it comes to streaming tv for free. They have an extensive library and won't request you to sign up for their service.
You can easily search for your favorite shows and movies by both name and genre. You're also able to content according to country and IMDb ratings. Putlocker is excellent at keeping up with the latest releases, and you can often watch the show you're looking for just hours after it airs.
The one downside to Putlocker is the number of popups on their service. However, this issue is easily fixed if you implement the use of an adblocker and a VPN while streaming via their site.
2. Sony Crackle – Has a great mobile app for streaming on the go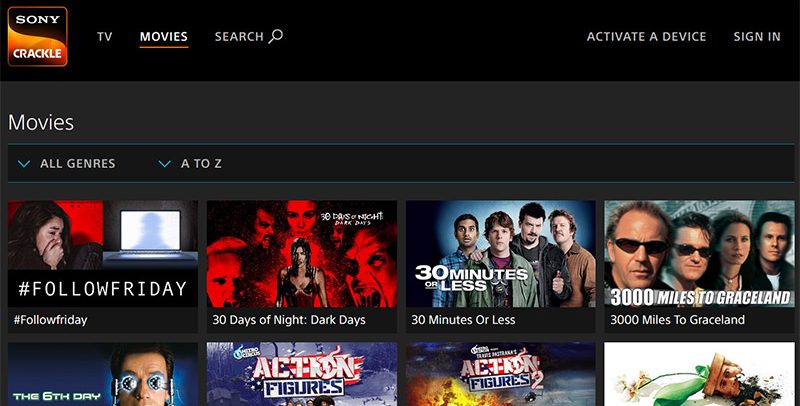 Cracker has recently gained popularity as it allows users to stream shows utterly free of charge and without scams and popups.
One of the best features that Crackle has to offer is its tracking. You can keep track of what you've watched so the next time you visit the site, it will pick up where you left off. You no longer need to waste your time finding a tv show or the episode you were up to.
It's important to note that you will need to create an account with Crackle to access this show tracking feature, but we can attest that there's nothing sketchy about this process.
You can search for your favorite shows with ease on Crackle and sort through what else the site has to offer based on the genre, what's coming soon, clips, and full episodes.
Crackle is also available on mobile devices which is particularly useful if you like watching shows on the go.
3. FlixTor – Ad free streaming site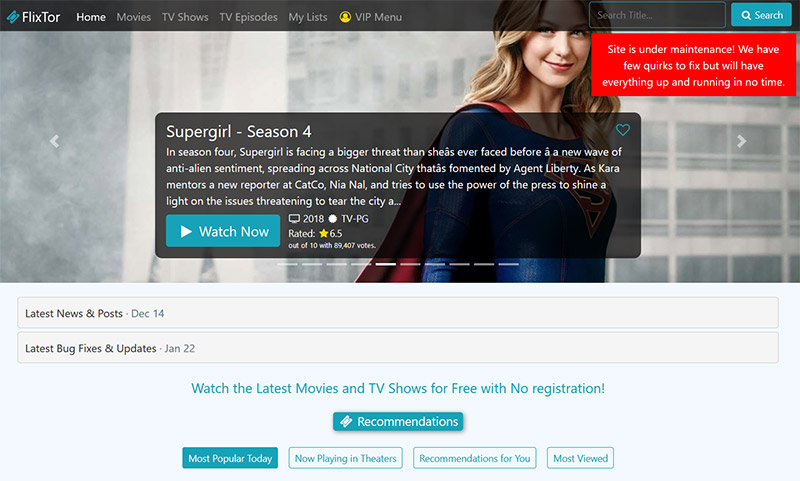 If you're after a site with an impressive streaming library, you'll be satisfied with Flixtor. They are continually adding new content to their site and providing users with all the latest releases. The team at Flixtor is dedicated to ensuring their site is up to date with the best content regardless of whether its classic boxsets or the newest blockbusters.
Each upload has a quality marker on Flixtor, so you're able to quickly filter through the shows and choose to stream in either standard or HD quality. The level of quality available to you will depend on your network connection speeds, but as long as you have access to fast internet, you can watch your shows with the best graphics around.
You can decide to sign up to Flixtor if you like, however, it's not a requirement to use the site. Though if you do sign up, which is entirely free, they will provide you with an ad-free streaming experience.
4. Couchtuner – High quality streaming site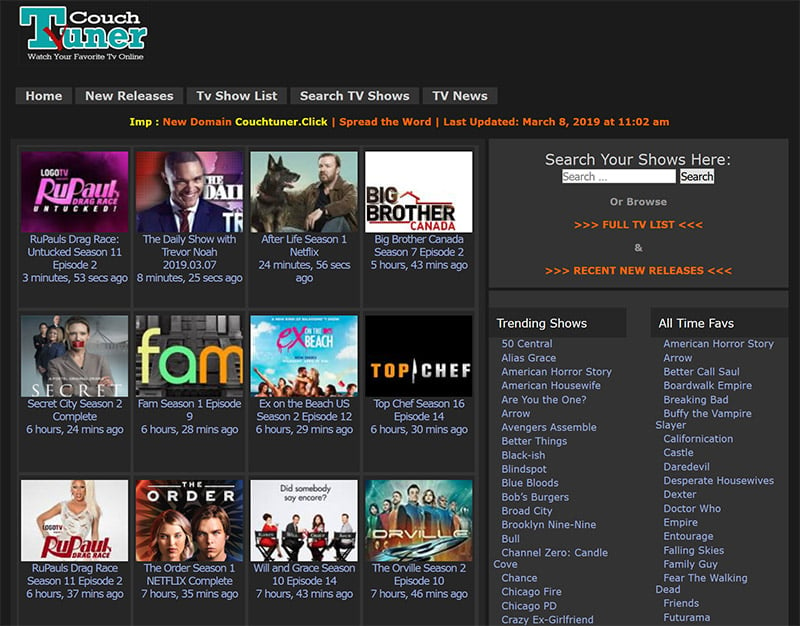 Couchtuner is a brilliant service when it comes to watching shows that aren't available on paid streaming sites like Netflix or Hulu. They have a massive library full of content you can both stream and download.
It has been recommended by other users only to utilize the streaming services offered by Couchtuner to avoid the malware that occasionally infects their downloads. The other negative about their service is the multitude of ads that they display, so to enjoy watching their service you'll need a quality adblocker.
Couchtuner can be watched through any web browser and can even be used on Kodi devices if that's your preference. Their ability to stream shows currently airing on tv is a huge bonus when it comes to Couchtuner and the main reason why we love it so much.
5. TVCatchup – Watch the Best UK programs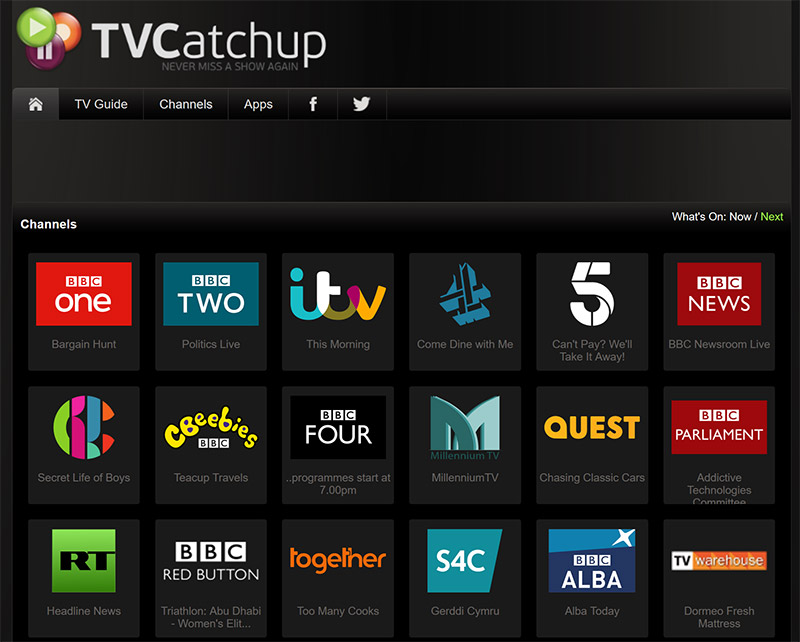 TVCatchup is a free streaming service specifically set up for UK channels and programs. With this streaming site, you can gain access to shows from popular sites like BBC, Channel 4, Channel 5, ITV, and so many others.
You can access TVCatchup via both desktop and mobile devices, and it's available on most major platforms. They also have a unique live streaming feature you won't see on many other free or paid streaming sites.
TVCatchup is funded by advertising so you'll have to expect some ads and pop-ups while using their service. However, if you install an adblocker, you'll be able to avoid this issue easily.
Best Adblocker For Streaming Sites: AdBlock Plus
Now that you know where you can watch tv online completely free of charge, you'll want to avoid those pesky ads with a quality adblocking service.
AdBlock Plus is our top choice for the job as we've found it improves your streaming experience. As an open-source extension, AdBlock Plus prevents any annoying ads or popups from invading your computer.
Additionally, AdBlock Plus can disable tracking, remove Facebook like buttons, and block malware. You can also keep track of how many ads have been successfully blocked, and their sources. Available for Google Chrome, Firefox, Internet Explorer, Microsoft Edge, Opera, and Safari, the extension is free to install and use.
To install Adblock Plus:
Visit your browser's store
Search and download "AdBlock Plus"
Enable it as a browser extension
Once you've installed this service, you'll be able to watch your favorite tv shows and movies without the interruption of unnecessary ads.
Other Great Adblocking Services To Consider
While we highly recommend using AdBlock Plus, there are several other fantastic adblocking services on the market for you to choose from. With these adblockers, you'll want to ensure that they can adequately remove all advertising and popups, and you'll want them to block harmful malware from causing you any trouble.
Here are a few of our favorite adblockers:
Opera Browser – This may come as a surprise, but one of the best ad blocking services is the Opera browser. They have an ad blocking feature built into their system which will ensure your protection from malware and successfully prevent any ads from flooding your screen. Opera also has an integrated VPN service so you can stay protected on all fronts.
AdLock – As one of the most useful services, you won't go wrong by downloading AdLock. It's straightforward to install and can do so much more than your regular service. While this ad blocker is only available on Windows and Android devices, it will allow you to prevent any popups in mobile applications as well as internet browsers. They also offer all users a free 14-day trial to test out just how good their services are.
AdBlocker Ultimate – AdBlocker Ultimate is excellent at shutting down any ads you might come across online. They have some fantastic testimonials and a cult following for their services. You should know that they haven't updated their plugin in over a year, but we still find them extremely useful when it comes to blocking ads, popups, and malware.
Top Free VPNs For Streaming TV
The next step to watching tv online for free to protect yourself with a VPN. By downloading a VPN service, you'll be safe from online attacks, malware, and prying eyes. VPNs give you back control when it comes to your privacy and security online and can be extremely useful in a wide range of circumstances.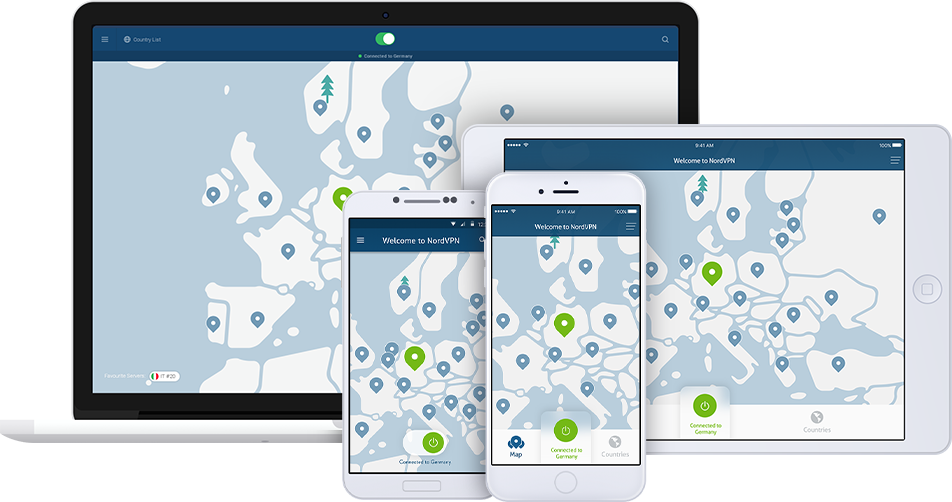 NordVPN, while not free, does provide users with a 30-day money-back guarantee offer. You can't beat the service NordVPN gives its users so if you're only looking for a VPN for a short period, you can't pass it up.
NordVPN has superior security protocols on par with what is set up in the military. You'll have access to 256-bit AES encryption, an automatic kill switch, double VPN tunneling, OpenVPN as the default protocol, and a strict no logs policy.
NordVPN also has some of the best speeds around so you won't have to put up with your VPN slowing down your connection speeds. This is particularly useful when you want to stream shows as it won't affect your viewing experience and cause the content to buffer.
Their servers are some of the best with some of the most substantial numbers we've seen on the market at over 5,400 in more than 60 countries. They have also designed a few servers to carry out specific tasks such as their obfuscated servers aimed at providing internet freedom to people in China, or their Onion over TOR servers for accessing an added layer of security.
One of the best features of NordVPN is its in-built adblocker, CyberSec. CyberSec will ensure no popups, ads, or malware infect your computer while you're streaming shows online and is a great two for one deal.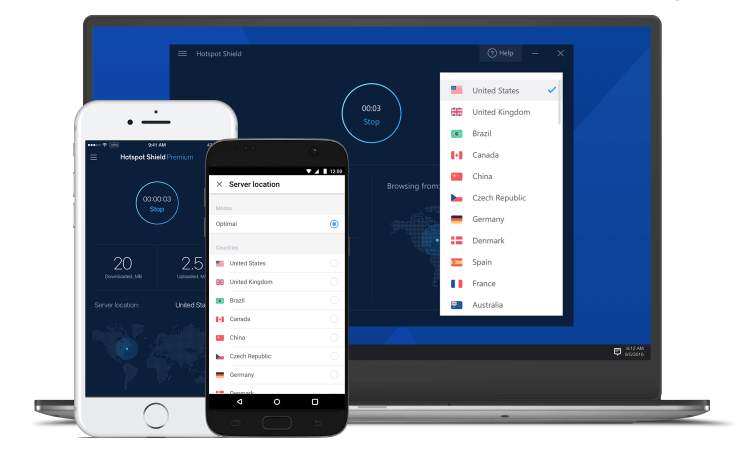 This VPN has a network of more than 2,500 servers all of which can bypass any online restrictions with ease. It has dedicated applications for specific platforms and is compatible with Windows, Mac, iOS, Android, and Linux.
With Hotspot Shield, you can connect up to five devices simultaneously, allowing everyone in the family to stay protected while streaming their favorite shows.
Hotspot Shield is one of the few free VPNs out there that offers 256-bit encryption for your devices, making it a great choice in terms of security.
While Hotspot Shield is free, you can upgrade to a paid version with a 45-day money-back guarantee that comes with an adblocker.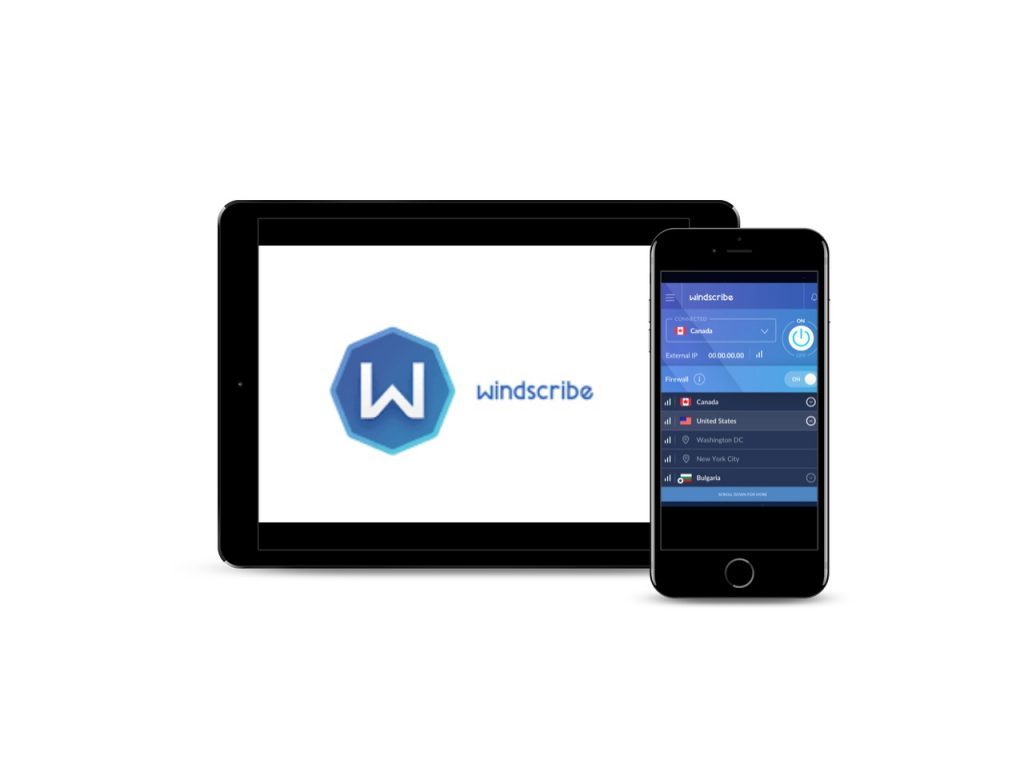 If you're looking for a VPN provider that's brilliant when it comes to streaming, then Windscribe is the VPN for you. With their service, you'll be given a secure and encrypted connection to these streaming sites to keep you protected at all times.
This VPN also has an adblocker, called R.O.B.E.R.T, that will ensure no ads, popups or malware disturb your streaming experience. Windscribe also boasts other great features like a cookie manager, split personality option, and firewalls, so you're online safety is ensured.
Their servers are located in more than 60 countries which is impressive for a free VPN. The free version does cap your data usage, but you have the option of upgrading to their paid service and gaining access to their full range of features if you choose.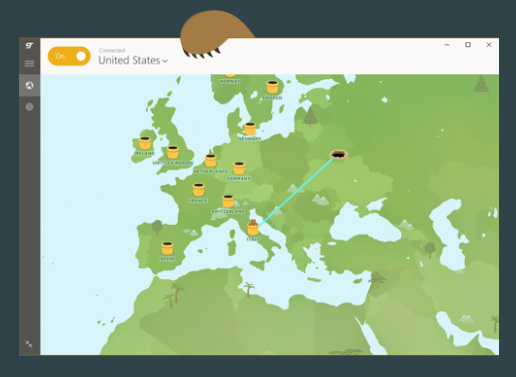 Our final suggestion when it comes to finding a free streaming VPN would have to be TunnelBear. There a simple, easy to navigate service that is perfect if you're unfamiliar with VPNs. There interface is a breeze to install, filled with cute bear graphics, and intuitive, so what more could you ask for.
With TunnelBear, you will gain access to a worldwide network of servers that allow you to safety visit streaming sites and prevent ads and popups. The only downside is that their free version is very limiting. Unfortunately, the free version of TunnelBear caps your usage at 500mb. However, you do have the option to upgrade to their paid subscription to receive unlimited data and bandwidth.
Bottom Line
If you're wanting to watch shows online for free because you're sick of paying for cable, there are plenty of options for you to choose from. However, you'll want to do your research on what free streaming sites will work for you, and you must be careful not to fall for any fakes or scams.
For an added layer of protection when streaming shows online, you can install an adblocker and VPN. These services will ensure you're safe from any malware and they'll stop any ads from taking over your streaming experience.
By using these services, you'll also enjoy the benefits of anonymity and net neutrality, all while streaming your favorite shows utterly free of charge.