The Top 5 Ways to Pay for Hulu Outside the US (Updated 2023)
Hulu's monthly subscription gives you access to blockbuster movies, popular TV sitcoms, kids shows, and more. But it isn't fair that Hulu isn't available to buy or watch if you're outside the US — even if you're a US citizen. To subscribe to Hulu, you need to have a US credit card and be located within US borders. I found a few workarounds (like a Hulu gift card), but you need a Virtual Private Network (VPN) to regain access to your account.
Since most VPNs aren't powerful enough to get past Hulu's location blocks, I had to test 15 just to find 3 VPNs that worked. ExpressVPN had the fastest speeds for unblocking Hulu and watching lag-free. Plus, it's risk-free to use ExpressVPN to subscribe to Hulu from anywhere, since every ExpressVPN plan is backed by a 30-day money-back guarantee. If it doesn't work when you try to subscribe to Hulu, you can easily get a refund.
Quick Guide: The Best Ways to Pay for Hulu Outside the US
Why You Need a VPN to Pay for Hulu Outside the US
Since Hulu is only licensed for the US, it blocks any non-US IP address. An IP address is associated with your device and tells third parties where you're located, what device you're using, how long you visited each website and lots of other information.
A VPN lets you connect to the web using encrypted servers in other locations, hiding your real data and letting you use the web anonymously. These encrypted servers give you a new IP address in whichever country they are located in. This makes websites and apps believe you are in the US instead of your real location.
With an IP address in the US with one of the top VPNs for Windows, mobiles, smart TVs, and other devices, you can subscribe to Hulu even while you travel abroad. Then you'll be able to watch all the shows and movies you want no matter where you are.
The Best VPNs to Use to Pay for Hulu From Anywhere
Key Features:
Out of every VPN I tested to pay for Hulu, ExpressVPN had the fastest speeds for lag-free shows and movies. ExpressVPN's servers in the US accessed Hulu reliably blazing-fast servers in the US no matter which one I used. After testing ExpressVPN to pay for Hulu, I could reliably watch hit movies like Palm Springs in beautiful HD with zero buffering. I tried out server speeds throughout the US (where Hulu is available) and always got around 90Mbps or higher. This was only about 13% slower than my baseline speed — I didn't even notice a performance difference when I wasn't connected.
Since all of ExpressVPN's 3000+ servers are optimized for streaming Hulu and other sites, you can just let the app find the fastest location in the US and connect automatically. Then you'll be able to sign up for Hulu using one of the methods in this article and access the site wherever you are. Since ExpressVPN's network in the US includes 1,000+ servers, there are always tons of options if your current server fills up with users (which slows down your connection and causes lag).
Plus, ExpressVPN supports up to 5 devices and is compatible with all the platforms I use to watch TV and movies. You can use it to sign up for Hulu on Windows, macOS, Android, iOS, tablets, smart TVs, and more. Even when my colleague in the US maxed out ExpressVPN's device limit (which slows down inferior VPNs), Palm Springs never lagged. There was just a second of buffering at the start of the movie.
The only minor con is that ExpressVPN costs more than the other VPNs on this list. It's to be expected for a VPN with such fast speeds and premium features — plus, you can get big discounts of up to 49% when you sign up for ExpressVPN's 1-year + 3 months-year plan.
If you want to use ExpressVPN to sign up for Hulu, it's risk-free. Every subscription is backed by a 30-day money-back guarantee that lets you get a refund if it ends up not working. When I asked for my money back over 24/7 chat support, the agent processed my request right away. I had my money back in just 2 days.
Key Features:
CyberGhost has a server specifically optimized to access Hulu, giving you a super-reliable way to pay for an account. Those same servers are built for reliability and fast streaming speeds, so you can watch your favorite shows and movies from anywhere in the world. Just select "For streaming" in the server menu, find the Hulu server, and double-click (or tap if you're using mobile) to connect. If you use Firestick or Android TV, CyberGhost has Hulu servers designed for these devices as well.
The one small con to CyberGhost is that it only has one Hulu-optimized server, so it could occasionally go down for maintenance or technical issues. That's why I was grateful that CyberGhost's non-optimized servers in the US could also access Hulu. While a couple of them wouldn't work (like the server in Phoenix), most of them let me subscribe to Hulu and watch my favorite shows with no problems. I might just have an extra few seconds of initial buffering.
After connecting to CyberGhost's Hulu server, I ran a speed test. Though not quite as fast as ExpressVPN, CyberGhost gave me impressive download speeds of 79Mbps. It gave me more than enough speed to watch The Act in HD with no lag — even on CyberGhost's maximum of 7 devices at once. Since most VPNs lag when you push their connection limits, I was glad I wouldn't have to log out all my other devices to watch something. Even in 4K on 3 devices at once, CyberGhost gave me lag-free streaming performance — I just had 5-7 seconds of initial buffering time.
To keep you safely hidden from hackers and trackers while you watch Hulu, CyberGhost's servers use military-grade 256-bit encryption. This stops anyone on your network from being able to see that you're watching Hulu, and prevents trackers from mining your data for personal profit.
Best of all, CyberGhost has the most generous money-back guarantee policy of any VPN I tested. You can try CyberGhost with Hulu for free for 7 days, then get a refund when you're done catching up on shows. I asked for a refund via 24/7 live chat help, and the customer service representative put my request through with no questions asked.
Key Features:
With the largest network of servers in the US, PIA reliably accessed Hulu from anywhere. Most of PIA's thousands of US options could instantly unblock Hulu during my tests. That means you have tons of backups in case a server goes down, gets banned by Hulu's filters, or fills up with too many users (which slows them down and makes your shows lag).
PIA also has 2 servers optimized for streaming services in the US, and both unblock Hulu instantly. When choosing which to use, select the location closest to you (East or West) to get the fastest speeds. If either of these servers isn't working, most of PIA's location-based servers in the US let my colleague in New York access Hulu as well.
With support for up to unlimited connections on a single account, PIA lets you stream Hulu on more devices at once than any other VPN on this list. However — at 71Mbps during my tests, PIA had slightly slower speeds. It was still fast enough to watch The Handmaid's Tale without lag on 2 PCs, 2 Android phones, and a Mac laptop all at once. Since less powerful encryption allows your data to move faster (and you don't need top security just for watching Hulu), I selected 128-bit encryption in PIA's settings. This boosted my speeds 5-10Mbps.
The only con of PIA is that it's based in the US. Although after a close review we are certain of PIA's commitment to your privacy, the fact it's based in the heart of the Five Eyes Alliance has to be listed as a potential disadvantage. That's because the US is known for collecting your data for surveillance — but PIA's zero-logs policy means there would be no data for authorities to collect.
It's free to try PIA's servers in the US to access Hulu — you just have to use its 30-day money-back guarantee to get a refund when you're done. I tested it and just had to fill out a refund request form online. I got confirmation that my request was processed that same day, and I had my money back later that week.
Key Features:
NordVPN is one of the best VPNs on the market — and you can get super cheap prices when you sign up for a long-term subscription. One thing to note, however, is that when it's time to renew your subscription, prices do increase quite significantly.
I was particularly impressed with the high performance of every server I tested. Just because a VPN has thousands of servers doesn't mean they all work. Servers can still struggle to unblock local sites — and some can even fail to connect completely. However, I easily unblocked Netflix, Disney+, Hulu, Amazon Prime Video, BBC iPlayer, and HBO Max on multiple servers in the US and UK.
I did, however, have issues with using NordVPN's native Fire TV app. Although it worked and unblocked some streaming services, it sometimes had issues unblocking Netflix US and kept crashing. I also found that NordVPN's user interface for desktop devices was less user-friendly than ExpressVPN and CyberGhost.
NordVPN has the following security and privacy features:
AES 256-bit encryption
A kill switch that cuts your internet access if your connection to a VPN server drops suddenly
Built-in ad and malware blocker, so you don't need a third-party ad blocker
Fully audited no-logs policy (audited by PwC) – NordVPN doesn't store any personal or identifying data while you're connected to the VPN
In addition, NordVPN includes Threat Protection that protects you from viruses, infected websites, and trackers – and it works whenever you have the NordVPN app open, even if you're not connected to a VPN server.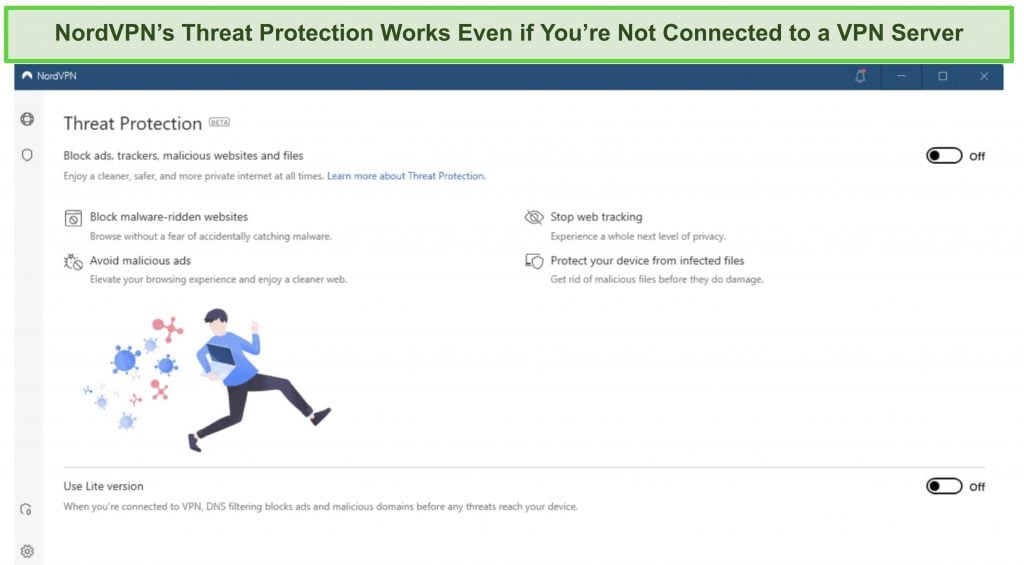 With plans that cost as little as $3.29 per month, it's easy to find a NordVPN subscription plan that suits your needs. You can also stream, torrent, and browse for free for up to 30 days with its money-back guarantee. I tested this to ensure that you'll really get your money back. At first, the support team tried to give me an extended trial period — but they initiated my refund right away after I told them I wasn't interested in the extension. I got my money back in 6 business days.
Key Features:
Surfshark offers the best value for money out of every premium VPN on the market. You can connect an unlimited number of devices with a single subscription, which means you can use Surfshark on all your devices without getting logged out.
I tested Surfshark's simultaneous connections on 2 PCs, 2 phones, a Fire Stick 4K, and an iPad. My connection remained reliable on all 6 devices. Even while I was actively streaming on all my devices, my average speed was 112 Mbps — fast enough for UHD quality.
When I saw the price of this service, I thought it couldn't possibly have top-grade security features for such a low price, but I was pleasantly surprised.
Surfshark has the following security and privacy features:
AES 256-bit encryption on all devices, with ChaCha encryption available for Android users
Wireguard VPN protocol enabled by default
Diskless, RAM-only servers to protect your privacy (no data can be physically extracted from any servers)
Kill switch (although this isn't enabled by default)
IP and DNS leak protection
Surfshark offers two-factor authentication (2FA) on your account. This feature requires you to enter an extra code before you can log in to ensure that only you can access your account.
While Surfshark does have slightly fewer global servers than rivals such as CyberGhost and PIA, I didn't experience any issues during my tests. I easily connected fast working servers every time, and I had excellent speeds for streaming Netflix in UHD, downloading torrents, and browsing the internet.
You can try Surfshark for yourself with the 30-day money-back guarantee. It has plans that cost as little as $2.30. Requesting a refund is easy with Surfshark's live chat feature. Although the support team asked why I wanted to cancel my subscription, I had no problem getting my money back (and it only took 4 days!).
The Top Ways to Pay for Hulu Outside the US
1. Use a Gift Card Through MyGiftCardSupply to Stream Hulu
Step-By-Step Guide on How to Use MyGiftCardSupply to Pay for Hulu
2. Pay For Hulu With PayPal
You will need a US PayPal account to use this method and it's not recommended to make a second if you already have one outside the US.
3. Sign Up for Hulu With StatesPay
StatesPay (also branded as StatesCard) is a service that partners with a US bank to let you get a virtual US-based Visa debit card from abroad. Keep in mind this service comes with a one-time card creation fee and a monthly fee that is charged as long as your account remains open.
4. Subscribe to Hulu With a Prepaid Card
You can find approved merchants on Visa's website to buy prepaid Visa debit cards. These reloadable debit cards can be used internationally, so they'll let you sign up for Hulu. Here are the steps:
5. Get Hulu with iTunes US
You can sign up for Hulu using iTunes. Remember that you need to sign up before you travel, because signing up for Hulu abroad, even using a VPN, could breach its terms and conditions. The steps to sign up include:
FAQs About Paying for Hulu Outside the US
Can I pay for Hulu through Amazon?
Yes, you can download and pay for Hulu through the Amazon app store. However, you won't be able to subscribe unless you have a US-based payment method such as using a Hulu gift card from MyGiftCardSupply.
What else can I do with my VPN?
Along with paying for Hulu from outside the US, you can use a VPN to:
Watch other streaming sites: If you pay good money for streaming apps other than Hulu (like Netflix or Disney+), you deserve to be able to watch anytime. A VPN lets you keep up with your favorite shows while you travel by helping you get past annoying IP errors on Netflix US and other popular TV and movie services.
Hide your data from cybercriminals: Hackers can see your private online data, steal it, or place malware onto your devices to hold them for ransom. With a VPN, all your data is hidden so hackers won't be able to find you to begin with.
Block ads and malware: Some top VPNs have malware and ad-blocking features to prevent trackers from watching you online. They also prevent known malicious links from opening when you click sketchy ads or phishing emails.
Privately share files: VPNs let you share files completely anonymously on torrent sites, preventing third parties from seeing your downloads and uploads. Just keep in mind that you can't use VPNs to share illegal or copyrighted material on P2P apps.
Can I use these methods to pay for Hulu on my smart TV, Roku, Apple TV, Chromecast, Android TV, or Fire TV?
It depends. Most of these methods will still work as long as you use one of the top VPN providers and connect to a server in the US. Most VPNs won't work with devices like Roku and Apple TV, but you can install them onto your router to cover every device on your home network. Then use one of the methods above to subscribe to Hulu, and log in on your device of choice to watch shows.
Can My Hulu account get blocked if I use a VPN?
No, Hulu won't block your account for using a VPN — but you'll be blocked from logging in if its filters can see you're connected to a VPN server. It's still required to watch Hulu if you're outside the US for work and is the first step on the best ways to pay for Hulu outside the US. However, using a VPN to watch Hulu shows from outside the US might violate its terms of service (even if you're a US citizen). This can get you blocked from the site, although it's unlikely. To avoid problems and watch the shows you pay good money for, use a top VPN with servers that Hulu's filters can't detect.
My VPN wasn't able to unblock Hulu, what can I do to fix that?
If you try one of the top VPNs and it still isn't working with Hulu, try connecting to a different server in the US (the one you're using might be blacklisted). If that doesn't fix it, clear your browser cache and other data, restart the VPN, reconnect, and try again. If after that you're still getting error messages when you try to pay, log in, or watch content, contact your VPN's support. If you use one of the VPNs I found for this list, you can get answers fast via 24/7 live chat support.
Can I use a free VPN to watch Hulu outside the US?
No, free VPNs are too limited to work with Hulu, that's why it's best to use one of the top VPNs listed here. Although some of the best free VPNs have servers in the US that can access Hulu, they have strict data limits that prevent you from watching more than 1-2 episodes or movies per month. Others interrupt your Hulu experience with annoying ads so that the provider can make money. Worst of all, some "free" VPN providers are full-blown scams that steal your data to sell it (instead of hiding your data like VPNs are supposed to).
It isn't worth giving up safety for a free VPN that won't even work with Hulu, especially when you can use a premium VPN (like CyberGhost) for free. Just use its money-back guarantee to subscribe and watch Hulu for up to 45 days, then contact support to get your money back. After I signed up and watched Palm Springs and The Handmaid's Tale for 35 days, I contacted 24/7 live chat to request a refund. The agent processed my request immediately.
Start Watching Hulu Today With These Non-US Payment Methods
It isn't fair that as a US citizen, you can't pay for Hulu if you're outside the US — a US-based address, phone number, and payment method are required. But by combining a top VPN with one of the non-US payment methods I found that works with Hulu, you can still subscribe from abroad and watch your favorite shows.
However, most VPNs aren't powerful enough to access Hulu. The majority of payment workarounds are already blocked on the site. ExpressVPN let me pay for Hulu reliably, and streamed my favorite shows without ever lagging. That's why I recommend you use ExpressVPN to subscribe to Hulu from abroad by combining it with a Hulu gift card from MyGiftCardSupply. Since ExpressVPN backs your subscription with a 30-day money-back guarantee, you can sign up for Hulu with zero risk.
---
Summary — These Are The Best VPNs to Watch Hulu From Anywhere in 2023