5 Ways to Get a VPN if You're Already in China in 2021
Last Updated by John Bennet on October 01, 2021
It can be difficult to download a VPN from within China. This is because China has banned most VPN websites and has instructed Apple and Google to remove most VPN apps from iTunes and Google Play respectively.
If it's already too late, and you've entered China without a premium VPN, there's no need to stress. While it's trickier, here's how you can download a VPN while inside the country.
While you should exercise caution if you decide to use a VPN within China's borders, you likely won't be prosecuted for doing so. The common practice is that China fights VPNs by technologically blocking the services, and not by chasing after foreigners who use them.
The Great Firewall of China
For many years, China has imposed restrictions on its internet usage, making social media sites, such as Facebook and Twitter, and many search engines, like Google, inaccessible.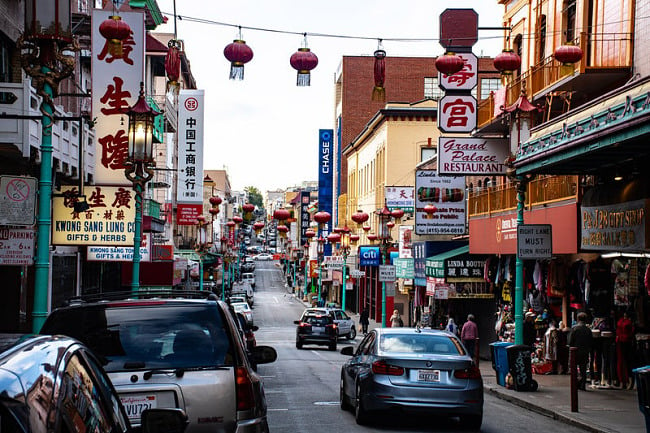 Before arriving in China, it's
easy to find and install a VPN
so that you'll have free reign of the online world once you enter the country. Unfortunately, a few travelers miss or overlook this important bit of information and are stuck in a tight spot later on.
Considering the only way to access your Facebook, Netflix, or Gmail accounts while in China requires a VPN service, it's necessary that you plan ahead whenever possible.
Yet if you've already arrived and need access, you can still get online but you'll have to do a little extra work .
Solution #1
– Use the Hotels
Most of the luxury hotels offer Wi-Fi capability with a built-in VPN service. So why not grab a coffee in the lobby and use their Wi-Fi to browse the web. Then, download your premium VPN service so you can access the Internet from anywhere in the country.
What's great about this option is that most of the best VPN services provide free trials or a 30-day money-back guarantee. This is excellent if you're only visiting for a short time.
Try these hotels in the major cities for your best chance:
InterContinental
Marriott
Wyndham
Starwood
Shangri-La
Hilton
Solution #2
– Utilize a SIM Card from Your Home Country
If you're using your SIM card from back home and it's set up to roam, you have access to everything that your network provider allows. This means you should be able to get into the app store and download your VPN.
Once it's on your device, you could switch to a Chinese SIM card without issue. Be prepared for this option to cost you a little more as it will depend on your mobile service provider's roaming rates and how much data they'll allow you to have while overseas.
Solution #3
– Talk to a Friend
If you have any friends that have VPN access, you could borrow their computer to download the VPN APK. You could also have someone from home email it to you as long as the email provider you use isn't blocked in China.
Solution #4
– Visit Hong Kong
If you want to get online, make a trip over to Hong Kong. The Internet regulations are less strict because of all the foreign commerce taking place. There should be somewhere you can get online to download your VPN from the city.
Solution #5
– Use Shadowsocks
Chinese programmers designed Shadowsocks, an open-source proxy, to allow people to access the Internet unrestricted. The Chinese government hasn't been able to block it yet because there are no footprints.
Be warned, as this solution isn't easy for people with little technical experience to figure out. You'll need to enter a Shadowsocks code, punch in a server location and your password. The other alternative is to rent virtual private server space outside of China.
Install Your VPN Before You Arrive in China
We can't stress this enough. Before you make the trip to China, download and install your premium VPN service so you can continue surfing the web unrestricted.
China continues to crack down on hotels with VPN service, so it won't be long before all these solutions disappear.
Top VPN Providers for China
Here are our top picks for premium VPN providers while visiting China.

Vast selection of servers around the world
Fast speeds
Easy-to-use interface
30-day money-back guarantee
Works with Netflix, Hulu, BBC, and other streaming services
ExpressVPN is rated as one of the fastest VPN providers in the world. They offer unlimited bandwidth which is ideal for streaming your favorite shows.
In addition, their security is top-notch with AES-256 bit encryption, several security protocols including OpenVPN, and a no-logs policy. There are numerous apps for you to choose from, you can connect five devices simultaneously, and you have access to their amazing customer support 24/7.
Runs on numerous devices
Strong encryption protocols
Over 1,000 servers located in more than 60 countries
Connect ten devices simultaneously
7-day money-back guarantee
The Chinese government blocks IPVanish VPN, so you'll have to put in a little more effort to get it working. You must input the configuration manually and then connect to the IP addresses on the servers. This isn't as easy as some of the VPNs where you simply choose the server and connect and we wouldn't recommend it for anyone who isn't tech savvy.
Through IPVanish, you have access to anonymous torrenting, unlimited P2P traffic, and unrestricted website surfing. Plus, they offer 24/7 support if you have trouble configuring the connection.
Bypass the firewall with L2TP
No-log policy
Has servers in Hong Kong
Access to Netflix
Easy to use software
PrivateVPN doesn't offer all the bells and whistles like ExpressVPN, but it's a good, basic VPN service. Most importantly, it bypasses the Great Firewall of China when used with the L2TP protocol.
Through this provider, you'll have access to all your favorite websites including Netflix. The company also offers a 30-day money-back guarantee if you change your mind.
Chameleon technology on all devices but iOS
Strong encryption practices
No-log policy
More than 700 servers in over 70 countries
3-day free trial available
Despite numerous attempts to block the software, VyprVPN continues to remain accessible in China. With their Chameleon technology, your information is scrambled through OpenVPN data so nothing is recognizable in deep packet inspection.
This software isn't yet working on iOS but is available with all other devices. The best part about their service is that they're a tier-1 network, meaning every server you use with Vypr is owned by them, offering further protection.
Final Thoughts
The best practice is to download your VPN app prior to heading off on a trip to China. If you forget, or you didn't know you needed one to access the web, there are still options available to you, but be prepared to knuckle down as it isn't an easy task.
We hope that you can use this article to utilize the best VPN for China and access your Gmail, Instagram, Facebook, or other accounts from your home country.
---
Summary: These Are The Top VPNs That Work in China in 2021