Norton vs AVG 2023: Which Antivirus Is Better?
Norton and AVG are both well-known players in the antivirus software game but I wanted to see which one is the better product. I was particularly interested in testing AVG, especially since it was recently caught selling its users' data. Despite its bad reputation, I wanted to give it an objective look at its feature set.
I extensively tested Norton and AVG across 15 different categories, including detection scores, real-time protection abilities, and the efficacy of security-related features. My test results showed that Norton outperformed AVG in almost every single aspect.
Norton repeatedly gave me perfect detection scores and real-time protection. It includes a highly configurable firewall with many advanced features and various other useful extras that make your PC or device virtually invulnerable. I strongly recommend you try out Norton with its 60-day money-back guarantee.
No Time? Here's a 1-Minute Summary of Category Winners
Norton outperformed AVG in almost every category. It provides perfect protection for your computer and hosts an array of premium features, including parental controls, a password manager, and a VPN, even on its mid-tier plans.
| | | |
| --- | --- | --- |
| | | |
| Virus Scanner | Detected 100% of viruses in under 10 minutes. | Detected 100% of viruses in under an hour. |
| Real-Time Malware Protection | Detected and removed all EICAR virus samples | Detected and removed 5 of 7 EICAR virus sample files. |
| System Performance | Delivers faster and more thorough scans using fewer system resources. | Delivers slow and less thorough scans, using a similar amount of system resources. |
| VPN | Has servers in 30+ countries and provides airtight security and privacy | Has servers in 36 countries and provides decent speeds, but it may log your personal data. |
| Parental Controls | Provides well-integrated parental controls with many advanced features. | Doesn't have parental controls. |
| Firewall | Hosts an intelligent firewall with advanced features. | Hosts a decent firewall, which doesn't have many advanced features. |
| Password Manager | Offers a complete password management tool with superior auto-fill abilities. | Offers a half-baked password manager that can only audit and generate passwords. |
| Gaming Mode | Norton GO boosts system performance and allocates system resources efficiently. | Doesn't include a game performance booster, only a "Silent Mode." |
| Optimization Tools | Offers optimization tools even on mid-tier plans. | Offers optimization tools only on its premium plan. |
| Other Features | Only provides cloud storage on all its plans. | Provides AntiTrack and Driver Updater features. |
| Device Compatibility | Has a consistent and intuitive user interface across all apps. | Has an intuitive user interface across apps, but some features can be difficult to locate. |
| Customer Service | Offers 24/7 live chat, phone support, and community forum. | Offers 24/7 live chat and online resources, such as an FAQ section. |
| Price | Provides excellent overall value for the price, especially because many premium features are available on the mid-tier plans. | Doesn't provide good value for money because most features are only available in the premium plan. |
| Free Version | Doesn't have a free plan but offers a 7-day free trial. | Includes a free plan and a 30-day free trial. |
| Money-Back Guarantee | 60-day money-back guarantee. | 30-day money-back guarantee. |
Try all of Norton's features risk-free!
How I Tested and Compared Norton vs AVG
1. Virus Scanner — Norton Detects 100% Of All Viruses
I was highly impressed by Norton's virus scanner. It detected and wiped out all the viruses on my testing machine, whereas AVG gave me a solid detection score of 99.7%.
Norton provides 3 scan options — Quick Scan, Custom Scan, and Full Scan. I ran its full scan, which detected every malware I planted on my PC, including rootkits, spyware, trojans, and zero-day viruses. Impressively, it took less than 10 minutes to complete the scan!
Next, I ran Norton's Quick Scan, which sifted through my hard drive's critical areas in less than 2 minutes! That's blazing-fast, considering other competitors take upwards of half an hour just to do a quick scan. Having said that, I don't recommend you use Quick Scan as your main form of defense because it doesn't check every file location on your hard disk, so there's a possibility you overlook viruses hiding in unassuming areas of your computer.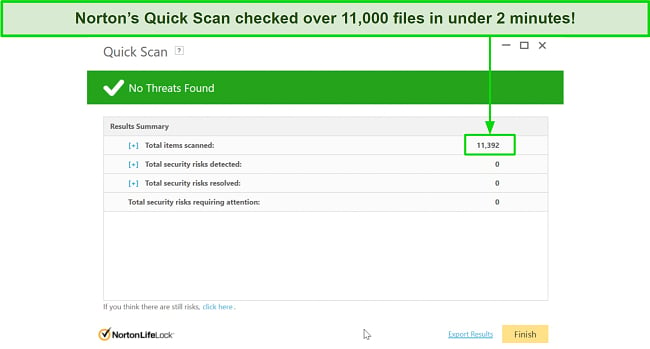 AVG provides 6 scan options — Smart Scan, Deep Scan, File/Folder Scan, Boot-Time Scan, USB Scan, and Performance Scan. I especially liked its Boot-Time scan, which removes malware before your computer boots up. However, I noticed that it slowed down my boot time a bit in the process.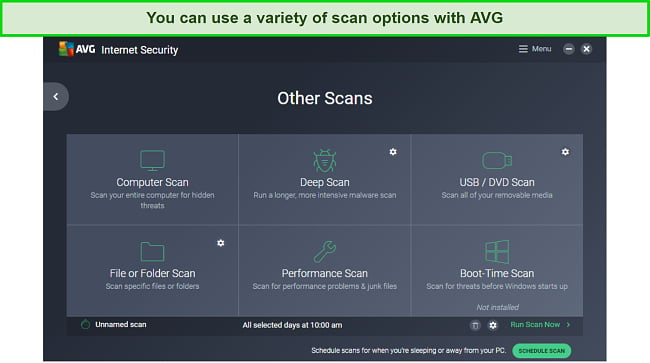 I ran AVG's Deep Scan, and it detected 99.7% of all the malware I had planted on my testing machine. That's a remarkable score, especially considering that the industry average is 97% — however, it's still not perfect. In my tests, AVG failed to detect a handful of zero-day malware.
The Deep Scan scanned around 750,000 files in 50 minutes — that's a lot even by industry standards. Thankfully, its Smart Scan took only 3 minutes to sift through the critical locations of my hard drive. I liked that AVG prompted me to run a scan the first time I launched it.
Both Norton and AVG have excellent virus scanners, but Norton's detection capabilities are perfect, and, unlike AVG, it can catch even the stealthiest of viruses hiding deep inside your system. Norton is also significantly faster than AVG and takes much less a toll on your computer's resources.
Try Norton's Virus Scanner risk-free!
2. Real-Time Malware Protection — Norton Provides Perfect Real-Time Protection
Apart from its perfect detection capabilities, Norton provides perfect real-time protection. I downloaded several EICAR virus samples on my testing machine and ran both antiviruses. Norton blocked all the malware I threw at it, whereas AVG failed to remove 2 of the 7 viruses. These were zip files with malware hidden inside them.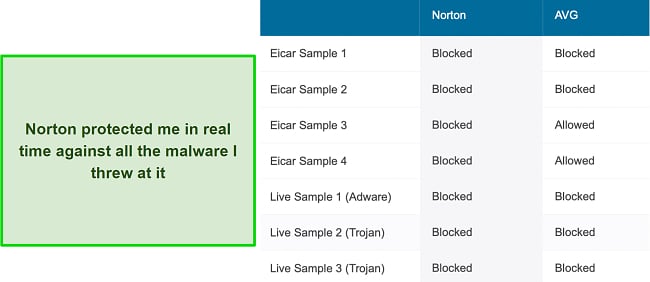 Norton uses an AI-based SONAR analysis tool, which monitors the behavior and characteristics of unknown threats and matches them with known threats to understand whether they pose a threat to you. AVG also uses AI-based detection that's effective in detecting most threats.
Apart from that, Norton hosts a powerful browser extension that blocks potentially dangerous websites and malicious downloads. I tried opening harmful websites and downloading infected files off the web, but Safe Web prevented me from doing so. I surfed the internet with the peace of mind that Norton would protect me from all online threats.

AVG also has its browser extension, but it's not as effective as blocking online threats. It blocked 13 of 15 harmful websites I tried visiting, which is impressive but not perfect. However, it offers a ransomware protection tool that constantly monitors incoming threats and blocks ransomware before it can compromise your sensitive files.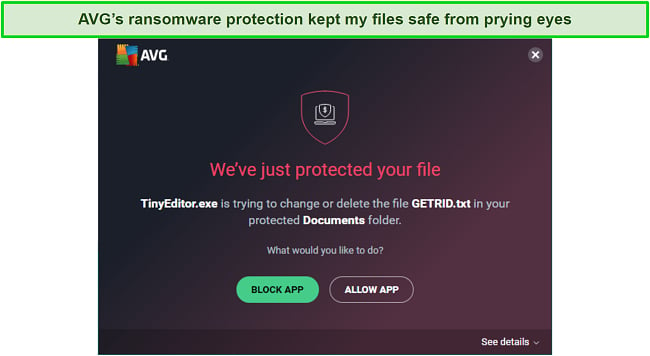 Overall, both contenders offer exceptional real-time protection, but the only reason why Norton wins this round is that it gave me perfect real-time detection scores on my rigorous tests. That shows that its SONAR Analysis tool is better at catching threats in real-time than AVG's AI-based engine.
3. System Performance — Norton Delivers Faster Scans With Less System Resources
After extensive testing, I found that Norton was lighter on my PC than AVG. It provided faster and more thorough scans using minimal system resources. To conduct the system performance tests, I recorded my baseline CPU, memory, and disk utilization with no scan running in the background. I compared these baseline numbers to their corresponding values while running a full scan with each contender.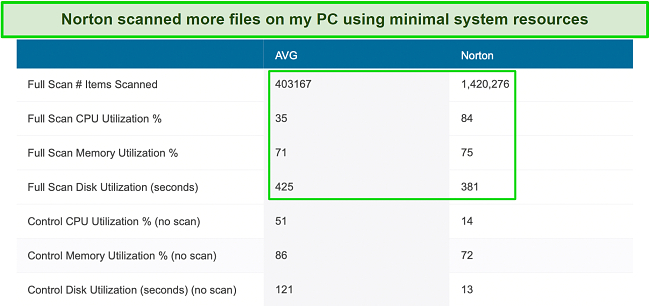 Norton's baseline CPU utilization was just 14% without a scan, compared to AVG's 51%. As a result, Norton didn't have as significant a toll on my computer just by being open in the background. When I ran the full scan, Norton's CPU utilization rose to 84%, but, even then, I didn't notice my computer lag in performance while performing basic tasks.
Norton used 4% more RAM than AVG while running a full scan, but, to be fair, it also scanned over 1.4 million files compared to AVG's 403,000. That statistic indicates Norton's efficiency, mainly because it delivers a higher output (more thorough and faster scans) with fewer system resources.
From a user experience perspective, Norton felt lighter than AVG throughout my tests. I could easily stream Netflix, surf the web, and install resource-heavy apps like Adobe during a full scan without experiencing a noticeable lag.
In contrast, AVG was light on my system as long as I didn't multitask. While the numbers may make it seem like AVG was lighter, keep in mind that AVG's scan took significantly longer and was less thorough. While Norton had a more immediate impact on my CPU utilization, I was more quickly able to resume my work due to the much faster scans.
Try Norton 360 risk-free for 60 days
4. VPN — Norton's Secure VPN Provides Airtight Privacy
Norton's VPN is better than AVG's for one reason: it protects your data and privacy. Norton's VPN is definitely one of the better VPNs built into an antivirus that I have tested.
I was disappointed to learn about AVG VPN's privacy-intrusive policy. Although it claims to have a strict no-logs policy, I discovered that it might store your personal data, including email addresses, for up to 2 years. Given the shady history of AVG in regards to user data, I would be wary of using it for something vital for privacy like a VPN.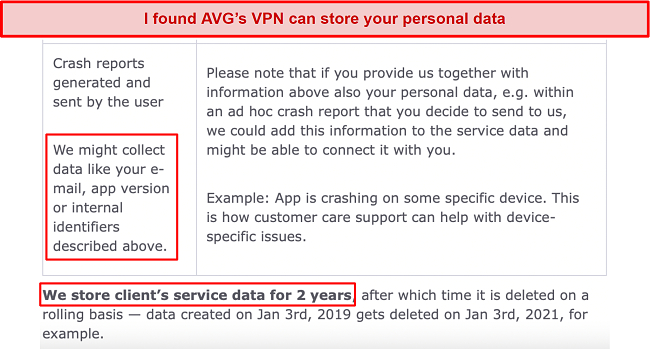 That said, AVG's VPN provides servers in 36 countries, mostly in North America and western Europe. Throughout my tests, I got decent speeds on nearby and mid-range servers, but it struggled on distant servers. I also tried accessing my home content (Netflix, Prime Video, and Hulu) with AVG's VPN while traveling. I easily accessed my Netflix home library but had trouble logging into Prime Video and Hulu.
Norton's Secure VPN hosts servers in 30+ countries, but some of them are overcrowded and won't give you decent speeds even on nearby servers. I tested its unblocking capabilities, and I could easily access my Netflix US library and stream in perfect HD. However, both Prime Video and Hulu detected that I was using a VPN and didn't let me access my account.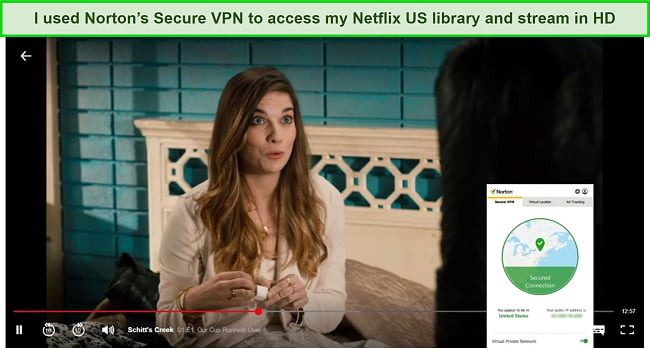 Overall, Norton's Secure VPN isn't as good as a standalone VPN like ExpressVPN. However, compared to AVG, it's much more privacy-focused and doesn't share your data with third parties. It has a strict no-logs policy and keeps you anonymous at all times with its kill switch feature.
5. Parental Controls — Norton Provides Comprehensive Parental Controls
Norton offers a powerful set of parental controls that lets you monitor your child's online and offline activities remotely. I was disappointed to learn that AVG doesn't provide this feature. I consider parental controls a must-have feature for any premium antivirus, so Norton clearly wins this round.
I still extensively tested Norton's parental controls to see how useful they were and was impressed by their ease of use. To set up this feature, you need to install the Norton Family app on your device, log into your account, set up profiles you want to monitor, and link those profiles to your children's devices. You can create up to 15 child profiles on a single subscription, each connected to a separate device.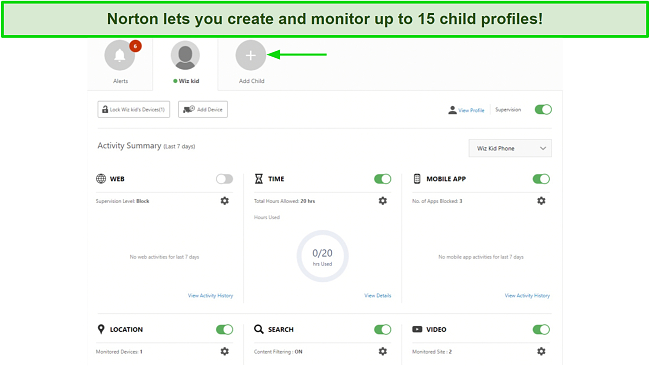 After you have set up the profiles, you can track each device's browser history, location, set screentime hours, and much more. You can block specific websites and mobile apps for particular hours of the day, so your child isn't distracted by their device. I also used its "Content Filtering" feature, which blocks inappropriate search results. In addition, I could even see the kind of videos being played on a child's device.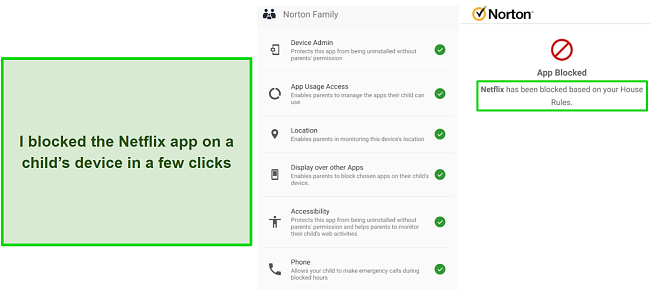 Overall, Norton's parental controls provide all the tools you need to monitor your child's online and offline activities. You can track browser and video history, block apps and websites, and set up screentime rules remotely from your primary device. I was also impressed by its ease of use. You don't need to be a tech wizard to use Norton's parental controls. All the tools and features you need are neatly arranged on the dashboard, providing unfettered access to you at all times.
6. Firewall — Norton's Firewall Includes Many Advanced Features
Norton's firewall includes more advanced features for privacy-focused users than AVG's firewall. I used both and identified key differences in privacy, traffic monitoring, and security features.
The first thing I noticed about Norton's firewall is that it automatically configures itself depending on what type of network you're connected to. For instance, the firewall disabled all incoming device connections when I connected to a public WiFi network, ensuring that hackers couldn't access my device.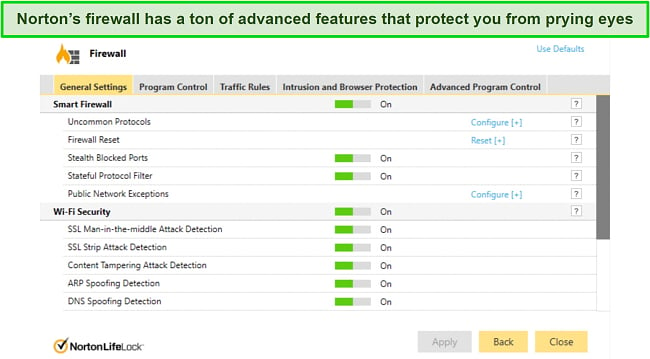 It also notified me whenever an app on my device tried connecting to an external source, such as a website. Norton's firewall gave me complete control over my internet traffic, which added an extra layer of security to my computer.
AVG's firewall provides decent protection but lacks many of the advanced features of Norton's firewall. I used its "Application Rules" feature to decide how the firewall should behave towards apps on my computer. Apart from that, you can use its "Packet Rules," which lets you control your incoming and outgoing traffic on the network you're connected to.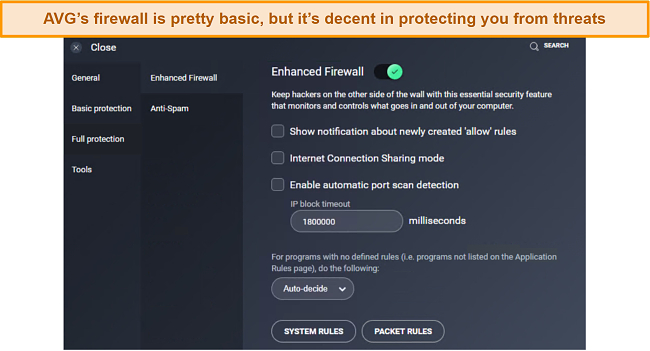 I tested AVG's Enhanced Firewall, and, unfortunately, it couldn't guard my computer against phishing attacks. At one point, I could even connect another device to my PC without the firewall prompting me.
Overall, AVG relies on Windows native firewall to keep you safe, but the problem is Windows Defender isn't enough to defend you from online threats. On the other hand, Norton's firewall kept me safe from every threat I exposed it to. I recommend you always keep it on, especially while surfing the internet.
Protect yourself online with Norton 360
7. Password Manager — Norton's Password Manager Secures Your Confidential Data
Norton's password manager is a whole password management suite, packing many features to keep your sensitive data well-secured at all times. In contrast, AVG doesn't include a standalone password manager but instead has a "Password Protection" app you'll have to install separately.
I found Norton's password manager easy to use. All you need to do is create and remember a master password to access your password vaults. Once you're logged in, you can save unlimited passwords for websites and apps. I saved my login credentials for my Amazon, eBay, and Netflix accounts.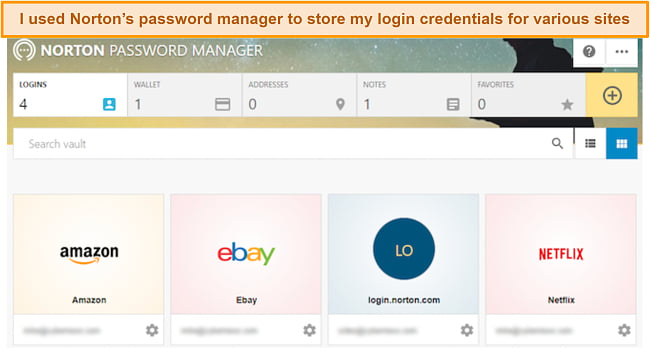 I liked Norton's Auto-change Password feature, which lets you generate a strong password for each entry and updates it across the board. Alternatively, you can also use Norton's browser extension to create strong passwords if you're signing up on a website or a platform.

I was especially impressed by Norton's auto-fill capabilities. I saved my personal details, including name, passport number, credit card details, bank account details, and more in my password vault and could quickly fill out complex web forms. I was happy to learn that Norton's password manager encrypts your data using the military-grade AES 256-bit protocol.
In contrast, I wouldn't exactly call AVG's password protection feature a full-fledged password manager. It only lets you scan for weak passwords for your online accounts and passwords saved in your browser (Chrome and Firefox only).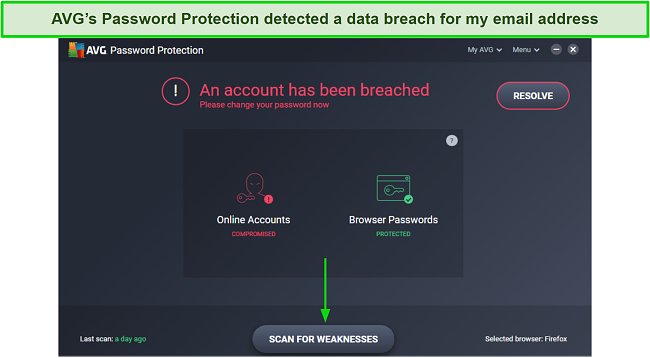 Overall, AVG does a decent job of protecting all your passwords, ensuring they're not vulnerable to being hacked. However, it's not a full-fledged password manager like Norton. It doesn't have a password vault and doesn't let you store confidential information like your bank account and credit card information.
8. Gaming Mode — Norton Hosts More Gamer-Friendly Features
I was happy to see that both contenders offer a gaming mode. After extensive testing, I found that Norton's gaming mode has more gamer-friendly features. The "Norton GO" gaming optimizer was a breath of fresh air compared to usual gaming modes that lack optimization features entirely. When I toggled it on, it suspended all background processes on my PC, allocating more resources to the game.
Even with 2 software installation processes running in the background, I could play resource-heavy games like Destiny 2 and Forza Horizon 5 without any frame drops. I also liked its "Silent Mode," which muted all my non-essential notifications while gaming, providing me with an immersive gaming experience.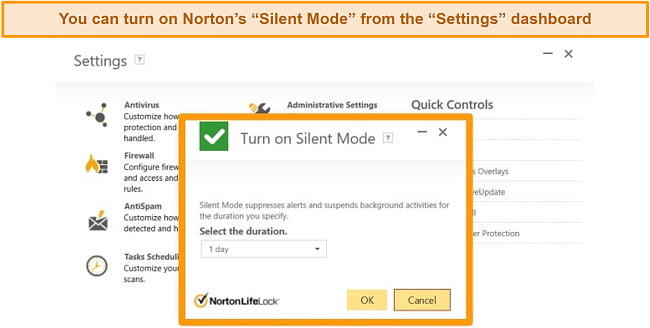 Unfortunately, AVG doesn't offer a gaming boost feature but advises you to turn on Windows' native FPS booster, which you can access by going to Settings > Gaming and toggling on "Game Mode." Although that should suffice for most moderately intensive games, it's not sufficient for most resource-heavy games.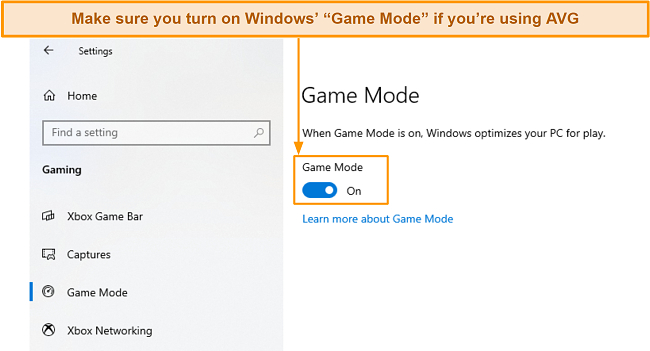 AVG also features a "Silent Mode," which mutes all unimportant notifications and pop-ups when you're gaming. You can find the "Silent Mode" check box under the "General" tab. It also lets you customize which notifications you want to allow while gaming.

Overall, I found Norton to be more gamer-friendly, mainly because of its Norton GO feature. In contrast, AVG doesn't include its own gaming booster and relies on Windows' Game Mode instead. I'm not a big fan of Windows Game Mode because it isn't as efficient in resource allocation as Norton GO.
9. Optimization Tools — Norton Offers Plenty of Optimization Tools
Both Norton and AVG include optimization tools in their plans. After extensive testing, I concluded that Norton's tune-up facility is more wide-ranging and feature-rich.
AVG's Tune-Up tool is only available on its premium plan. If you're using its mid-tier plan, you'll only have a handful of optimization tools to choose from. In contrast, Norton provides optimization tools with its mid-tier and premium plans.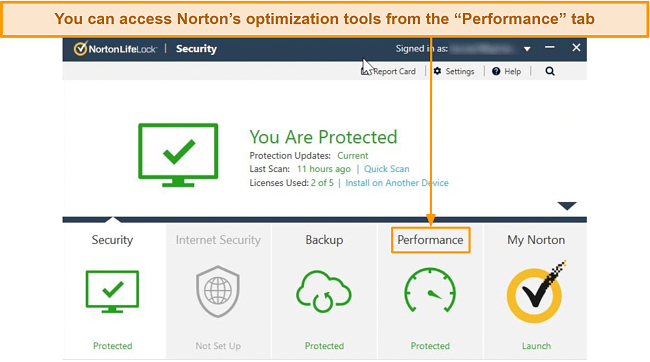 Norton offers plenty of optimization tools, but the ones I liked the most were its "Startup Manager" and "Optimize Disk" features. The Startup Manager lets you see which programs and apps automatically start on system bootup. I was surprised to learn the number of unnecessary programs that launched on my computer on startup. Once I removed them from the startup list, my bootup time significantly improved.
I also used Norton's Optimize Disk feature, which cleans your hard disk by removing junk and unnecessary files. It automatically defragments your hard disk if it's more than 10% fragmented. After optimizing my hard drive, I noticed my computer had become slightly faster and more responsive.
AVG's TuneUp facility is available as a standalone app or bundled with its Ultimate plan. It includes a Software Uninstaller, which uninstalls potentially unwanted programs (PUPs) and other apps you don't use on your computer. It also has a software updater that keeps your apps and OS updated.
I was especially impressed by AVG's Disk Cleaner. Although it took about 10 minutes to scan my hard disk and browsers (Chrome and Firefox) for unnecessary and junk files, I noticed a significant boost in my system performance once the clean-up was completed.
Both Norton and AVG provide useful optimization tools, but I found Norton's tune-up suite significantly improved my system performance. Also, Norton's optimization tools are available on its mid-tier plans, unlike AVG, where you'll either have to get the premium plan or buy the AVG TuneUp app separately.
10. Other Features — AVG Offers More Useful Extras
After extensively using both Norton and AVG, I noticed that AVG offers more features than Norton. The only catch is that AVG tries to get you to pay for these extra features, which I think aren't worth paying for in the first place.
The only extra feature Norton provides is its cloud storage option for each plan, ranging from 2GB to 100GB, depending on the plan you buy. You won't find cloud storage with most antiviruses, including AVG. I prefer a cloud storage option to store my sensitive data in case my device gets infected or my data gets compromised.
AVG provides a handful of extra features, which Norton lacks. It offers an adware tracking service called "AntiTrack." When you surf the web, you leave behind your digital footprint, which companies can use to track you. AntiTrack lets you block websites from tracking you.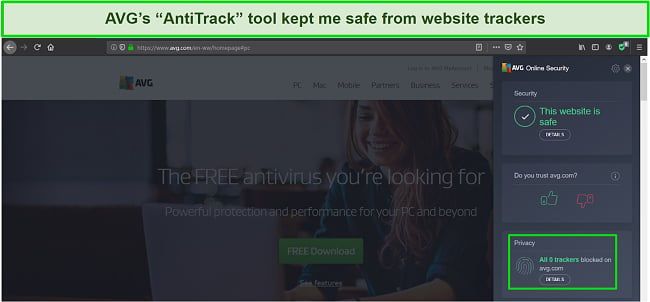 I also liked that AntiTrack periodically clears tracking cookies from your browser, ensuring that you don't leave any data a website can use to track you. I was especially impressed that AntiTrack gave my browser a privacy score, helping me understand how safe my data is on the web.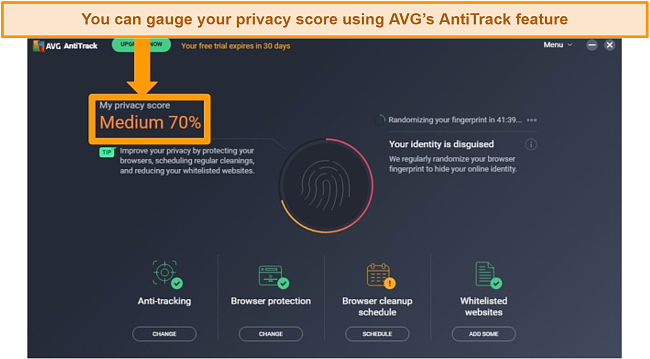 Apart from that, AVG offers a Windows-exclusive "Driver Updater" tool, which automatically updates all your computer's drivers. That's a good feature, but, unfortunately, it comes at an extra cost. However, you can still check which drivers need an update for free as long as you don't ask AVG to update the drivers for you. I don't think this feature is worth paying for, and as long as you regularly install Windows updates, all your drivers should stay up to date.
Despite costing extra, AVG does slightly come out ahead due to the number of additional features that it does offer.
11. Device Compatibility — Norton Has a Well-Integrated User Interface
Norton is compatible with Windows, macOS, iOS, and Android. After using its desktop apps for Windows and Mac as well as mobile apps for Android and iOS, I found all of them extremely easy to use, even for beginner users, with Norton being one of the best antivirus solutions for Windows.
Norton's desktop apps have more features than its mobile apps. Its mobile apps include the following features: virus scanner, privacy report, WiFi security, call blocking, and a web protection browser. Note that you won't get real-time protection if you're using Norton's iOS app.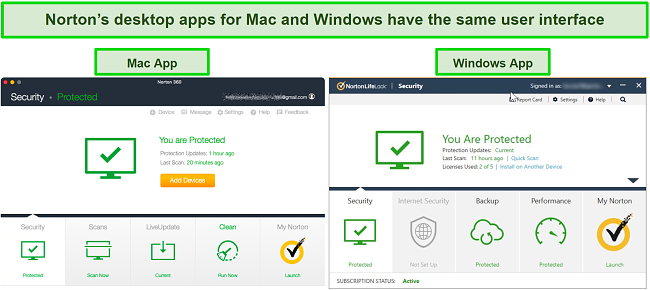 AVG is compatible with Windows (7 or above), macOS (10.10 or above), Android (5.0 or above), and iOS (10.3 or above). I easily installed its desktop and mobile apps within minutes and could easily upgrade from the free plan to the paid plan.
Although the Windows and Mac apps share an almost identical user interface, I noticed the Mac app didn't have the "Privacy" tab. Apart from that, I had trouble finding the VPN and optimization tools, which are hidden in the drop-down "Menu" tab.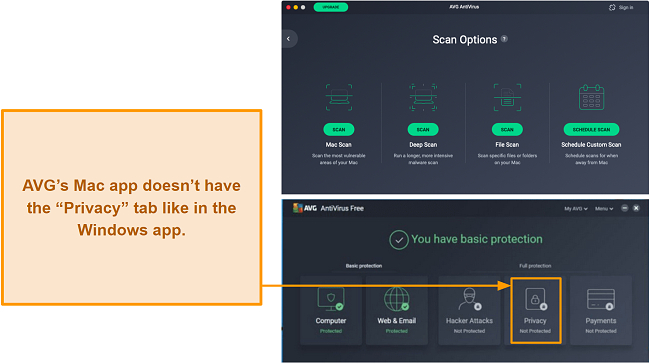 Overall, Norton provides a better overall user experience than AVG. Its user interfaces across apps (both desktop and mobile) are more consistent and well-integrated. I found it easier to locate all the features within Norton's apps — unlike AVG's apps, where it took me some time to adjust to the user interface.
12. Customer Service — Norton Offers Better Support
I tested each contender's customer support, and Norton provided me with better and much more professional customer service. Norton offers 3 customer support options — a 24/7 live chat, phone support, and its community forum. I recommend using its live chat as it's the quickest way to get support. All you need to do is fill out a contact form on the website.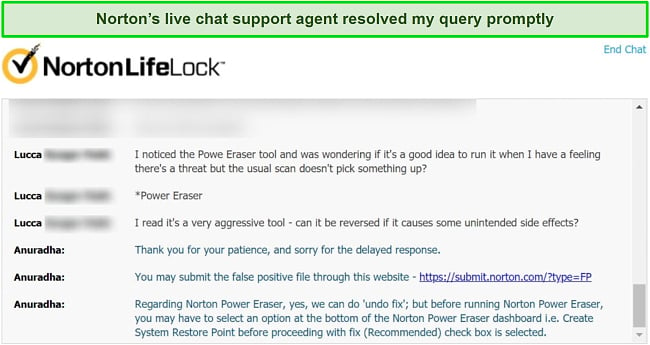 In comparison, AVG's live chat is a bit difficult to find. At first, I thought there was no live chat option. You'll have to search your query in the FAQ section to access live chat. When the relevant page appears, you'll see a button to speak with a live agent regarding your question — that's an odd location for a live chat button.
I asked the live chat agent a query about AVG's TuneUp facility, to which they kept pushing me to upgrade my plan without context. This happened 3 times — the constant upselling is annoying, and I wouldn't recommend you initiate live chat if you can find an answer to your query in the FAQs, which AVG might be hoping for in the first place.
Next, I tried out Norton's phone support, which is available in 50+ countries and various languages. I filled out the online form and received a contact number. I had to wait 10 minutes before an agent took my call. Despite the wait, the agent answered all my queries patiently and asked if there was anything else he could help with at the end of the conversation.
Both competitors offer a comprehensive Knowledge Base and FAQ section, where you'll get the answers to most of your queries. However, Norton's customer support is significantly better for technical queries where you need one-on-one assistance than AVG's.
13. Price — Norton's Plans Provide Better Overall Value
After checking out each contender's price plans, I concluded that Norton's plans provide more value for the dollar. Norton offers 4 plans — Plus, Standard, Deluxe, and Premium. All plans have an annual subscription except the Premium plan, which is also available for a monthly subscription.
All of Norton's plans include cloud storage, starting from 2GB and going up to 100GB. I recommend getting the Standard plan if you want to protect a single device and have 10GB of cloud storage. You would also get PC SafeCam and Dark Web Monitoring features, which are missing in the basic plan.
I suggest getting the Deluxe plan if you have multiple devices to protect. It provides 50GB of cloud storage, Privacy Monitor, and Parental Controls, which aren't included in the Standard plan.
AVG provides 3 plans — free plan, Internet Security, and Ultimate. I was happy to see its free plan, but it doesn't include many of the premium features like VPN, parental controls, etc. If you want to use these features, I'd suggest using Internet Security. To access premium features, such as the VPN, optimization tools, and AntiTrack tool, you'd need to buy the Ultimate plan.
Overall, AVG's plans are more expensive than Norton's and don't even include half the features Norton does. Norton's Deluxe plan would cost you 35% less and give you features like a password manager, VPN, online protection, parental controls, data breach test, and dark web monitoring.
14. Free Version — AVG Includes a Free Plan and Free Trial
AVG wins this round because, unlike Norton, it provides a free plan. AVG's free plan is significantly better than most other free plans I've tried before. Although it doesn't include premium features, such as parental controls, a password manager, VPN, and more — it's definitely not a barebones app.
The free plan packs a File Shield, which scans any file you download or open on your PC, and Behavior Shield, which alerts you if your apps have become infected. It also includes ransomware protection, web browser protection, and an email shield. I also liked the "Network Inspector," which ensures the network you're connected to isn't vulnerable to hacks.
Apart from its free plan, AVG offers a 30-day free trial, so you can try out its paid plan absolutely risk-free. The free trial includes all the features of the paid plans, unlike many other antiviruses that limit the number of features you can use with the free trial. In comparison, Norton only offers a 7-day free trial.
15. Money-Back Guarantee — Norton Offers a Generous Refund Policy
While Norton doesn't have a free trial, it offers a 60-day money-back guarantee on all its plans. On the other hand, AVG provides a 30-day money-back guarantee, along with a 30-day free trial. In essence, you can use both services risk-free for a total of 60 days.
Norton's 2-month refund policy seemed too good to be true, so I decided to test it out for myself. I initiated my refund request via its live chat. The customer support agent offered to add a month of subscription to my existing plan. I refused the offer, and the agent went ahead with my refund. Shortly after, I received an email confirming my refund.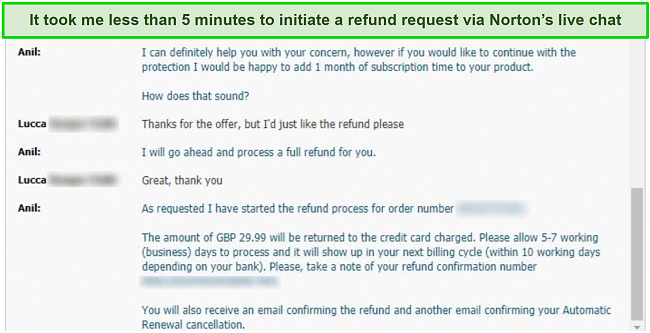 I tested AVG's 30-day money-back guarantee and found it a bit frustrating. At first, I filled out a refund form on its website but didn't hear from the team for 3 days. I couldn't wait any longer, so I initiated another refund request via live chat.
The agent confirmed that my refund request was already in the system, but I told them that I hadn't received any confirmation email. The support agent apologized for that and sent a confirmation email right away, and I got my refund within 3 days.
Overall, Norton's refund process was simpler and faster. The customer support guided me through the refund process, and I promptly received a confirmation email. With AVG, I didn't receive any confirmation after I had filled out and submitted the refund form.
Try Norton 360 risk-free for 60 days
And the Winner Is… Norton 360
After rigorously testing Norton and AVG across several aspects, I found Norton to be the clear victor of this showdown. It outperformed AVG in almost every area and performed exceptionally well in malware detection, real-time protection, and overall security. Norton's standout feature was its perfect detection scores across repeated tests.
The only area where AVG outperformed Norton was its free version. AVG's free plan was a joy to use because, unlike many other free antiviruses I've used, it provides real-time protection, ransomware protection, and more. It also has a 30-day free trial for its paid plans, so you can use it without risk for a month.
Overall, however, Norton turned out to be way better than AVG. Not only does it provide perfect real-time protection, but it also has a highly configurable firewall, parental controls, and a well-integrated password manager. It goes above and beyond to ensure your device is protected with multiple layers of security. You can subscribe to Norton's 7-day free trial or use it risk-free with its generous 60-day money-back guarantee.
Top 5 Antiviruses in 2023