Visit Shellfire VPN Website!
Shellfire VPN

Review 2023: Before You Buy, Is It Worth It?
Shellfire VPN Overview 2023
Shellfire VPN has been operating since 2002, making it one of the oldest VPN services on the market. Given the age of this VPN, I wanted to find out if it had the same quality features and protocols as newer options. To see if Shellfire could compete with the best VPN providers on the market, I subjected it to a comprehensive testing process.
After a series of tests, I was disappointed to discover that the VPN fell short of my expectations. The first problem is that its headquarters is based in Germany, a nation with a history of taking an active part in mass surveillance alliances. While Shellfire works well to unblock Netflix and offers reliable internet access, the app isn't sufficiently torrent-friendly, lacks an intuitive interface, offers a limited selection of servers, and the speeds are below average at best.
Shellfire VPN has a free plan that offers unlimited bandwidth on a few servers. It is also backed by a 14-day money-back guarantee, so you can try Shellfire VPN out for yourself without any risk. If you are dissatisfied with the product, you can always ask for a full refund provided you stick to the stipulated deadline.
Don't Have Time? Here's a 1-Minute Summary
Shellfire VPN Unblocks Netflix (But Can't Access Hulu, HBO Max, Amazon Prime Video, and BBC iPlayer)
You'll find little success using Shellfire VPN on streaming platforms. I started with US servers for my first test where Netflix, Peacock TV, ABC, CBS, NBC, Fox, and Crunchyroll were the only streaming services I could unblock. Other popular streaming services such as HBO Max, Hulu, Amazon Prime Video, and Disney+ identified my connection and blocked my access even though I have a paid account. BBC iPlayer also didn't work during testing.
Netflix: Unblocked
I was pleased to discover that Shellfire VPN had the capability of unblocking US Netflix without any problems. I accessed the service relatively quickly, and I was able to stream without any buffering. But, as there are no dedicated streaming servers available, you may have to connect to a few to get consistent performance.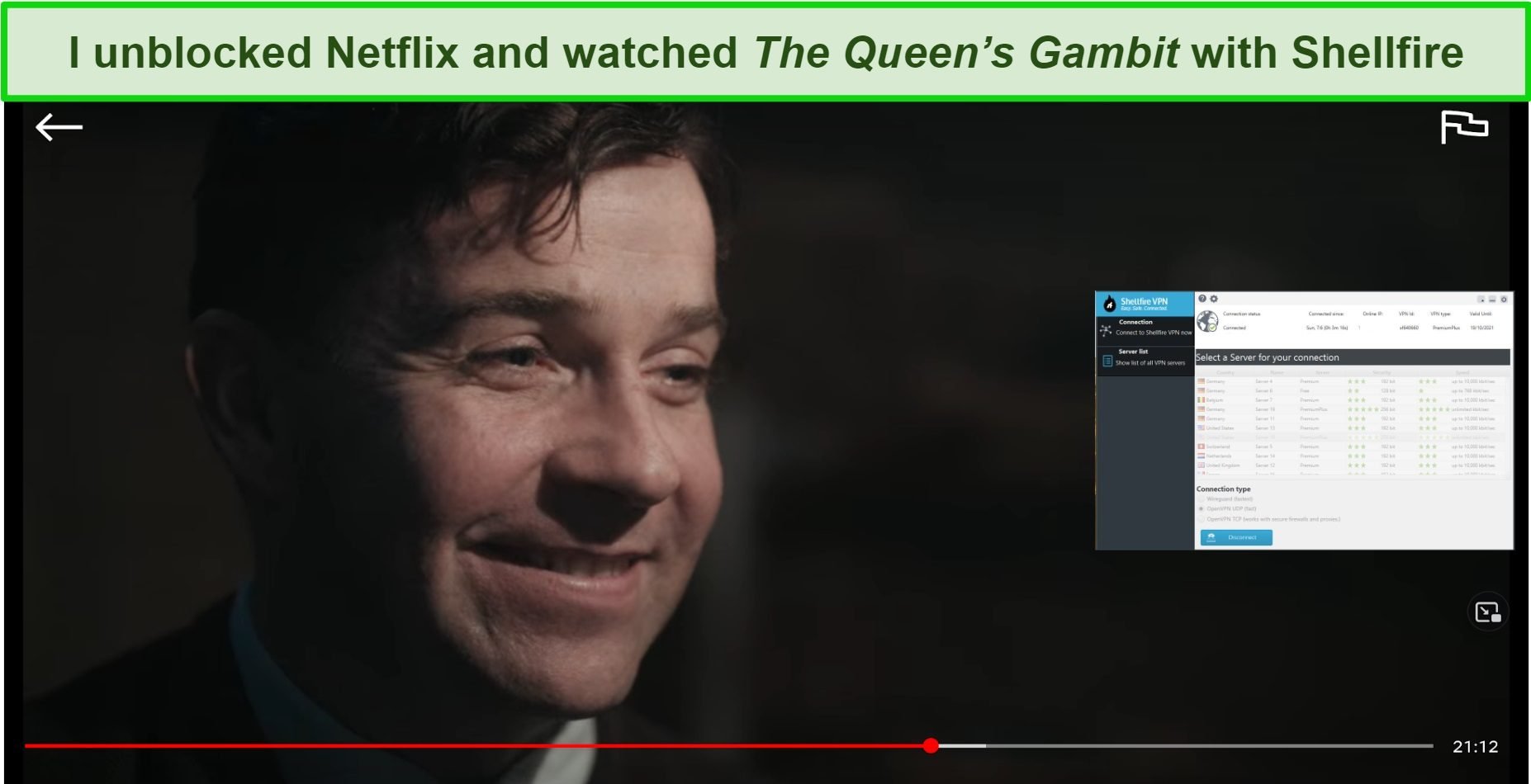 During my tests with Shellfire VPN, I did not experience any proxy errors. I was able to locate one of the titles available only to US citizens like myself – The Queen's Gambit – and enjoyed the series without a hitch.
Hulu, HBO Max, Amazon Prime Video, and BBC iPlayer: Blocked
I found it disappointing that I could not access all the top streaming platforms I tested. I connected to several US servers available on the Shellfire VPN network. Unfortunately, Hulu detected that I was using a VPN. My access to the channel was blocked immediately, and I could not view the video I selected.
You appear to be using an anonymous proxy tool. Disable it to play videos on Hulu.
Following that, I tried accessing HBO Max on more US servers. Unfortunately, Shellfire VPN performed badly, and I was blocked immediately. I went on to try every US server I could find, and I kept getting the same results.
Given Shellfire VPN's poor streaming performance so far, I was not very hopeful of it unblocking Amazon Prime Video. I tested the Shellfire VPN servers with Amazon Prime Video in 3 different US regions. Unsurprisingly, I still got blocked.
Testing Shellfire VPN's performance with BBC iPlayer, one the most popular streaming channels in the UK, it failed to work. No matter when a connection to one of Shellfire VPN's UK-based networks was established, BBC iPlayer tests were met with a geo-error message on all of the UK servers tested.
Shellfire may be one of the smaller VPN platforms, but I am still disappointed with how limited the streaming platforms it supports are. If you want reliable access to such sites, your best bet is to opt for a VPN like ExpressVPN with dedicated streaming servers and a wide range of city-level choices.
Underwhelming and Inconsistent Connection Speeds
Shellfire VPN delivers speeds far below what you would expect from a top VPN service. I put this VPN through a comprehensive testing process to determine the average connection speeds while connected to its network.
Those with more casual use cases may find the speeds sufficient, but I found the speeds to be too inconsistent if you have a more intensive task or use case.
Speed Test Results
Based on my assessments of Shellfire VPN's performance, I observed that a local connection within the United States resulted in download speeds of 9.78Mbps on a 20Mbps testing connection. This translated to an average speed reduction of approximately 50%.
Additionally, when connecting to a server located in the United Kingdom, the download speed was relatively low at 6.65Mbps. However, when connecting to servers in Germany and Australia, the download speeds improved to 7.96Mbps and 7.71Mbps respectively. The Australia outcome is noteworthy considering the vast distance between the Australian server and my location.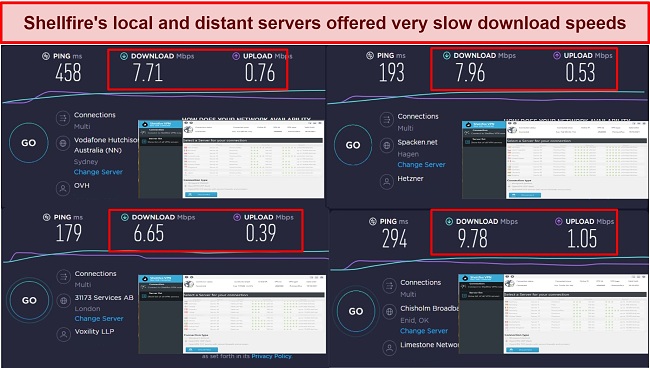 As long as your location is close to one of Shellfire VPN's servers, you should be able to get decent speeds. But if you're connecting to a distant server, the connection will be fast enough only for browsing and slow-speed downloading.
If speed is your highest priority, I recommend that you check out ExpressVPN as it is the fastest VPN I've tested. The VPN has consistently fast speeds both for short and long-distance connections. Its apps had good server connectivity, and I did not encounter any unexpected connection issues during my testing.
Why Most Speed Tests are Pointless & How We Correctly Test VPN Speeds
Speed determines how fast content uploads, so if you're torrenting or streaming, you want the speed to be somewhat identical to your regular internet speed. Since a VPN encrypts your data, it usually takes a bit longer to send your data back and forth, which can slow down your connection. However, if your ISP deliberately slows down your connection (also known as throttling) a VPN might increase your internet speed. Testing a VPN is somewhat pointless because new servers pop up and affect speed. Your speed can also differ according to your location, so your speed test might not match ours. Having said that, we tested the speed in numerous locations to provide you with the average.
Server Network — Limited Server Locations
Shellfire provides access to over 60 servers that are spread across 37 different countries. Generally, services with few servers often have unique features to offset the disadvantages of such a low server count. Unfortunately, there were no such features present to offset the slim server selection.
Larger network systems can handle more traffic without compromising performance, which means the Shellfire VPN network may struggle if traffic spikes. It just doesn't compare with the vast server network of top VPNs like CyberGhost. CyberGhost has 9,000 servers in 91 countries that have proven to be consistently fast and reliable.
Security — Military-Grade Encryption but with No Kill Switch
Shellfire uses AES-128, AES-192, and AES-256 bit encryption for data security. On the server list, the name of each server is followed by a star rating for the security level. The servers with just two stars will use AES-128, those with three stars will use AES-192, and those with five stars will use AES-256 bit encryption.
Furthermore, Shellfire VPN provides Perfect Forward Secrecy (PFS) as another essential security feature. PFS periodically changes the encryption key for a VPN user if it has been compromised. Consequently, hackers will be unable to access the stolen encryption key for quite some time.
As an additional measure, the encryptions are further strengthened through the provision of PPTP, L2TP/IPSec, OpenVPN and Wireguard protocols, providing an additional level of security for all users. Although there is the option to choose between UDP or TCP under the server list, both are versions of the OpenVPN protocol.
However, it should be noted that the service does not have a kill switch feature that makes your internet service unavailable if your VPN connection drops abruptly. The fact that Shellfire does not support this is quite disappointing as it is a widespread feature among top VPNs.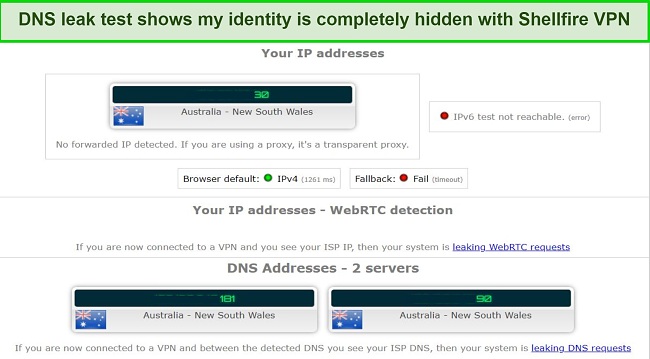 I tested the VPN service further with 6 different VPN testing tools to ensure that there were no IP, DNS, and WebRTC leaks as well as to determine how secure the company's protocols are. The Shellfire leak test reports are pristine, demonstrating the service's ability to protect users from prying eyes.
Privacy — Intrusive Logging Policy
While Shellfire's support claimed not to keep any logs, the company's privacy statement raised some serious concerns regarding the data it collects.
I found the privacy policy difficult to understand as it was long and loaded with legal jargon. Additionally, some red flags were immediately apparent to me even without the need for a lawyer's assistance.
Shellfire's data collection goes way beyond what any VPN provider should do, and I can't recommend it if you're worried about the privacy of your online activities. A list of the data types that the VPN processes is provided near the top of the privacy policy. Among the items on this list are inventory data and usage data. VPNs that record data about your usage are an immediate indicator that your privacy is being compromised.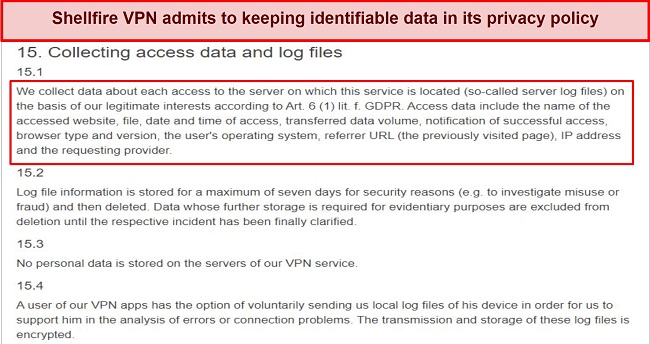 Furthermore, Shellfire is headquartered in Germany — a country with some of the strictest privacy laws in the world. German intelligence agencies actively monitor the activities of German citizens, and they cooperate closely with the UK's GCHQ and the US's NSA. That's why I prefer a VPN like CyberGhost based in a privacy-friendly country[/vendorLink]. Its headquarters are in Romania, which isn't part of any surveillance treaties.
Torrenting — Not Secure Enough For P2P Sharing
While Shellfire VPN allows torrenting on its servers in Canada, the Netherlands, and Finland, it is unsuitable for torrenters. This is because Shellfire does not provide sufficient privacy and does not have a kill switch, which is crucial to torrenting. Unless you have a kill switch, you could expose your IP address and online activities to your ISP if the VPN connection is ever interrupted.
My tests also showed weak P2P speeds, dropping from 15Mbps without a VPN to just 3.5Mbps when using Shellfire. You should check out ExpressVPN if you are looking for a VPN that is ideal for torrenting. Its high encryption strength, fast download speeds, and unrestricted P2P traffic make it ideal for downloading torrent files securely.
It should be noted that my team and I do not support illegal torrenting, so make sure to comply with any local rules and regulations before engaging in peer-to-peer file-sharing materials.
Does Shellfire VPN Work in China? Yes, but not Recommended!
The service claims to offer decent support for unblocking content in China, which is a pleasant surprise. Although I cannot personally verify the information, it has been reported by various online sources that Chinese users are able to use Shellfire. However, despite my efforts to obtain clarification on the product's potential use in China by reaching out to their customer service department via email, my inquiry went unanswered.
Based on my evaluation of its capabilities, it appears that this VPN service does not possess the necessary levels of privacy, efficiency, or dependability required to effectively combat censorship. In particular, the program lacks key technologies such as obfuscation and SoftEther connections, which are crucial for circumventing state censorship measures.
ExpressVPN is a dependable option if you're seeking a trustworthy VPN to use in China. Apart from providing obfuscated servers and TrustedServer technology, it presents a diverse selection of servers spanning several countries, including Hong Kong. These features can aid in accessing content from your native country while on a visit to China.
Server Locations
Canada
Finland
Germany
Netherlands
United Kingdom
United States
User Experience
- 5.0
/ 10
Simultaneous Device Connections — Single Connection Per Account
Whether or not you pay for the premium plan, you only get one connection per account. Therefore, if you want to use your desktop client while logged in on your phone, you have to disconnect your phone account or make an account for the devices you wish to safeguard.
It is a severe disadvantage to the service since many competitors allow users to connect up to 5 or more connections — and some even offer unlimited connections. If you require the ability to connect multiple devices to a VPN concurrently, I suggest considering CyberGhost VPN. This provider supports connecting up to 7 devices simultaneously, making it an excellent choice for households or businesses with numerous devices.
Device Compatibility — Available on Most Platforms
Shellfire offers more support for all major devices than some of its competitors. You have the option of either downloading the app compatible with the device you're using, or you can manually setting up the VPN on your computer. You can download apps for Android and iOS too.
This service allows you to use your Windows, Mac, Android, and iOS devices, together with DD-WRT routers to connect to the VPN's network no matter where you are seamless. There are also manual setup instructions and configuration files for other platforms, such as Linux. Unfortunately, the VPN is not currently compatible with SmartTVs or Kindle devices, nor is it configurable as a browser extension.
Ease of Setup & Installation — Super Easy to Install
Downloading and installing the app differs according to the platform, but all were equally straightforward. I was able to download the software on my Mac and Windows computers without providing any personal information apart from a valid email address. This is because you'll need to validate your account before you're allowed to access the software.
With the free version, I had to wait 25 seconds before I could connect. After that, the connection was established. Click on the "Server List" on the left-hand side of the page, and you will be able to choose which server you want to connect to. The list is grayed out once you are connected. Then click on the "Connection" icon at the top of the menu to return to the main screen. Click on "Disconnect" to turn off the connection and if you wish, you may return to the server list to change location.
How to install and Set Up Shellfire VPN:
Download Shellfire VPN. From the website, you can quickly figure out where to download the right software for your device.

Run the installer. As soon as the installation file has completed downloading, click on it to open the installation wizard. The first pop-up window will let you select your language. The installation process will now be able to start.

Install the Java libraries. Shellfire VPN requires Java libraries to run correctly. The installer will download those files if they aren't already on your computer. It takes a long time for this process to complete, so you might think the program is frozen.

Launch the application. Shellfire installation follows quickly after the Java installation. To open the app, click the "Finish" button on the last screen.
Despite offering live chat support and an email support ticket system for urgent inquiries, the extent of assistance provided is inadequate. Although a knowledge base is also available, it primarily addresses basic VPN-related queries and fails to cater to more complex issues.
When I attempted to connect to the live chat on the company's website, no representative was available. Alternatively, I contacted the company through email and provided my contact information and email address. Shellfire's customer service took 37 hours to respond to my request, so you are mostly on your own when it comes to customer service.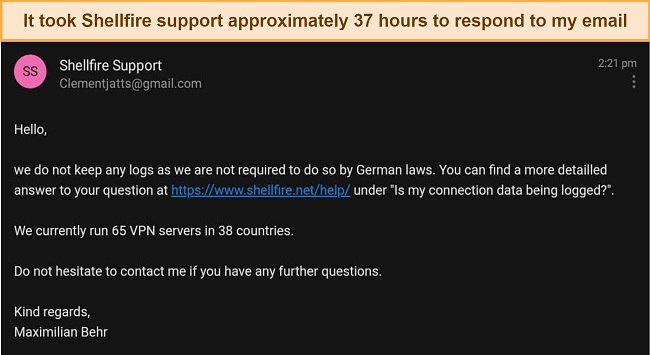 Furthermore, the VPN service provider maintains an online presence through its Twitter and Facebook accounts, thereby providing alternative means for you to make contact and receive support if they prefer these platforms.
How We Test Customer Support and Why Should You Care
We personally test the customer support team of every VPN we review. This means asking technical question through the live chat feature (where applicable) and measuring the response time for email questions. Whether you need to connect to a specific server, change your security protocol, or configure a VPN on your router, finding a VPN with quality customer support should be important to you.
Shellfire has traditional three-tiered subscription options, but it is not the most budget-friendly option. The free VPN version comes with a lifetime subscription that gives access to servers in Germany and the United States. Unfortunately, the free lifetime subscription plan does not offer encryption beyond 128-bit AES, which is an inferior encryption standard. On the other hand, the monthly, yearly, and two-year subscriptions come with 256-bit AES encryption and offer access to servers across 37 countries.
Payments can be made via PayPal and traditional methods such as Visa/MasterCard credit cards. Bitcoin, Ethereum and about 50 other cryptocurrencies are also supported by this service, providing you with the ability to remain anonymous while transacting. Debit card support is not available at the moment, which I found to be restrictive.
Shellfire offers a 14-day money-back guarantee on its software. You can take advantage of this guarantee if you are not satisfied with the service. You'll have to contact Shellfire via email within 14 days of your purchase to let them know you wish to cancel your contract. Moreover, you are not required to give any reasons for your cancellation. You should have enough time to check whether a service is working to your expectations in 14 days, but the best monthly VPNs on this list offer a minimum of 30 days in terms of money-back guarantee.
Shellfire VPN offers the following plans
Final Verdict
Even though Shellfire was founded in 2002, its service seems to have remained static. The service isn't worth recommending with its intrusive privacy policy, limited server network, and average speed. Add the dated interface, high price point, and slow customer service on top of this and you have a recipe for a poor experience.
The service is not entirely reliable, and it was unable to deliver the performance it promised. Numerous VPNs exist that offer a superior price-to-value ratio. In this regard, ExpressVPN presents itself as an excellent choice as it ensures a no-logs policy, unblocks the majority of popular streaming platforms, and does so at a highly competitive cost.
FAQs About Shellfire VPN
Is Shellfire VPN good?
No, Shellfire is not a good enough VPN to be your top choice
. Shellfire VPN service leaves behind a negative impression because it doesn't adequately address privacy concerns. Also, I had doubts regarding the reliability of this service,
considering its location in Germany and logging policy
.
Is Shellfire VPN really safe?
Can I use Shellfire VPN for free?
Shellfire does not offer a free trial of the premium service, but it offers a limited free plan. If you're not satisfied with the free plan, you can try the premium plan risk-free as it is backed by a 14-day money-back guarantee that lets you request a refund if the service doesn't meet your expectations.
Shellfire free plan comes with limits to bandwidth and security features. If you're looking to test out other free VPNs, though, there are a few safe and reliable options.