Often called the "Netflix of Piracy," Popcorn Time has the most extensive collection of movies, TV shows, and Anime available for instant streaming.
Since Popcorn Time is an open-source program with many forks, it's important to download the official version. Otherwise, you might end up downloading a version that isn't updated, or worse, it will install malware on your computer.
Follow the steps below to download the free and safe version of Popcorn Time.
How to Download Popcorn Time for Free (No Viruses or Malware)
Click on the Download button on the sidebar to go to the official Popcorn Time site.
Download the latest version of Popcorn Time.
A pop-up ad will appear encouraging you to get a VPN. While I agree you should use a VPN while streaming Popcorn Time, I don't recommend the one in the ad. You can find the best VPNs for Popcorn Time here.
Double-click on the file once the download is complete to open the installer.
The installation wizard will open, click Next a few times, and then the installation will begin. When it's done, click Finish, and Popcorn Time will open.
Depending on your antivirus software, you may need to Allow Access for the program to run.
How to Uninstall Popcorn Time
If you decide the Popcorn Time isn't for you or the streams aren't working for some reason, follow these simple steps to uninstall it. If you're still looking for torrenting or streaming sites, check out the free alternatives to Popcorn Time below.
Type "Add or Remove Program" to your windows search bar.

Scroll down the list of programs until you find Popcorn Time and click "Uninstall."

An uninstallation wizard will open, agree to uninstall the program and all databases, and it will be completely removed from your system.
Popcorn Time Overview
Popcorn Time first burst onto the scene in 2014 and quickly amassed a huge following. After some legal trouble, the site was shut down for several years. Many copycat sites, using the Popcorn Time source code, popped up, but the copies were never quite as good as the original.
Shortly after the Coronavirus outbreak, which saw millions of people worldwide locked in their homes, the original Popcorn Time made its official comeback — and it's better than ever.

Great Selection of TV, Movies, and Anime
I don't have an exact number of TV shows and movies are on Popcorn Time, but I scrolled through a few thousand titles, and new ones are being added every day.
Don't be overwhelmed by the sheer number of options. The media library is broken up into three parts, TV Series, Movies, and Anime, and within each section is a filter that can help you narrow your search. You can organize the content by Popular, Trending, Recently Added, Rating, Year, and Title. If you know the name of what you want to watch, you can use the internal search engine to find what you want quickly.
Popcorn Time also has a Favorite button and Watchlist, which makes it easy to find what you want to watch.
High-Quality, (Mostly) Ad-Free Streaming
I downloaded and tested Popcorn while I was in coronavirus quarantine with my 4-year-old daughter. I was impressed with the high-quality streaming, and it didn't feel like we were watching on a streaming site. Popcorn Time usually gives you the choice of streaming at 480p 720p, 1080p, and I even saw a few movies that had 2160p.
Most of the things we watched had the option to turn on subtitles in multiple languages. If you don't see your language, it's easy to download the subtitle file and upload it to Popcorn time.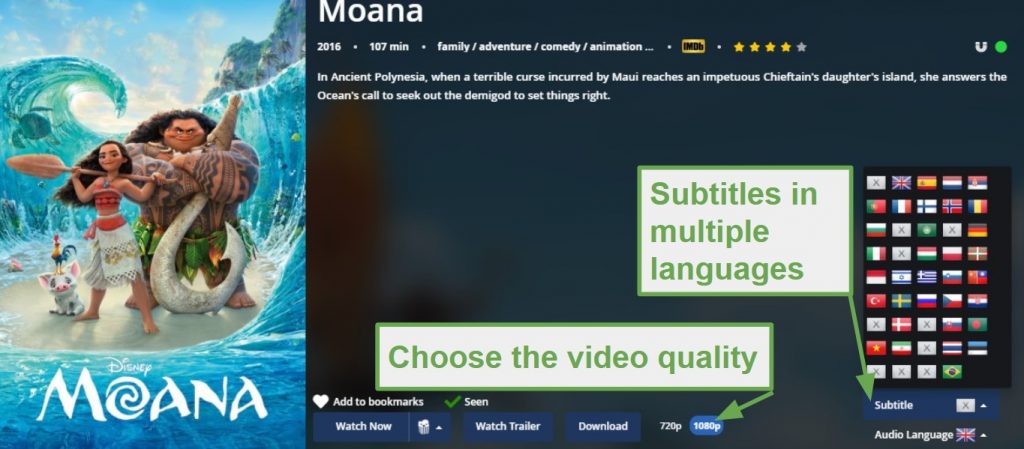 I really liked the clean interface. Unlike most other torrenting and streamings sites, the homepage isn't covered in ads, and there were no pop-up ads or ads that opened up in new tabs. Just click on the thumbnail image of the show or movie you want to watch to get started.
While the torrent begins downloading, there is a VPN ad that shows your IP address and the name of your ISP. This appears whether you have a VPN on or not, and it was annoying at first. However, once the movie started, the ad went away and didn't come back.
You Should Use A VPN While Watching Popcorn Time
Don't be fooled by the streaming videos. Popcorn Time is a torrenting site, which may be illegal, depending on where you live. A VPN will hide your IP address so that no government agency will be able to track you down. Even if there are no legal issues in your current location, a VPN will prevent your ISP from throttling or slowing down your internet speed — which they do to users who are doing data-heavy activities, like streaming and downloading large files.
The WizCase online security team has tested several hundred VPNs. While we don't recommend the one that Popcorn Time advertises, we do have several excellent recommendations for VPNs that will protect your privacy and won't slow down your computer.
Alternatives to Popcorn Time
uTorrent Web: While it doesn't have the same visual library as Popcorn Time, you can search for torrents and start streaming while the download is in process. uTorrent Web is free, fast, and secure.
Kodi: While not nearly as easy to use as Popcorn Time. Once you learn how to work Kodi, you'll be able to stream live TV from around the world and download just about any TV show, movie, or music imaginable.
FAQ
🤗Is Popcorn Time safe?
With many different versions of Popcorn Time on the internet, it's important to download the official app. Unofficial versions are known to have adware and malware, and the quality and media choices are limited.
😇Is Popcorn Time legal?
There is no universal answer to this question. As a torrenting site, some countries have made it illegal, and you could be subject to a fine, while in other places, there are no laws against it. To be safe, you should use a VPN to hide your IP address and protect your privacy.
😎Can I use a free VPN while using Popcorn Time?
While there are some good free VPNs, they aren't really ideal for streaming and torrenting. The reason is that a reliable free VPN will have data limits, and you'll reach your daily or monthly limit in no time. Free VPNs without limits are generally not secure or are selling your data to third party marketing companies.
🤓Is Popcorn time a streaming site or download site?
If you want to get technical, Popcorn Time is a torrenting site. The torrent file starts to download once you click on the Play button. Additionally, you are also uploading or seeding the TV show or movie for other users while you're watching. Once you exit the show, the uploading stops as well.
What happens to movies I download on Popcorn Time?
There are two ways to download movies and TV shows on Popcorn. The main way is to just start streaming the movie, and the file is downloaded to a temporary folder and deleted when you restart your movie. If you prefer, you can change the settings, so the file isn't temporary.
If you want to download something and watch it later, you can click on the magnet link or download button, and the file will download like a regular torrent file, and you can watch it at your convenience.
Visit Popcorn Time Website