Think of an aggregation of the most useful desktop design software you can ever find — That's exactly what Creative Cloud offers. It gives you access to over 20 desktop and mobile design apps and services, allowing you to freely and quickly access apps for photography, design, video, web, UX, and much more. Creative Cloud offers you a free trial with 7-day unlimited access to all Adobe applications. Once the trial is over, you can use the free plan with limited access (you can only access free Adobe apps like Premiere Rush, Bridge, Photoshop Express, Aero, and UXP Developer Tools). Follow the instructions below, and I'll show you how to download Creative Cloud for free.
Download Creative Cloud for free!
How to Download and Install Adobe Creative Cloud on Your PC for Free
Click here to go directly to Adobe Creative Cloud official page. There, click on "Start your free trial" button:

Continue to the next page, where you will have to click again on "Start free trial". After that, you'll be prompted to enter your email details. Then, click "Continue":

Now you'll be requested to enter your credit card information. You won't be charged during the trial period. When you finish, hit the "Agree and subscribe" button:
Next, the login download link will be sent to your email. Click the link to download the .exe file for Creative Cloud. (The download should start automatically).
Double-click the download file to install the Creative Cloud desktop app. From here, you can search for and download any Adobe software you want.
Download Creative Cloud for free!
How to Uninstall Creative Cloud
If your free trial is complete and you don't want to continue using Adobe Creative Cloud, you can remove it from your computer by following these easy steps:
The uninstallation wizard will open. Confirm that you want to remove the software, and it will be deleted from your computer.
Creative Cloud Overview
Whether you prefer creating from Windows or macOS, you can bring your ideas and creativity to life with Illustrator, After Effects, Sketch, Draw, Photoshop, Fresco, and others — all of which are accessible from Creative Cloud. Creative Cloud comes as a subscription-based software, but you can also use the free version, with access to the free Adobe applications.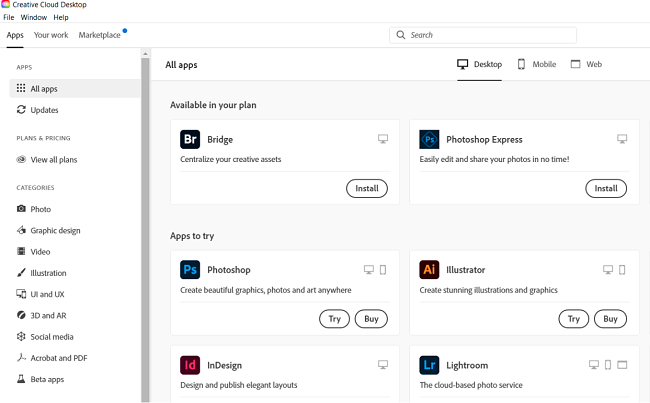 Suffice to say, Adobe Creative Cloud is a powerhouse of all the amazing applications from Adobe Incorporation. In addition to being able to use the app for free, you have access to other resources like 100GB of cloud storage space to save all your work, Adobe Fonts, Adobe Portfolio, Adobe Stock, and easy-to-follow tutorials for each included software.
Adobe Creative Cloud free trial includes the following apps for free:
Bridge: Adobe Bridge is a powerful creative asset manager designed to help you preview, organize, edit, and publish multiple creative assets seamlessly.
Photoshop Express: This is a free mobile app for editing images and making collages available on iOS, Android, and Windows phones and tablets.
UXP Developer Tools: Adobe UXP Developer Tool is an app designed to let you manage plugins for Photoshop and similar apps powered by UXP host.
Additionally, Creative Cloud comes packed with 22 other apps, including Photoshop, Illustrator, and Premiere Pro, which you can try for free (or buy).
Features of Adobe Creative Cloud
More than 20+ apps: Push your creative skills to greater limits with several desktop and mobile apps, such as Photoshop, After Effects, and Premiere Rush.
Adobe Fonts: Thousands of fonts for all your design projects.
Creative Cloud Libraries: Save, browse, and share assets from the included libraries.
Adobe Portfolio: Create and customize your portfolio website exactly as you prefer.
Collaboration tools: Explore and use the collaboration tools provided for sharing, reviewing, and making comments.
Large storage space: 100GB of free cloud storage with which you can share lots of files and collaborate.
Download Creative Cloud for free!
Additional Software from Adobe
Adobe XD: Adobe XD is a very resourceful software specifically designed for creating an excellent User Interface and User Experience. Adobe XD enables you to design, prototype, and share user experience and interaction designs for websites, apps, and social media.
Adobe Illustrator: Adobe Illustrator is a leading vector-based graphics editor and design program used by many designers to create and edit website and mobile graphics, logos, icons, clip arts, and more.
Adobe After Effects: Adobe After Effects allows users to create anything from basic editing to character animation, object removal from video clips, 3D designs, cross-edit with other Adobe products, such as Adobe Premiere Pro, and import files from Photoshop, Illustrator, etc.
FAQs
Is Creative Cloud free?
You can get the trial version of Creative Cloud for free if you follow the instructions I provided above. The free trial version comes with full functionality for 7 days.
Is Creative Cloud Secure?
Yes, it is totally safe to download. You won't need to worry about malware or viruses as long as you download Creative Cloud from the official website. Any site that tells you it is 100% free probably has the cracked software, which might contain spyware or viruses.
Can I Uninstall Creative Cloud and Still Keep Other Adobe Software?
No, you cannot. You need Adobe Creative Cloud to install other Adobe applications; if you uninstall it, you'll lose all the other apps. Adobe advises that you do not uninstall the Creative Cloud desktop app. But, in situations where you have issues installing apps with Creative Cloud, you may uninstall the Creative Cloud app.
Visit Adobe Creative Cloud Website