If you're on the lookout for an all-encompassing photo and video editing program that offers you a professional toolset for doing just about any kind of creative editing, you don't have to search any further. Adobe After Effects is definitely the tool you want to check out.
The application allows users to create anything from basic editing to character animation, object removal from video clips, 3D designs, and more. With After Effects, you can do cross-editing across other Adobe products, such as Adobe Premiere Pro, import from Photoshop, Illustrator, etc.
While Adobe After Effects is a subscription-based premium tool, if you follow the instructions below, I'll show you how to download it free for 7 days.
Download Adobe After Effects for free!
How to Download and Install Adobe After Effects for PC for Free
Click the Download button on the sidebar, and a new page will open, prompting you to create an account (if you are a new user or login to Adobe After Effects to continue).
After finishing the registration, a download link will be sent to your email.

Once Adobe Creative Cloud Desktop is installed, search for After Effects in the list of programs and click on install.

Then, you can start using the program for your editing needs free of charge for 7 days.
Download Adobe After Effects for free!
Adobe After Effects Overview
Adobe After Effects is a must-have program for anyone with an interest in video editing. From students and hobbyists to amateurs and professional filmmakers, After Effects will help bring your vision to reality.
The software is packed with a professional-grade toolset and templates that can help unlock the creative genius.
One of the most impressive features is the integrated AI that can help correct many common errors without you needing to do too much
While After Effects has many tools that are easy to use, there are plenty of advanced tools and features that may take some time to master. On that end, Adobe has an excellent tutorial that is available for anyone who wants to learn how to best use the tools.
Some of the most common uses of After Effects are creating cinematic movie titles, video intros, and smooth transitions. It's compatible with third-party plugins, which extend the range of features and functions that you can accomplish.
The workspace is an intuitive 3D space that makes it easy to link with other Adobe products, such as Photoshop, Premiere Pro, Illustrator, and more.
Adobe After Effects Features
As you might expect from the name of the software, After Effects, the program specializes in adding after effects in post-production to add the finishing touches to your video production.
Here are just a few of the top features that you won't want to miss:
Work with Compositions
The most important thing to understand with After Effects is what they call Compositions. These are the frameworks for your video projects. A standard composition includes several layers comprising of all the components that create your finished project. It can be multiple video clips, audio and sound effects, visual effects, text, pictures, and whatever else you include in your productions.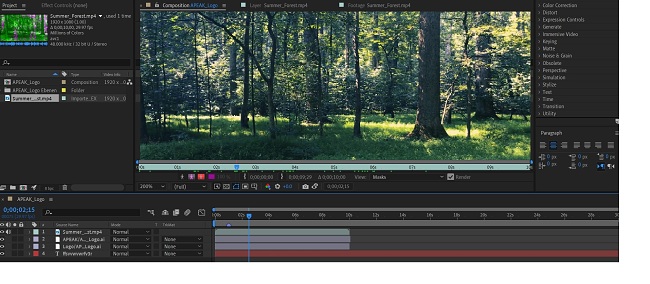 Once you've added the layers, you can manipulate the length of each layer, where it sits on the timeline, and arrange them so that the layers are showing in the correct order.
Content Aware Fill
After seeing the Content Aware Fill feature's success with Photoshop, Adobe has added it to After Effects. It allows you to seamlessly remove unwanted objects from the background and fill in the space behind it without any distortion. There are some limitations as to what you can remove, especially if the background is constantly changing. You should use Content Aware Fill with objects on a simple or textured background for the best results.
If you have Photoshop or a Creative Cloud account, you can use it to improve the quality of your content. Create a reference frame and upload it to Photoshop. Then you can use the Photoshop tools to change the background, giving you something that is easier to work with. Next, upload your editing version back to After Effects, and it will use the updated frame to improve its own AI calculations and improve the quality of your video clip.
Create Amazing Visual Effects in Post-Production
Are you making a film about a snowstorm in the middle of the summer? Perhaps you need a steady rainfall for a scene? You don't need to wait for the seasons to change, or the weather to cooperate with your film schedule. After Effects has the tools and plugins you need to add realistic weather effects to your videos.
Using snow as an example, there are several ways to add falling snow to your project:
Find a stock video clip of snow that you like and add it as a layer over your other video.
Create a snowstorm using the particle system technique.
Take a video of snow falling and add it to your video in post-production.
You can also use the VFX/Visual Effects to create 3D animation, change the background setting of your video, and add special effects.
Improved 3D Tools
The latest version of After Effects has improved 3D capabilities. The advanced tool upgrades are geared to help producers and editors design and composite 3D effects faster and more naturally without relying on plugins. While plugins are helpful, you can now handle all the 3D manipulations in one workspace without jumping back and forth between different apps to create a single 3D shot.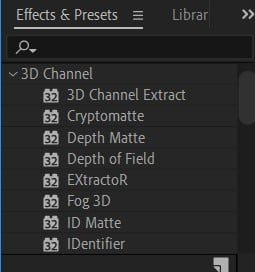 The 3D design space has the following features:
3D Transform Gizmo: The improved Gizmo gives you the option to scale, position, and rotate 3D layers.
Updated camera tools for navigating in 3D: Move around the scene and view it from every angle. You can see where objects should be, whether you can move them, and if necessary, use the Gizmo tool to adjust their spacing, size, or location.
Real-time 3D Draft Preview: Get real time renderings of your project with the fast Real-Time Engine (RTE) that gives consistent previews without lag.
3D Ground Plane: Stay oriented and understand the spacing in your videos when using the 3D Ground Plane while previewing your work. It gives valuable visual cues to help you ensure the lighting, camera positions, and 3D layers are all in sync with your 3D design.
Create Motion Graphics Templates
If you're creating videos as part of a team or you want a collection of videos that follow a similar design, the Motion Graphics Templates can be a huge time saver. To create your motion graphics template, open the Essential Graphics panel (Window > Workspace > Essential Graphics), and a new workspace will open.

There are four main ways to use the essential graphics panel.
Control Surface: You can change the parameters of your timeline and add shortcuts to make it easy to change selected elements.
Master Properties: Add master controls that allow you to add layers or modifications that are found in other compositions.
Export to Premiere Pro: Once the template is complete, you can save it as a .mogrt file and upload it to Adobe Premiere Pro. The template will contain all the original images, videos, and effects, making them easily editable.
Grouping: You can merge font properties, group controls, and add new controls to include data from CSV and TSV documents.
Animate Text
Adding the right text style can make or break your video, especially if you're using it for marketing or creating a presentation. With After Effects, you can choose from the wide selection of fonts from the Adobe Fonts database or import custom fonts. To view the different font options, click on the Text layer in your video timeline and open the drop-down menu showing all the different characters. You can then choose any font, and you'll get an instant preview of the font on your video.
To open the Text option, click on the >> on the top right corner of your workspace to open the different panel options. Then, select the Text option, and a new panel will open with all the tools you need for writing your text, choosing a font, color, size, and more.

You can then assign special parameters to the text layers and choose from a host of animation options. The text layers have their own special parameters to go along with the standard transform properties that are found in every layer.
The After Effects Interface
One of the main focuses of the latest After Effects was improving the user interface. After Effects can be quite intimidating when you first open it, and it will take some time to learn. Thankfully, Adobe includes multiple step-by-step tutorials that will explain how to use each of the features and tools, regardless of your background.

The workstation is divided into three panels: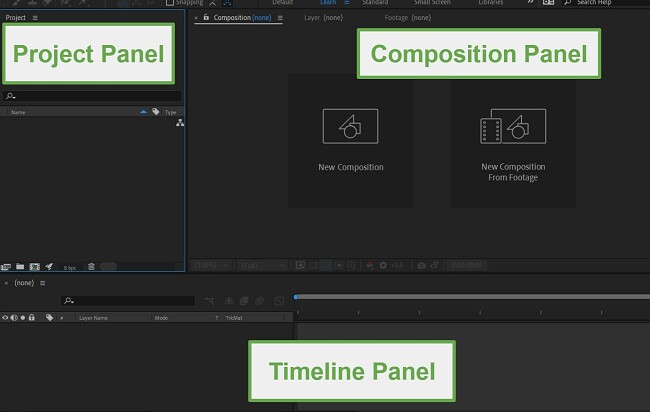 Project Panel: This is where you'll see all the different files that you uploaded to use in the project.
Composition Panel: You can get a live preview of your project while you're working on it.
Timeline Panel: This is where you arrange the order of the layers, length, and order each of the video clips, add the media, and do the actual creation of your project.
One of the biggest improvements that Adobe added to After Effects is how you can control the parameters in the drop-down menus. While this doesn't sound like a big deal, it makes working with After Effects much easier. It's especially helpful when creating a template. With the old setup, you would need to use sliders to toggle between the different settings, but now you can customize a drop-down menu or even rename it, helping you work more effectively.
The tools are grouped together, making it convenient to use when trying to finish a particular editing function. You can click on the >> icon on the top right corner of the workstation to view all the different panels, such as Text, Animation, Paint, Motion Tracking, Effects, and more.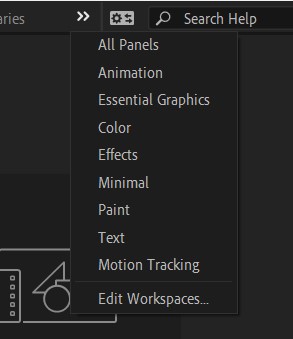 On the top of your screen is the option to change the composition screen to display how your video will look on different screen sizes, such as mobile devices and tablets.
The right side of your screen is where you'll find all the different tools. The most common options are locked on the sidebar, although you can customize the workstation based on your preferences.

Try Adobe After Effects for Free!
How to Uninstall Adobe After Effects
If your free trial is complete and you don't want to continue using After Effects, you can remove it from your computer by following these easy steps:
Type Add or Remove Programs in the Windows search bar and click the Enter key.

Locate Adobe After Effects in the list of installed programs and click the Uninstall button.

The uninstallation wizard will open. Confirm that you want to remove the software, and it will be removed completely from your computer.
Alternatively, you can simply go to your Adobe Creative Cloud Desktop, Select After Effects, click on the three horizontal dots on the top-right corner, and then click Uninstall.
That will remove the software from your PC.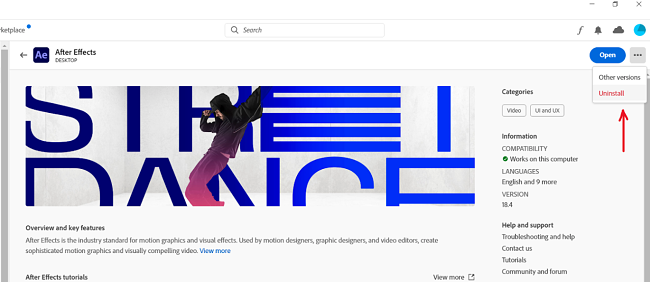 Additional Editing Software From Adobe
Adobe has quite a repertoire of editing programs that integrate seamlessly with each, allowing you to further improve the quality of your work with more tools and effects. With your Adobe account, you can collaborate with others and integrate with 300 different software and hardware partners.
Adobe Premiere Pro: Adobe Premiere Pro is specifically designed to make editing for social media posts fun. You can take your content creation efforts further with this cool app from Adobe. Like After Effects, Premiere Pro comes packed with great features.
Adobe Photoshop: Photoshop is the ever-popular app for all kinds of photo-editing, graphic design, and compositing to digital platforms. You can use the built-in AI technology to do quick edits and bring your ideas to life.
Adobe Illustrator: The industry-standard editing software for vector images, Adobe Illustrator has a complete set of professional tools and excellent features. These features include pixel perfect design, a CSS extractor tool, and color synchronization.
FAQ
Is Adobe After Effects free?
There is no 100% free option. However, when you create an account and set up your payment details, Adobe does allow you to download a free trial version with full functionality for 7 days. This is great for quick video or photo editing needs.
Is Adobe After Effects secure?
Yes, it is totally safe to download the software. As long as you download After Effects from the official Adobe site, you can be sure of getting a clean version.
Can I cancel my subscription after trying Adobe After Effects?
Sure! You can always cancel your trial when you're finished using the software. Just be aware that you will immediately lose access to After Effects when you cancel the account
Visit Adobe After Effects Website