The Ultimate Guide to Using Tor in 2021
Last Updated by Lucca RF on September 01, 2021
Warning: Your IP address can be exposed while using Tor! You'll need a reliable VPN (I recommend that you try ExpressVPN risk-free) to protect your online identity while using the browser.
The Tor Browser is a great resource for browsing the dark web anonymously. It encrypts your online user data so no one can monitor the websites that you're accessing. However, your identity can still be traced while using it!
You can protect your personal information online by using a VPN. I tested several VPNs to find the best choices to use with Tor.
This ultimate guide will explain how to safely use the Tor Browser with a VPN.
Increase your online security with ExpressVPN
What is Tor?
Tor, short for "The Onion Router", is a free and legal browser that prioritizes privacy and gives you secure access to the dark web. It uses many layers of data encryption to access hidden websites that end in .onion and normal domains like .com.
Anyone who wants additional online privacy while browsing hidden websites can benefit from using Tor. The browser gives you access to private communication and information, especially for journalists, activists, or people living under oppressive regimes. It's a useful resource for researching private medical issues, avoiding being tracked by advertisers, or staying anonymous when accessing your financial accounts.
You may be familiar with Tor for its shady uses. It's also used to access dark web marketplaces to purchase illegal substances, weapons, and more. Be careful what you click on — you can get into serious trouble for using Tor for illegal purposes!
How Does Tor Work?
Tor routes all of a user's traffic through several different "nodes" or "relays" on the Tor network. When you use Tor, your data goes through an entry node, middle node, and exit node. Each of these nodes is a new layer of encryption.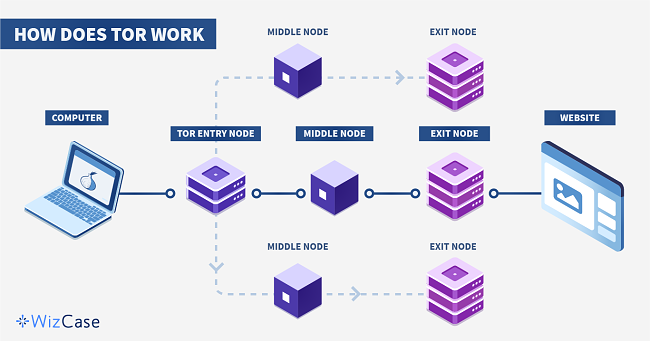 To use the analogy of a postal system: imagine putting your data in an envelope, which is placed inside 2 more envelopes. You send this envelope to Person A (the entry node), who opens the first envelope. Person A reads the message, "Send the next envelope to Person B".
The message goes to Person B (the middle node) and finally to Person C (the exit node), who can open the innermost envelope. The exit node then carries out your request, such as opening a website.
None of the nodes can see the entire route, including the contents of the request and who's making the request. This ensures your data is anonymous during the entire route.
Is Tor Browser Safe?
Yes, Tor is a secure way to browse the web. But, you should be careful.
Scripts on Tor can be exploited to expose your information.
ISPs can see that you're using Tor without a VPN.
Powerful groups (like the NSA) can control Tor's nodes to track users.
Sites like Google or Facebook can track you.
Unencrypted data can be intercepted if you don't use HTTPS.
Your real IP address can be revealed by downloading BitTorrent clients through Tor.
What are the Disadvantages of Using Tor?
While Tor is highly secure, it has some drawbacks:
It can't hide that you're using it. Some agencies, like the NSA, are known to monitor Tor users.
It's slow. Sending your requests through several nodes increases your loading time.
It downgrades your browsing experience. Browser plug-ins, such as Flash, RealTime, and QuickTime are blocked because they can expose your real location.
What's the Difference Between Tor and a VPN?
A VPN is a separate software that hides your identity by replacing your real IP address with a different IP address. It can give you access to blocked content by connecting to a remote server location.
Tor is a hidden browser that sends your encrypted data through a secure passage, so your browsing data is unknown.
Using a VPN with Tor adds an extra layer of privacy to your connection. It hides that you're using Tor from your Internet Service Provider (ISP) and masks your real IP address from the Tor entry node.
There are several reasons why you'd want to use a VPN instead of Tor:
It's secure enough for most users.
Torrenting won't expose your IP address.
Browsing is faster.
You can unblock content from Netflix, Hulu, Disney+, and more.
How to Use Tor With a VPN
Using a VPN with Tor increases your privacy, although you must use a trustworthy VPN to avoid revealing your IP address. Using a low-quality VPN with security issues can actually decrease your privacy. Your ISP can report your identity to the authorities without a quality VPN.
I tested ExpressVPN's security features and I recommend its reliable no-log policy to protect your identity when you use Tor.
There are two ways to use Tor with a VPN: Tor over VPN and VPN over Tor. For either method, I highly recommend that you anonymously pay for your VPN subscription. Your real identity can be revealed through your payment method, so it's better to use an anonymous alternative for extra security.
Tor Over VPN
The safest way is to connect to a VPN and then launch Tor. This method prevents Tor from seeing your real IP address behind the VPN.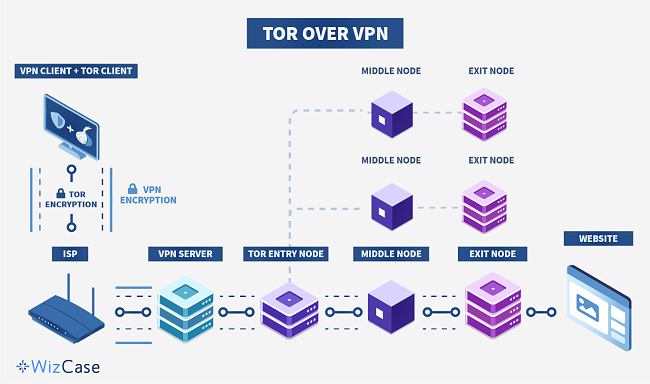 Tor over VPN can:
Pros:
Hide your activity and identity from your ISP and the government authorities.
Protect data sent from your device.
Be set up quickly.
Disguise your real IP address from Tor's entry node.
Cons:
Slow down your connection.
Be unsafe when your online traffic leaves the Tor exit node unencrypted.
Leak data to your ISP if your VPN doesn't have a kill switch.
Expose your information if your VPN logs your activity.
How to Use Tor Over VPN:
Get a VPN. I'd recommend that you try ExpressVPN's reliable no-logs policy risk-free with its money-back guarantee.
Open ExpressVPN and connect to a nearby server location.
Go to torproject.org/download/ and install Tor to your device.
Open the folder where you installed Tor and open Tor.
Start browsing!
Securely use Tor with ExpressVPN!
VPN Over Tor
You can also connect to Tor then to your VPN. This method allows you to hide your online activity from the Tor exit node. You may have to manually configure your VPN to connect to Tor. This method is complicated and not recommended.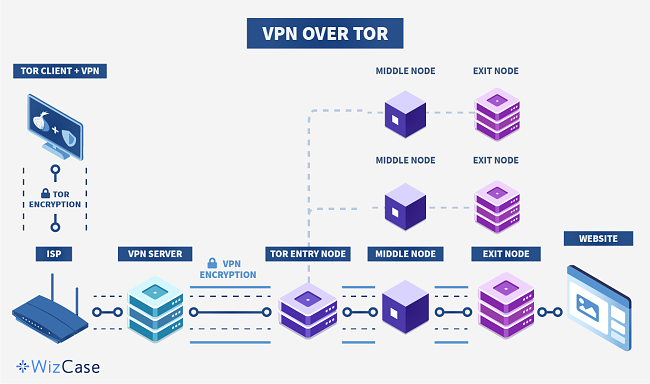 A VPN over Tor can:
Pros:
Give you access to services that block Tor users.
Disguise your connection to a VPN from your ISP.
Hide your activity from Tor exit nodes.
Cons:
Be more complicated to set up.
Create a single point of failure if your VPN provider tracks your activity.
Prevent access to .onion sites.
How to Install Tor on Your Device
Windows/macOS
Go to torproject.org/download/. Download Tor to your device. For iOS, you'll have to download Onion Browser.


For Windows, go to the folder where you downloaded the file and open the installer. On macOS, drag this file into the "Applications" folder.


Select your language, click next.
Linux
Go to torproject.org/download/.
Download the .tar.xz file for Linux.
Verify the download's signature for added security.
Right-click on the file and click "Extract Here."
Go to the newly extracted Tor Browser directory. Right-click on "start-tor-browser.desktop." Open "Properties" or "Preferences." Next to "Execute," check "Allow executing file as program" to run shell scripts.
Double-click the Tor Browser icon.
How to Uninstall Tor From Your Device
For Windows and Linux users, you can simply delete the Tor Browser folder from where you saved it.
For Mac users, you can either manually delete the browser's folder or use a third-party app to remove Tor.
To manually delete Tor:
Go into "Finder," open "Applications" on the left menu, and drag the Tor Browser app into the trash.
Keep "Finder" open and click "Go" at the top of your screen's menu. Click "Go to Folder," type "~Library," and click "Go."
Delete any Tor folders in the "Application Support," "Caches," and "Containers" folders.
If you want to use a free app to remove unwanted apps from your Mac, I suggest using App Cleaner & Uninstaller Pro or CleanMyMac X.
FAQs: How to Use Tor Browser in 2021
? Can I use a free VPN with Tor?
It's possible to use a free VPN, though I don't recommend using one since it can:
Track and sell your data.
Insert ads into your web pages.
Limit your speed and bandwidth.
Sell your bandwidth to premium users and slow your connection.
You can avoid these issues by using a quality VPN. I recommend ExpressVPN for its reliable no-log policy to protect your online privacy. It also has a kill switch to stop your data from being leaked and hides your real IP address.
You can try ExpressVPN's security features risk-free with its 30-day money-back guarantee. You can easily request your refund through email or live chat with no questions asked! I tried it and it was really easy to get my money back.
? What is the difference between the deep web and the dark web? Is the dark web legal?
The deep web is the hidden part of the internet that can't be found on a regular browser. Personal emails and medical records are examples of information on the deep web.
The dark web is part of the deep web and can only be accessed with specialized software like Tor. As long as you don't get involved in criminal activity, it's legal to use the dark web!
What are the alternatives to Tor?
There are a few browsers that can protect your privacy, including:
Firefox blocks trackers, fingerprinting, and cryptominers.
Brave blocks ads and trackers. It can also open tabs directly through the Tor network.
Epic blocks your real IP address with its built-in proxy. All browsing data is deleted after you close it.
Opera blocks trackers and ads. It also has a free built-in VPN.
While these browsers provide different levels of security, Tor is the most secure browser for accessing websites on the dark web. It routes your data through its network and offers a level of anonymity unmatched by any other browser.
Why do I need to disable JavaScript on Tor Browser?
Hackers can exploit JavaScript through malicious scripts and expose your identity on Tor. With your real IP address exposed, your ISP can report you if it suspects you're involved in illegal online activity. You can also be questioned by the government authorities about what you're browsing on the dark web.
However, you shouldn't completely disable JavaScript or you'd risk "breaking" websites — contents may fail to load or become unusable. Instead, you can choose which websites to enable JavaScript.
If you're visiting untrustworthy pages, you should turn off JavaScript to avoid compromising your security. For regular websites like Google or Reddit, you can leave it on.
Use Tor to Browse Anonymously Online
While online privacy is increasingly at risk, the Tor Browser offers a powerful way to browse anonymously for free. Using Tor with a quality VPN allows you to take advantage of both Tor's anonymity and a VPN's security features.
I recommend that you try ExpressVPN's reliable no-logging policy to protect your identity while using Tor. You can try ExpressVPN's money-back guarantee for 30 days with no risk!
Try ExpressVPN with Tor risk-free!
---
Summary: Best VPNs for Tor in 2021
Top Choice