How to Get a NordVPN Free Trial 2022 (Try FREE for 30 Days!)
Last Updated by Eric Raue on August 01, 2022
You won't find this widely advertised but NordVPN does have a free trial — it's just pretty bad. The free trial is limited to 7 days on just Android devices. Not only is this a super short amount of time, but you're automatically excluded if you own a Windows, Mac, iPhone, iPad, Linux, Apple TV, or even PlayStation or Xbox game console.
Alternatively, you can try NordVPN 100% risk-free for 30 days with the money-back guarantee instead. You can stream an entire Netflix season in Ultra HD, download unlimited torrent files, unblock overseas content, browse the internet anonymously, and more. You can even share your account with family or friends!
Top Tip: If 30 days isn't enough time, CyberGhost is a top VPN with a generous 45-day money-back guarantee. You've got more than 1 month to try every CyberGhost feature for free and still get your money back.
Step-By-Step Guide: How to Get NordVPN for Free for 30 Days
Go to NordVPN's website. Click "Get NordVPN" to sign up for an account.
Select your plan. Since subscriptions are charged in full upfront, choose the 1-month option to be charged the lowest amount. Whichever plan you choose, you'll be getting your money back anyway.
Enter your payment details. Your payment will be processed once you confirm.
Check your email for an account activation link. Once you click it, your 30-day trial will begin.
Download NordVPN. You'll have a link in your confirmation email. After you open NordVPN, log in with your new username and password.
Click "Quick Connect" to get paired with the fastest server. You've successfully connected to NordVPN.
Go back to NordVPN.com and navigate to "Help" on the top-right of the page to start the refund process. Once you've got your money back, you can continue to use NordVPN for free for the full 30 days.
Click the "?" button in the bottom-left corner to talk to the 24/7 live support chat bot.
Type "cancel for refund" into the chat box and hit enter. Information about refunds will display. Scroll down and click the link to contact the customer support team.
Select the "Live Chat" option on the next screen (if it doesn't work, try disabling your ad blocker and try again).
Say that you want to cancel and get a refund in the chat box. You'll be asked to give a reason (it won't matter what reason you give). Then click the button to get transferred to a live agent, who will complete your request.
Why Choose NordVPN?
Key Features:
5400+ servers in 59 countries around the world
Super-fast server speed to give you lag-free browsing, gaming, and streaming
Connect 6 devices simultaneously
30-day money-back guarantee so you can try it risk-free
Military-grade 256-bit encryption keeps your online activities anonymous
Customer support via 24/7 live chat and email
Unblocks Streaming Services Like Netflix
NordVPN uses SmartPlay technology to unblock streaming platforms. While I could unblock Netflix US, I had a better Netflix experience with other VPNs like ExpressVPN and CyberGhost.
Unfortunately, NordVPN didn't work with DAZN — but only the most powerful VPNs can do this (like ExpressVPN).
Fast Speeds With Unlimited Bandwidth
Even if a VPN can unblock streaming sites, it doesn't mean much if it has slow or unreliable servers. When I tested its speeds, NordVPN was blazing-fast no matter which server I tried. While faraway servers tend to be slower, I was impressed when I connected to a server in Australia (on the other side of the world) and my speeds were above 30Mbps. This was fast enough to watch in 8K UltraHD quality with no buffering. When I used BitTorrent to find 3 HD quality movies that were 2 hours each, all 3 of them were done downloading in less than 20 minutes.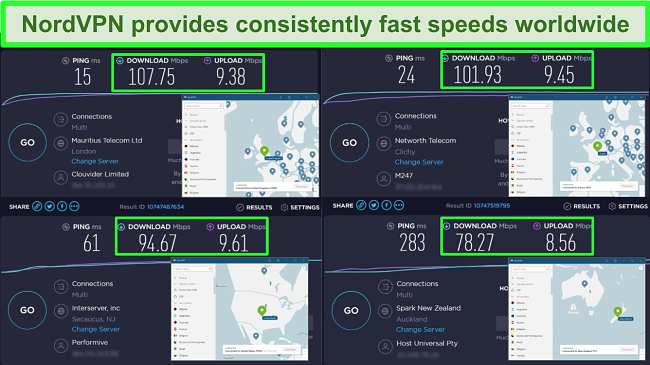 Wide Range of Security and Privacy Measures
NordVPN comes equipped with all the standard features that I expect from other top VPNs in the market.
Military-grade 256-bit encryption to keep your connection and data anonymous.
Strict no-logs policy so none of your data is ever recorded or shared with third parties.
Zero-knowledge DNS servers to prevent your real location and other data from leaking.
Automatic kill switch to prevent accidental data leaks if the VPN unexpectedly disconnects.
Perfect forward secrecy to use a new encryption key each time you connect, so even if a hacker wouldn't get full access to your information.
Onion over VPN servers for easy access to The Onion Router (Tor).
Double VPN servers that route your connection through 2 servers instead of 1.
Company headquarters in Panama to keep NordVPN outside the reach of global intelligence alliances, as well as data retention and international copyright laws.
Huge Network of Global Servers for Bypassing Geo-Restrictions
NordVPN has 5400 servers in 59 countries. Its servers are located across every continent, ensuring you'll have a stable and fast connection from anywhere. NordVPN even works in countries with strict internet regulations, like Turkey and Russia. Unfortunately, its servers are less reliable in China — NordVPN sometimes works but ExpressVPN is a much more reliable option if you're visiting China.
Compatible With All Major Devices and Operating Systems
NordVPN has a decent app for Mac, Android, iOS, and Chromebook, although you can easily download a better VPN app for Windows. However, NordVPN does work on 6 devices at once per subscription, so just 1 account can protect every device you own. By installing it on your router, you can even use NordVPN on your PlayStation, Xbox, Samsung Smart TV, Apple TV, Roku, Amazon Fire Stick, and any other devices connected to your home network.
Wide Range of Pricing and Payment Options
You get the choice of 3 NordVPN pricing tiers: 1-month, 1-year, and
2-year
. While the
2-year
is the best value,
all subscriptions come with the 30-day money-back guarantee
. It's not the shortest amount of time, although
CyberGhost has a longer 45-day money-back guarantee
.
You can pay for your NordVPN account using major debit and credit cards, ACH bank transfer, Amazon Pay, Google Pay, UnionPay, or multiple cryptocurrencies. One minor con is you can't pay with PayPal, but this isn't a big deal since you have so many other options that are anonymous. Unlike most competitors, NordVPN's money-back guarantee is valid for all payment methods — even Bitcoin.
FAQ: NordVPN
How can I get NordVPN for free?
You can use NordVPN for free for 30 days with the money-back guarantee. If you want to use a premium VPN for more than 1 month, I recommend you try CyberGhost for free with its longer 45-day money-back guarantee. As long as you cancel within 45 days, you'll be granted a full refund. It's completely risk-free as I've tested it myself.
If your security is at risk, you may be able to get NordVPN for free for 6 months. This is primarily reserved for political activists or journalists. For example, if your government bans free speech and comes after you for writing an article about corruption, NordVPN's emergency assistance program can get you a temporary free subscription. You have to apply online and explain your situation to be considered.
NordVPN does have a 7-day free trial for Android users — but this is a very short amount of time. You also can't download the app onto any other device, which is annoying if you wanted to try NordVPN for free on Windows, Mac, iOS, Linux, smart TV, or game console.
Can I just use a free VPN instead?
You can find a few decent free VPN options, but all come with limitations like throttled speeds, data limits, and minimal servers.
If you've found a free VPN without any limitations, then the service definitely has hidden downsides. It's expensive to run a VPN network and no legitimate company can do this for free indefinitely. As a result, many shady free VPNs are actively collecting and selling your private data, browsing history, and other sensitive information to make money. Some even secretly install spyware and trackers onto your device.
Can I get a NordVPN free trial without a credit card?
Due to people abusing the service, NordVPN no longer allows you to activate the 7-day free trial without a credit card.
Is NordVPN the only provider with a money-back guarantee or free trial?
No, it's not. I recommend ExpressVPN as it's a top VPN with a "no questions asked" money-back guarantee. In tests, I found ExpressVPN has excellent speeds and security, so it's a great option for streaming, torrenting, and browsing.
Can I use NordVPN for free on desktop, mobile, Xbox, smart home devices, and more?
Yes, you can use NordVPN and get your money back within 30 days on all devices and operating systems. You can even install NordVPN on your router to protect all the devices connected to your home network. You just need to cancel and get a refund before the 30 days are up.
Are there other NordVPN deals?
NordVPN occasionally has flash sales, but make sure any discount you find is legitimate. I found a bunch of fake coupons that led to scams or out-of-date discounts — that's why my team and I keep this page updated with the latest verified coupons. Better still, you can still use the 30-day money-back guarantee with every coupon!
Try the Best VPNs Without Any Risk
I recommend that you try the top VPNs and decide which you like best. For instance, ExpressVPN is the best VPN in 2022 and it has a 30-day money-back guarantee.
If you want an even longer money-back guarantee period, you can get CyberGhost for free with its money-back guarantee for 45 days. I've tested all the money-back guarantees myself and there's no catch. It's 100% risk-free — just remember to cancel before the refund period is over.
Top VPNs to Try Risk-Free With Money-Back Guarantees in 2022
Top Choice