Do You REALLY Need Chromebook Antivirus Software in 2022?
Last Updated by Lucca RF on August 01, 2022
Google claims that Chromebooks are safe from online attacks, but this isn't 100% true. While safe from viruses, Chromebooks can still be targeted by other cyberthreats like spyware or phishing scams. Worse yet, the Google Play Store hosts a lot of fake and even dangerous apps with hidden malware inside. You might not even realize you're being spied upon until your Chromebook starts freezing or slowing down.
To help you stay safe, I tested over 15 apps to find out which antivirus provides maximum protection while downloading, browsing, and streaming on Chromebook. If you want the quick answer, I found Norton Mobile Security is the best in 2022. Despite the affordable price, Norton's app scanner and browser extension is highly effective against phishing scams and network threats. There's even a bonus VPN.
You can try Norton risk-free on Chromebook with its 60-day money-back guarantee, making it completely risk-free to test it out for yourself.
Try Norton risk-free on Chromebook!
Quick Guide: 5 Best Antivirus Software for Chromebook in 2022
Warning! Be Careful on the Google Play and Chrome Web Stores
Even without an antivirus installed, Chromebooks provide multi-layered security against malware and other threats. These features include:
Data Encryption to prevent cybercriminals from accessing your data in the event your Chromebook is compromised or stolen.
Automatic Updates to provide security fixes and the latest protection against zero-day vulnerabilities.
Sandboxing to isolate infected systems during a malware attack.
Recovery Mode to restore your Chromebook to a previous state in the event your system is compromised.
Verified Boot to automatically check for corruption during system startup.
While these features are great, they're not enough to keep your Chromebook safe on their own.
Google won't tell you this, but there are plenty of apps on Google Play and Chrome Web Stores that are infected with spyware, phishing scams, and trackers. While Google does its best to remove harmful apps, it simply can't keep up with all the updates. Most of the time, malicious changes are made after an app has already been approved and published on the Google Play or Chrome Web Stores. So even once-trustworthy programs can be modified without warning.
You need to be extremely selective about which apps you choose to install. A 2020 report from Awake Security identified 111 malicious Chrome extensions that had been downloaded nearly 33 million times. Although Google removed all but 5 of these extensions, the report's revelations about the company's security risks are unnerving, to say the least. It's best practice to conduct thorough background checks, especially on the developers and company behind the app. Don't rely purely on Google Play and Chrome Web Store ratings, which can be faked or bought to trick unsuspecting users.
However, even if you do your research you might still fall victim to malware. To ensure maximum protection for your personal data and Chromebook, I recommend using an antivirus program to scan and flag any dangerous apps on Google Play or the Chrome Web Stores. The best antiviruses can even protect your Chromebook from getting hacked over public WiFi networks or encrypt your internet traffic.
Here's How to Keep Your Chromebook 100% Safe in August 2022
Key Features:
Scans new and existing apps for safety and authenticity
Offers WiFi scanner and a security overview
Available for Chromebooks that can access the Google Play Store
24/7 customer support available
60-day money-back guarantee
Norton is the best antivirus for Chromebooks as it defends Chrome OS from all types of threats. It has a powerful app scanner, a browser scanner to detect phishing attempts, and a security report to give you recommendations on device security.
You can choose multiple scan types for Chromebooks, including a full app and a WiFi scanner. The app scanner checks apps and extensions before they install to ensure they're authentic and don't contain spyware or trackers, but it can also check apps already installed. Norton took under a minute to check the apps on my device (almost 64GB). I didn't notice any slowdown while it was active.
The WiFi scanner is an essential feature if you frequently connect to WiFi in cafés or other public places. I also liked its browser scanner, which securely loads websites to protect against phishing scams.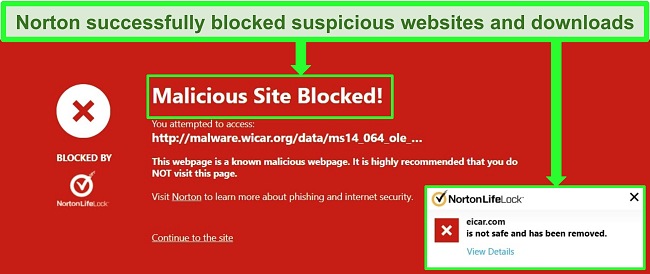 Norton's security overview tells you how to improve device security. When I tested this, Norton pointed out that one of the apps I had installed had requested excessive permissions, which I wouldn't have found out about otherwise.
Finally, the integrated VPN gives you access to 30 server locations. I tested these and reached average speeds of 90Mbps with local servers. If you're traveling abroad, Norton's VPN servers can even help you access your home Netflix library. Unfortunately, I found the VPN almost unusable on distance servers, with a maximum speed of 12Mbps.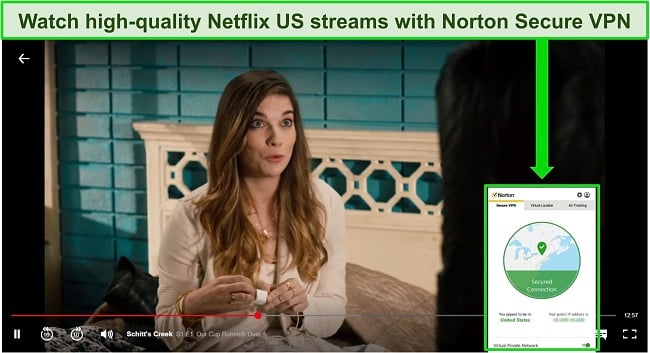 While Norton Mobile Security is a great product, you'll find much better value if you opt for the Norton 360 Deluxe package instead. This plan not only provides all the benefits of Norton Mobile Security but coverage for multiple devices in your home, including desktop computers and other mobile platforms. You'll also get extra features like the aforementioned VPN, cloud storage, password manager, parental controls, and more.
See for yourself and try Norton Mobile Security for free for 60 days with its money-back guarantee. I tested this by requesting a refund after using the service for 2 weeks. It took less than 5 minutes by live chat, and the support agent approved the refund without asking questions. I received the money back within 5 days.
Try Norton risk-free for 60 days!
Key Features:
Scans apps before and after installation for suspicious behavior
PIN lock blocks individual apps and an unlimited bandwidth VPN
Available for Chromebooks that can use the Google Play Store
24/7 customer support available
60-day money-back guarantee
TotalAV's Chromebook app comes with a Safe Site extension that integrates with your browser to ensure websites you visit aren't dangerous. It has an expanding database of known malicious URLs that it blocks as soon as you visit them. TotalAV protected me from a site containing phishing scams when I tested this myself. As phishing scams are a major threat to the safety of Chromebooks, I was really impressed with the addition of this feature.
I found TotalAV's integrated VPN perfect for browsing the internet anonymously. It even works with Netflix US, Disney+, Hulu, and HBO Max. This is a surprise since I'm used to antiviruses coming with low-quality VPNs. As a bonus, you also get unlimited data with TotalAV's paid plans. Better yet, it works perfectly with the Safe Site extension so I felt that I was 100% secure online.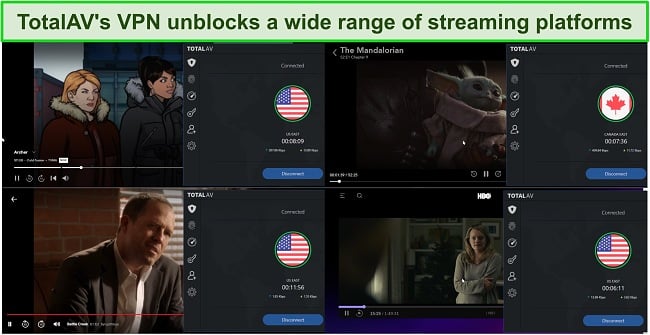 You can use TotalAV's PIN lock feature to add a password to any app on Chromebook, which is beneficial for physical security if your device is stolen. It can also be great if you share a device or you're worried about others spying on your data. Unfortunately, TotalAV has no anti-theft features, which I like to see in tandem with the PIN lock.
TotalAV is great for budget-conscious Chromebook owners who still want high value. Better still, you can try TotalAV risk-free on Chromebook with its 30-day money-back guarantee and see how it holds up yourself. I tried it myself for a few weeks before requesting a refund from customer support. It did take 2 days to hear back, but my refund was successfully approved and I had the money back in another 2 days.
Try TotalAV risk-free for 30 days!
Key Features:
Scans installed apps for malware and authenticity
Checks WiFi networks for suspicious behavior and has an integrated VPN
Works on Chromebooks that can access the Google Play Store
24/7 customer support available over live chat and email
30-day money-back guarantee
Bitdefender lets you set up profiles to defend your Chromebook from specific cyberthreats. This is an impressive feature as most antivirus programs don't offer this level of personalization. During my tests, I set up separate profiles for work and streaming that optimized performance and limited interruptions.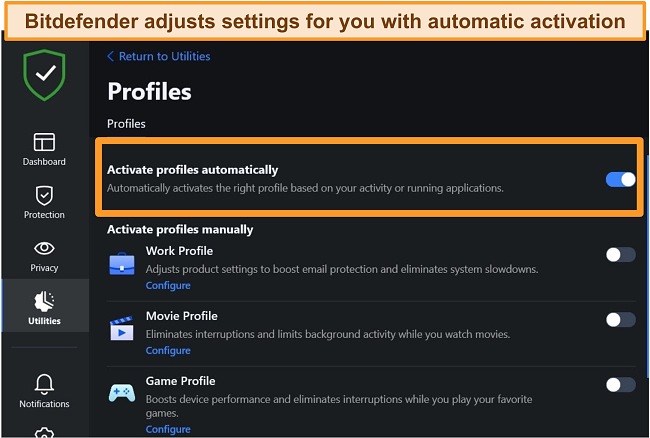 You can also use Bitdefender to add a PIN lock to protect any app on your Chromebook, which is useful if you're regularly in public places. You can turn on a setting to auto-unlock all of these apps once you're connected back to your home WiFi network. The anti-theft feature adds another layer of protection — you can remotely track, wipe, and lock your Chromebook.
Another bonus is that every Bitdefender Mobile Security subscription provides access to Bitdefender's Secure VPN. Unfortunately, it's too limited to be of much use. You only get access to one nearby server and 200MB of daily data, which is far too little for anything other than basic web browsing. If you want to use the unlimited premium version of Secure VPN with access to more than 1,300 servers in 30+ countries, you'll need to upgrade to Bitdefender Total Security. I tested its servers and was pleased to find they work with sites like Netflix. When I ran speed tests, I was satisfied with the average of 50Mbps (although it's a large drop from my base internet speed of 300Mbps).
You don't need to take my word for it though. You can try out Bitdefender risk-free on Chromebook with its 30-day money-back guarantee. I tested it out for a few weeks before contacting customer service. I was surprised that they took 5 days to reply, as I expect fast support from an antivirus. Fortunately, they didn't require a follow-up, and I had the money back within 5 days.
Try Bitdefender risk-free for 30 days!
Key Features:
Scans apps for hidden malware or spyware
Privacy scan to check app permissions and remote anti-theft features
Can be installed on Chromebooks with Google Play Store access
24/7 customer support available
60-day money-back guarantee
McAfee's Chromebook app offers remote anti-theft tools to help you recover your device. You can leave a message on the device's screen with information on how to return it. If recovery seems impossible, you can remotely wipe all the data. This is a useful feature that allows you to keep your Chromebook's private data safe at all times.
When it comes to blocking dangerous files, you can choose from 2 scan types: Advanced scan (scans apps for malicious code) and privacy scan (gives you insight into app permissions). When I tested the scans, I could either remove any harmful files through McAfee or set up an alert so I would be informed of any app permission changes.
During my tests, I was surprised that McAfee drained my battery more than other antivirus programs. However, your experience may vary depending on your device, so I recommend you try McAfee risk-free for 30 days with its money-back guarantee. You can request a refund over the phone if you're not satisfied.
Try McAfee risk-free for 60 days!
Key Features:
Threat scanner with scheduling and several features
Privacy Manager to find invasive programs
Only available for Chromebooks that can install apps from the Google Play Store
24/7 customer support available
60-day money-back guarantee
Malwarebytes' Chromebook antivirus has minimal performance impact, even while it was scanning all my installed apps for spyware and trackers. I especially liked that I could set up the scan to perform automatically whenever I installed a new app.
Another useful feature is the Privacy Manager tool — it checks which apps have excessive permissions. I'm very privacy-conscious, so I found this to be a fantastic way to quickly filter through my apps. I discovered a couple of apps actually had unnecessary access to my camera roll and microphone, so I prompted revoked access through the Privacy Manager feature.
Malwarebytes isn't the cheapest antivirus, so I was disappointed that there aren't many extra features. While Malwarebytes does offer a VPN with over 400 servers in 30+ countries, it's a separate product that requires an additional purchase. However, I'm more than satisfied with the core service's lightweight nature and the effectiveness of its available features. You can try Malwarebytes risk-free for 60 days with its money-back guarantee.
Try Malwarebytes risk-free for 60 days!
Comparison Table: The Best Antivirus For Chromebook in 2022
Top Antivirus Brands That Didn't Make the Cut
BullGuard
Although BullGuard is a well-known antivirus, I didn't include it here as during testing I discovered it lacks phishing protection. Since viruses aren't the main threat to Chromebooks, the antivirus you choose needs to be great at catching other threats, like phishing scams.
Avast and AVG
Avast is an extremely popular antivirus, but I no longer recommend it since it was caught selling private user data. Avast claimed that it wasn't possible to tie this data to specific users, but cybersecurity experts disagreed. Therefore, I can't recommend Avast as an antivirus for Chromebook — or AVG which Avast has owned since 2016.
How I Tested The Best Chromebook Antivirus in 2022
Chromebooks have a limited selection of antiviruses since only Chrome OS or Android-based programs will work. Fortunately, some offer premium protection and a host of useful features to improve your overall Chromebook experience. I tested every Chromebook antivirus available against these criteria to find the top antivirus apps:
App scanner — The antivirus needs to be able to scan new and installed apps for threats.
Additional features — Apps should include additional security features like WiFi protection, a VPN, and anti-theft.
Ease-of-use — Apps need to work well with Chrome OS, with a simple interface and minimal performance impact.
Value for money — The antivirus has to be worth the price. The best apps support multiple device types and simultaneous connections.
Try Norton risk-free on Chromebook!
Important Tips for Protecting Your Chromebook
Chromebooks are inherently secure and using an antivirus will tighten things even further, but there are more ways to keep yourself safe:
Don't download apps from third-party sources and be careful when choosing extensions — Even legitimate-looking apps or browser extensions can steal your data or insert malware upon installation.
Don't activate developer mode — This turns off many of the safeguards that make Chrome OS so secure.
Secure your Google account — Since Chromebooks are based entirely around the Google Cloud, your account needs to be impenetrable. Most of your data will be synced to the cloud, making it an attractive target for most attackers than your Chromebook itself. Choose a strong and unique password, set up two-factor authentication, and even run the Secure Account tool in your security settings so Google can check how your security status looks.
Keep your Chromebook up-to-date — Your main vulnerability on Chromebook is leaving it outdated. Software updates fix potential exploits, so not doing so will leave your device vulnerable.
Protect your Chromebook with Norton
FAQ: Using an Antivirus on Chromebook
Can you get viruses on a Chromebook?
No, thankfully viruses aren't a danger to Chromebooks. However, they're still at risk of malware infections. These threats can be accidentally installed through browser hijacking, which can change your homepage to dangerous web pages. You're also at risk of spyware reading your messages or accessing your personal data. Fake apps can disguise themselves as legitimate ones, leading to phishing attacks and data theft.
While you can prevent these threats by being careful what you click on, a high-quality antivirus that supports Chrome OS will scan for and protect you against phishing scams, spyware, and trackers.
Can a Chromebook get hacked?
Yes, Chromebooks can get hacked (just like any other device). However, there's a difference between being hacked and having your device infected. Hacking is a direct attack against you specifically, and if someone wants to hack your device you'd have reason to be concerned. Luckily, the chances of you being targeted in this way are slim.
Spyware, trackers, and phishing scams (that target a large number of people) are a much greater concern. You can protect against these threats if you're careful. However, this isn't foolproof because even safe apps can be updated to contain malicious code. The best way to protect your Chromebook is with a good antivirus that constantly scans apps you're about to download and ones already installed.
What's the best free antivirus for Chromebook?
The best free antivirus for Chromebook is Avira. With integrated browser security, you'll be protected from any malicious websites, phishing scams, and identity fraud attempts. It will also check apps that have excessive permissions. However, I didn't include it on this list since a premium antivirus is better at keeping you safe.
I recommend you try Norton Mobile Security risk-free for 60 days with its money-back guarantee. It has an app scanner that accurately detects malware, a website and WiFi analyzer to keep you safe from insecure networks, and much more.
Try Norton on Chromebook risk-free!
---
Summary — Best Antivirus for Chromebook in 2022