Can an iPhone Be Hacked? Yes, and Here's What to Do (2023)
If your iPhone is behaving weirdly, there's a high chance it's been hacked. You may have noticed excessive battery drain or data usage, slow performance, and even random apps appearing on the home screen.
Even though Apple has strong built-in security, hackers are using increasingly creative and complex ways to access your iPhone, iCloud, and Apple ID accounts.
The best form of defense is to use a top-tier security app like Norton 360 to fix your hacked iPhone. The app's scanner easily flags any iOS security risks, and it also prevents future attacks by blocking malicious links, shady apps packed with malware, and unsecured WiFi networks. Norton 360 even comes with a 60-day money-back guarantee, so you can download it and run a scan at no risk to you.
Protect your iPhone with Norton 360
Quick Guide: How to Fix a Hacked iPhone (2023)
Protect your iPhone with Norton 360
Step-By-Step-Guide: What to Do If Your iPhone Has Been Hacked
1. Run a Scan With Security Software
Download and run a scan with high-quality security software like Norton 360. This will tell you if you've actually been hacked, as well as assess any issues present on your iPhone and show you how to fix them quickly.
2. Warn Your Contacts About Scam Messages
Once you've confirmed the hacking, you should immediately let your contacts know the situation. Warn them not to click on links in any messages from you, as these are likely to be part of a phishing scam.
3. Change Your Passwords
If your iPhone has been hacked, it's possible that your passwords and login information could be compromised. This includes your iCloud and Apple ID accounts. After running the security scan, reset and create new, unique passwords for your online accounts. If you're concerned about forgetting your new passwords, a service like Norton 360 has a password manager available for iOS — you'll only have to remember 1 master password while Norton 360 stores the rest for you.
4. Delete Suspicious Apps
Apps are a very common way for hackers to gain access to your iPhone. If you've recently downloaded an app that comes from a third-party source (not the Apple App Store) you should delete it from your iPhone. When taking an inventory of the apps on your iPhone, also delete apps that you don't remember downloading. These could have been added secretly when you were connected to unsecured WiFi or clicked a phishing link.
5. Reset Your iPhone
The majority of hacking malware can be removed by resetting your iPhone back to factory settings. This will remove all downloaded apps, plus your messages, contacts, photos, and files. As such, before you reset your iPhone it's a good idea to create a backup of this data. Norton 360 has contact backup for mobile devices, plus 50GB of cloud storage for your photos and personal files.
The Best iPhone Apps to Prevent Hacking (Tested in 2023)
Key Features:
Blocks phishing links, malicious websites, shady apps, and viruses
Includes unlimited free VPN and password manager
Supports iOS 13.0+ for iPhone, iPad, and iPod Touch
Protects up to 5 devices at once
60-day money-back guarantee
Norton 360 offers the best protection for your iPhone, defending your device and personal accounts from hackers and malware. I'm impressed by the number of features it packs into its iOS app — it includes Web Protection, WiFi security, a full device scan, Contact Backup, and scam call blocking. Plus, when you subscribe to Norton 360 you can also use its unlimited Secure VPN and Password Manager at no extra cost. This makes Norton 360 one of the most comprehensive antivirus software packages available for iPhones.
After installing Norton 360 on my iPhone XS, the app immediately performed a full device scan. I was alerted that my operating system needed updating, making me vulnerable to hackers. I was directed to my iPhone settings through the Norton 360 app. Being able to manage potential vulnerabilities and fix issues from the app is very convenient and meant I didn't have to go searching through my iPhone. I also made use of Norton 360's Dark Web Monitoring to see if any of my data had been compromised — I was already aware of the breaches it reported, but was impressed that it found data from more than a decade ago.
As many hackers gain access to iPhones through phishing links and malicious websites, I was pleased by how effectively Norton 360 blocked shady links and sites on my device. During tests, all malicious sites were blocked instantly — Norton 360 even blocked some scam sites that Safari loaded, proving that Apple's defenses alone aren't enough to protect you from hackers.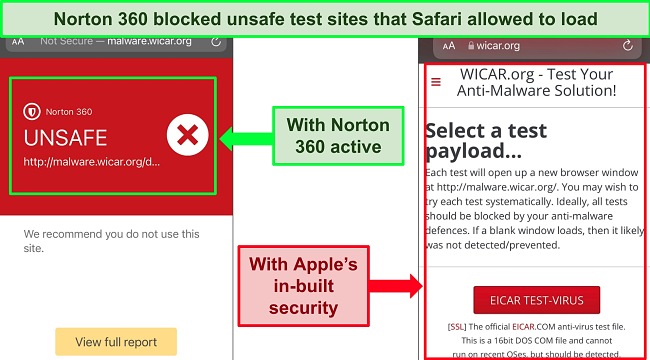 Norton 360's Secure VPN has an auto-connect feature if my iPhone uses an unsecured public WiFi network. This meant I didn't have to remember to switch the VPN on to protect my device and I was protected from potential targeted attacks when out with my iPhone. The WiFi scanner also provided a security rating for the network, giving me the option to disconnect if it was too risky.
I found Norton 360's Password Manager is highly effective at improving the security of my online accounts, including iCloud and Apple ID. It detected that one of my passwords was vulnerable and offered to change it for a more secure option, all with a single click. I like that I only have to remember my master password — I could even sign in to my accounts using Apple's Face ID and Norton 360.
While Norton 360 does have a dedicated mobile security app, I recommend you subscribe to Norton 360 Deluxe as it provides the best overall value. With the Deluxe package, you can protect your iPhone and 4 other devices, plus access Norton 360's full range of security features. If you want to test the service, Norton 360 offers a 60-day money-back guarantee you can use to try every feature on your iPhone. If you're not entirely satisfied, it's easy to get a refund — an agent processed mine over the 24/7 live chat in just a couple of minutes, and I had my money back in 5 days.
Protect your iPhone with Norton 360
Key Features:
Features browser and system security checks, a device locator, and VPN
Boosts iPhone performance with unique photo manager feature
Supports iOS 9.0+ for iPhone and iPad
Secures up to 6 devices at the same time
30-day money-back guarantee
TotalAV has a range of unique features designed to improve your iPhone's security and performance. By optimizing device performance, TotalAV ensures your iPhone is fast and efficient to keep all security features running smoothly. While testing TotalAV, it made sure I had all of my security options set up (like a password and Face ID), plus it freed up over 1.2GB of space in duplicate files and photos. This is important, as TotalAV's iOS app is on the larger side — it needs almost 200MB of space.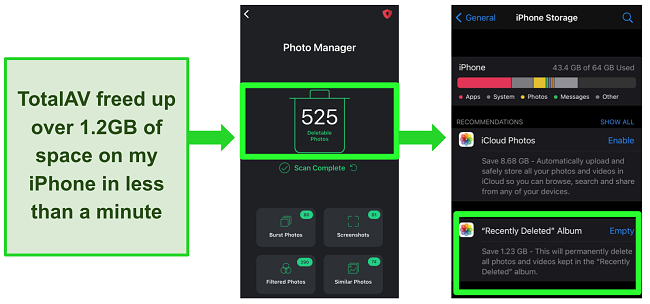 After downloading TotalAV, the app ran a check on my iPhone to see if my security software and operating system was up-to-date. Like Norton 360, TotalAV prompted me to update my iOS and detailed the next steps I should take to reduce vulnerabilities. I also used TotalAV's Data Breach Check to see if my email addresses or old accounts had been compromised — the report detailed some known breaches from around 10 years ago.
When you take your iPhone out with you, TotalAV protects your device from hackers with its WebShield and VPN features. WebShield blocks phishing links and websites hosting malware, so you're secure against accidental misclicks. During my tests, I tried to visit several malware test sites and TotalAV blocked access to them all. I was pleased to find that TotalAV's VPN automatically connected when I opened Safari's private browsing mode, keeping my online activity private. The VPN has unlimited data and mitigates speed loss well, so you can browse without lag or interruptions.
I was disappointed to find that TotalAV's iPhone app doesn't include a password manager, which is extremely useful for mobile security. I'd like to see this addition to improve iPhone security, plus ensure the protection of my iCloud and Apple ID accounts.
While TotalAV is a low-price service for the first year, after resubscribing the price rises dramatically. For the best value and protection for your iPhone, I recommend you subscribe to TotalAV's Internet Security plan. This gives you access to TotalAV's essential features that prevent your iPhone being hacked or attacked by malware. If you try the service and find it isn't right for you, TotalAV has a 30-day money-back guarantee. When I spoke with an agent on the phone, it only took a couple of minutes to process my refund. I had my money back in a week.
Protect your iPhone with TotalAV
Key Features:
Provides safe browsing, dark web monitoring, WiFi scanning, and secure VPN
Super lightweight at just 67MB for powerful iPhone security
Supports iOS 13.0+ for iPhone, iPad, and iPod Touch
Protects up to 10 devices with one subscription
60-day money-back guarantee
McAfee's iOS app is lightweight at just 67MB, providing powerful security without taking up lots of space on your iPhone. This means you have more storage for your important files, photos, and other apps — plus the lightweight nature of McAfee means it performs quickly. During device scans, I found McAfee didn't impact my iPhone's performance and having the app running in the background wasn't a drain on my battery. I had constant protection from hackers without having to worry about charging my iPhone more regularly.
Despite McAfee's small app size, it has several key security features to guard against hacking and malware. While out with my iPhone, I used the WiFi scanning feature to ensure my network connections were secure, and McAfee's safe browsing blocked any shady websites. I also made use of McAfee's secure VPN to keep my online activity anonymous — this feature is available on all plans, but only if you sign up for subscription auto-renewal.
I was impressed by McAfee's secure storage feature, which meant I could keep my important files and photos safe from hackers. The Media Vault is protected by a PIN, securing my personal items from malware and uninvited third parties. While McAfee doesn't have cloud storage, I was pleased I could keep my sensitive details private, protecting my login information for iCloud, my Apple ID, and other accounts.
Unfortunately, McAfee's True Key password manager was disappointing, especially as other iOS security software provides much better service. True Key only allows storage for 15 passwords, which wasn't enough for even half of my online accounts, and only has unlimited passwords with a paid upgrade. This is available as a separate app, taking up 81MB of space.
McAfee's dedicated iOS app is an expensive choice, so I'd recommend that you choose McAfee's Total Protection for the best subscription value. This lets you secure up to 10 devices and gives you access to the majority of its features if you agree to auto-renewal. Plus, you can try McAfee risk-free as it's backed by a 60-day money-back guarantee.
Protect your iPhone with McAfee
Don't Know If Your iPhone Has Been Hacked? Here's How to Tell
Here are a few key signs to look for if you suspect your iPhone has been hacked:
Unusual pop-up ads — If your device is infected with malware, you may notice flashing pop-up ads that are brightly colored or contain inappropriate content.
High data usage — If you haven't been using a lot of data but your usage has jumped suddenly, there could be malicious processes happening without your knowledge.
Texts or calls not made by you — Your contacts may alert you to text messages (or messages through apps like WhatsApp) and calls that you didn't make. Messages may have suspicious links or files attached.
Short battery life — Similar to high data, if you're using your iPhone the same amount but your battery is draining quickly, it's likely that hidden processes are operating without your knowledge or consent.
Slow performance — Hacking software isn't obvious, but it can be resource-intensive. If your apps, messages, and files are loading slowly or not at all, it could be due to malware.
Unrecognized apps — New apps that you don't recall downloading could be hiding malware that lets hackers access your device. These apps can get onto your iPhone through scam links and malicious websites. Norton 360 has a web protection feature that blocks access to websites hosting malware.
Changes to items on your iPhone — Changes you know you haven't made, like randomly deleted contacts or unknown items being added to your calendar, are signs of hacking and malware.
If you're wondering how your iPhone can be hacked, here are some things you should avoid to keep your device secure:
Jailbreaking your iPhone — While this may give you access to more apps and customization, it also exposes you to software that isn't approved by Apple. This puts you at risk of downloading apps full of malware.
Clicking a suspicious link — An accidental click on a scam link is enough to download a shady file or expose your iPhone to malware. A service like TotalAV blocks phishing and scam links to protect your device from malicious software.
Downloading a third-party app — Unless the app you download has been vetted by Apple, there's no way to know how safe the software is. Only download apps from the App Store.
Connecting to unsecured WiFi — Hackers often target unsecured WiFi as a way to access your iPhone and plant malware. Some unsecured WiFi connections are actually fake hotspots designed to steal your information. Norton 360 has WiFi security and a free VPN that protect you when you're not connected to known, secure networks.
Using a public charging station — This is known as "juice jacking" and happens when you connect to a USB charging location. It can infect your iPhone with malware or copy sensitive data from your device while charging.
The best way to prevent your iPhone from being hacked and keep your iCloud and Apple ID secure is with high-quality antivirus software. A service like Norton 360 blocks suspicious links and websites, performs regular scans to ensure top-tier security, and has a free VPN and password manager.
Protect your iPhone with Norton 360
FAQs: iPhones and Hacking
Can iPhones be hacked?
Yes, iPhones can be hacked (particularly if your device is jailbroken). Apple devices have excellent in-built security, mainly due to "sandboxing" — this means apps can't access other apps or make changes to your iPhone without your permission. Despite this security, it's still possible for hackers to access your iPhone through phishing links, third-party apps, or unsecured WiFi.
If your iPhone is jailbroken, you no longer have Apple's "sandbox" security measures which puts you at even greater risk of hacking. Malicious apps and software can infiltrate your iPhone and make changes, access your files, and even steal your login data.
To avoid your iPhone being hacked, you should protect your device with high-quality security software like Norton 360. This software scans every app you download to ensure it's free from malware, plus protects you from targeted attacks on unsecured WiFi and blocks shady websites and links. It's also recommended that you don't jailbreak your iPhone so you can benefit from Apple's "sandbox" security to protect you from hacking.
My iPhone is hacked — what do I do?
If you think your iPhone is hacked, there are 3 easy steps you can take to fix the issue. Make sure you also warn your contacts not to click on links they may receive in messages from you, and change your passwords in case your login information has been compromised.
Most importantly, you should run a scan with antivirus security software like Norton 360. This will provide a detailed report on the security status of your iPhone and tell you what you need to do to restore full protection to your device. This may include updating your operating system, removing suspicious apps, and changing your privacy settings.
You may find the best option is to reset your iPhone to completely remove all malicious software. You'll want to backup your personal items, like photos, contacts, and files, before resetting your iPhone. Norton 360 offers 50GB of cloud storage, plus contact backup specifically for mobile devices, so you won't lose your important items.
How can I tell if my iPhone has been hacked?
The easiest way to tell if your iPhone has been hacked is by running a full device scan with top-tier antivirus security software. This will check your iPhone for any suspicious apps or activity and alert you to any unusual behaviors that may have gone unnoticed. By following the scan report, you can make the necessary changes to secure your iPhone.
There are other signs to look for that could indicate your iPhone has been hacked. These include your battery draining very quickly, high data usage and slow overall performance, and the appearance of apps you don't recall downloading. If you've noticed any of these, you should download security software like Norton 360 to fix the issue. A service like Norton 360 can easily detect security and privacy problems, as well as give you an extra layer of protection against malware and hackers.
Protect your iPhone with Norton 360
Secure Your iPhone Against Hackers With Antivirus Software
Even with Apple's integrated security, your iPhone is still at risk of being hacked. All it takes is one click on a shady link or accidental app download to compromise your data security. Fortunately, you can block hackers and malware easily with high-level antivirus software for your iPhone.
Of all the apps I tested, Norton 360 is the best option for protecting your iPhone, iCloud, and Apple ID. You get full security from a range of online threats, plus a password manager, cloud storage, and a free VPN. Best of all, Norton 360 gives you 60 days to test the software and make sure you're completely satisfied. If you change your mind, getting a refund is easy — I tested the process myself and an agent processed my request quickly over the 24/7 live chat. I had a full refund in less than 5 days.
---
Summary — Best iOS Apps to Prevent Hacking in 2023
Top Choice