Visit Yoga VPN Website!
Yoga VPN

Review 2023: Before You Buy, Is It Worth It?
Yoga VPN Overview 2023
Yoga VPN attracts attention right away with its humorous branding. The company's website makes bold claims, such as complete online privacy and lightning-fast speeds. While VPN providers will tout the benefits of their services, it is my responsibility to determine whether the claims are true. So, I tested the product to see if it lived up to the hype, as I'm looking to stay in the know about VPN services.
Yoga VPN is only good for basic web browsing and some streaming (it works with Netflix, Disney+, and Amazon Prime Video, but not consistently). Its network is also much slower than other high-end providers, and only a few servers are available. Likewise, it does not have a kill switch, which means that there is a possibility that traffic leaks may occur.
The Yoga VPN service is worthwhile if you want a free VPN service for your mobile device. The good news is that a wide selection of top VPN services is available for non-mobile devices. You are sure to find one that will suit whatever your needs may be, including security, torrenting, streaming, speed, and privacy.
Don't Have Time? Here's a 1-Minute Summary
Yoga VPN Unblocks Netflix, Amazon Prime Video, and Disney+ (But Can't Access Hulu, HBO Max, and BBC iPlayer)
My experience with Yoga VPN was reasonably successful in unblocking Netflix, Amazon Prime Video, and Disney+. The VPN failed with other US streaming platforms like Hulu and HBO Max, but such failures are common even with commercial VPNs.
Similarly, Yoga VPN cannot unblock BBC iPlayer. A colleague in London tried to access BBC iPlayer on the United Kingdom's servers but was not able to do so. This is something to keep in mind if you want a VPN primarily for streaming.
Netflix, Youtube, Amazon Prime Video, and Disney+: Unblocked
With Yoga VPN activated and connected to a US server, I could access Netflix, Amazon Prime Video, and Disney+. To begin with, I tested Yoga VPN with the US Netflix library, and it was successful in unblocking it. While there were no buffering delays, there was a significant reduction in video quality.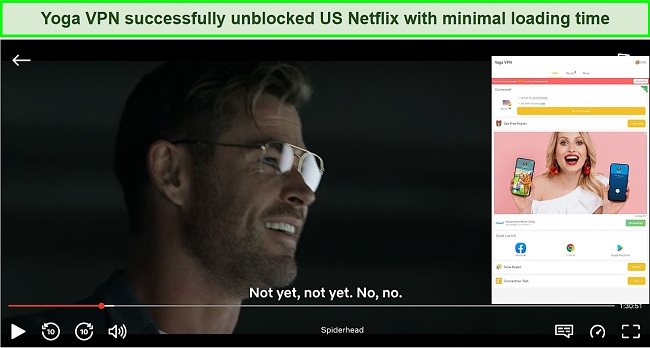 I connected to 3 other servers to see if this was the same for other locations. Yoga VPN could only access movie titles not made by Netflix in Germany and the Netherlands, while France returned an error.
I then tested the performance of each server on YouTube. I was able to watch YouTube videos without interruption at 720p despite the loading process being slow at first. The performance became significantly slower once I switched to 1080p.
When connected to the servers on which the platform runs, the Yoga platform seamlessly unblocks Amazon Prime Video libraries. Loading times were quick, and the picture quality was good. Similarly, Yoga VPN was able to unblock Disney+. Unfortunately, it took five minutes for the movie title to load. There was still continuous buffering delay and choppy picture quality after that.
Hulu, HBO Max, and BBC iPlayer: Blocked
Other US-based streaming services like Hulu and HBO Max are not accessible with Yoga VPN. I received an error message from Hulu indicating that the service is unavailable in my country, and I was outright blocked from using the service. I received a similar error message from HBO Max. Additionally, this VPN is not suitable for British expats looking to access BBC iPlayer.
It's no secret that ExpressVPN is the most reliable VPN for streaming. It enables you to stream a variety of Netflix movies and shows with no lag or proxy issues. The VPN also works with other coveted streaming services, such as Hulu, BBC iPlayer, and HBO Max.
Decent Across the Network
Yoga VPN's browsing speeds averaged over various regional servers, and there was no observable difference in streaming quality. I was able to multitask with streams in the background without experiencing any delay with the download speed.
Speed Test Results
My average speed dropped by 50% from my base speed, but not to the point where I couldn't stream or browse the web lag-free. You may be surprised to learn that VPNs consume some of your Internet connection due to the rerouting process and data encryption. Reputable services, however, ensure that the speed drops are minimal so that you can enjoy online activities to the fullest extent.
Slow-performing providers are most likely to be dropped. Consequently, I needed to test the effects of Yoga VPN on my internet speed. Then, I connected to several distant and nearby servers to see if I could maintain reasonable connection speeds.
First, I recorded my base speed so that I had something to compare it with when connected to Yoga VPN. I had a base speed of 25.60 Mbps, a ping of around 5, and an upload speed of 14.39 Mbps from my location in the USA.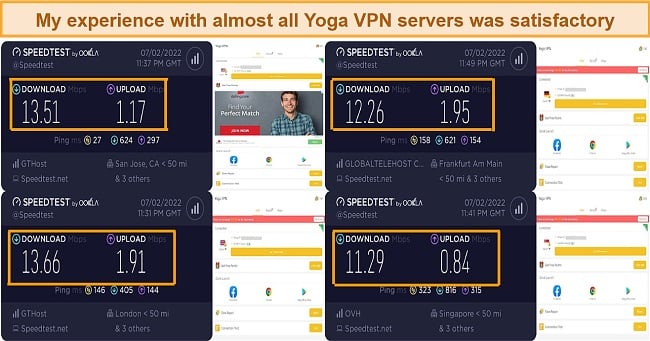 Next, I connected with a US server located close to where I was. I didn't expect to see much of a slowdown in speed due to the closeness of the server to my location. An overall reduction in the download speed of 47% was recorded, a slight drop in comparison with what was expected. Gaming players will benefit from the 27 ms ping achieved by this connection. I had an upload speed of 1.17 Mbps, which was still usable but 90 percent slower than my base speed.
Considering the UK has a large expat population and provides popular streaming services such as BBC iPlayer, I chose to connect to a UK-based server. I was surprised to find that speed remained consistent and increased by 2% over the US server.
As you can see from the screenshot above, my connection to the German server dropped by only 52%. My final test involved connecting to a distant Singapore server. The connection dropped only 55% in speed, which I did not expect, given how far away it was.
It's impressive how fast Yoga VPN performed for a free VPN service. It's important to remember that my speed tests aren't a definitive indicator of the VPN's performance. You'll likely experience varying speeds depending on when and where you connect to a server.
Why Most Speed Tests are Pointless & How We Correctly Test VPN Speeds
Speed determines how fast content uploads, so if you're torrenting or streaming, you want the speed to be somewhat identical to your regular internet speed. Since a VPN encrypts your data, it usually takes a bit longer to send your data back and forth, which can slow down your connection. However, if your ISP deliberately slows down your connection (also known as throttling) a VPN might increase your internet speed. Testing a VPN is somewhat pointless because new servers pop up and affect speed. Your speed can also differ according to your location, so your speed test might not match ours. Having said that, we tested the speed in numerous locations to provide you with the average.
Server Network — Limited Server Locations
Yoga VPN falls behind its competitors in this category. There are an unpublished number of servers in nine countries, including the US, UK, France, Netherlands, Germany, Canada, Singapore, Japan, and Poland.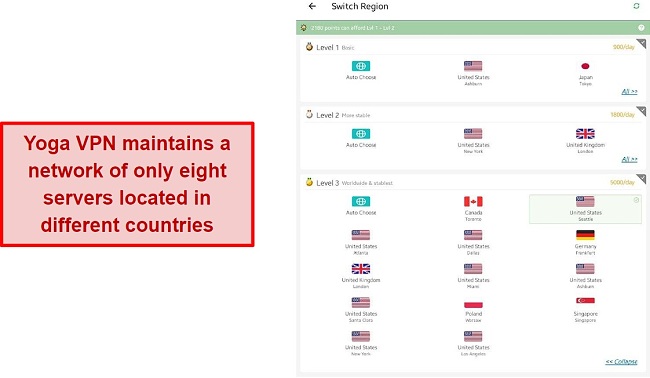 Most users will be left out in the cold by this geographic restriction, which is just a fraction of the options available with modern VPNs. Yoga VPN may be a good choice if you need a lightweight mobile VPN near these locations, but otherwise, it won't be of much use to the average user.
This app uses a unique system of awarding points based on your usage. You can then use these points to upgrade your access to certain servers and unlock more advanced functions. Points can be earned by either referring your friends to Yoga VPN or by watching many of the advertisements they post. Despite the advantages, I found having to watch so many advertisements quite inconvenient.
Most Yoga VPN servers are located in North America and Europe, so users outside of these regions cannot use nearby servers to get fast speeds. For faster speeds and lower ping from places other than Europe or North America, I recommend finding a provider with servers closer to your location, although overall connection speeds are sufficient to meet your needs. CyberGhost boasts a huge server network with 9,000 servers spread across 91 countries.
Security — Lacks Basic Security Features
Security-wise, the US-based provider fails to meet all security requirements. There are no fact sheets on Yoga VPN's website about what type of encryption it uses, so it's difficult to explain what it's all about. All you get is the description of the Google Play app claiming secure VPN encryption. In the absence of encryption, DNS leak protection, solid protocols, and a kill switch, a VPN isn't a VPN. Free VPNs often do not provide any of these benefits.
There is no mention of features like ad blocking, split tunneling, or stealth mode, so it is safe to assume they are not available. There is also no mention of OpenVPN/IKEv2 or any other secure protocols, putting users at risk of relying on outdated protocols. Its biggest weakness is its lack of a kill switch, which disables internet access in the event of a VPN connection drop. This will reveal your real IP address if it happens while you are using Yoga VPN.
A further omission from Yoga VPN is whether or not it offers protection against DNS, IPv6, and WebRTC leaks. I ran multiple leak tests on servers in five different countries without detecting any leaks. Even so, I would feel more comfortable using Yoga VPN if it disclosed what security measures it takes to prevent leaks.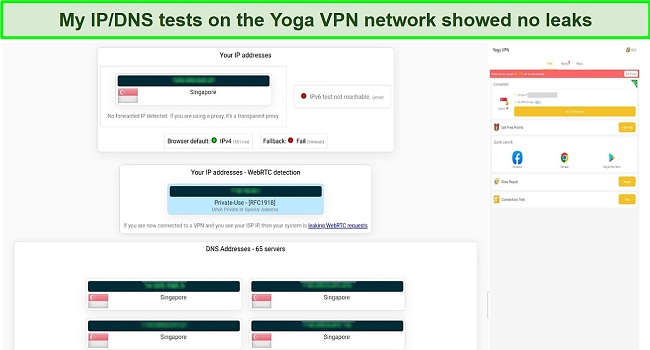 As a whole, Yoga VPN raises a number of concerns users should be aware of. The primary goal of VPNs is to protect online users against cyber attacks and stolen data. I recommend using a premium VPN service like ExpressVPN rather than leaving your safety up to chance.
Privacy — Suspicious Logging Policy
Yoga VPN's greatest challenge is privacy. While it claims not to collect or store traffic information, it logs details about your device and operating system. The company also promises to share your data with relevant authorities if necessary.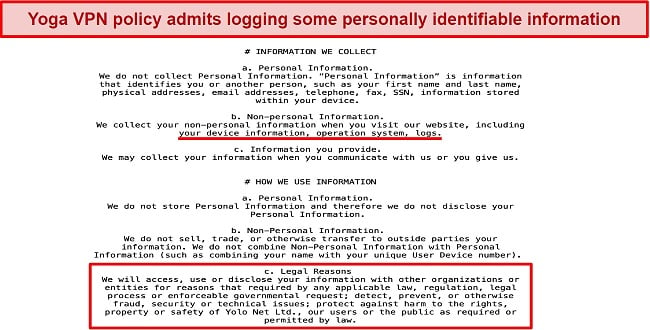 The next issue I encountered was with the ads. The ads come right from Google, which means they have access to your browsing habits and interests. This immediately tells you your data is being shared.
I am also concerned about Yoga VPN's jurisdiction, which is understandable. Based in Hong Kong, the provider is subject to government interference and surveillance. And according to the provider's terms of service, it will share your data if required by law.
Although Yoga VPN claims not to log the sites you visit and files you download, I discovered that some user data is stored when I dug deeper into the detailed privacy policy. It is not directly linked to your browsing activity, so you cannot be identified by the data stored.
When a VPN handles user privacy with such blatant disregard and is so evasive about its operations, you should avoid it at all costs. ExpressVPN on the other hand has stricter and more straightforward no-logs policies that have been independently verified by several independent investigators.
Torrenting — Not Optimal for Torrenting
Yoga VPN does not support P2P traffic on its servers, making it unsuitable for torrenting. None of Yoga VPN's servers supports P2P or torrenting. The company has explicitly stated this in its FAQ post.
Additionally, the service does not have a kill switch or support connection encryption. Essentially, if the VPN connection fails, everyone will see your real IP address. Due to these concerns, as well as other privacy and legal concerns about certain content, I don't recommend using Yoga VPN to protect your torrenting.
The best torrenting VPN is ExpressVPN because it allows torrenting on all its servers and works with the most popular torrenting clients. Note that my team and I don't support using torrenting to download illegal files that infringe copyright, but if you're concerned about your traffic being monitored by a 3rd party, then proceed. Make sure your location allows torrenting as well.
Does Yoga VPN Work in China? No!
Yoga VPN does not include any additional obfuscation tools. The Great Firewall can only be defeated with cutting-edge encryption, leak protection, and being invisible to Deep Packet Inspection. Yoga VPN offers none of that, which most likely exposes users in China to online surveillance.
Since I could not test this myself, I contacted customer service via email but never received a response. The lack of a kill switch and limited server locations make it difficult to avoid censorship. Kill switches are an essential part of any VPN, just in case something goes wrong.
ExpressVPN service has a proven track record in China, so if I had to use a VPN in China, I'd pick it. It is recommended that you proceed with caution if you're using it in China, particularly if you're manually configuring your own server.
Server Locations
Canada
France
Germany
Japan
Netherlands
Poland
Singapore
United Kingdom
United States
User Experience
- 4.0
/ 10
Simultaneous Device Connections — Infinite Number of Simultaneous Connections
YogaVPN is free, so you can connect multiple devices at once. This VPN is ideal if you have many Android smartphones in your family. No registration is required to download the VPN; all you need is a Google Play account. Streaming, torrenting, and browsing are however difficult due to the slow connection speed.
Device Compatibility — Mobile-Exclusive
Since Yoga VPN is a mobile VPN, macOS, and Windows users won't be able to use it. As Yoga only supports mobile devices, it cannot bypass geo-restrictions on Amazon Firesticks and similar devices. Kodi cannot also be used with Yoga VPN due to this limitation.
Ease of Setup & Installation — Quick and Easy
Yoga VPN's one-click installation process can be completed in about 2 minutes. It is immediately available for use once it has been installed on your device. The VPN is so basic it lacks any useful functionality, with just a 'Connect' button in the middle of the screen and a list of servers above.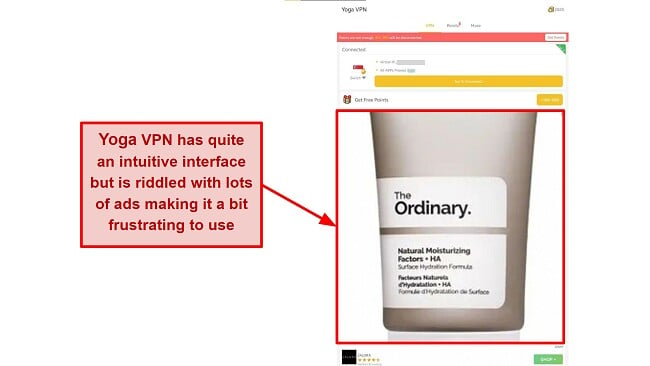 You'll receive some initial points when you install Yoga VPN that will help you connect to servers at levels 1 and 2. You'll earn more points by watching their ads or inviting more friends. The app will also reward you with points if you check in every few minutes. It is then possible to connect to level 3 servers when you have accumulated enough points.
There is also a proxy filter available with Yoga VPN. It gives you the option to exclude VPN coverage for apps that you do not want to encrypt their traffic. It is a simple VPN that provides access to premium servers through its point unique system, but it is also ad-intensive and will display ads from time to time. You may want to consider a paid VPN if the intrusive ads are causing you discomfort.
How to Install and Set Up Yoga VPN on Android:
Download the YogaVPN Client. There is no difficulty in finding and downloading Yoga VPN from the Google Play Store. 

Launch the application. When you open the app you will probably see some adverts, exit them and press "Continue".
Select your preferred server. Manually selecting a location can be done by clicking the globe icon and pressing "Go" to connect to the selected location. 

Now you should be connected! You'll have to reconnect regularly due to the points system. 
The VPN's slow email support will be your only recourse if you encounter problems. Support is only available via email and an extremely limited FAQ. Customer support might take a few days to respond to your emails, so this email system can be quite a hassle. Despite multiple attempts, I did not receive an email response from Yoga VPN's support.
I understand free VPNs don't provide the same features as premium VPNs. The antiquated support system of Yoga VPN leaves it at a disadvantage in a world where companies now offer live chat and social media support.
As a result of its ambiguity, it would have been helpful if Yoga VPN had provided a live chat feature. In particular, there are no details about how the network is encrypted or what protocols are employed.
How We Test Customer Support and Why Should You Care
We personally test the customer support team of every VPN we review. This means asking technical question through the live chat feature (where applicable) and measuring the response time for email questions. Whether you need to connect to a specific server, change your security protocol, or configure a VPN on your router, finding a VPN with quality customer support should be important to you.
As a free VPN, Yoga VPN does not offer a premium version. There are no hidden fees or charges to upgrade its free plan. It will, however, disconnect you every five minutes and require that you reconnect. It's not bad for a free VPN that offers unlimited bandwidth, but when compared with a premium VPN, it's a bit odd.
You do not have to spend a fortune to obtain the very best VPN service. Leading providers are constantly trying to outdo each other in order to win customers in this fiercely competitive environment. This means that you can get an excellent VPN service at an affordable monthly price without compromising on quality.
Yoga VPN offers the following plans
Final Verdict
Yoga VPN is a free VPN that is unreliable and unsafe. This VPN is fast and works well to unblock a few streaming services, but it lacks crucial security features and doesn't support torrenting. In addition, Yoga VPN's privacy disclosure contradicts its no-logs policy.
I do not recommend using this VPN, and if you already did, I suggest uninstalling it from your phone immediately. ExpressVPN offers top-notch security features, superb streaming, support for torrenting, and easy-to-use apps across various platforms. You can test ExpressVPN out completely risk-free as it's backed by a 30-day money-back guarantee — if you don't like it, you can easily get a full refund.
FAQs About Yoga VPN
Is Yoga VPN good?
No, Yoga VPN isn't a good option.
To begin with,
it stores information about your device and operating system
that can be used to monitor your activities. Secondly, it doesn't allow access to streaming services such as Hulu, HBO Max, and BBC iPlayer. Furthermore, torrenting is not permitted and there are no basic security features. This means it isn't much you can do with it.
Can I use Yoga VPN for free?
Yes! Yoga VPN is free to use, with no subscription fees or upgrades required. The fact that it offers unlimited bandwidth may sound great, but it lacks basic features, reliability, security, transparency, privacy, and customer support.
Most free VPNs lack important security features, limit data usage, and may log your information. You can avoid these limitations if you choose one of the top free VPN deals – they offer unlimited data, high-end security, and fast speeds.