Windscribe has a tool for every platform. You can use the software directly on your Windows, Mac or Linux (Ubuntu, Debian, Fedora, CentOS). However, the company also highly recommends using their Google Chrome, Firefox or Opera browser plugins as an extra layer of security. Windscribe can be used directly on your phone, your TV, and even your router. For the adventurous, Windscribe even allows you to setup the software on any device that supports the Open VPN, IKEv2, or SOCKS4 protocols.

Windscribe's interface is simple and incredibly easy to use. Upgrading to the Pro version from the free version was lightning fast.

The user interface consists of a small window that displays the server location, your IP address, Firewall toggle switch, a giant On/Off button and a hamburger menu that allows users to adjust preferences, see their account details, and get help, among other options.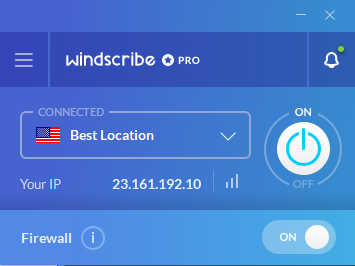 The default VPN connection is a U.S. server tagged "Best Location". However, clicking the arrow displays all of Windscribe's locations which are broad regions located in each country. For example, the United States is broken up into US Central, US East and US West, just to name a few and each location is listed along with its ping time.

Turning on Windscribe and connecting to a server took about two minutes to complete. Best Location featured a ping of 68 ms and while web pages seemed to open quickly at times, this wasn't always the case. In addition to this, the connection would sometimes drop and force the software to have to reconnect. Since there is no kill switch feature with Windscribe your internet connection will no longer be secure and you can be vulnerable.

Selecting Preferences from the menu and then clicking the Connection tab reveals a number of protocols to choose from. If the Automatic setting isn't for you, you can switch to Manual and choose between IKEv2, UDP, TCP and Stealth. These options also allow users to specify their own port numbers in case they are blocked from using the default setting.

Stealth mode, a TCP protocol via Stunnel, is Windscribe's fix for those users who are walled in by Chinese censorship. If this isn't successful, Windscribe even allows users to manually configure an IP through their API Resolution tool.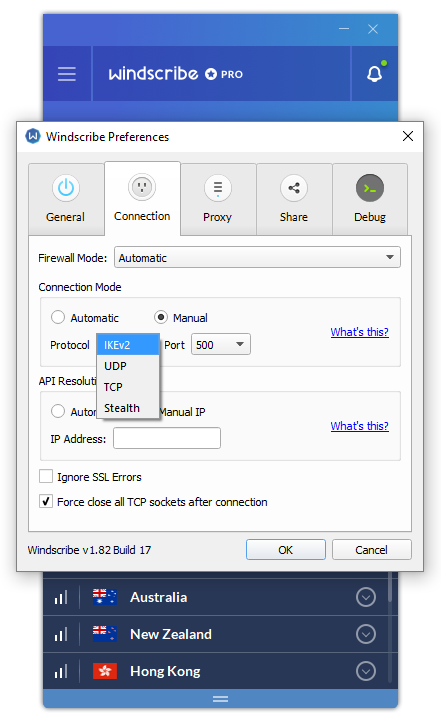 While many of these settings are geared primarily for advanced users, novices will have to seek out more information or speak to a technical team member.

Yet, the VPN isn't all that Windscribe offers. R.O.B.E.R.T is a great addon that detects and blocks malware, tracking cookies, and much more. It's easy to configure, so you can get the protection you need.  The company also offers a number of Browser Extension Features to help keep you and your information safe online. Among them, Ad Blocking, Double Hop (gives you the ability to proxy your connection through any two servers on the Windscribe network), and Time zone Spoofing (changes your time zone to that of the server).