Visit TheSafety US Website!
TheSafety US

Review 2023: Before You Buy, Is It Worth It?
TheSafety US Overview March 2023
TheSafety.US offers both VPN and Proxy services, promises to keep zero logs, offers unlimited bandwidth, and is secure. I'm shrewd when it comes to internet security, so I put TheSafety.US to the test to determine how well it provides all of these services for its users.
I found that while TheSafety.US keeps your data secure and private, it still can't compete with other top VPNs on the market. I was impressed that The Safety.US passed all my security tests and masked my real IP address, but it lost me on its speeds, number of servers, and pricing.
If you'd still like to try out TheSafety.US for yourself, there are a few different subscription models each with a 7-day-money-back-guarantee.
Don't Have Time? Here's a 1-Minute Summary
TheSafety.US Unblocks Netflix and Amazon Prime (But Can't Access Hulu, HBO Max, or BBC iPlayer)
I unblocked my two biggest streaming services with TheSafety.US, something that is very important to me when choosing a VPN. But, I would have liked to have been able to unblock more. So, while TheSafety.US is okay for streaming, you may want to consider other VPNs if you use several services. No matter how many different ways I tried it, I couldn't use TheSafety.US to unblock Hulu, HBO Max, or BBC iPlayer.
Netflix and Amazon Prime: Unblocked
I tried several different servers with TheSafety.US and each one unblocked my US Netflix account and Amazon Prime Video, no problem. The only drawback I dealt with was some lag while logging into my Netflix account and picking shows from the catalog. That said, during episodes and movies there were no interruptions or pixelated images, with Netflix running exactly as it should.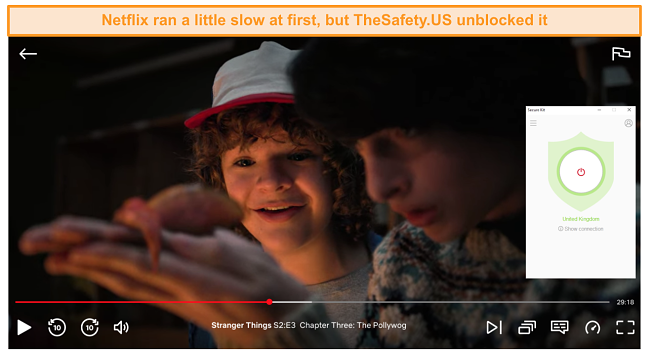 Amazon Prime yielded the exact same results for me. It lagged at the beginning but offered crystal clear and consistent streaming once it got started.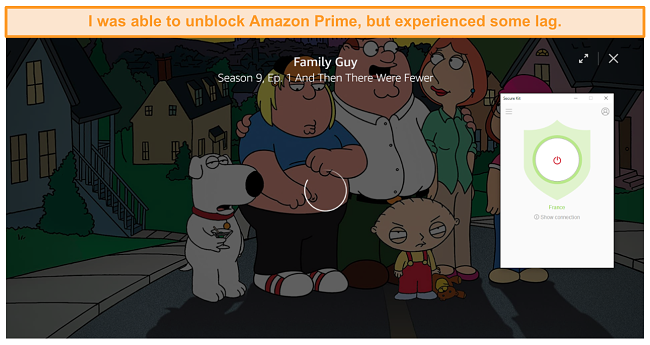 If you're a loyal user of both these services, then TheSafety.US is a good choice overall as a VPN.
Hulu, HBO Max, and BBC iPlayer: Blocked
Trying to stream with my other services was where I ran into some frustrating roadblocks. I had trouble signing in to my accounts with these services. Even after switching to different servers, I was disappointed to find that none of them could unblock Hulu. With HBO Max it was the same story, and when I changed servers I also ran into problems with the service not being available. For both Hulu and HBO Max, I received an error message saying my anonymous proxy had been detected.
It looks like you're using an anonymous proxy or VPN
I asked a colleague in the UK to test TheSafety.US with BBC iPlayer but they couldn't get it to work either. Before long, an error message popped up on their screen.
Something went wrong when loading this programme.
I'm disappointed that TheSafety.US can't unblock more of the platforms I use. A better VPN for streaming would be ExpressVPN. I am always able to unblock all the services I use and watch everything in HD without delays or buffering.
Poor Download and Upload Speeds
TheSafety.US's speeds were near debilitating across multiple servers when it came to downloads and uploads.
Speed Test Results
I experienced around a 94% decrease in my speeds across all servers with TheSafety.US. My download speed tends to be close to 20.5Mbps, and uploads are around 3.08bps. I ran speeds tests with a couple of servers to really get a feel for the VPN overall.
The fastest of the servers were in Canada, but they were still very slow compared to what I'm used to. Download speeds were brought down to 1.98Mbps and uploads were only clocking 1.72Mbps.
I tested servers further away from my location, in the United Kingdom and the Czech Republic.  For the UK I experienced download speeds of 1.15Mbps and upload speeds of 1.53Mbps, while the Czech Republic was slower at 0.92Mbps for downloads and 1.06Mbps for uploads. Somewhere between a 94.4% and 95.6% decrease.
Germany's servers brought up the rear with the slowest speeds: 0.82Mbps for downloads and 0.28Mbps for uploads for a whopping 96% decrease in speeds.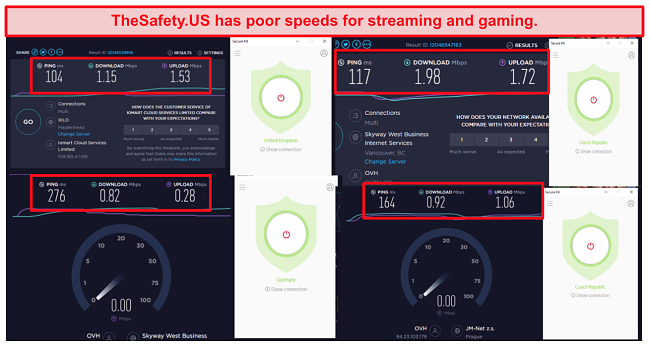 I'm disappointed that TheSafety.US's speeds were so poor, and the fact that they are, explains why I had some issues with streaming services buffering and overall lag when I was browsing online.
Is TheSafety.US Fast Enough for Gaming? No!
Because TheSafety.Us does not have fast speeds, to begin with, it should come as no surprise that this VPN is not ideal for gaming. TheSafety.US brought my ping rate up so high that games kept freezing or crashing.
My base ping rate is 10 ms. With Canadian servers, my ping rate sat at 117 ms. A 90.4% decrease. The servers in the Czech Republic and Germany were even higher, at 164 ms and 276 ms, respectively.
I play a lot of different things, from Stellaris to Civilization 5, with a comfortable ping rate of 10 ms. Ping rates for TheSafety.US servers run around 104 pings on the low end and up to 276 pings on the high end. Experienced gamers will understand that this is not ideal. Sure enough, I had to contend with a lot of lagging, even getting kicked out of some online games when I joined other players with a lower ping rate than myself.
If gaming is important to you, pass on TheSafety.US and pick a VPN  like ExpressVPN that will give you lightning-fast speeds and overall low ping.
Why Most Speed Tests are Pointless & How We Correctly Test VPN Speeds
Speed determines how fast content uploads, so if you're torrenting or streaming, you want the speed to be somewhat identical to your regular internet speed. Since a VPN encrypts your data, it usually takes a bit longer to send your data back and forth, which can slow down your connection. However, if your ISP deliberately slows down your connection (also known as throttling) a VPN might increase your internet speed. Testing a VPN is somewhat pointless because new servers pop up and affect speed. Your speed can also differ according to your location, so your speed test might not match ours. Having said that, we tested the speed in numerous locations to provide you with the average.
Server Network — 36 Servers in 24 Countries
TheSafety.US has 36 servers in 24 countries, with most of them being in Europe. Switching between servers was easy enough, and connecting to them took a few seconds each time.
But, with the cheapest version of the VPN, the Lite version, I only had access to 21 countries, which isn't enough to prevent overcrowding.
In fact, the number of servers TheSafety.US offers is not impressive. There are other VPNs on the market that have hundreds of servers in just one country.
Security — High-Level Protection with TheSafety.US
TheSafety.US uses 256-bit encryption to protect your data while you navigate the internet. It also functions via OpenVPN protocols TCP and UDP, as well as IKEv2 for consistent protection across multiple platforms. I wanted to see for myself if this was truly that secure, so I ran a few DNS leak tests. After trying 5 different servers, I'm happy to report each time my tests displayed only the IP address of the server I was connected to.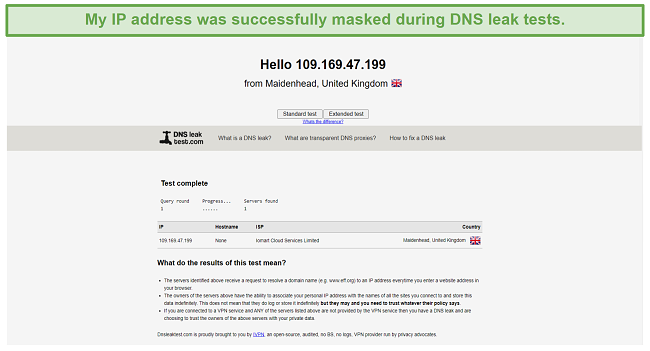 The level of encryption that TheSafety.US has is one of its greatest assets. However, 256-bit encryption is standard for high-security VPNs. You won't be getting any level of security that you can't get with other VPNs that follow this model.
TheSafety.US offers a Double VPN feature available, which passes your web traffic through 2 VPN servers, with entry points in Canada, Chile, Germany, Israel, Luxembourg, Malaysia, Netherlands, New Zealand, Panama, South Africa, Ukraine, and the United Kingdom. This encrypts your data in two different ways, which means that hackers will need more than one cipher in order to access your data. To use this feature, you have to pay a higher monthly fee.
TheSafety.US doesn't have additional security measures like a kill-switch in case your connection drops, nor does it have split-tunneling to divide and re-route your internet traffic for better encryption, unless you spend more money for a higher-tier version of the VPN.
So, while I think that TheSafety.US is a solid choice for security, I would suggest looking into other VPNs like ExpressVPN. You'll have military-grade security along with more features, and overall better performance.
Privacy — No Logging or Personal Privacy Issues
Your information will remain private with TheSafety.US VPN as they have a no-logging policy. This means that your private network isn't storing information that can be compromised. I'm glad this is the case. No one will be able to access your URLs or other aspects of your internet history. Third-party audits have proved this by showing that TheSafety.US disables the Syslog service, which keeps IKEv2 from storing any data.
Most VPNs on the market retain some data from its users. Oftentimes VPNs log the time spent on servers, or what websites you're using. Even if your search history is not logged, often your email addresses and payment details are kept.
In using TheSafety.US, I've learned that the only information they log is your email address for your account credentials, however, this is kept secure. And, as TheSafety.US is based in Panama, it doesn't fall under the jurisdiction of the 5 Eyes Alliance. This means that the VPN won't be obliged to turn over your data if requested for intelligence or security purposes.
Torrenting — Need a Tor Browser
TheSafety.US supports torrenting and offers more information for users to do this using TOR, or The Onion Router. This is a network of proxy servers that allow anonymous network connections. Having tested TOR, I do think this is a viable option. It's a free browser that is easy to install and use for anonymous browsing. That said, you will have to download an additional browser to torrent when using TheSafety.US.
Does TheSafety.US Work in China? No!
As far as I can tell, TheSafety.US is not a VPN you can use in China. I was unable to test it for myself as I don't live there but colleagues of mine have said that TheSafety.US is not a VPN that can handle China's firewalls. I reached out to customer support and they confirmed this.
There are VPNs, like ExpressVPN, that work in China and let you have access to all of your online accounts without any issues.
Server Locations
Canada
Chile
Germany
Israel
Luxembourg
Malaysia
Netherlands
New Zealand
Panama
South Africa
Ukraine
United Kingdom
User Experience
- 7.0
/ 10
Simultaneous Device Connections — Connect up to 4 Devices
You can connect up to 4 devices at once with TheSafety.US without experiencing a change in its efficiency. I set the VPN up on my Windows computer, windows laptop, and iPhone and was still able to stream with no delays.
While 4 devices are sufficient for me, it might not be enough if you have several people in one household. In this case,  I'd suggest looking into another VPN like IPVanish, which offers unlimited device connections.
Device Compatibility — Works with Common Devices
TheSafety.US is compatible with Windows, Mac, Linux, Apple iOS, Android, and has browser extensions for Firefox and Chrome. As of right now, it's not compatible with gaming consoles, SmartTVs, Roku, or routers.
Ease of Setup & Installation — Slow Installation, Easy to Use
I found the installation of TheSafety.US was a bit time-consuming, but using it was a breeze. I installed it on both of my Windows devices, as well as my iPhone.
For my Apple iPhone, the installation was fast enough and I followed TheSafety.US's instructions on its website. I had to go into the settings to make sure that the PPTP configuration for my phone was enabled, as I have an iPhone 8. Once I had set this up, I put in my VPN username and password and set the encryption level to maximum.
However, this can be delayed while you wait for your VPN credentials to be updated after you subscribe. It took an hour for my username and password to be authenticated before I could set anything up. This also affected the installation on my Windows computers.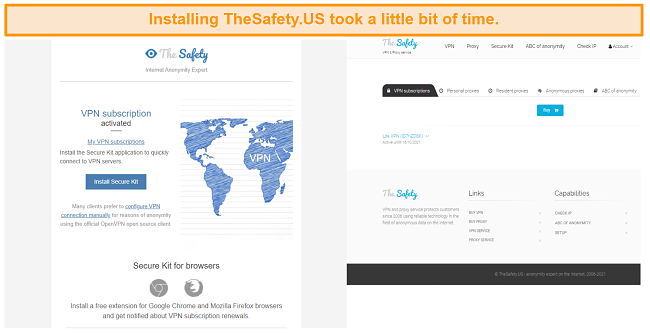 For Windows devices, you select and pay for your subscription through the website. Afterward, you receive an email confirming your subscription was activated, and from there you can install the VPN and then go through the setup on your desktop.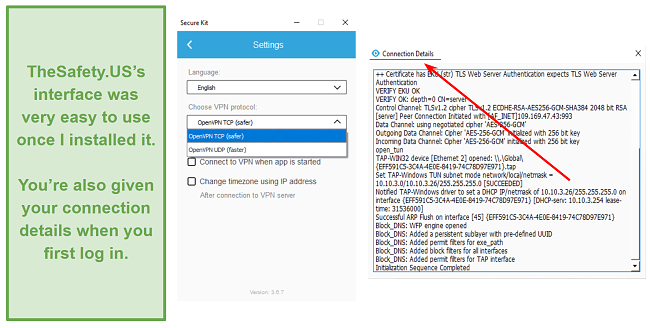 Once I finally installed the VPN on all of my devices, I found the interface was very intuitive. Customizing how the VPN ran on my desktop and phone was easy, and choosing a server was a simple, straightforward endeavor. I only wish it hadn't taken so long for my account information to be authenticated.
Customer support for TheSafety.US was helpful and quick when I needed it to be. If you have any questions or requests, you'll need to contact support through the website. At the bottom of the page, there is a button labeled "ask a question," which pulls up an email form.
After requesting a refund within the 7-day period, TheSafety.US responded within 24 hours and quickly processed my request. In my experience the support team was helpful. There is no 24/7 live chat like some VPNs, however, so you will need to wait for a response.
How We Test Customer Support and Why Should You Care
We personally test the customer support team of every VPN we review. This means asking technical question through the live chat feature (where applicable) and measuring the response time for email questions. Whether you need to connect to a specific server, change your security protocol, or configure a VPN on your router, finding a VPN with quality customer support should be important to you.
TheSafety.US's prices are expensive and frustrating for me as a consumer. I think it's beneficial for software developers to offer free trials of their products, but you can't use TheSafety.US for free. Instead, there are three subscription options, and four versions of the VPN, all with a 7-day money-back guarantee.
TheSafety.US has different prices for four different versions of the VPN: Lite, Standard, Perfect, and Double VPN. The Standard version gives you access to servers in 24 countries, has security features like a kill switch if your connection drops, and imitation HTTPS for better masking. The Perfect version offers these benefits, along with extended IP checks, which aids in preventing hackers from tracking you through repeat website visits and through multiple uses of a credit card online. Double VPN has the same security features as the Perfect VPN, but passes your web traffic through 2 VPN servers, with entry points in 12 countries.
I purchased the Lite version of the VPN and did the 12-month subscription as that was the cheapest option. However, I also had the least amount of features. Excluding a free trial, I still think the cheapest choices for TheSafety.US VPN are too high for what you get. There are several other VPNs on the market that have better rates, have a longer money-back period, and offer free trials.
TheSafety US offers the following plans
Final Verdict
I wouldn't recommend TheSafety.US with so many better and more affordable VPNs on the market. I was able to stream a couple of platforms and felt secure using the VPN but these pros weren't remarkable. TheSafety.US decreased my speeds significantly, I had limited servers to choose from, no 24/7 support, limited security features, and all the plans come at a hefty cost.
If you want a VPN that has lightning speeds, unblocks multiple streaming services, safer torrenting, and can work in China pass on TheSafety.US. Save your money and look into other options. ExpressVPN has lightning-fast speeds, powerful streaming abilities, accommodates gamers with low ping rates, works in China, and has a zero-log policy that has been audited by a third party.
FAQs About TheSafety.US
Is TheSafety.US good?
No. TheSafety offers decent privacy but other than that its features are not remarkable and it costs a lot. I was only able to unblock two of my streaming accounts, the speeds were slow and it doesn't offer security features like split tunneling and a kill switch.
Can I use TheSafety.US for free?
No. You have to pay to use all versions of TheSafety, and you only have 7 days to request a refund. Even though my refund was processed promptly, the fact that there is no free trial is a major drawback to me.
Free VPNs aren't as secure as paid VPNs, and often will collect your personal data and sell it to other companies for a profit. But, if you do want to try a few options, I would recommend choosing from this list of reputable otpions.
Is TheSafety.US really safe?
Yes. TheSafety.US has 256-bit encryption, OpenVPN protocols TCP and UDP, and has a no-logging policy. It passed all of my DNS test leaks and I felt safe while using it with each of its servers.