Visit OVPN Website!
OVPN

Review 2023: Before You Buy, Is It Worth It?
OVPN Overview 2023
OVPN advertises as a VPN that has built its entire network with security and privacy in mind. As one of the few VPN providers with a court victory as proof of its commitment to keeping your identity safe, it intrigued me to compare OVPN with the top options on the market. I put it through a rigorous testing process to see if this VPN could meet the same high standards as other leading VPNs.
From my experience with OVPN over the past few days, I can confidently say that OVPN is worth trying. Aside from the standard features like a kill switch and military-grade encryption, it also offers Wintun drivers and ChaCha20-Poly1305 encryption which isn't typical for a VPN service. The software also supports torrenting, works in China via Singapore servers, and has a decent connection speed.
There is no free trial available with OVPN, so you will have to rely on the 10-day refund policy to assess the service. OVPN is quite lacking in this department as it doesn't quite match the 30-days most top VPNs give you to try out their service.
Don't Have Time? Here's a 1-Minute Summary
OVPN Unblocks Netflix, Hulu, Disney+, Amazon Prime Video, HBO, and BBC iPlayer
Accessing streaming services was a breeze with OVPN. I was able to unblock popular streaming services like Netflix, HBO Max, Disney+, YouTube, Amazon Prime Video, Hulu, and BBC iPlayer. Not only did I succeed with these streaming sites, but I also found success with Kodi, ITV Hub, C More, TV4 Play, SVT Play, Viaplay, HBO Nordic, SF Anytime, and YLE Areena.
OVPN maintains a number of dedicated servers that are continually available to circumvent geoblocks, provide new IP addresses on demand, and operate 24 hours a day. The stream was generally very smooth as a result of this arrangement.
Netflix, Hulu, Disney+, HBO Max, Amazon PrimeVideo, and BBC iPlayer: Unblocked
I tried OVPN out and was impressed with how the VPN worked with Netflix and other popular streaming platforms. OVPN will let you access US Netflix, as well as UK, Swedish, German, and other popular Netflix libraries.
I could watch videos in HD quality using the provider's automatic server selection feature. I only experienced lag or jittery video on servers that were too crowded or far from my location.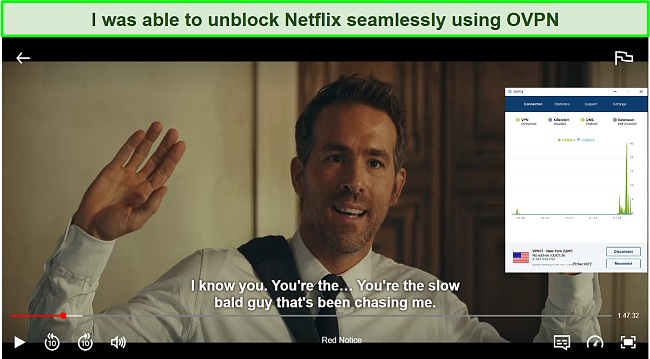 OVPN provides easy access to Hulu's content catalog as well. Hulu's servers are restrictive and block many VPNs, but OVPN worked with no problem when I watched the movie The Swing of Things. The streaming process was smooth without buffering or lagging.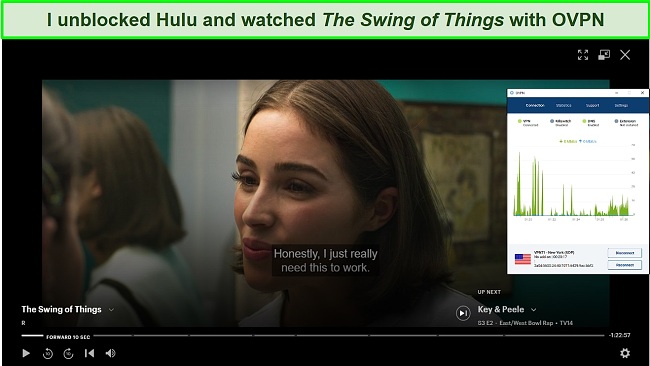 HBO Max typically has some of the most difficult blocks. Even larger providers occasionally experience problems unblocking the streaming platform, but OVPN was able to easily access the streaming provider.
I then decided to try Disney+ via OVPN, and it was a seamless experience with the streaming platform. Disney+ worked with different OVPN's US servers, allowing me to watch my favorite shows uninterrupted. I was able to watch Jungle Cruise in full HD without issues.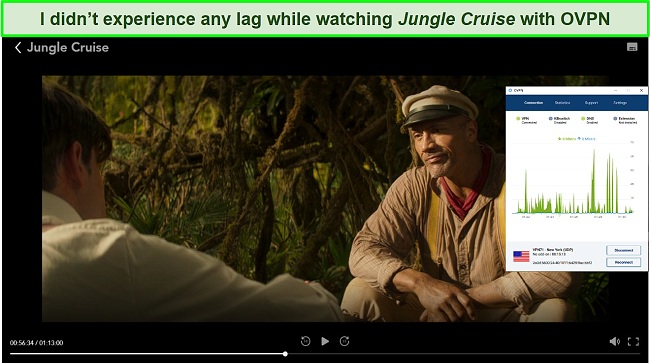 There is an incredible amount of content available on Amazon Prime Video. You can watch all of it with OVPN regardless of where you are or what library you prefer. The connection was clear and in HD, and I experienced no buffering or lag during my streaming session. OVPN was also able to bypass the geo-blocks on BBC iPlayer, one of the most restrictive streaming services available. You can stream the best of British television with a simple connection to a UK server.
Decent and Consistent Connection Speeds
The speed may drop slightly when using OVPN, but it won't be drastic enough to affect your experience. I found it sufficient for browsing the web, downloading torrents, and streaming movies. In contrast to most providers who advertise their speed metrics to attract customers, OVPN does not claim any speed metrics on its website. I ran my speed test on the platform and found its speed to be just above average.
Speed Test Results
OVPN was fast enough for data-intensive online activities but was naturally slower than my connection without a VPN. I normally have a download speed of 37.21Mbps. During my tests using OVPN's recommended server, I was only able to utilize about half of that speed. Even with that decline, OVPN still offers download speeds that will support HD streaming and light gaming.
When I performed all of my speed tests from my US home, I had the fastest speeds working with a closer server. In my testing, the average download speed was 17.72Mbps on a 37.21Mbps testing connection, which is a 53% reduction in download speed.
My first connection to a server in the UK gave me a download speed of 18.82Mbps. A server in Germany yielded 17.72Mbps, a server in France gave me 17.76Mbps, and a server in Australia could only deliver a download speed of 12.02Mbps.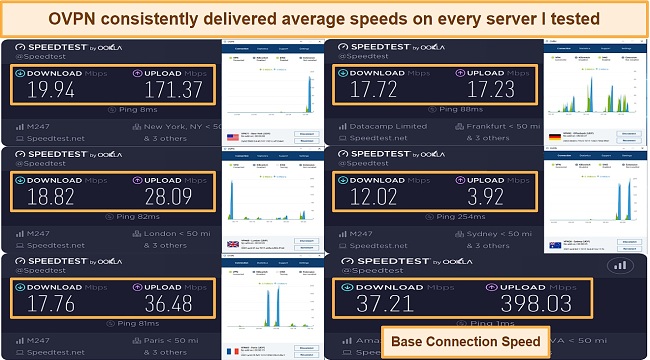 You might want to go with the provider's recommendations when choosing servers as it would ensure you get the fastest in your location of choice. Log in to the service and select "Choose the best server automatically." My connection speed often increased by 5 Mbps or more when I used the recommended server.
If you need a VPN that provides blazing speeds, try ExpressVPN — you won't notice any significant reduction in connection speeds compared to your regular connection. Rather than jump on the Wireguard bandwagon to increase speeds, ExpressVPN built its open-source protocol dubbed Lightway which delivers lightning-fast speeds while maintaining great security.
Why Most Speed Tests are Pointless & How We Correctly Test VPN Speeds
Speed determines how fast content uploads, so if you're torrenting or streaming, you want the speed to be somewhat identical to your regular internet speed. Since a VPN encrypts your data, it usually takes a bit longer to send your data back and forth, which can slow down your connection. However, if your ISP deliberately slows down your connection (also known as throttling) a VPN might increase your internet speed. Testing a VPN is somewhat pointless because new servers pop up and affect speed. Your speed can also differ according to your location, so your speed test might not match ours. Having said that, we tested the speed in numerous locations to provide you with the average.
Server Network — Limited Server Availability
OVPN's server network pales in comparison to other providers, but it still manages to cover key countries around the world. The service currently offers 102 servers in 32 cities. And according to the company's website, these servers provide enhanced peering capabilities, lower latency, and faster speeds.
OVPN displays the ping time and server load beside every server so you can quickly select the servers with fast connections. You can anticipate the speed of your transfers based on a load of users. Generally speaking, higher loads will cause the server to be overloaded and result in a decreased speed for single users. Moreover, with more users sharing a server, an individual can gain more anonymity.
The provider owns the hardware used to run its service and all servers operate without any hard drives since the operating system only resides in the RAM. This means that information simply cannot be stored long-term, which helps to keep your data safe and out of the hands of third parties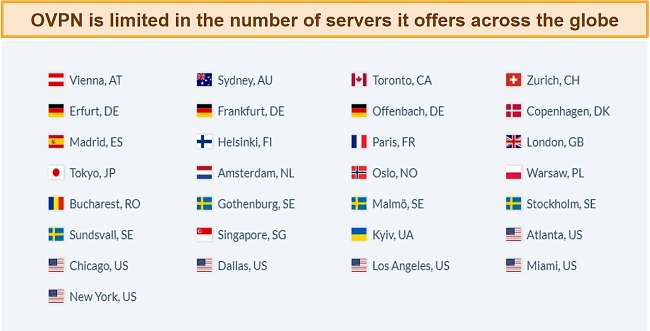 OVPN offers IPv6 addresses, which are more secure than IPv4 and provide a faster user experience. IPv6 addresses are used primarily in mobile browsing, which is particularly useful if you extensively use the internet on your phone or tablet.
Unlike smaller networks, larger ones can handle more traffic without compromising performance, meaning OVPN might fail if traffic spikes. It simply cannot compete with service providers like CyberGhost, which have a huge server network. Cyberghost has 9,600 servers in 91 countries that consistently deliver high-speed connections.
Security — Implements State-Of-The-Art Security Measures
OVPN is among the safest and most secure VPNs, using the cutting-edge AES-256 encryption algorithm. Additionally, the software supports Wintun drivers as well as ChaCha20-Poly1305 encryption. Wintun is a virtual adapter designed to work with WireGuard that is more lightweight and often more efficient than the TAP adapter used for OpenVPN. With the ChaCha20 stream cipher and Poly1305 authenticator, high-security margins can be achieved on a broad range of software platforms while maintaining high performance.
Besides offering the highest level of encryption, the service supports both OpenVPN and Wireguard protocols. It is up to you to choose which protocol you want to use for the VPN connection. The Wireguard VPN protocol offers a higher level of security than OpenVPN, which is the protocol that is widely used by most VPN service providers.
The following list gives a detailed breakdown of the other security features offered by OVPN:
Kill Switch – OVPN provides a kill switch to prevent traffic from leaving and entering when your VPN disconnects. This keeps your sessions and data secure until you determine what caused the interruption. Sadly, the feature is currently only available for macOS and Windows.
Multihop – You can use Multihop to connect to multiple servers at the same time, making it more difficult to track your online activity. This feature will incur an additional fee on top of the regular subscription fee. The service is available at no charge if you sign up for a 6-month, 12-month, or 24-month subscription.
Tracker Blocker – OVPN has a tracker blocker in its browser extensions that ensures that adverts, suspicious websites, malware, and phishing websites are blocked. The extension's ad-blocking ability seemed to be hit-and-miss when I tried it. Unfortunately, the tracker blocker is missing from OVPN's desktop application.
OVPN does not support split tunneling, but the extension provides similar functionality. In conjunction with the desktop application, you can specify websites that should always use the VPN. If you attempt to access one of these websites without connecting to your VPN, you will receive a message that indicates that the website is on your list. You will then be asked whether you would like to turn on your VPN or continue to the site.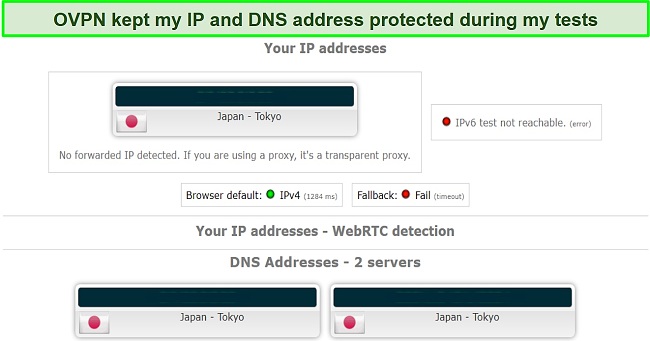 The OVPN extension also prevents the desktop client from leaking IP, DNS, and WebRTC traffic. I checked my IP address and DNS address while connected to an OVPN server in Japan and found no leaks. For extra assurance, I conducted several other leak tests while connected to different locations and received the same results.
Privacy — Goes the Extra Mile to Keep You Anonymous
OVPN enforces a strict no-logs policy that does not keep track of IP addresses, traffic logs, or timestamps of your activity. This provider is among the few VPN providers that do not rely on a hard drive to run its service. RAM storage is instead used to ensure that all user data is erased when the computer is rebooted. Further, the provider disables OpenVPN's write privileges and Syslog to prevent even temporary logs from being created in the RAM.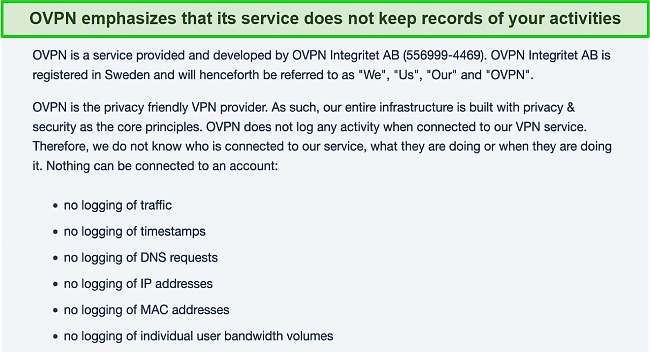 When you sign up, you'll only need to provide the bare minimum of information. Subscribing to this VPN does not require you to disclose your personal information, including your name, email address, phone number, and physical address. For even greater privacy, you can choose to pay anonymously with a cryptocurrency or by mailing your cash payment together with your given code to the company.
Additionally, OVPN publishes a monthly transparency report that provides information on how its servers are performing. More importantly, OVPN keeps you posted on how many information requests it received within the past month.
Over time, it becomes more and more difficult for developers to hide customer information from authorities or get around privacy laws. OVPN has joined insurance plans that cover legal fees in anticipation of and to avoid any such issues. Having this kind of financial muscle allows them to be able to refute any such request for information.
The company is headquartered in Sweden, which is a part of the 14-Eyes Alliance. The government has the right to ask companies in 14-Eyes Alliance countries for user information if it is compelled to do so. Rights Alliance filed an injunction in June 2020 against Swedish ISP Obenetwork, whose IP address is allegedly being used by the Pirate Bay. The anti-piracy group asked the ISP where the pirating platform's servers are located, but the ISP said it lacks even a basic understanding of how things work. It was disclosed to the court by Obenetwork that The Pirate Bay used an OVPN IP address. But it so happens that OVPN doesn't keep logs about its clients, doesn't have hard drives on its servers, nor does it have its own address space number. In a nutshell, the clients are purchasing a public IPv4 add-on with cryptocurrency – no one, not even OVPN, knows who they are.
Torrenting — Provides Support to Help Maximize Speeds
If you regularly engage in P2P file-sharing or torrenting, OVPN provides a very secure torrenting service thanks to its strict no-log policy and closed incoming ports. Testing showed that OVPN worked with torrent clients such as qBittorrent, BitTorrent, Vuze, Deluge, uTorrent, Tixati, and BiglyBT.
There are clear instructions on the OVPN website on how to optimize download times when sharing peer-to-peer files. You may also have to open certain ports depending on the torrenting program you are using to maintain speed and security. Its other torrenting features include unlimited bandwidth, DNS leak protection, and a kill switch. The kill switch would disconnect you from the internet immediately if an internet security vulnerability was detected.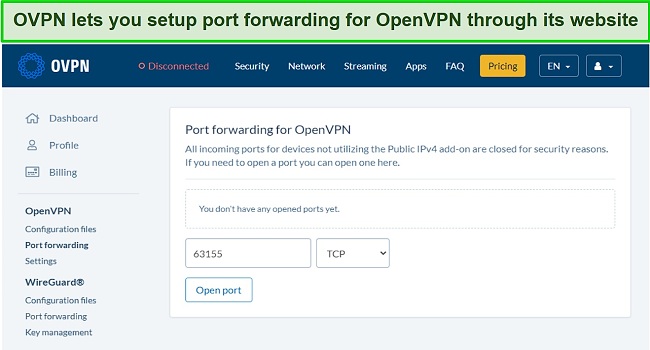 To improve your connection speed when torrenting or P2P sharing, OVPN support recommends opening ports on its network that are normally closed for security reasons. You should also enable port forwarding to ensure your connection remains secure while opening ports. OVPN allows you to open up to 7 ports on its network.
Keep in mind that my team and I don't condone participation in any illegal activities. So check the rules and regulations in your country and make sure you are only accessing copyright-free content.
Does OVPN Work in China? Yes, Through Servers in Singapore
Support recommends the server in Singapore as the best option for customers traveling to China who wish to access their paid content. Even though OVPN claims that its servers work in China, some users have reported that the government has blocked them from accessing some servers.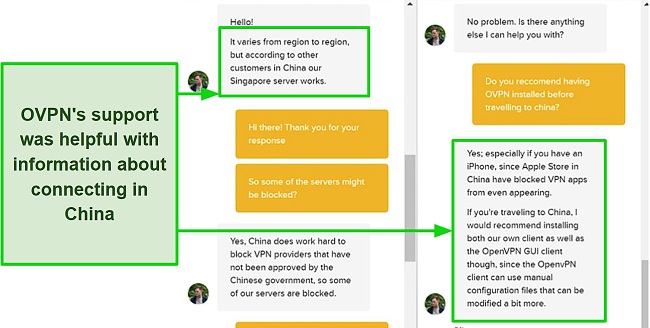 As part of the OVPN support team's advice, you are recommended to download the desktop software, download mobile apps, and download the OpenVPN GUI client before traveling to China. The OpenVPN GUI lets they perform manual configurations on the fly if you have trouble connecting to the service.
With limited servers available to customers in China and reliance on another client for practical use, OVPN isn't the best choice for frequent travelers. For a more reliable option while on your travels in China, ExpressVPN makes no compromises in usability to achieve that status.
Non-government-approved VPNs are illegal in China, but there have been no public cases of tourists being penalized by the Chinese government. This being said, the protection of a VPN doesn't give you the license to commit illegal acts, so please exercise a basic level of caution when using a VPN in China.
User Experience
- 7.0
/ 10
Simultaneous Device Connections — Connect Up to 4 Devices at Once
One of my major concerns with OVPN is its 4-connection limit. With such a limited number of connections, you likely won't be able to cover all of your frequently-used devices. You can also purchase a plan for one or two years to increase the number of connections. There is a limit of 5 connections on the 1-year plan and 6 connections on the 2-year plan.
I connected my Windows Surface Pro 6, Android phone, my Chrome browser, and I still could've added one more. The service did not drop in speed despite the number of devices connected. As an alternative, Cyberghost allows you to connect 7 devices without having to subscribe to its most expensive plan.
Device Compatibility — Apps for the Most Popular Devices
It was pleasing to see that OVPN supports a wide range of device types, browsers, and extensions. The website offers apps for Android, iOS, macOS, Windows, Debian, Ubuntu, Raspberry Pi, Manjaro, FreeBSD, and CentOS.
Additionally, OVPN provides extensions for browsers such as Chrome, Firefox, Vivaldi, and Opera that block WebRTC and trackers from accessing your browsing history. It removes cache files as soon as you exit a website and blocks annoying banner advertisements.
You can go even further by setting up OVPN on router brands like AsusWrt, OPNsense, Vilfo, OpenWrt, Tomato, pfSense, DD-WRT, and EdgeOS. Configurations are also available for FreeNAS, Asustor, and Synology NAS devices.
Ease of Setup & Installation — Straightforward and Familiar for Consumers
Installing and operating OVPN does not require any technical knowledge. Once you finish selecting your payment method, OVPN's website directs you to its "Apps" page with every application it offers. Simply click the application that works best for your operating system and download it from there. It took me less than two minutes to set up the application.
You have the option of having OVPN select the most suitable server for you automatically or picking your own server. The app provides ping times and server load information for each server to assist you when selecting a server manually. There is a statistical graph along with incoming and outgoing data displayed on the connection screen.
OVPN's Settings section allows you to enable a number of its features. Among these features is the kill switch that blocks data from flowing back through your ISP's servers in the event of a VPN connection drop. You can also select protocol, disable IPv6, and enable compression and auto-connect. While compression can speed up internet connections, it can also reduce the extra security layer available if it is disabled.
Steps to Installing OVPN on Windows:
Download the client. You can download the Windows version of the OVPN client from its Apps page. 

Run the installation file. The setup wizard will guide you through the installation process. 

Login and connect. Connecting requires logging in with your valid account information and selecting a server. 
OVPN offers detailed guides on how to configure your connection on any device, an FAQ page, and the ability to contact a representative via a contact form, email, or live chat. The information provided on the FAQ page is so comprehensive that you will likely rarely need to speak with a customer service representative.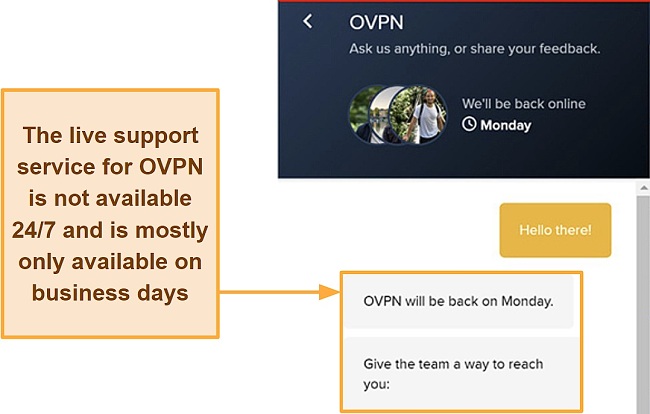 An option for live chat is available within the desktop application if it is more convenient for you to reach out via live chat. The convenience of this feature is that you do not have to visit the website to obtain the assistance they need. Unfortunately, I found that on most occasions I visited the site during the day in my time zone, the live chat function was not available. This makes sense since OVPN is based in Sweden, but it means that customers in other time zones will sometimes have to wait overnight for support to respond.
The question I submitted via the contact form regarding how the company handles court orders was answered within two hours. The agent offered excellent assistance and answered my questions clearly and concisely. The provider also has an active social media presence on Twitter and Facebook.
How We Test Customer Support and Why Should You Care
We personally test the customer support team of every VPN we review. This means asking technical question through the live chat feature (where applicable) and measuring the response time for email questions. Whether you need to connect to a specific server, change your security protocol, or configure a VPN on your router, finding a VPN with quality customer support should be important to you.
The cost of the service is justified considering the numerous benefits it provides. There are four subscription durations available: one-month, six-month, 12-month, and 24-month plans. As a standard practice among top-tier VPN providers, the company extends extra discounts to subscribers who opt for longer subscription periods, much like many other premium VPN services available today.
OVPN accepts most types of payment including Visa, Mastercard, Maestro, Discover, and cash. The cash option also adds an element of privacy. Alternatively, you can use e-wallets such as PayPal, Payza, and Webmoney, or choose to pay with cryptocurrencies like Bitcoin, Ethereum, and Monero. This simplifies the payment process while also giving you the option of paying anonymously.
The service does not have a free version, and you will need to purchase it to test it out. However, your first purchase is backed by a money-back guarantee of 10 days. All you have to do is contact the support team via email or live chat and your request will be dealt with the same day. The equivalent amount can be refunded if you used Bitcoin, but if you sent cash then you'd have to personally visit their office or wait a long time to get it back.
OVPN offers the following plans
Final Verdict
I consider OVPN a hidden gem because it offers features few others can rival. OVPN stands out for its serious dedication to your security and privacy. From its no-log policies and the ability to pay for your subscription in cash and cryptocurrency, OVPN goes out of its way to keep your identity anonymous.
This provider covers all of the most commonly used encryption and protocol options but adds its own twist. It makes me wonder if I will begin to see other VPN providers adding Wintun drivers and ChaCha20-Poly1305 encryption soon. It also offers excellent streaming and torrenting services, fair pricing, good speed, and good customer service. The only thing that keeps it from ranking among the top VPNs is its limited server network.
FAQs About OVPN
Is OVPN good?
Yes, its high security will prevent any data leakage, and its no-log policy will keep your information from the government's eyes. OVPN is available for multiple platforms, making it a suitable option for anyone who wants to use it on multiple operating systems.
While OVPN does not have as many servers as its competitors, it does offer good streaming performance and decent speed. Still, the provider should consider diversifying and broadening their server network to ensure greater reach.
Is OVPN really safe?
Yes, OVPN has a no-log policy that protects your information or internet online habits from being recorded anywhere in the software. Companies or individuals can't request this information from OVPN as no records are saved. Further, the kill switch available on its product ensures that there's no way your anonymity can be revealed as a result of a poor internet connection.
Lastly, if you're truly worried about OVPN being able to connect your account to your credit card, you can always pay for your subscription in cash or bitcoin. This offering is a unique security feature for a VPN. However, only European customers should expect to get a refund after paying in cash.
We rank vendors based on rigorous testing and research, but also take into account your feedback and our commercial agreements with providers. This page contains affiliate links.