Visit NordVPN Website!
NordVPN Review 2023 - Before You Buy, Is It Worth It?
NordVPN Overview 2023
NordVPN has earned a longstanding reputation for offering premium security, top-notch privacy, and lightning-fast speeds. But I wondered how much of its popularity stemmed from name recognition and hype rather than actual, tangible service. Thus, I tested NordVPN to see if it would be able to deliver the same performance, privacy, and security as other top-tier VPN providers.
NordVPN is a highly recommended service, having tested it myself. In addition to its many impressive features, it comes with excellent security and anonymity, and boasts one of the fastest server networks available, thanks to its proprietary NordLynx protocol. It also unblocks geo-blocked streaming services with great efficiency. Not to mention that the company's customer support ranks among the best.
Even though there's no free trial, you can try NordVPN risk-free thanks to its money-back guarantee. The vendor will refund all paid subscriptions if you cancel within 30 days of signing up. I've tested the process myself and can confirm that it's really straightforward.
Don't Have Time? Here's a 1-Minute Summary
NordVPN Unblocks Netflix, Amazon Prime Video, Hulu, Disney+, HBO Max, BBC iPlayer, and More
By using NordVPN's SmartPlay technology, a SmartDNS service that is always on, you can access more than 400 streaming services otherwise unavailable to you. With Netflix, one of the most restrictive geo-restricted channels available, NordVPN was able to get around all the restrictions regardless of the server location. Be it Disney+, Hulu, HBO Max, Amazon Prime Video, or BBC iPlayer – all of these services stream at lightning speeds irrespective of the VPN server selected. That said, you shouldn't expect any drop in streaming quality as well.
I would like to point out that NordVPN's website-unblocking capability is available across all of its applications. The service is therefore capable of enabling you to unblock Netflix (for example) via the company's website or via its Android/iOS app.
Netflix, Amazon Prime Video, Hulu, Disney+, HBO Max and BBC iPlayer: Unblocked
My tests show that NordVPN mostly delivers on its promise of unblocking Netflix worldwide, with an impressive performance in Australia, the UK, Canada, the US, the Netherlands, Japan, and India. My NordVPN review also found Netflix videos continued to stream in UHD quality throughout all my tests.
If you want to access Netflix globally, ExpressVPN works with an even greater range of Netflix libraries worldwide. In tests, ExpressVPN's global servers easily unblocked 20+ Netflix countries.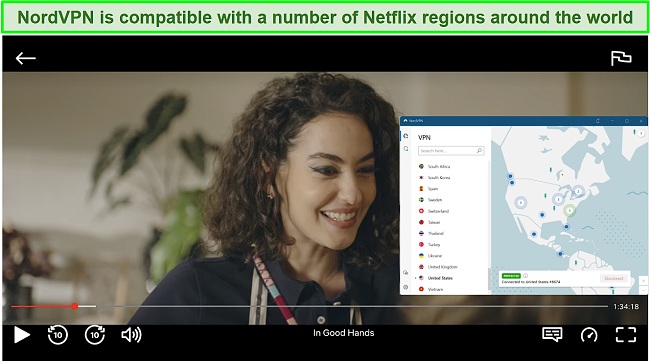 NordVPN was also able to get around the proxy detection technology of Amazon Prime Video. I tested multiple US servers in Dallas, Los Angeles, and Phoenix and was able to stream The Protégé in a high-definition video format. My speeds were excellent, averaging 957 Mbps — I never had to wait for my content to load or buffer before it began streaming.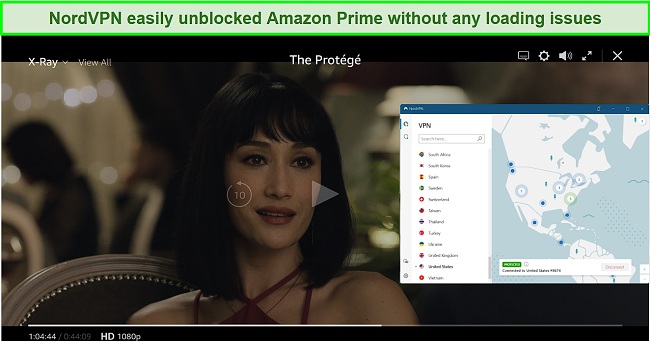 I didn't have any trouble unblocking HBO Max and Hulu on 10 different US servers. I barely had to wait for movies or shows to load, and the streaming quality was always HD or higher.
I tested NordVPN with Disney+ US, UK, Australia, and the Netherlands, and it worked each time. The login page took a little while to load, but once I reached the homepage, there were no major issues with speed after I reached the homepage. I streamed entire movies with no lag — only a couple of seconds of buffering at the start.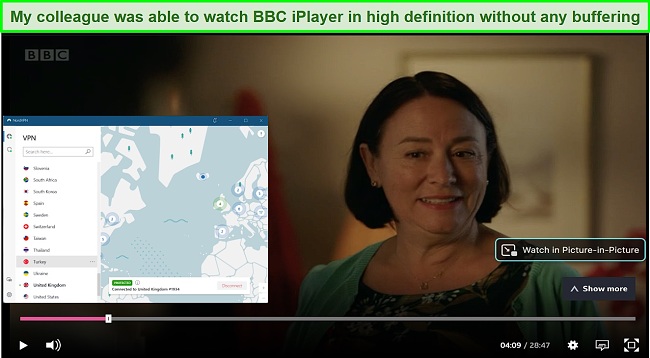 Similarly, my British coworker encountered no difficulties when accessing the BBC's iPlayer, a challenge that numerous other service providers face. In general, NordVPN delivers exceptional performance and remarkable capabilities for streaming media, regardless of the server's location.
Exceptionally Fast Speed on All Servers
When it comes to speed and consistency, NordVPN ranks among the best VPN providers. I tested this VPN in several scenarios, including basic browsing, intensive gaming, and downloading a few files. All in all, I can say that a connection through NordVPN does not differ significantly in speed from one without.
I randomly picked five NordVPN UK, US, France, Japan, and Australian servers for testing using Ookla's online speed test tool. Following this, I determined the average speeds of each region to eliminate any anomalies. Remember that network connections differ from one another, so your experience may differ from mine.
Speed Test Results
NordVPN performed well across a variety of server options, delivering speeds very similar to those achieved without a VPN. Even when connected to an Australian server, which was located the furthest away and had the slowest speeds, I was able to stream in UHD without any buffering or resolution degradation.
My default internet speed before connecting to NordVPN was 1105.06 Mbps download, 1364.89 Mbps upload, and 0 ms ping. NordVPN's connections within the same country are very fast, with a drop of only 15%. Similar results can be expected if you're located in the US and connect to a nearby US server.
Using a UK server, I had an improved download speed than in the US. My speed dropped by only 10% while I streamed my favorite shows, played video games, and downloaded files as if I weren't using a VPN. Since both the USA and the UK offer popular VPN destinations, it's helpful to know that NordVPN offers a solid streaming experience.
I was certainly not going to leave France out of my testing. The French server reduced my download speed by 17%, but it had no effect on my experience. Getting websites to load and TV shows to start took only a few seconds, with no interruptions once video started.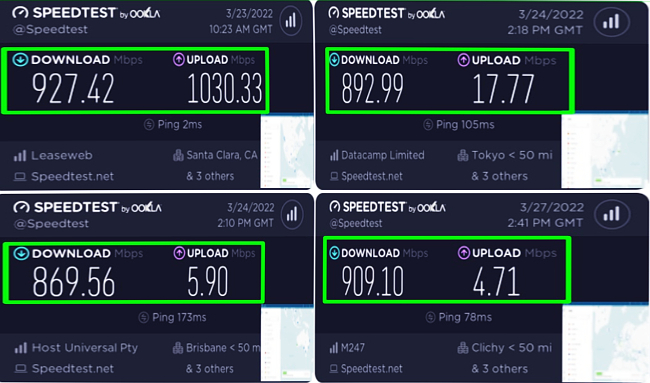 I was curious to see what the speed would be like if I connected to servers that were located further away, so I tested servers located in Japan and Australia. Both servers slowed me down by 19% and 21%, respectively. I hardly noticed a difference in speed – websites loaded within 2 seconds and I was still able to stream UHD video without any lag.
NordVPN allows for super-fast downloads when I was connected to local servers, and my speed remained excellent even on distant servers. The upload speeds on distant servers had a more noticeable slowdown, but still nothing significant enough to affect my work.
Is NordVPN Fast Enough for Gaming? Yes!
With NordVPN's impressive streaming results, you might be wondering if it can also be used for gaming. Once again, NordVPN provided an impressive performance when I tested it with Call of Duty and Fortnite, with no lag whatsoever.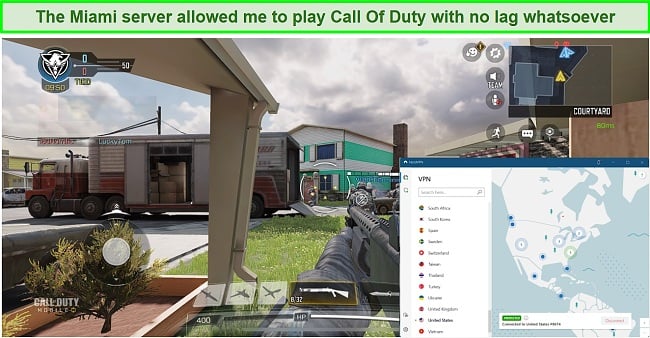 To test NordVPN, I connected to a US server and loaded up a multiplayer match on Call Of Duty: Warzone. When the game started, I noticed my gameplay was smooth — I wasn't lagging at all, scenery populated quickly, and my movement response time was almost instant.
It was like I was playing without being connected to a server 50 miles away. I ran a speed test and found NordVPN's ping was 2ms which is impressively fast, considering the physical distance from my PC to the server. When I tested it over long distance servers, my speeds remained fast but my ping wasn't as low.
I found that only some premium VPNs offer the necessary features for playing Call of Duty seamlessly. This is why you should invest in a high-quality VPN that not only protects your identity but also delivers great gaming experience.
Why Most Speed Tests are Pointless & How We Correctly Test VPN Speeds
Speed determines how fast content uploads, so if you're torrenting or streaming, you want the speed to be somewhat identical to your regular internet speed. Since a VPN encrypts your data, it usually takes a bit longer to send your data back and forth, which can slow down your connection. However, if your ISP deliberately slows down your connection (also known as throttling) a VPN might increase your internet speed. Testing a VPN is somewhat pointless because new servers pop up and affect speed. Your speed can also differ according to your location, so your speed test might not match ours. Having said that, we tested the speed in numerous locations to provide you with the average.
Server Network — Huge Selection of Servers
The NordVPN network consists of more than 5,500 servers across 59 countries, including major cities and business centers in the Americas, Europe, Asia Pacific, Africa, India, and the Middle East. This is an impressive collection of servers, especially when one considers all NordVPN servers are dedicated rather than virtualized.
The majority of NordVPN's servers are located in North America and Europe. It is typical for VPN services to provide services in these regions, as they tend to have better internet connections and a higher concentration of users. South America, Africa, Southeast Asia, and the Middle East, on the other hand, offer the little prospect. The lack of robust infrastructure and restrictive government policies make it difficult for NordVPN to maintain servers in these regions.
Additionally, the company has been expanding its network of colocated servers. These are servers entirely owned, operated, and maintained by NordVPN. By taking over total server control, the company can guarantee top-tier security and quality — and protect you from any risk of third-party interference or mismanagement. I find this is a significant improvement to a service that is already very well-defended.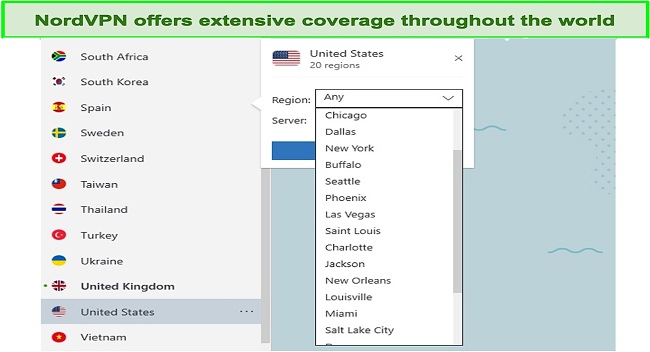 It would be a terrible omission not to highlight NordVPN's obfuscation servers. Obfuscated servers are designed to provide online privacy and internet freedom to users in repressive countries like China or Russia. If you connect to these servers, your ISP or the surveillance authorities will not be able to see that you are using a VPN as the data packets will appear normal.
Additionally, you can select from a variety of P2P servers, or you can further enhance your online anonymity by using double VPN protection. In case you want to boost your privacy protection even more, you may use Onion over VPN to have your traffic routed both through NordVPN's servers and the Onion network (of the Tor browser).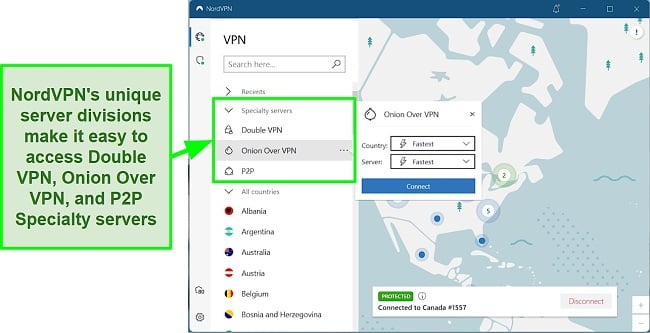 To get an idea of the performance of NordVPN's servers, I tested servers in several countries to see whether there were any connection issues and how long it took to connect to them. There were no connection issues with any of the servers tested, and all connected in a reasonable time given the distances involved.
Security — Comprehensive Set of Advanced Security Features
NordVPN uses top-class encryption to provide the highest level of security for your connection. Using AES-256 encryption, the VPN hides your web data behind an impenetrable wall that would take billions of years to crack. NordVPN combines this technology with Perfect Forward Secrecy, which ensures that the encryption key changes for every session to prevent security breaches caused by stolen keys.
NordVPN offers three different VPN protocols: IKEv2/IPsec, OpenVPN, and NordLynx. The NordLynx protocol combines WireGuard's security and speed with "double NAT," a system that ensures your personal data isn't ever written to the server. Better yet, unlike other protocols NordVPN offers, NordLynx is available on Linux, Windows, iOS, MacOS, and Android. To set it up, just navigate to app settings and select it from the protocol list under "VPN Protocol."
On most apps, NordVPN uses the protocol OpenVPN. You can choose between the UDP and TCP versions — UDP is the default and should work faster. On Apple devices, IKEv2/IPSec is used instead. Older protocols like L2TP/IPSec and PPTP aren't supported, but since they use weaker encryption and have known security vulnerabilities, they're generally best avoided.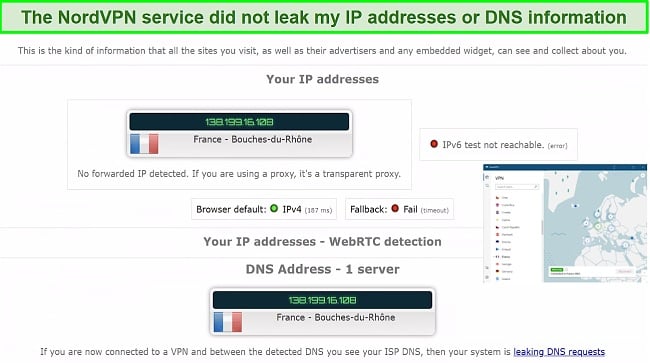 You can rest assured that NordVPN makes sure your true IP address remains hidden. I ran five different IP and DNS leak tests, and each time the IP address and location of the server were displayed instead of my own.
NordVPN also features a kill switch, as do the majority of high-end VPNs. It protects your privacy by disconnecting you from the internet in case the VPN stops working for whatever reason. Unlike with some services, the feature isn't enabled by default, but it's very straightforward to use. You can activate it with one click in the "Settings" section of the app.
The split tunnel mode feature, which is accessible through the NordVPN settings section, lets you specify whether certain apps use the VPN connection or not. On Windows, you can configure it so that it disables or enables VPN only for specific applications. This allows you to control your VPN setup better in terms of how it is used. That way, the VPN will be enabled every time the app is launched. There are fewer customization options with the Android version. Configuring apps can only be accomplished via inverse split tunneling. You'll be able to disable VPN for selected apps, causing them to be routed directly through your Internet service provider. Unfortunately, these features are not available on Mac, Linux, or iOS.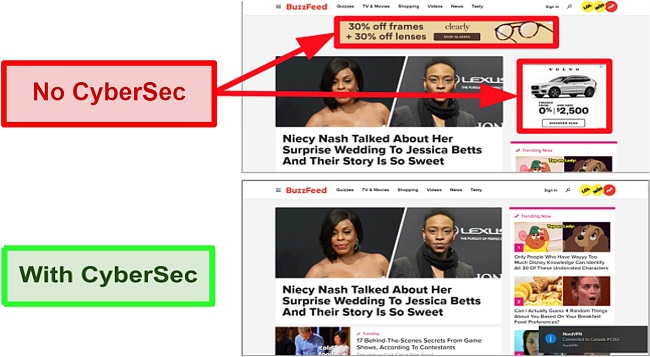 CyberSec is another innovative technology that bolsters your security and privacy. It cross-checks in real-time the address of every website you visit against an enormous blacklist database. It also shields your computer from being added to a botnet army, so DDoS attacks will not be a problem. You can use this feature on Windows, iOS, macOS, and Linux. CyberSec cannot block ads in the Google Play store version of NordVPN because of Google's ad policy. So if you're an Android user, I recommend you download the Android .apk file from the NordVPN website.
Not only that, but NordVPN also allows you to boost your security even further using a Double VPN and VPN-over-Tor feature, which doubles the encryption and makes your traffic virtually untraceable. With the Double VPN function, your online activities are hidden behind two servers, rather than just one.
NordVPN utilizes obfuscated servers in order to avoid VPN blocking and filtering. Many countries around the world with highly restrictive internet regulations are capable of scanning traffic for VPNs and blocking them. These servers help you get around VPN blockades either by scrambling the data so it cannot be identified, or by adding another layer of encryption. It isn't absolutely necessary for everyday internet use, but if your safety and freedom are dependent on internet security, this can be a very useful tool.
Privacy — Verified No-Logs Policy
NordVPN employs a strict no-logs policy, meaning that no connection logs, IP addresses, or traffic logs are stored, shared, or sold to third parties. It is apparent from the fact that the service is headquartered in Panama – a country that values privacy and has no mandatory data retention laws. Aside from that, it is not even remotely connected to any of the 14-Eyes alliance members. Thus, governments cannot force the authorities to turn over any data except where absolutely necessary.
This does not imply that the service has no knowledge of who you are. When it comes to maintaining such a vital tool as a VPN, the providers must store some data. Accordingly, NordVPN collects your email address and billing information for purposes of connecting to the VPN, troubleshooting, and reimbursing. You might wonder what will happen if the government imposes regulations forcing providers to collect the data of their users. The screenshot below shows what NordVPN's Privacy Policy says about dealing with this issue. To increase your privacy, you can use a burner email address and pay with cryptocurrency.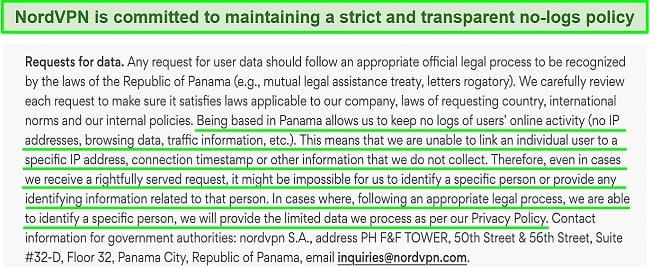 In 2019, NordVPN experienced a security breach when a hacker accessed one of its rented servers in Finland. However, no user data could be accessed because NordVPN never logs or stores this data when customers connect to its servers. In light of this breach, NordVPN has since focused on further improving its security measures with colocated servers and enlisting the help of ethical hackers. These hackers locate bugs and security issues so they can be fixed quickly, reducing any potential risks you could encounter.
In an effort to make your data even more secure, NordVPN has switched to RAM-based servers to support its zero-logging policy. Instead of hard drives, the servers are now run on volatile RAM. When the server is rebooted (during maintenance), the contents are lost since RAM cannot store data. This means that a server breach or seizure by the authorities would not compromise data.
Several security audits have also been performed to demonstrate the service's no-logs policy. The first audit was conducted in 2018 by an independent Swiss company, PricewaterhouseCoopers AG (PwC). Later, in the year 2020, NordVPN invited them to perform a more comprehensive audit. In each case, PwC affirmed that the provider did not log user information.
Torrenting — Ideal for Anonymous Torrenting
On top of NordVPN's ability to allow P2P file transfers, it also takes extra steps to optimize its servers for this purpose. The provider has thousands of specialty P2P servers in 40+ countries, which have been optimized for torrenting and high amounts of bandwidth transfer. The NordVPN app automatically reroutes you to a P2P server if it detects that you're trying to use torrenting. This even includes BitTorrent-based streaming platforms, like Kodi and Popcorn Time.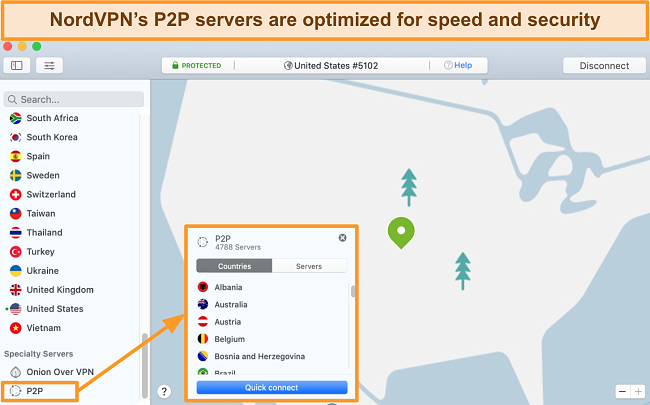 I tested multiple P2P servers with clients BitTorrent, Transmission, and PopcornTime, and I had zero connection issues. Apart from its direct P2P support, NordVPN has a number of other features that could make it an attractive torrenting choice; its well-known zero-logging policies, a reliable kill switch, several levels of DNS and traffic leak protection, Bitcoin or other cryptocurrency payments, as well as privacy features like Double VPN and Onion Over VPN.
As a responsible internet user, you should never abuse privacy tools for unethical purposes. My team and I strongly condemn the use of VPNs for ethically questionable practices, and as such NordVPN should be used only for torrenting if it is in compliance with licensing and copyright policies.
Does NordVPN Work in China? Yes!
NordVPN recognizes that China's internet restrictions differ by region, so it has created the Obfuscated Servers feature to accommodate this and maintain access to VPN servers from China. It has obfuscated servers in nearby territories including Japan and Hong Kong, along with a Double VPN option in Taiwan that provides additional security.
Obfuscated servers rely on well-known ports and sophisticated packet re-writing technology rather than VPN standards. This way, the censors confuse your connection for regular web traffic. The same technology can also be used in other countries where VPNs are prohibited, such as Iran, Iraq, Russia, and Turkey.
The VPN provider actively monitors the connectivity and then adapts to any new firewall restrictions. This meets a critical criterion in my selection process in that a VPN must have a staff of experienced experts capable of effectively responding to changes made to the Great Firewall.
Further confirmation of NordVPN's ability to operate in China came from contacting the service's support department. The support representative provided me with instructions for configuring NordVPN in China and recommended a number of servers.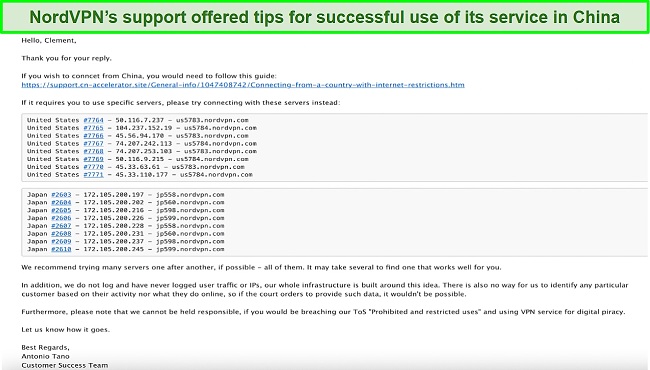 I find it's always best to have multiple VPNs in China. The government is known to regularly update and strengthen the country's firewalls, which makes it challenging for VPN companies to keep up. ExpressVPN has been proven as one of the most reliable VPNs for China, so I recommend using ExpressVPN as your primary option and keeping NordVPN as a backup.
Server Locations
Albania
Australia
Austria
Belgium
Bosnia and Herzegovina
Brazil
South Africa
South Korea
Spain
Sweden
Switzerland
Taiwan
Thailand
Turkey
Ukraine
See all supported locations...
User Experience
- 9.0
/ 10
Simultaneous Device Connections — Secures up to 6 Devices
No matter what operating system you're using, you can protect up to 6 devices at once with a NordVPN account. I tested the application on my iPhone, iPad, and Macbook, while my colleague used the same account on his Samsung S22, Galaxy Tab, and Windows PC. We were able to watch our favorite shows and sports without any problems. Additionally, NordVPN can be set up directly on any wireless router so that no matter how many devices you work with, you have constant security and privacy.
Device Compatibility — Available for Almost All Platforms
The NordVPN software is designed to provide a one-stop solution for various devices and operating systems. The apps are available worldwide for Mac, Windows, Linux, iOS, and Android platforms. The service is also available for SmartTV, Fire TV (Amazon Firestick), and Kodi.
If your device isn't listed above, a browser extension is available for Edge, Firefox, and Chrome. Should this prove impossible, NordVPN can also be configured with a router that will enable you to bypass any device limitations. Since the router connects to everything else, you can use the VPN on devices that do not support NordVPN's native apps.
Ease of Setup & Installation — Simple and Straightforward
NordVPN's interface may not be the most elegant but it has proven quite user-friendly. Downloading and installing the NordVPN apps is also a straightforward process, and I was connected within four minutes of getting a subscription. In every version (desktop or mobile), the menu makes it simple to choose between servers in different countries and select from the specialty servers.
NordVPN's mobile and desktop apps share the same general appearance and functionality. It's a good one, as you won't need to learn anything new when switching devices. NordVPN is completely user-friendly aside from its command-line-only Linux version. Linux users, however, tend to know their way around the command line, so this may be a non-issue.
Upon launching the app and logging in, you will see a stylized world map with trees, boats, and pins. However, this feature is somewhat limited. It is sometimes difficult to select the location pins if you are zoomed out, especially in areas with dense servers, like Europe. The app's server list can come in handy in this situation. It's an alphabetical list that lets you select a country and view all the server locations within it.
In addition, NordVPN offers a list of its specialty servers, which are optimized for specific uses like dedicated IPs, Double VPN, P2P/ Torrenting, and Onion Over VPN. Once you find a server that fits your needs, you can add it to your favorite list for future use. The app displays your location, connection time, and public IP address when connected to a server.
The settings panel lets you toggle various configuration options, such as automatic VPN connection, VPN service running at startup, and activating CyberSec, NordVPN's malware and ad blocker. There are options for protocol usage, LAN visibility, DNS switching, and multiple kill switches in desktop apps. In contrast, mobile apps have far fewer options due to operating system limitations and slower development.
How to Install NordVPN on Windows:
NordVPN offers a number of customer service options, including live chat that is available 24 hours a day, email assistance, and a searchable knowledge base. Despite never having a legitimate reason to contact support, I had a positive experience dealing with its representatives.
I tested the live chat support and found that the responses were always prompt, but the answers are often vague as is common with live chat. This option is best used for account inquiries and simple clarifications.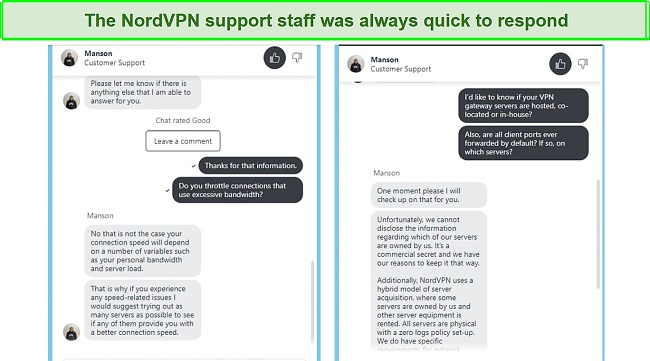 With emails, you can expect a response within 24 hours. This may be more convenient than using the live chat for more complex queries. The live chat service usually asks for basic information about your issue before redirecting you to a representative. Thanks to its intelligent bot, you will be connected to a customer support expert based on the information provided.
How We Test Customer Support and Why Should You Care
We personally test the customer support team of every VPN we review. This means asking technical question through the live chat feature (where applicable) and measuring the response time for email questions. Whether you need to connect to a specific server, change your security protocol, or configure a VPN on your router, finding a VPN with quality customer support should be important to you.
Despite offering several excellent benefits and industry-leading features, NordVPN's monthly subscription is quite pricey. But the long-term plans come with great discounts and will be no higher than you'd expect from an entry-level VPN with limited functionality and questionable reliability. The only drawback is that when you renew your subscription, prices increase quite significantly.
As part of its subscriptions, NordVPN offers real protection against unwanted ads, geographical tracking, censorship, speed limitations, standard malware routes and snooping on your browsing.
You can subscribe to NordVPN plans using various payment methods including major credit/debit cards (Visa, MasterCard, AMEX, Discover, and JCB), Amazon pay, Google Pay, and ACH transfer. While the provider no longer accepts PayPal, it supports multiple cryptocurrencies (such as Bitcoin, Ethereum, Monera, Zcash, and Dash) in its payment option, thereby allowing you to remain anonymous while using disposable email addresses for your payments.
All NordVPN subscription plans include a 30-day money-back guarantee, allowing users to test the services risk-free. As proof of this claim, I tested NordVPN's refund policy on the monthly subscription plans, and I can assure you that it works. My refund came through rather quickly after I requested it.
NordVPN offers the following plans
Final Verdict
To wrap things up, NordVPN is a top-notch VPN service that can give you the privacy you are looking for without compromising on performance. You are given access to several streaming services that would otherwise be unavailable to everyone, and their servers are blazingly fast.
Installing and configuring the application on a target computer can be performed by anybody, although there are some delicate settings that should only be handled by professionals. The quality-price ratio is also great, particularly if you plan on signing up for a longer subscription plan.
The company has its headquarters in Panama, which was perfect for me as I wouldn't have to fret about my data being monitored by the government. I was also pleased to be able to torrent so easily. Finally, NordVPN scored high on my speed and security tests, giving me assurance that my internet privacy would be protected.
FAQs About NordVPN
Is NordVPN good?
Yes, NordVPN is one of the best VPN services on the market. Thanks to its strong encryptions, strict no-log policy, and Panama location, you can rest assured that your online privacy will be protected.
Besides that, the service is equipped with a wide array of server options and guarantees top-notch internet speeds across the board. It is also capable of unblocking most streaming websites and downloading torrents using the P2P server option.
Can I use NordVPN for free?
No, NordVPN does not offer a free version. However, it offers a 30-day money-back guarantee that functions as a risk-free trial period, allowing you a chance to explore all its features in detail.
Free VPNs are especially useful when you are always connected to wi-fi in public areas, since the connections can be encrypted. Free VPNs are often unsafe and have limited functionality, so you should be careful when using them. However, these are a few safe and reliable free VPN options that you can choose from.
Is NordVPN really safe?
Yes, NordVPN is among the safest VPN services available.
Providing high levels of encryption,
a no-logs policy
, a reliable kill switch, and a variety of dedicated services to suit all your needs, NordVPN scored really well in my review.