3 Best Cheap VPNs for Torrenting and be REALLY Anonymous in 2020
Last Updated by Mackenzie Pringle on April 01, 2020
Sometimes the latest content isn't available to stream, rentals are old news, and going to the movies seems to require a bank loan. An option many of us use is torrenting, as modern internet speeds have made download times almost redundant, and there is a wealth of content readily available.
Torrenting works differently to the standard method of downloading files. A torrent breaks up a large file and divides it into many smaller files. Through a torrenting program, you're then able to connect to a large number of other computers via peer-to-peer file sharing (P2P). Torrenting involves downloading small pieces of a file from every computer in the P2P network.
However, torrenting doesn't come without its risks, and many other issues, which need to be considered first.
Despite the best efforts of governments and ISPs, downloading music, videos, and other content online remains straightforward. While Wizcase doesn't condone any copyright infringement, we are concerned about the online safety of anyone who does torrent.
You can avoid security risks while torrenting by using a VPN. Many don't use VPNs because they can be expensive, but cheap alternatives are available. Keep reading to find out more about how to choose the best and most affordable VPN for torrenting and P2P sharing.
Is It Illegal To Torrent A Movie?
Most countries with internet access have basic laws against intellectual property theft. While every country has different regulations, the consensus is that torrenting copyrighted material is illegal.
However, torrenting itself is not illegal, as you could not necessarily be downloading things that are protected by copyright. When it comes to using a torrent to download a movie, unless the copyright holder decides to make it free, you do not own the rights to download it.
It's crucial, to avoid ramifications, not to torrent copyrighted content such as tv shows, movies, or video games. You'll be running the risk of getting into legal trouble if caught out. For those of you who recognize the risks, and still want to pursue torrenting, we are here to make sure you do so in the most secure way.
How To Set Up A VPN With uTorrent Or BitTorrent
Follow these steps below if you currently use uTorrent or BitTorrent. They are both identical processes for setting up your VPN service.
Launch uTorrent or BitTorrent on your device.
Click Options, then Preferences.
Once a new window has popped up, click Connection.
In the Proxy Server section, in the Type tab, choose Socks5 or HTTP.
In the adjacent Proxy section, enter one of your VPN's server addresses that allows for P2P traffic.
For Port Type choose 1080 if using Socks5 or 80 if using HTTP.
Make sure all the boxes in the Proxy Server section and the Proxy Privacy section are ticked.
In the Authentication section within the Proxy Server section enter the username and password you use for your VPN service.
Once you've completed these steps, your VPN service will be shielding your activity online!
Three Affordable VPN Services For Torrenting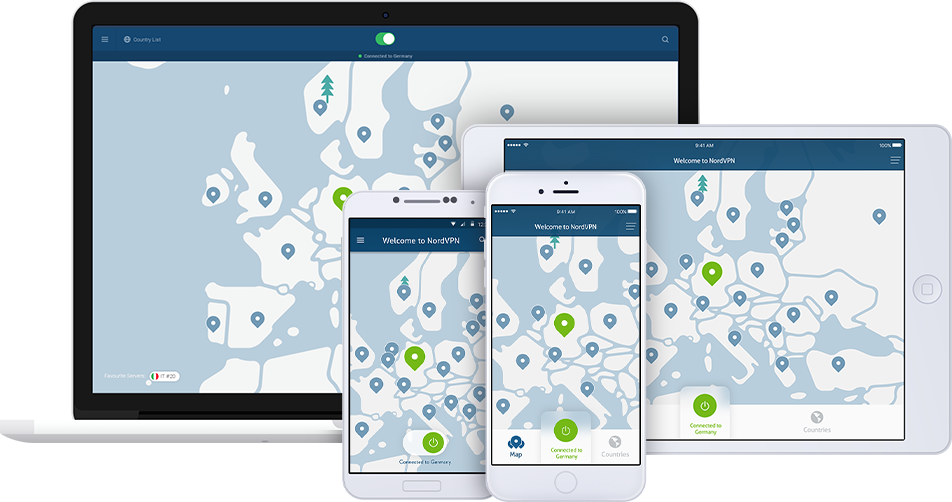 Extensive network of servers optimized for P2P
Advanced security
User-friendly
Lighting fast speeds
NordVPN is a market leader, known for their reliability and effectiveness. Their system is one of the largest in the industry, with over 5,000 servers across 60 countries. A network of this size allows for exceptional connection speeds, due to their capacity to absorb demand. They also offer unlimited bandwidth, meaning you can download and upload as much content as you please, making it ideal for P2P file sharing.
Their security is advanced, offering AES 256-bit encryption, a strict no-log policy, and the added protection of an automatic kill switch and IP/DNS leak protection. With NordVPN, your privacy and anonymity will always be maintained.
NordVPN is one of the most user-friendly options available due to its excellent features. Their Smartplay feature allows you to connect to the best server available, reducing the issue of over-crowding. They also have a handy interactive map interface from where you can choose a connection location with ease.
NordVPN is a premium VPN and they do charge slightly more than some of their competitors; however, they are always offering discounts and deals, so keep an eye out. They also provide great options for those of you ready to make a long term commitment. Over three years, you can genuinely pay less than your cup of coffee a month for the service. If you're worried about committing for this long, they offer a full 30-day money back guarantee, so you can try before you buy.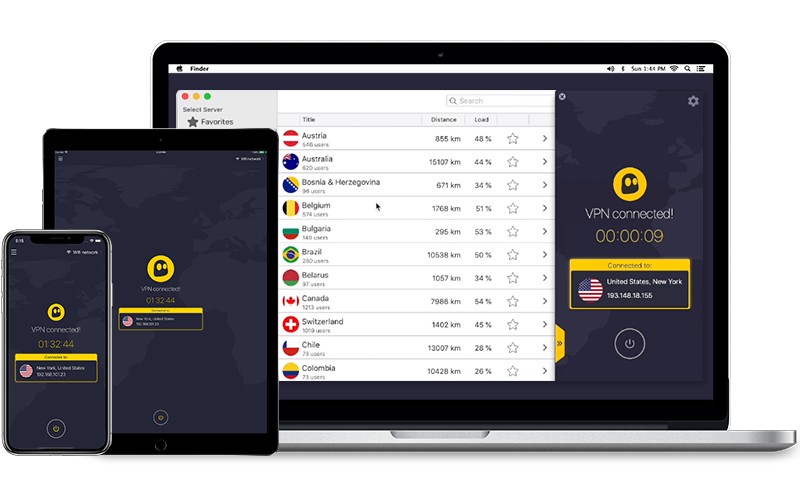 Dedicated torrenting servers
Unlimited bandwidth
Excellent security features
CyberGhost VPN is another excellent option to stay safe when torrenting. They offer excellent connection speeds, accredited to their more extensive server network of over 3,500 servers across 59 countries. They also offer unlimited bandwidth, meaning there will be no cap on the amount of data you want to access. They even have dedicated servers for torrenting, ensuring ease of use.
Security wise, they offer DNS/IP leak protection, 256-Bit AES encryption, and a strict no logs policy. Your data online will, therefore, be private, secure, and safe from cyber predators. CyberGhost is offered on every significant outlet via multi-platform user-friendly apps for Windows, Mac, iOS, Android, and Linux. For those of you technologically inclined, the VPN is known for its advanced filtering settings, which lets you change specific servers and types of protocol.
If you want to share the VPN in with your household members, or friendship group, CyberGhost has you covered with a seven device connection capability. Users can simultaneously use up to seven devices on the same account, meaning that you can download on your phone, computer, or tablet depending on your preferences.
CyberGhost offers competitive pricing and will suit everyone's budget. However, if you're reluctant to make a long term subscription, try the VPN and if you're unsatisfied, receive a 45-day money back guarantee.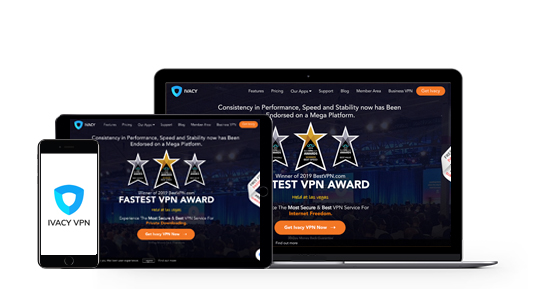 Great for P2P sharing
Reliable security
Affordable pricing
IvacyVPN will effectively allow you to torrent anonymously and stay secure online. They have been in the industry since 2007, and have made a name for themselves as a reliable and effective VPN. Their servers have been specifically optimized to give their customers the best speed for P2P file-sharing, in conjunction with keeping their content wholly anonymous and secure.
Their sever network is vast, with over 1,000 servers available for connection. Their servers are located in over 100 countries, making access to global content ten times easier. This also ensures limited overcrowding, and with unlimited bandwidth, you will have no trouble with connection speeds.
Their security is excellent, offering 256-bit encryption, a zero logs policy, and an internet kill switch. It also comes with various security protocols, set to protect up to 5 devices simultaneously. Your privacy will never be breached, and your security is ensured.
IvacyVPN is one of the most competitively priced options on the market, offering comprehensive deals overall holding periods. They also offer a 30-day money back guarantee, as a bonus. If you ever encounter issues with the VPN, their 24/7 live chat is responsive and helpful.
Top VPN Features
Dedicated Torrenting Servers: Some VPN services don't allow torrenting on their servers, while others are optimized for it. When choosing a VPN, make sure the facility offers dedicated torrenting servers.
Bandwidth Limit and Speed: Certain VPNs have bandwidth limits and data caps. Torrenting requires a lot of data, so a VPN with unlimited bandwidth and high speeds is essential to avoid throttling and buffering.
Leak Protection: When researching VPNs, make sure the one you choose has sufficient leak protection to ensure your privacy is secure
Kill Switch: A VPN kill switch stops all the internet traffic to your device if the VPN suddenly stops working. By halting all internet traffic, your IP address remains concealed, maintaining your security
No Logs Policy: Despite misleading marketing claims, many VPN companies log your data. Aside from making your information traceable, they can also sell it to third parties. Go for a service that has a strict no log policy to remain as private as possible while torrenting.
Avoid Free VPN Services For Torrenting
We suggest you subscribe to a paid VPN product as free VPNs are unsafe and unreliable, due to their underdeveloped technology. While free VPNs have their place in the market, they are not the most efficient for torrenting.
They don't offer advanced security, leaving you vulnerable to cyber attacks, and possible legal issues. Some VPNs hinder your privacy rather than enhance it. These companies do this by;
Keeping logs of your data
Uploading tracking cookies to your web browser
Selling your information
Carrying malware payloads
If you're on a budget, we recommend going for a VPN that offers competitive pricing over the long term. Many VPNs offer a free trial or a money-back guarantee so that you can try before you buy a long holding commitment.
Bottom Line
The only way to indeed remain safe when downloading content is to use a VPN service, providing all the features mentioned above. Opting for one of the three VPN services above will provide you with complete anonymity and better security while downloading your favorite shows, music, and movies.