Visit CactusVPN Website!
CactusVPN

Review 2023: Before You Buy, Is It Worth It?
CactusVPN Overview April 2023
I was drawn to CactusVPN's claim of unblocking 340+ streaming platforms while protecting the privacy of its users. I wanted to find out the features that make it possible for this Moldova-based VPN to do so and see if there's more to it than just unblocking abilities.
After running different tests, I found CactusVPN to be a small but decent VPN service. Among the key features of the service are its smart DNS feature, military-grade security, and user-friendly apps across different devices. However, the drawback is its small server network that has a few blindspots that larger VPNs cover.
CactusVPN offers both a free trial and a refund policy for those who wish to test the service out. The company offers a free 3-day trial that includes all its features. CactusVPN also offers a 30-day money-back guarantee, so you can test the VPN and then claim a refund if something goes awry. But you'll have to provide an explanation about how the service doesn't work for you to be eligible for a refund.
Don't Have Time? Here's a 1-Minute Summary
CactusVPN Unblocks Netflix, HBO Max, and Amazon Prime Video (But Can't Access Hulu, Disney+, and BBC iPlayer)
Considering its claims of unblocking more than 340 streaming platforms, I was disappointed that I could only access half of the streaming services tested using CactusVPN. Subscribing to the full service comes with VPN + Smart DNS features. Although the VPN service provides complete security while streaming, the Smart DNS feature doesn't hide your IP address. This means your identity isn't protected when using the Smart DNS feature.
During my tests, the VPN service could only unblock services like Netflix, HBO Max, and Amazon Prime Video. But the Smart DNS unblocked all the other streaming platforms where the VPN service failed. I got to stream in HD no matter which server I connected with.
Netflix, HBO Max, and Amazon Prime Video: Unblocked
CactusVPN successfully unblocked a few popular streaming platforms during my tests. I effortlessly accessed my Netflix US account and watched my favorite comedy shows in HD. CactusVPN also allows seamless access to Netflix accounts in the UK, Germany, Japan, and India.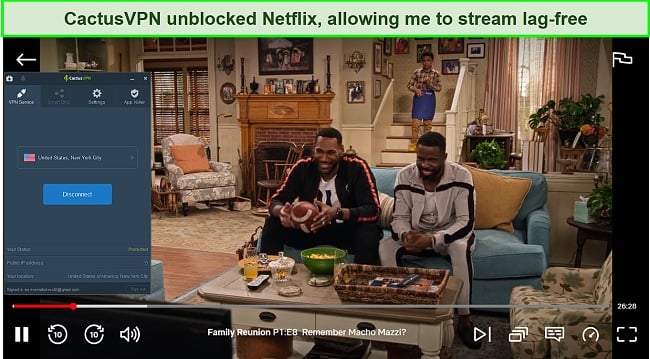 I was also able to unblock other popular streaming platforms like HBO Max and Amazon Prime Video. I watched shows like The Wheel of Time and Four Hours at the Capitol documentary from my account during my tests.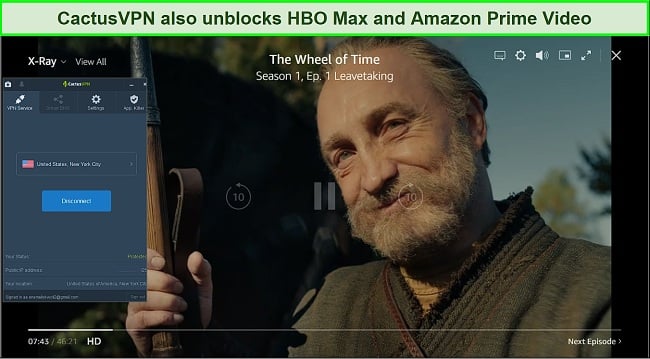 There were no lags or buffering while I watched these shows. I still, however, was not able to access every single one of the sites that I tested.
Hulu, Disney+, and BBC iPlayer: Blocked
It was disappointing that I couldn't access some popular streaming sites with the VPN. When I tried to access my Hulu and Disney+ accounts, the services detected that I was connected to a VPN and blocked my access with an error code similar to the one below.
CactusVPN did not perform well at accessing BBC iPlayer. The UK-based platform is notorious for its firewall, and I was disappointed that CactusVPN cannot access it. If unblocking streaming platforms is important to you, I suggest using a VPN like ExpressVPN that can reliably access all popular platforms but also keep your online identity and data secure.
However, the Smart DNS feature unblocked all the streaming services I tested. These included YouTube, Hulu, Disney+, CBS, BBC Sport, CNNgo, Peacock, Crunchyroll, Roku Channel, and Sling. Despite Smart DNS unblocking every platform, using it does leave you at risk of being vulnerable to third parties as your IP address is not encrypted.
Fast on Nearby Servers but Not With Distant Servers
CactusVPN maintained fast speeds on nearby servers, but this wasn't the case with servers further away. Even then, the speeds on all the servers I tested were fast enough for streaming in HD, torrenting speedily, and playing online games.
Speed Test Results
With a base internet speed of 23.58Mbps, I began my tests. During testing, CactusVPN servers gave me an average speed of 12.21Mbps — a 48% drop in internet speed. My download speed was 21.16Mbps with the US server, 18.04Mbps with the UK server, and 14.81Mbps with the Canadian server. Given the small network, these speeds were pretty good.
Japan was the farthest server from my location and saw a speed of about 7Mbps — a 70% drop in my speed. This didn't surprise me as it's not unusual for a server so far away to have such a significant drop in speed.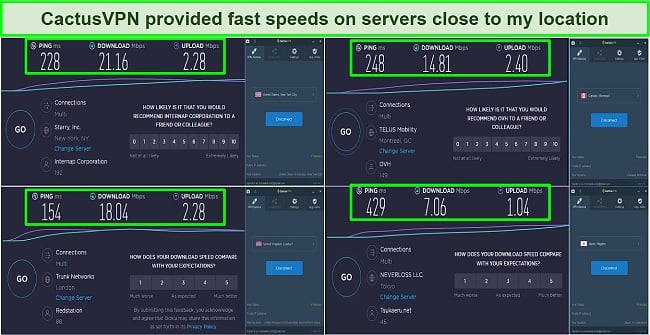 The upload speeds dropped significantly during my tests. I got an average of 1Mbps on a 14Mbps base internet upload speed. While my overall speeds were good, it is worth noting that I experienced significantly high ping on just about every connection, which means that you can expect a decent bit of latency.
Is CactusVPN Fast Enough for Gaming? Yes!
CactusVPN is fast for gaming if you're using nearby servers. I got upload speeds roughly above 2Mbps on most servers except for the server in Japan, which was around 1Mbps. These speeds are enough for playing most online multiplayer games. But latency also matters. Only the nearby servers provided latency close to the acceptable requirement of 100ms or less for online games.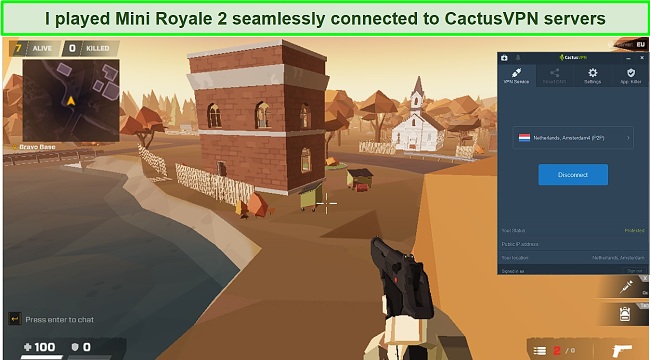 When I connected to nearby servers in the Netherlands and the UK, I was able to play Mini Royale on my PC, and I didn't experience any lags while I played the game. Keep in mind that the recommended requirements for playing online multiplayer games are upload speeds of 3Mbps and an optimum latency between 20ms and 40ms. Unfortunately, CactusVPN doesn't come anywhere near these figures. While my experience was free from lag, that may not be the case for everyone, as I saw latency ranging from 100-400ms while connected to the VPN.
For a VPN that can deliver stellar online gaming performance with low latency, I suggest you check out ExpressVPN. Its upload speeds and ping match or even come in better than the recommended figures and make it the best for online multiplayer games.
Why Most Speed Tests are Pointless & How We Correctly Test VPN Speeds
Speed determines how fast content uploads, so if you're torrenting or streaming, you want the speed to be somewhat identical to your regular internet speed. Since a VPN encrypts your data, it usually takes a bit longer to send your data back and forth, which can slow down your connection. However, if your ISP deliberately slows down your connection (also known as throttling) a VPN might increase your internet speed. Testing a VPN is somewhat pointless because new servers pop up and affect speed. Your speed can also differ according to your location, so your speed test might not match ours. Having said that, we tested the speed in numerous locations to provide you with the average.
Server Network — 35+ Servers in 20+ Countries
CactusVPN offers a small network of 39 VPN servers in 22 countries. The servers are currently only available in North America, South America, Europe, and Asia. Europe has the largest coverage with 13 server locations. North America follows with 9 server locations, while Asia-Pacific has just 6 server locations. There are no servers in Africa and the Middle East.
Connections to the servers are steady and usually take about 5 seconds. Also, a tab on the app allows you to sort out the server locations with the fastest speeds depending on the proximity to your location.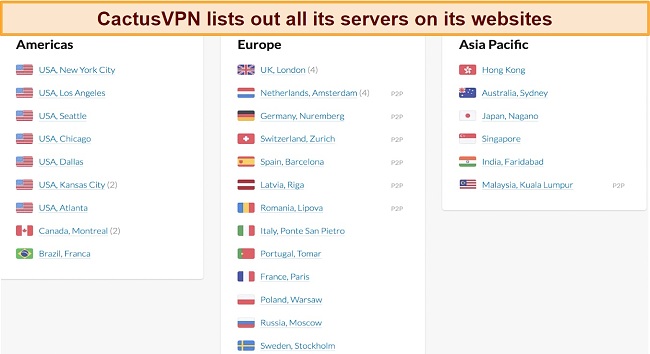 CactusVPN makes use of leased servers from the likes of Digital Ocean and Choopa. The servers provide shared IP addresses from data centers around the world. But using leased servers means lesser security compared to fully-owned servers. This is because the data center providers may install trackers without the knowledge of the VPN that could potentially log users' information.
CactusVPN makes use of a mix of geo-located and virtual servers. For instance, the server in France is a virtual server (the actual server is a server in the UK). The VPN offers specialized servers for P2P but none optimized for streaming. Each server in the network doubles as a free proxy server that you can use for any purpose.
In comparison to CactusVPN, Cyberghost offers a larger geographical range. There are over 9736 VPN servers located in 91+ countries, so nearly everyone will be able to find an option that is convenient for them.
Security — Offers Military-Grade Security
As with most VPN providers, CactusVPN also guarantees the highest level of security and protection. The following features make it a promising security product:
Multiple protocol options – CactusVPN comes with 7 different VPN protocols: OpenVPN (TCP & UDP), Wireguard, SSTP, SoftEther, IKEv2, L2TP/IPSec, and PPTP. For iOS and macOS, OpenVPN isn't supported. So, you'll have to make do with the similarly secure IKEv2 protocol.
Industry-Standard Protection – For most protocols, CactusVPN uses AES 256-bit encryption with SHA512 HMAC authentication, providing a secure means of data exchange. You are also able to select encryption levels between 128 bits to 256 bits for L2TP/IPsec.
Perfect Forward Secrecy – This technique involves periodically changing the private key for data encryption. This way, even if a hacker somehow gets hold of your private key, they won't have access to other sessions of your communication, thereby keeping your data safe.
SmartDNS – Smart DNS allows you to change your geolocation in order to access content that isn't available in your country. You will be able to enjoy streaming media at a faster speed because the data is not encrypted.
Internet Kill Switch – This feature keeps your online activity secure if your VPN connection is suddenly interrupted. It doesn't come pre-activated so you have to go to settings to activate it.
App Killer – It prevents access to certain applications that use internet service in the background when the VPN connection is interrupted.
DNS leak protection. CactusVPN's DNS leak protection ensures that your internet activities are protected at all times. The feature is enabled by default, with the option to use Cloudflare, OpenDNS, Google, or CactusVPN servers.
Moreover, I was pleased that CactusVPN completely masked my IP address and DNS information during my tests. Also, no viruses or malware were detected on the VPN's app when I ran it through VirusTotal and Exodus.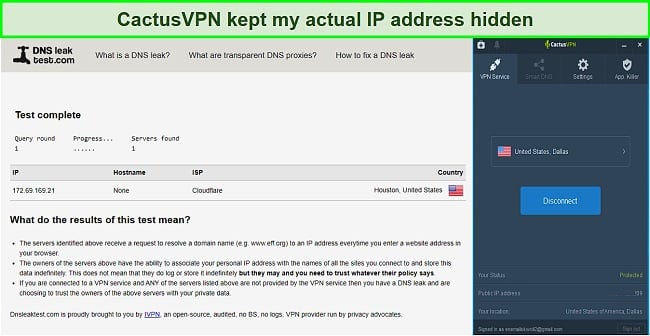 CactusVPN also supports routing your data through TCP Port 443. This is the port used for HTTPS traffic. With this, your data is protected from governments, censors, and hackers. Using this port means that your traffic won't appear as a VPN connection.
Privacy — No Logs but No Third-Party Audits
CactusVPN boasts a no-logs guaranteed policy, putting them on par with big-name VPN providers. According to the company, it doesn't log IP addresses, traffic logs, connection timestamps, used bandwidth, or session duration information that could be linked to an individual.
However, after reaching out to customer support, I learned that CactusVPN has never had an official audit of its no-logs guarantee. Without an official audit, there isn't a guarantee that CactusVPN is upholding its no-logs policy.
CactusVPN is based in Moldova — a privacy-friendly jurisdiction. Moldova isn't part of the EU or any of the 5/9/14 Eyes data-sharing alliances or groups like SIGINT that compel VPN providers to share data with governments for surveillance. Moldova also has data protection legislation (similar to GDPR) that ensures that the data of its citizens are protected.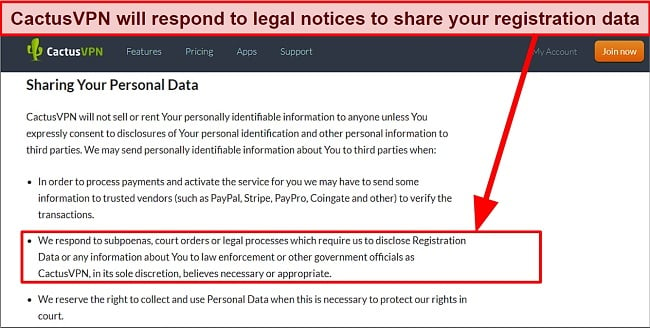 As I read further into CactusVPN's policy, I found a disturbing provision that allows CactusVPN to cooperate with the government to share your personal (not VPN activity) data during any legal processes, court orders, and subpoenas. Further complicating matters, the service moved its legal jurisdiction to Canada in 2016, known for its extensive surveillance policies.
When I asked customer support about this, an employee told me CactusVPN does not maintain logs and that if anyone wanted to access its data legally, the service would have little to disclose. Even so, I found the wording here to be worrying. Independent privacy audits would make the service's claims more verifiable.
Torrenting — Torrenting Supported on a Few Servers
Torrenting is possible on limited servers indicated as P2P on the server drop-down menu. These servers are in Germany, the Netherlands, Spain, Switzerland, Latvia, Romania, and Malaysia.
With most P2P servers located in Europe and only 1 in Asia, you may experience slow speeds if you're far from these locations. Also, since CactusVPN offers only a handful of P2P servers, speeds could drop during peak hours as the servers get overcrowded. For testing purposes, I downloaded a 700MB public domain torrent in less than 20 minutes.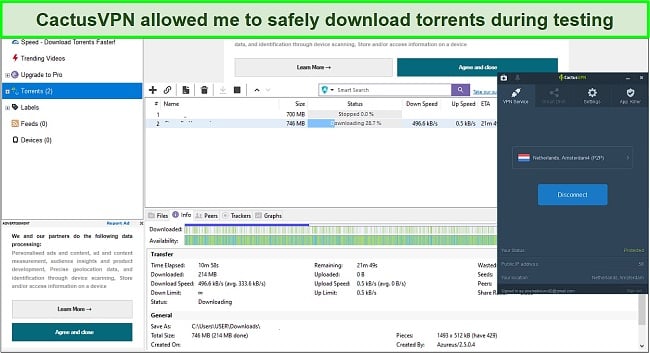 CactusVPN offers the necessary features for safe torrenting. Its no-logs policy, automatic kill-switch, fast speeds, and DNS leak protection make it a torrent-friendly VPN. Remember that torrenting with the Smart DNS feature will expose your identity. So, always use the VPN servers if you want to torrent safely.
My team and I don't condone illegal torrenting, so check the rules and regulations in your country and ensure the torrents you download are copyright-free.
Does CactusVPN Work in China? Yes!
I was pleased to learn that CactusVPN works in China. Since I don't live in China, I couldn't personally test the VPN there. However, CactusVPN support confirmed to me that its VPN works there.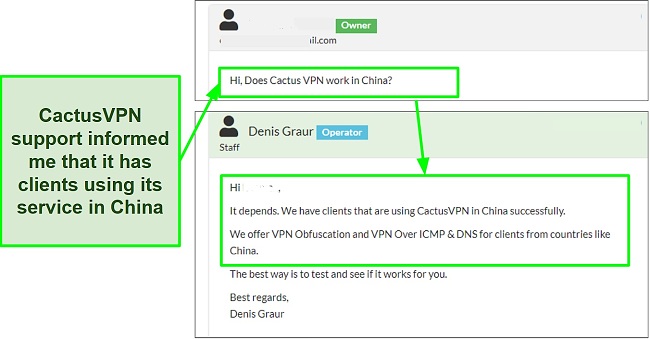 The VPN has technologies in place for its VPN to work in China. Firstly, the TCP 443 port encrypts your VPN traffic, and with its obfuscation technology, you can connect with inaccessible content you've paid for when visiting the country. Also, the VPN provides a detailed setup guide for OpenVPN and SoftEther protocol that works efficiently in China.
While you should exercise caution when using a VPN within China's borders, you are unlikely to face prosecution. So far, there have been no cases of the Chinese government going after foreigners because they use VPNs. The Chinese government typically blocks VPNs through technology rather than pursuing users.
User Experience
- 7.0
/ 10
Simultaneous Device Connections — Unlimited Connections
CactusVPN allows you to use its services on any number of devices simultaneously. This was great news since most smaller, and even top-name VPNs, have limits on how many devices you can connect.
However, if you're connecting with some protocols like PPTP, L2TP, IKEv2, and WireGuard, the limit is one connection per subscription per VPN server. To bypass this, you can choose other protocols like OpenVPN and SoftEther on your other devices if you exceed the number of server connections. I connected my Android phone, 2 Windows PCs, an iPhone, and a smart TV during my tests.
CactusVPN frowns upon sharing your subscription with people outside of your household. So, you would be infringing on its terms of use if you share your account with friends.
Device Compatibility — Works on Multiple Platforms
CactusVPN works with most popular devices. It has VPN apps for Windows, Mac, iOS, Android, Android TV, and Amazon Fire TV. It also supports browser extensions for Chrome and Firefox.
Additionally, the VPN offers manual configurations using OpenVPN, SoftEther, Wireguard, and more. You can use this setup for Linux (Ubuntu), Roku, Chromebook, Boxee Box, and Routers. In addition, you can configure the Smart DNS service on more devices like PlayStation, Xbox, Samsung TV, Apple TV, NOW TV Box, and LG TV.
CactusVPN supports DD-WRT, ASUS, Mikrotik, D-Link, TP-Link, Linksys, Tomato, Tenda, and OpenWRT routers. With a wide array of device compatibility, CactusVPN offers you flexibility in using its features.
Ease of Setup & Installation — Easy and User-Friendly
CactusVPN has a straightforward installation and uninstallation process. It has detailed setup guides for all types of devices on the website support page. CactusVPN features an intuitive, user-friendly app that's similar across popular operating systems.
There are 4 tabs within the CactusVPN app — VPN service, smart DNS, Settings, and App Killer. The VPN service features the server list in a drop-down list which you can scroll through and connect with, while the Smart DNS tab allows you to enable and disable the Smart DNS service. The settings tab allows you to make flexible changes to how the service should work, and the app killer allows you to select which apps to close when the VPN connection drops.
The Windows app has its default protocol set to SSTP, while the iOS and Mac apps use IKEv2. One flaw with the app is that it lacks a search bar where you can search for a server. That said, CactusVPN features a really neat interface that I found easy to use.
Steps to Installing CactusVPN on Windows
Subscribe to any CactusVPN premium plan. You'll receive 2 emails to verify your email and set up a password.
Log in to your Account. After creating your password, log in to your dashboard and download the app.

Run the installer. The installation wizard will guide you through the process.
Launch the app. You'll then need to log in with the email and password that you created.
CactusVPN offers a wide range of support options that are helpful and informative. The VPN has efficient live chat support, a ticketing system, messenger, email support, FAQs, a learning center, and a setup tutorials page.
The live chat option is only available on weekdays. The typical wait time for your turn is less than a minute. The wait time during peak European hours can sometimes be as long as two minutes.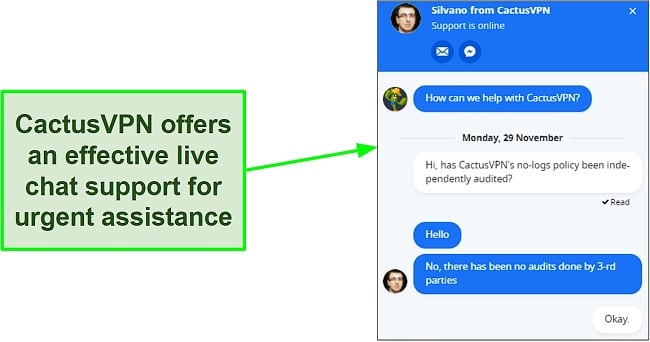 If you submit a support ticket outside of office hours, it will take 8-10 hours to get a reply. You can expect a response from customer service within an hour during business hours. Ticket statuses are displayed on the My Account dashboard in the dedicated tickets section.
The learning center, setup guides, and FAQs are pretty detailed and offer helpful step-by-step guides to help you resolve issues smoothly. That's especially true when you use manual protocol setups.
How We Test Customer Support and Why Should You Care
We personally test the customer support team of every VPN we review. This means asking technical question through the live chat feature (where applicable) and measuring the response time for email questions. Whether you need to connect to a specific server, change your security protocol, or configure a VPN on your router, finding a VPN with quality customer support should be important to you.
CactusVPN has competitive pricing plans for its service that help those on a budget. There are 4 main plans with smaller plans offering limited services. There are monthly, quarterly, annual, and two-year plans available, with a discount for long-term commitments. The main package options offered by CactusVPN are the same, so you'll receive the same features no matter which one you choose.
The smaller plans follow similar timeframes to the main plans but with limited features. For instance, the US VPN plan only offers servers in the US, and doesn't support P2P or Smart DNS. The same principle applies to the UK VPN plan. There's also a plan with several European server locations that supports P2P, but not Smart DNS. Finally, there are separate Smart DNS and VPN + Smart DNS plans.
While cheaper (smaller) plans save you money, they limit the number of servers you can access and don't include the Smart DNS feature. I recommend subscribing to CactusVPN's standard plan, which already grants access to all servers worldwide and includes Smart DNS capabilities.
You can purchase CactusVPN with major credit/debit cards (Mastercard, Visa, American Express), PayPal, cryptocurrencies like Bitcoin and Ethereum, Alipay, and more options like UnionPay, iDEAL, Przelewy24, Boleto Bancario, and WebMoney.
If you're worried about risking your money on a service you're not sure about, you can try CactusVPN for free for 3 days — no credit card required. Signing up for free is a bit tricky, since it isn't on its landing page. A Google search for "CactusVPN free trial" would be necessary. The 3-day free trial comes with all the full application features so that you can get a feel for this VPN. All you need is a working email.
The 30-day money-back guarantee covers all payment options and plans. CactusVPN requires a detailed explanation when requesting a refund and reserves the right to deny your request if the reason is unfounded.
CactusVPN offers the following plans
Final Verdict
After extensive tests, I was impressed with CactusVPN's service. CactusVPN's reasonable prices, its coverage of all important geographical locations, and its excellent and simple client are all very good reasons to choose it. Even better, it provides great speed and an application killer that enables you to safely share files using BitTorrent and other file-sharing services.
Technically, all major protocols are supported, so you are almost certain to be able to connect if your device is VPN-capable. The streaming capabilities and encryption are also prime selling points, but it has weaknesses in privacy and the small server network. Nevertheless, this provider is worth considering, especially since it offers a free 3-day trial without requesting payment information.
ExpressVPN beats CactusVPN in almost every category, including functionality, security, and speed. You also get features such as app-based split tunneling in addition to essential features. You can test ExpressVPN out completely risk-free as it's backed by a 30-day money-back guarantee — if you don't like it, you can easily get a full refund.
FAQs About CactusVPN
Is CactusVPN good?
Yes, CactusVPN features military-grade security that makes your data safe from hackers. It also unblocks some popular streaming services. However, it has a limited server network and only a few P2P locations to choose from.
Can I use CactusVPN for free?
Yes, CactusVPN provides you with a 3-day free trial without the need for a credit card. There's also a 30-day money-back guarantee that you can use to test the service and get a refund if you're not satisfied. Unfortunately, it has a difficult refund process. You'll have to prove beyond doubt that the service doesn't work for you before you can get a refund.
While it's common for providers to ask why you wish to cancel their services and help troubleshoot problems, not many would potentially refuse your request for a refund like CactusVPN will. If you'd rather not deal with this inconvenience, I suggest you try these free VPNs.
Is CactusVPN really safe?
Yes, CactusVPN will keep your data secure with its military-grade encryption. As far as streaming and web browsing go, you'll be as safe as you can get. However, CactusVPN may hand over your data for legal requests.
One of the main reasons to get a VPN is to ensure secure and anonymous internet activity. CactusVPN cannot guarantee its no-logs policy since it doesn't have an independent audit. That said, it will provide a safe enough internet connection to protect you from hackers and other third parties.