WPS Office is one of the biggest challengers to the Microsoft Office 365 domination of office and school-related apps. Using a tabbed interface, this free software includes Writer, Presentation, and Spreadsheets, plus some solid PDF tools, all in one download. While WPS is 100% free, there are some ads that will appear on the application sidebar.
How to Download and Install WPS Office for Free
Click on the Download button on the sidebar, and a new tab will open directly to the WPS download page.
Press the Free Download button, and the .exe file will download to your computer.

Open the file after the download is complete, and the installation wizard will open.
Check the box stating you read the privacy policy and terms of the agreement. You can also choose to use WPS as your default PDF Viewer, but if you have a PDF reader, like Foxit Reader, you can uncheck this box and then click the Install Now button.
The installation will automatically run.
After the installation is complete, click on the Get Started button.
Click Launch WPS.
A pop-up window will appear with three different WPS plans, including a free one. Press the Go to Free button to register your free account.

You will have to create a WPS account to continue. You can either use your email address and create a password, or sign in through Google, Facebook, Twitter, or DropBox.
How to Uninstall WPS Office Free
If WPS Office Free isn't the right program for you, check out these free alternatives below.
You can easily remove all WPS Office from your computer by following these simple steps.
Type Add or Remove Programs in the Windows search bar.
Scroll through the list of installed software until you find WPS Office and click Uninstall.

You'll have to select a reason you are uninstalling WPS Office and confirm you want to uninstall the program.
WPS Office Overview
WPS is an excellent free alternative to Office 365. The software includes a word processor, spreadsheet tool, presentation, and a PDF reader. The latest version is an all-in-one software that uses a tabbed interface when choosing between the Writer, Presentation, or Spreadsheet tools. WPS Office is compatible with Office 365. You can open and edit doc, .docx, .xls, .xlsx, and .ppt file formats.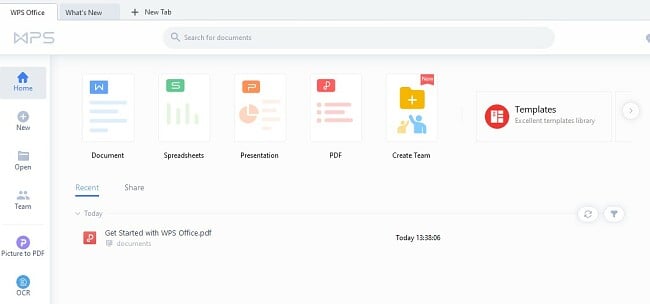 While the ribbon-style is very similar to the Office 365 style, WPS Office gives users the freedom to customize their interface with different skins. It also has a wide range of templates that can be used to help you create professional-looking documents. If you don't see something you like, WPS Office also has a variety of templates that you can download for free.
The free version of WPS Office does have ads. For the most part, these are unobtrusive, although there are times when you'll have to watch a short video before accessing a feature.
WPS Office Programs
Writer: With hundreds of fonts, layout options, and spell check and grammar check, Writer has just about everything that you could want from a word processor. When you're done, you can save your work in various formats, including doc and docx, so that if you send the document to someone with Word, they'll have no trouble opening it. One of the nice features that you won't see with other programs is the tabbed views. This makes it easy to toggle between multiple files.

Presentation: Create and design a professional presentation using this tool. It's one of the best PowerPoint alternatives and does a great job keeping the format and .ppt files. This makes it easy to collaborate with someone regardless of whether they're using WPS or PowerPoint.


Spreadsheet: From creating invoices and timesheets to simple forms for schedules and planning, Spreadsheets has a large collection of templates for seemingly any occasion. Spreadsheets also support most of the same formulas as Excel 365, so if you're already proficient with Excel, you won't have a steep learning curve. It also supports pivot tables and charts.

PDF: WPS Office has some great PDF tools, including a PDF Reader, PDF to Word, PDF to Excel, PDF to Image, compressing, merging, and splitting PDFs. There is a PDF editor as well, but this is restricted to premium users.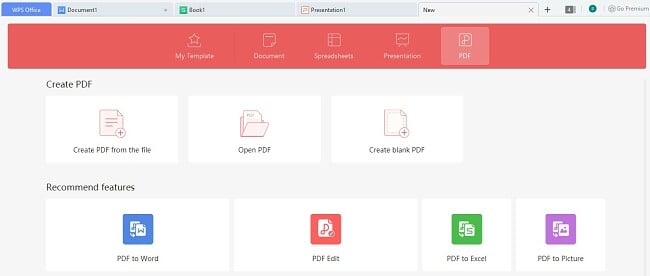 WPS Cloud: All WPS Office free users get 1 GB of cloud storage, which allows you to access your files from anywhere. It also makes it easy to share and collaborate documents with classmates, colleagues, or business partners.
Free Alternatives to WPS Office
Office 365: Many companies have attempted to copy Microsoft Office, but it still holds strong as one of the most popular options. You can use a browser-based version of Office 365 for free, or get a free 30-day trial and download Word, Excel, PowerPoint, Outlook, OneNote, and more.
Apache OpenOffice: A free open-source software, OpenOffice has word processing, spreadsheet builder, presentation, and a database builder. The programs use a similar ribbon-style layout that is found with both Office 365 and WPS Office.
FAQ
?Is WPS Office free?
There are several different membership tiers for WPS Office. Follow the steps above, and I'll show you how to download WPS Office for free. Just be aware that the free WPS Office does have ads, and if that really bothers you, you might want to try the premium version risk-free for 7 days.
?Is WPS Office safe?
I've tested the WPS Office file, and it shows no signs of viruses or malware. WPS Office also has strong password protection options for all its apps to prevent anyone from opening them without permission. Additionally, cloud storage is highly encrypted to protect all documents that are uploaded to the WPS cloud. It's important only to download WPS Office from an official site and not a third party site which might use outdated software or add malware to the installer.
?What's better: WPS Office or Office 365?
Both programs have their advantages and disadvantages. For the most part, the main applications are the same, even using the same layout. The biggest advantage of WPS Office is you can use the applications for free and customize the user interface. However, Office 365 has more templates, tools, and compatibility than WPS Office.
Visit WPS Office Free Website