Great (FREE!) Alternative to Microsoft Office
In response to rising prices for the premium Office 365 suite, OpenOffice has seriously increased its efforts to offer a free, open-source alternative.
There are no hidden costs, premium versions, or better customer support if you purchase a subscription – it's 100% free.
There aren't any tricks.
You can do all your word processing, presenting, and spreadsheet building with Writer, Calc, and Impress instead of using Word, Excel, or PowerPoint. Check out my OpenOffice vs Office 365 comparison below.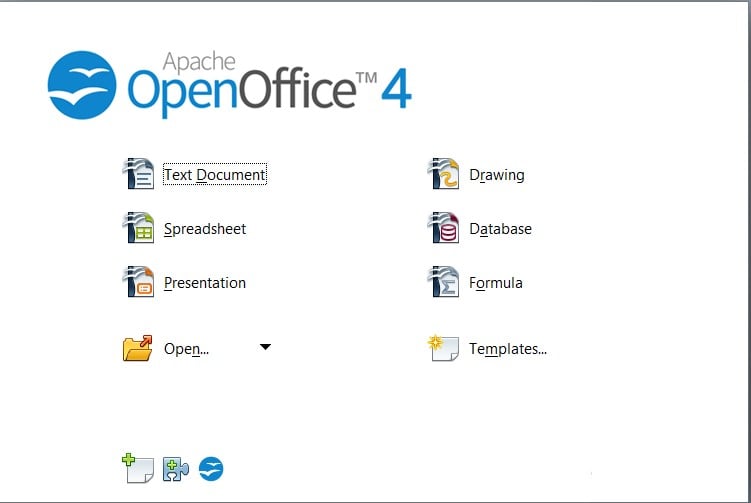 How to Download OpenOffice
Click on the DOWNLOAD button on the sidebar to go directly to the Apache OpenOffice website.
Choose your operating system, and then click DOWNLOAD FULL INSTALLATION.

After the file downloads on your computer, click to open it and the setup window will open on your screen. Click NEXT.
Now, click INSTALL to begin the installation process and then NEXT two more times to get through the setup guide.
Now you have the option for a custom or standard installation. If you want all 6 programs, just click on TYPICAL. Otherwise, select CUSTOM. If you chose 'Typical' the installation will finish and you can start using all of the apps. If you chose 'Custom', continue to the next step.

To remove a program click on the little arrow and select THIS FEATURE WILL NOT BE AVAILABLE. After you've chosen the apps you want to include click NEXT to finish the installation.

How to Uninstall OpenOffice
If, after downloading OpenOffice, you decide it's not for you — you can completely remove it from your computer in a few easy steps.
Type Add or Remove Programs in the Windows search bar.
Scroll down and find OpenOffice and click UNINSTALL.

OpenOffice will uninstall and there is no need to restart the computer.
What is OpenOffice?
One of the first competitors to Microsoft Office's suite of tools, OpenOffice is open-source software that has all the same programs as Office, albeit with different names. Since 2012, over 294 million copies of OpenOffice have been downloaded.
The OpenOffice software is open source, which allows for quick improvements and contributions from users like you, from all over the world.
Users can report issues or bugs, make product improvement requests, and see what others have to say on its active forums.
OpenOffice vs Office 365
One key factor that may discourage individuals from opting for Office 365 is its high cost. However, OpenOffice emerges as a viable alternative, offering a free solution that effectively accomplishes the task at hand.
I'll be honest, OpenOffice may not be as good as Office 365, but the question you have to ask yourself is — does it matter?
Do you need all the bells and whistles that come with Excel (and let's be honest, no home user uses 80% of the in-depth features) or Word? The OpenOffice apps are close enough to the Office options that the average user won't care about some of the features that aren't included.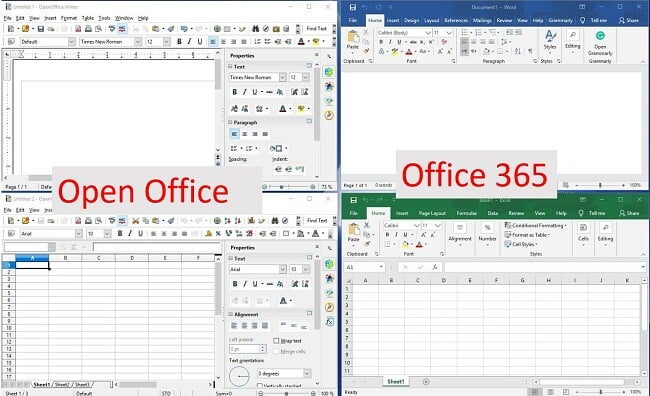 The screenshot I've shared demonstrates that OpenOffice has a somewhat older look in contrast to Office 365. In OpenOffice, you'll find numerous buttons situated in the sidebar rather than the ribbon style seen in Office. Nevertheless, even with this older appearance, you can easily find all the important buttons you need to create documents and spreadsheets in your preferred format.
There are two OpenOffice programs that won't be found in Office 365. They are Drawing (which is similar to Google Drawing in the Google Docs suite), and the Database (or Math) app which is a mathematical equation editor that can be used in either text documents or as a stand-alone app.
Free Alternatives to OpenOffice
Browser-Based Office 365: I mentioned the expensive Office 365 suite, but I didn't mention the free browser-based apps. You can use all your favorite office apps and get a free 5GB OneDrive account to save all your work to the cloud.
Google G Suite: All you need is a Google account and you'll have free access to Google Docs, Sheets, Slides and more.
LibreOffice: This free and open-source software was originally "forked" or built using the same source code, from OpenOffice. LibreOffice has equivalent word processing, database, presentation, and spreadsheet programs as OpenOffice. It releases updates twice a year, is available in over 100 languages, and has thousand of collaborators worldwide.
FAQ
Is OpenOffice really free?
OpenOffice is 100% free, with no hidden costs or membership benefits for paying subscribers. But if you want, you can make a donation to support OpenOffice as well as the many other projects at Apache.
Is OpenOffice safe?
Since it an open-source program, anyone can modify and distribute the software. They can add toolbars, extra software, or even malware in their own versions. Therefore, it is important to only download the software from the Apache website, which is clean of all the garbage that can be found when downloading from third-party providers.
What programs are included with OpenOffice?
There are 6 programs that are all included in a single download.
Writer
Calc
Impress
Draw
Base
Math
Is OpenOffice compatible with Microsoft Office?
Yes. You can open Microsoft Office files in the corresponding OpenOffice programs and OpenOffice files will open up in Microsoft Office programs as well.
Can I add new fonts to OpenOffice?
OpenOffice will work with any fonts found in your operation system. If you want to add a font that isn't built-in, simply download the file and upload it to the Fonts Folder found in the Windows Control Panel. You will have to restart OpenOffice to access the new fonts.
Download OpenOffice now!