Get your hands on the largest collection of free music when you download Spotify for Windows, Mac, Android, and iOS devices for free. With well over 50 million songs in its extensive library, you can create your own playlist with all your favorite songs. In addition to creating your own playlists, Spotify creates a weekly playlist based on your music preferences.
Spotify has more than just music, the streaming service has over 700,000 podcasts that cover a wide range of topics.
Download Spotify for free and listen to your favorite bands and podcasts or discover new ones today.
How to Download Spotify for Free
Click on the Download button on the sidebar and the file will automatically download on your computer.
Double click on the file and the installation will begin.
Once the installation is complete, you can create a new account or, if you already have a Spotify account on another device, log in with your credentials.
How to Uninstall Spotify
Type Add or Remove Program in the Windows search bar.

Scroll down until you find Spotify and click uninstall.

The uninstallation process will begin and Spotify will be completely removed from your computer.
Spotify Overview
If you don't mind a few commercials while listening to your music, then a free Spotify account is perfect. Spotify has apps for Windows, Mac, Android, iOS, Android Auto, most Smart TVs, Amazon Fire Stick, gaming consoles, and Google Chromecast so you can listen to your music from anywhere.
Listen to Your Favorite Songs and Discover News Ones
Spotify is an extremely easy-to-use program; search for songs by name, artist, or genre and either add them to your playlist or mark it as a favorite. With a library of over 50 million songs, from top hits to unknown artists, you can listen to them all for free.
If you're looking for new music, you can type in an artist or song that you like, and Spotify will show you other songs from that artist and playlists that include that song. You can then go through those playlists and discover new favorite songs or artists.
The Spotify for Windows and Mac interface has three main tabs on the top section of the sidebar.

Home: This section contains the recently played songs and playlists, your "heavy rotation" or songs that you clearly enjoy listening to, and playlists that Spotify created for you based on the songs you're listening to and "liked."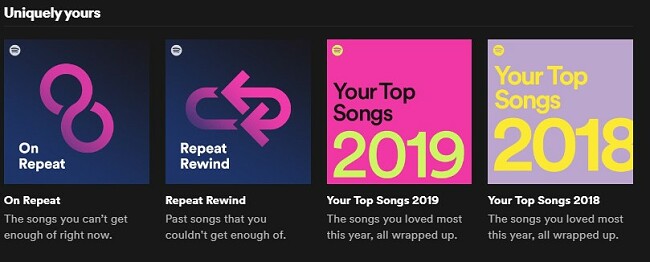 Browse: You can search for new playlists, artists, podcasts, or songs in this section. The Browse section is broken up into different categories:
Genres & Mood:
Podcasts
Charts
New Releases
Discover
Concerts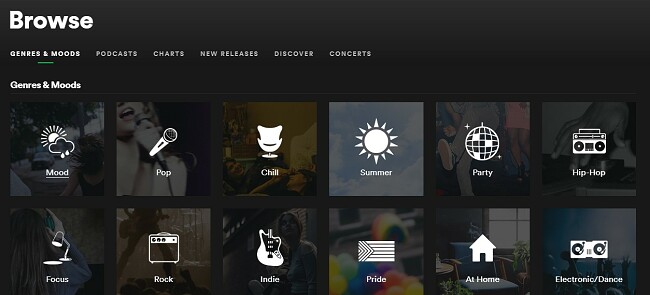 Radio: Spotify Radio will create playlists based on music, artists, or playlists that you like.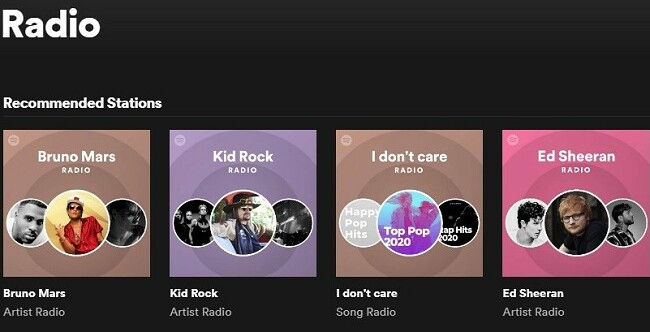 Free Alternatives to Spotify
iTunes: You don't need an iPhone, iPad, or Mac to use iTunes. You can download it to your Windows or Android device and get access to over 50 million songs and tens of thousands of TV shows and movies.
FAQ
Is Spotify Free?
Spotify has a free, ad-based subscription option. There are some limitations with this plan, such as limiting the number of songs you can skip in a playlist per hour, and the requirement to use Shuffle Play on mobile devices instead of being able to listen to a specific song in the playlist.
How to download music from Spotify?
One of the advantages of paying for Spotify is that you can download songs and podcasts and listen to them even when you are offline.
Can I keep the songs I download from Spotify?
Unfortunately, once you cancel your subscription the downloaded files will no longer be accessible to you. The only way to keep your music even after you leave Spotify is to record them, using a program like Audacity.
Can I use a VPN with Spotify?
Whether you want a VPN to get around a firewall at school or work, or the service isn't available in your country, it's important to find one that works. Our experts tested hundreds of VPNs and found the best VPNs for Spotify. These will not only get you access to Spotify but protect your online privacy as well.
Read More