Great news…There is no need to download anything, Internet Explorer is already on your computer.
That's right, it comes pre-loaded on all Windows computers. However, if you deleted Internet Explorer you can download it again by clicking on the DOWNLOAD button in the sidebar.
If you aren't sure if Internet Explorer is on your computer, run a search for it in the Windows Search Bar and then just click on the icon to open the browser.
Internet Explorer vs. Microsoft Edge
While Internet Explorer is still on all Windows computers, Microsoft has moved on from its vintage browser and developed Microsoft Edge. In fact, when I first opened up Explorer I was met by a page telling me to use Edge instead.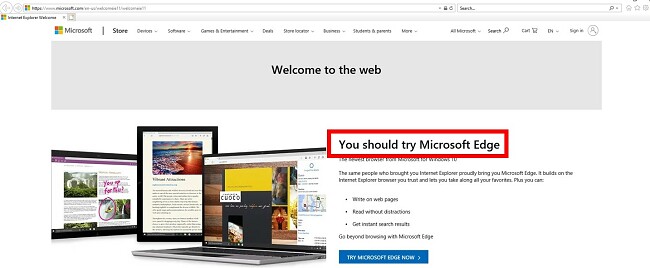 I decided to ignore its message and started browsing with Explorer. The first site I went to was Reddit, where I quickly discovered that Internet Explorer is no longer a real option when it comes to choosing a web browser. As you can see in the image below, there is too much white space, the button doesn't have any text on it, and the page just doesn't display properly.

After that I decided that there wasn't really any point continuing to review Internet Explorer, it should just be retired to the museum where it can be remembered as one of the original web browsers.
On the other hand, Edge is the next great hope for Microsoft in the battle of the top web browsers. It has a design similar to IE, but is built with Google's open-source Chromium code that powers most of the leading browsers. Additionally, it is the only browser that can stream Netflix in 4K.
Alternatives to Internet Explorer
Chrome: As long as you have no issue using Google-related apps, Chrome is an excellent browser choice. It is consistently the fastest browser, has an extensive add-on library, and several security protocols to keep you safe.
Firefox: A secure browser with several great features, the latest version of Firefox is proving that you don't need Google Chromium to build a great browser.
Opera: The only major browser with a built-in VPN, Opera is a great choice if you want to stay anonymous while browsing the web. Its latest release has some great features, such as visual tabs and lots of extensions that can be easily added on.
FAQ
Can you uninstall Internet Explorer from Windows 10?
Unfortunately, since Explorer comes pre-installed on Windows computer it can't be uninstalled.
Why does both Windows come with both Internet Explorer and Edge?
There are still millions of dedicated Internet Explorer users who refuse to use any other browser. Therefore, Microsoft decided to keep the software, even though they aren't making any updates or upgrades.
Does Internet Explorer have an incognito mode?
There is a privacy mode called InPrivate, which can be turned on by clicking on the setting icon > Safety > InPrivate Browsing or just hit CTRL + SHIFT + P.
Is Internet Explorer Safe?
According to Microsoft, use Internet Explorer at your own risk. It relies on old software and isn't being updated to fix any weaknesses. If you're determined to stick with a Microsoft browser, you should make the switch to Edge for your online security.
Visit Internet Explorer Website