Firefox Promises Increased User Privacy
After its most recent series of updates, Firefox is slowly regaining its position as one of the most popular web-browsers. The newest version of Firefox puts a premium on user privacy. For users who are hesitant to trust Google's Chrome browser with their data, this is a huge advantage.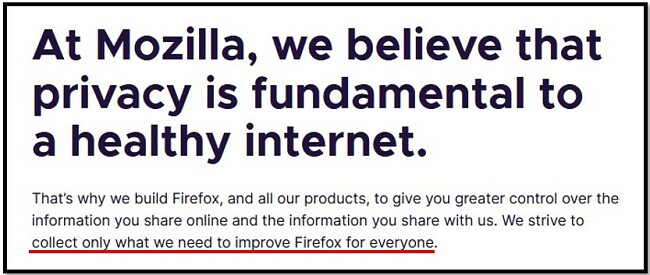 How to Download Mozilla Firefox
Click on the DOWNLOAD button to visit the official Mozilla Firefox download page.
Click the DOWNLOAD NOW button to download an official version of Firefox.

The file will download, click on it and it will begin the installation process.
If you had Firefox on your computer in the past, you'll have the option to keep your old settings or go back to the default. If you want to restore your settings uncheck the box. Then click RE-INSTALL.

When the installation is complete Firefox will open and ask if you want to make it your default browser. If you don't want to change your default browser uncheck "Always perform this check when starting Firefox" and click NOT NOW.

How to Uninstall Firefox
If you decide that Firefox isn't for you, uninstall it in minutes by following these simple steps.
Type Add or Remove Programs in the Windows search bar and open the System Setting.

Find Mozilla Firefox and click uninstall. There should be two Mozilla programs listed, they will both be removed.

Mozilla Firefox Overview
Firefox is an open-source, privacy-conscious, lightweight, fast browser. It has everything you want or need from a browser, such as bookmarks, tabbed pages, a URL and a search bar. There are a lot of customization options, add-ons, and a very active user forum where you can have any questions answered.
Firefox Features
Fast and lightweight: The latest version of Firefox is faster than ever.
Sync your browser: Create an account and sync your Firefox data across multiple platforms. If you're logged in from both phone and computer, you can send tabs to open in the other device.
Save passwords: Never remember a password or purchase a password manager again — Firefox can securely store all your passwords. More on this in the Security Feature section below.
Pocket: This is a handy add-on that was created by Mozilla. You can easily save an article to read later. Pocket will add an estimated "time-to-read" to each article, and you can add tags, to help you remember why you saved the article when you have the time to read it.

Send: This feature makes it easy to share files, up to 2.5GB. Firefox will create a temporary link, that will expire after a predetermined number of downloads, or days (up to 7 days) expire. You can access this feature by clicking on the profile avatar, and choose the FIREFOX SEND or go to send.firefox.com and drag and drop the file. Then simply send out the link.
Screenshot: This is perhaps one of the most underrated features on Firefox. Right-click your mouse and the TAKE SCREENSHOT option will appear on the menu. The screenshot tool can recognize different elements on the page, making it easy to capture specific images or text, or you can select the area you want to screenshot. The final feature, which I love, is the option to take a screenshot of the entire page, not just the visible area.

Built-in PDF reader: The built-in PDF reader can open, print, organize, zoom in, rotate PDF documents.
These are just a few of the features that you'll find with Firefox.
Security Features
Built-in pop-up blocker: Avoid annoying pop-ups and the need to download buggy or costly pop-up blockers.
Blocks malicious websites: Firefox will prevent malicious websites from opening up and potentially harming your computer and security. It also gives you a warning when visiting an unsecured HTTP website.
Monitor: Firefox will scan all data breaches, dating back to 2007 to see if your Email address has been part of a hack or breach. Monitor will then update you as to what data was exposed in the breach and give tips for how to proceed, and what to do to protect yourself in the future.
Lockwise Password: Password managers can be very costly, but with Firefox you can get the Lockwise password manager for free. Download the mobile app and secure it with TouchID or FaceID protection. The passwords are protected with a 256-bit encryption to make sure that no one but you can access them.
Frequent updates: Firefox is constantly updating its browser, quickly patching any security flaws or hacks that are discovered.
User Privacy
Tracking Protection: When you see the shield icon on the address bar, you'll know that Firefox is blocking trackers and other harmful content. You can click on it for more information or manage the protection settings.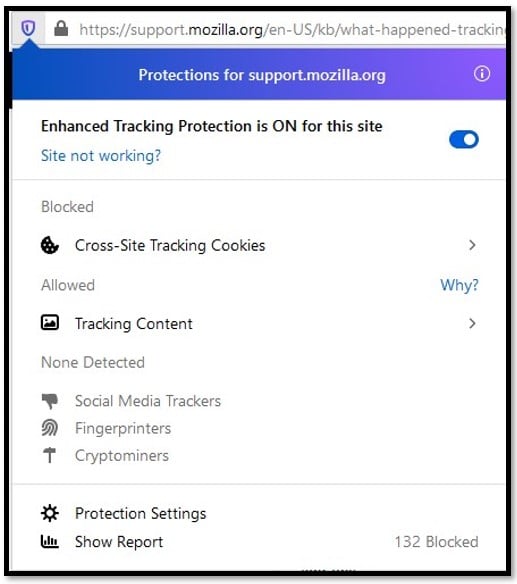 Doesn't rely on Google's Chromium: Firefox is the only cross-platform browser that doesn't use the Google-powered open-source Chromium platform. Instead, it uses the open-source Mozilla platform called Gecko.
Data collection policy: Mozilla states that they don't collect user data unless you specifically sign up with the Firefox Pioneer tool that will give the company insights as to how users are browsing. They do collect a limited set of data, which is needed to improve tools and overall user experience, but even this data is not tied back to you in any way. The data is connected with a random identifier and not your user account.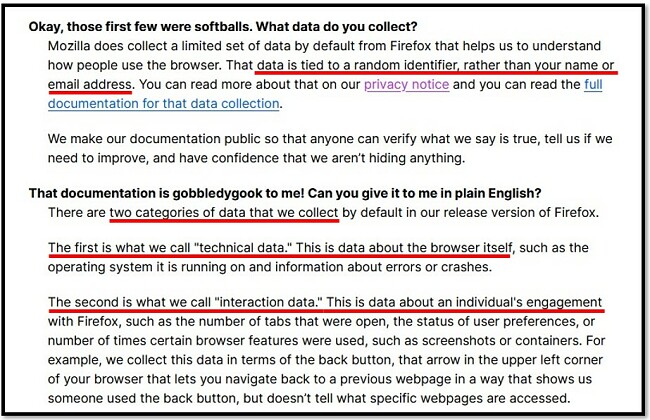 Alternatives to Firefox
Chrome: Google Chrome is one of the most popular browsers in the world. The fact that it's owned by Google is seen as a positive by some and a negative by others. I have come across a speedy web browser equipped with numerous excellent security and privacy features, like a password manager and cross-platform syncing. Moreover, it seamlessly integrates with all Google tools, which could be a significant benefit for certain users.
Opera: While Opera isn't as popular as Firefox and Chrome it does have some features that you won't find in any other browser, most notably, a built-in VPN. While it won't get you access to out-of-market Netflix shows, it will encrypt your data and keep you anonymous while browsing. It also has a nice interface with visual tabs that have thumbnails of the page, fast browsing, and tons of extensions that can be added.
Brave: The secure browser is fast and free and comes with a built-in ad and tracking blockers. By blocking ads, Brave can load pages faster than the competition. From a privacy perspective, Brave has TOR access in a tab. This will hide your true location, encrypt your data, and hide all your online activities.
FAQ
Is Firefox Safe?
Yes, Firefox is 100% virus-free. I tested the file in VirusTotal and it was clean.
Does Firefox have Incognito Mode?
Although Firefox Private Browsing doesn't store any search history or cookies, it doesn't make you anonymous online or hide your true location. For those security features,
you will need a VPN
.
Can I change the default search engine in Firefox?
Click on the menu in the top-right corner of the page and click Options. Click on the Search tab on the right sidebar. Here you'll be able to choose from Google, Bing, Amazon, DuckDuckGo, Twitter, and Wikipedia. You can also add more options by clicking on the "Find more search engines" link
Who owns Firefox?
Firefox is owned by the Mozilla (Moz://a) Foundation, a registered non-profit organization.
Does Firefox sell data to third-party advertisers?
Firefox clearly states in its privacy policy that they don't store, sell, or buy user data.
What to do if Firefox keeps crashing?
If you're running an older version of Firefox you should update it to the latest version. This will patch any known errors that could be causing the crash. If you're using an updated version of Firefox, you might have a virus or malware that is causing the crash, so you should run your antivirus software.
Download Mozilla Firefox now!