How to Change PSN Region on Your PS4 & PS5 in 2023
It's frustrating to miss out on exclusive content, early access to newly released games, and additional streaming apps when your PlayStation account is registered in the wrong region. Fortunately, a VPN can provide access to PlayStation content from other locations.
It changes your virtual location on PlayStation to make it seem as if you're in another country like Australia or the US. This makes it possible to access your account from your home country even when you're on the road.
Of all the VPNs tested, ExpressVPN is the best for PlayStation as it has the fastest speed for a smooth gaming session. You can test ExpressVPN out for yourself and if you're not satisfied, you have up to 30 days to claim a refund.
Quick Guide: How to Change PSN Region in 2023
Get ExpressVPN for PlayStation
Why You Need to Change Your PSN Region in 2023
Changing the virtual location when using PlayStation has several benefits:
Access your accounts from abroad — Many streaming apps like Hulu and BBC iPlayer, and even PS Now, are only accessible in certain countries. A VPN can help you access your accounts from another country to provide unrestricted access when traveling.
Enjoy discounts — PlayStation promotion campaigns are usually regionally targeted. Changing the virtual location with a VPN can unlock location-specific deals.
Experience smoother gameplay — Your online gaming performance improves in speed when you use a VPN to connect to a server near your opponents.
Step-By-Step Guide: How to Change PSN Region
The Best VPNs for PlayStation (Tested in March 2023)
Key Features:
ExpressVPN is the best VPN for PlayStation because it has the fastest connection speeds to support competitive gaming. Although long-distance servers usually take a while for data to travel back and forth, ExpressVPN's servers in Australia and Europe were amazingly fast. There was a small 8% drop from my baseline speed, but it didn't affect performance in any way during an intense 2-hour session of Devil May Cry V: Special Edition.
Bandwidth restriction is a major issue when enjoying your PlayStation with friends on the weekends. ExpressVPN doesn't impose bandwidth restrictions when you're deep in combat and in fact, has high-speed, 10Gbps servers to move your data faster.
Another factor that adds to ExpressVPN's fast speeds is that it has servers in over 94 countries. If the nearest server is overcrowded and slowing you down, there are others to choose from. Plus, it allowed me to compete with top gamers from Japan, Germany, Korea, and Brazil. This is easy if you set up ExpressVPN on your router to secure your PlayStation.
One of the things that impressed me is MediaStreamer, which is a smart DNS feature you can configure on your PlayStation. ExpressVPN MediaStreamer is not optimized for gaming and can't be used to select servers, but it's able to access selected streaming services like Netflix US, Hulu, Amazon Prime Video, BBC iPlayer, and Disney+. However, remember that with MediaStreamer your data is not encrypted.
To take advantage of ExpressVPN's full security features on your PS3, PS4, or PS5, you can set it up on your router. Alternatively, use your Mac or Windows computer as a virtual router to share the VPN connection with your console. ExpressVPN's dedicated apps for routers make it easy to secure PlayStation, and both methods have easy-to-follow guides that took me less than 10 minutes to complete.
The only thing that might disappoint some users is that ExpressVPN is pricier than other VPNs on this list. But, the super-fast connection speeds and ease of getting started are more than worth the price. ExpressVPN has frequent discounts too, the best deal I found is the 1-year + 3 months plan at $6.67 per month.
It also offers a 30-day money-back guarantee so you can try ExpressVPN for yourself completely risk-free. If you're not satisfied, you can always get a full refund. When I tested this by asking for a refund via the 24/7 live chat, I got my money back in 3 days, no questions asked.
Get ExpressVPN for PlayStation
Key Features:
CyberGhost is great for PlayStation as it has optimized servers in the US, the UK, Germany, and France with low pings for online gaming. The lower the ping, the better your gaming performance. During tests, even the long-distance servers in the UK and Germany recorded speeds averaging 74Mbps with a ping of around 30ms. This was enough to play Apex Legends without any buffers.
Besides the optimized servers, CyberGhost has 9736+ regular servers in 91 countries. On average, they were about 10% slower than the optimized servers but still handled movie streaming and game downloads from PlayStation Store without problems.
Both the regular and optimized servers provide full VPN security for your PlayStation when CyberGhost is set up on your router or the connection is shared via your computer. This means you'll be protected by military-grade encryption against DDoS attacks that can ruin a winning moment and force you out of the game.
To unblock streaming apps like Netflix US and BBC iPlayer on PlayStation, CyberGhost has a smart DNS feature that connects to optimized servers in the US, the UK, the Netherlands, Japan, and Germany. All it takes is copying the DNS address from your CyberGhost account to PlayStation settings. Similar to ExpressVPN's MediaStreamer, CyberGhost's smart DNS feature doesn't include the full security features of a VPN.
If setting up a VPN connection for your PlayStation sounds complicated, there are detailed setup guides for each installation method. The easiest and fastest option is to get CyberGhost's pre-configured VPN routers that are plug-and-play in nature. If you run into problems during manual setup or with VPN routers, I found CyberGhost's 24/7 live chat agents extremely responsive and helpful.
If you want to try CyberGhost with your Playstation, I recommend the 2-year + 3 months plan as it's quite affordable at $2.11 per month. I even tested its 45-day money-back guarantee by asking for a refund via their live chat after 2 weeks. I received my money back in 4 days.
Get CyberGhost for PlayStation
Key Features:
PIA has the largest network on this list with over 35000 servers in 84+ countries. This means you have more than a handful of server options within the region to get the best speeds. Internationally, it allows you to play with friends scattered all over the world.

Additionally, PIA leveled up to NextGen VPN Network servers with 10G network cards. During tests, it achieved fast speeds, stable connections, and low pings for gaming and streaming on PlayStation. There was an 18% drop in speed from baseline, but the connection was stable at 60Mbps throughout the Excavation mission in Warframe.
Like ExpressVPN and CyberGhost, PIA can be paired with PlayStation by either connecting it to your router or via a computer to get full VPN protection. PIA's smart DNS feature is also an option to unblock streaming apps. The smart DNS allows virtual locations to be changed directly on the console. The setup is fairly easy even for complete beginners and I was able to get started within 10 minutes.
One thing I didn't like about PIA is its customer service. I had to speak to 3 different agents on live chat to figure out that the smart DNS feature is compatible with PS4 and PS5, but only PS4 has a step-by-step setup guide. Unlike ExpressVPN's support team, PIA's agents didn't offer further help with PS5 installation. But, I found the help I needed after sending PIA an email.
I found PIA's 2-year + 3 months plan offers the best deal at just $2.11 per month. You can also try PIA with confidence as it comes with a tried and tested 30-day money-back guarantee. I asked for a refund by opening a ticket with their customer support and my money was back in my account within the week.
Key Features:
NordVPN is one of the best VPNs on the market — and you can get super cheap prices when you sign up for a long-term subscription. One thing to note, however, is that when it's time to renew your subscription, prices do increase quite significantly.
I was particularly impressed with the high performance of every server I tested. Just because a VPN has thousands of servers doesn't mean they all work. Servers can still struggle to unblock local sites — and some can even fail to connect completely. However, I easily unblocked Netflix, Disney+, Hulu, Amazon Prime Video, BBC iPlayer, and HBO Max on multiple servers in the US and UK.
I did, however, have issues with using NordVPN's native Fire TV app. Although it worked and unblocked some streaming services, it sometimes had issues unblocking Netflix US and kept crashing. I also found that NordVPN's user interface for desktop devices was less user-friendly than ExpressVPN and CyberGhost.
NordVPN has the following security and privacy features:
AES 256-bit encryption
A kill switch that cuts your internet access if your connection to a VPN server drops suddenly
Built-in ad and malware blocker, so you don't need a third-party ad blocker
Fully audited no-logs policy (audited by PwC) – NordVPN doesn't store any personal or identifying data while you're connected to the VPN
In addition, NordVPN includes Threat Protection that protects you from viruses, infected websites, and trackers – and it works whenever you have the NordVPN app open, even if you're not connected to a VPN server.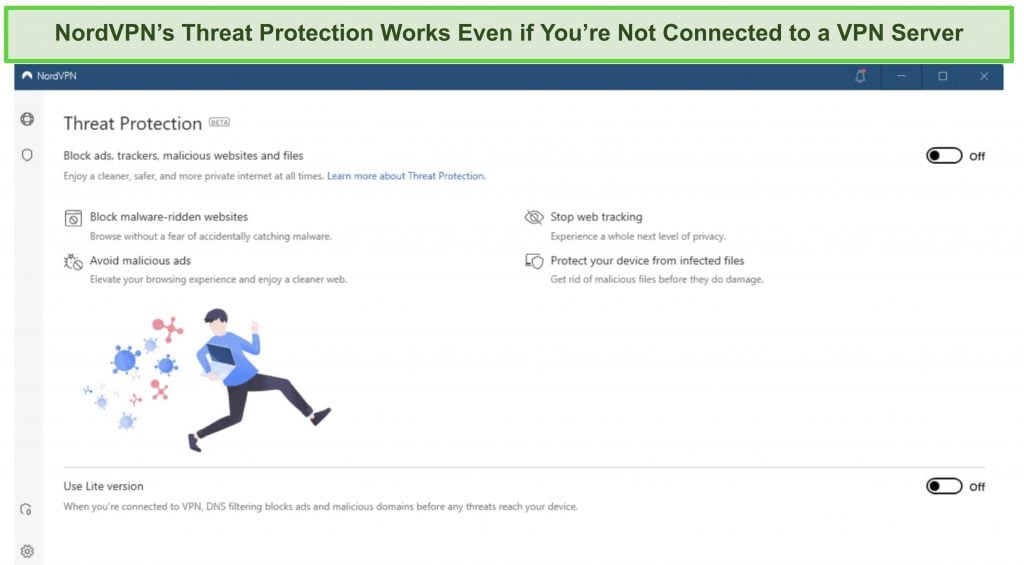 With plans that cost as little as $3.29 per month, it's easy to find a NordVPN subscription plan that suits your needs. You can also stream, torrent, and browse for free for up to 30 days with its money-back guarantee. I tested this to ensure that you'll really get your money back. At first, the support team tried to give me an extended trial period — but they initiated my refund right away after I told them I wasn't interested in the extension. I got my money back in 6 business days.
Key Features:
Surfshark offers the best value for money out of every premium VPN on the market. You can connect an unlimited number of devices with a single subscription, which means you can use Surfshark on all your devices without getting logged out.
I tested Surfshark's simultaneous connections on 2 PCs, 2 phones, a Fire Stick 4K, and an iPad. My connection remained reliable on all 6 devices. Even while I was actively streaming on all my devices, my average speed was 112 Mbps — fast enough for UHD quality.
When I saw the price of this service, I thought it couldn't possibly have top-grade security features for such a low price, but I was pleasantly surprised.
Surfshark has the following security and privacy features:
AES 256-bit encryption on all devices, with ChaCha encryption available for Android users
Wireguard VPN protocol enabled by default
Diskless, RAM-only servers to protect your privacy (no data can be physically extracted from any servers)
Kill switch (although this isn't enabled by default)
IP and DNS leak protection
Surfshark offers two-factor authentication (2FA) on your account. This feature requires you to enter an extra code before you can log in to ensure that only you can access your account.
While Surfshark does have slightly fewer global servers than rivals such as CyberGhost and PIA, I didn't experience any issues during my tests. I easily connected fast working servers every time, and I had excellent speeds for streaming Netflix in UHD, downloading torrents, and browsing the internet.
You can try Surfshark for yourself with the 30-day money-back guarantee. It has plans that cost as little as $2.30. Requesting a refund is easy with Surfshark's live chat feature. Although the support team asked why I wanted to cancel my subscription, I had no problem getting my money back (and it only took 4 days!).
Key Features:
PrivateVPN's Stealth VPN can bypass internet blocks to access PlayStation Store and streaming services in countries like Russia and China. Though Stealth VPN can affect speed, PrivateVPN recorded 55Mbps on local servers and a ping of 44ms which was still great for playing online games like Ghost of Tsushima: Legends. I also like that PrivateVPN allows you to organize the servers based on their distance from you, which automatically shows you the servers with the lowest ping first.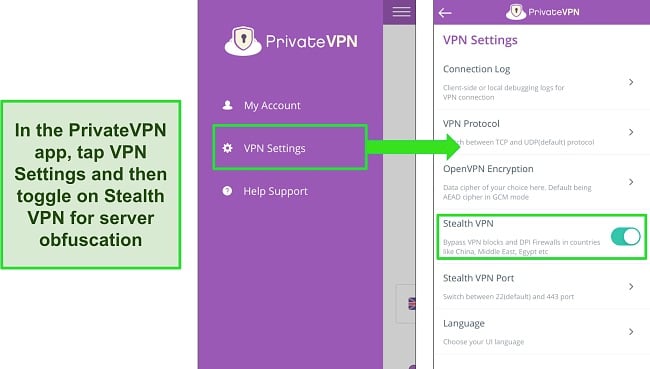 A unique feature of PrivateVPN is that it offers a dedicated IP that assigns a unique IP address every time you connect. This way, you'll avoid triggering security warnings and account restrictions due to changing your IP address while gaming online. The servers will consider you a legitimate user since no one else shares the same address.
Unfortunately, PrivateVPN doesn't come with a smart DNS feature like ExpressVPN and the others. But you can watch geo-blocked content on your PlayStation by setting PrivateVPN up on your router. This allows you to use all of PrivateVPN's 200+ servers in 63+ countries. And secure an unlimited number of devices connected to the WiFi network.
In terms of pricing, PrivateVPN is one of the best monthly VPNs and even more attractive with the 3-year plan costing just $2.00 per month. When you give PrivateVPN a try with PlayStation, you'll also get a 30-day money-back guarantee. When I sent them a request via email, I was reimbursed in less than 2 weeks.
Get PrivateVPN for PlayStation
Key Features:
IPVanish fully owns its network of 2000+ servers to eliminate third-party involvement with your data. In this way, IPVanish contains your online activities and gaming history within its premises. Additionally, like the other VPNs on this list, IPVanish has a strict no-log policy that's been verified by an independent third-party.
The VPN also has a sorting function that makes it easier to choose a server based on ping and location. I could connect to a fast server immediately without having to eliminate them by trial. When selecting a server this way, I managed to find a decent IPVanish server that allowed me to play Knockout City with friends without any noticeable delays.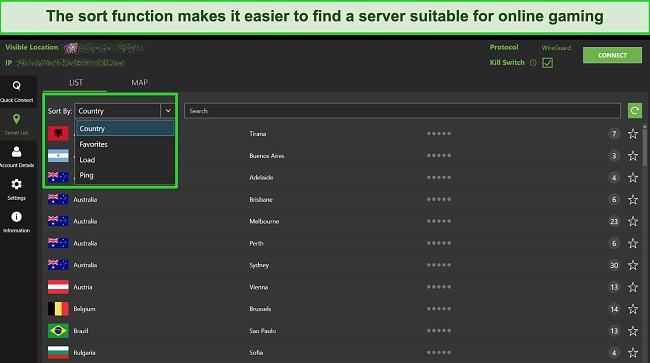 Server selection aside, IPVanish also makes things easier by offering detailed setup guides on its website for various router models. If you run into any problems, there's a 24/7 live chat. Plus, IPVanish is the only VPN on this list with dedicated phone support in the US, Mexico, UK, Spain, Australia, and Brazil. Like PrivateVPN, IPVanish doesn't have a smart DNS feature.
If you prefer subscribing by using cryptocurrency, this VPN might not be for you. However, IPVanish accepts credit or debit cards and PayPal. The 2-year plan is IPVanish's most affordable package and it's $3.33 per month. It also comes with a 30-day money-back guarantee if you want to test IPVanish with your PlayStation. My refund was approved automatically after canceling my subscription via the user control panel and my money was back in my PayPal account within a week.
Comparison Table: 2023's Best VPNs for PlayStation
| | | | | | |
| --- | --- | --- | --- | --- | --- |
| | Smart DNS | Router Compatibility | Server Numbers | Device Connections | Best Price |
| ExpressVPN | ✔ | ✔ | 3000+ | 5 | 1-year + 3 months plan costs $6.67 |
| CyberGhost | ✔ | ✔ | 9736+ | 7 | 2-year + 3 months plan costs $2.11 |
| PIA | ✔ | ✔ | 35000+ | unlimited | 2-year + 3 months plan costs $2.11 |
| NordVPN | ✔ | ✔ | 5456 | 6 | 2-year + 3 months |
| Surfshark | ✔ | ✔ | 3200 | unlimited | 2-year + 2 months |
| PrivateVPN | ✘ | ✔ | 200+ | 10 | 3-year plan costs $2.00 |
| IPVanish | ✘ | ✔ | 2000+ | Unlimited | 2-year plan costs $3.33 |
Try ExpressVPN with PlayStation
How to Use a VPN With PlayStation
With most VPNs, there are 3 ways to use a VPN with PlayStation:
Smart DNS — Takes about 5 minutes to set up but your data won't be encrypted for protection against cyberattacks.
Using your Windows or Mac as a virtual router — This option provides full security but not all VPNs have setup guides for this method.
Router — You can secure all the devices that are connected to the network with full VPN service but only selected routers support VPNs.
These setups are not the same as using a VPN on your smartphone or computer because PlayStation doesn't support VPNs. Therefore there are no native apps and manual configuration is required.
Smart DNS Method
Sign up for a VPN. ExpressVPN's MediaStreamer is the best smart DNS service out there and it can be set up within 5 minutes.
Register your IP address. Log in to your VPN account and open "DNS Settings" or "Smart DNS". Your IP address should be registered automatically.
Write down the DNS address. This will be provided after you activate your IP address.
Turn on PlayStation. Click Settings > Network > Set up your internet connection > Custom.
Configure your settings. Choose your internet connection > click "Automatic" > Do Not Specify > Manual > [Key in the DNS address] > Do Not Use.
Restart your PlayStation. Now the PlayStation can be used to unblock streaming services.
Windows 10 — Ethernet/WiFi
Download a VPN. ExpressVPN's Windows app is easy to use.
Connect your PlayStation to your computer. Use ethernet or WiFi.

If via ethernet, use an ethernet cable to connect your router to your PC and another cable to connect the PlayStation to the PC.
If via WiFi, go to Settings > Network & Internet > Mobile Hotspot and toggle the mobile hotspot on. Set "Share my internet connection from" to "WiFi". Click "Edit" and choose a name and password for your hotspot.

Share your VPN connection. Go to Control Panel > Network and Internet > Network and Sharing Center on your PC.

If using ethernet, click on Change Adapter Settings > Right-click your VPN's adapter > Properties > Sharing > Allow other network users to connect through this computer's Internet connection > Select "Home Networking Connection" > select your PlayStation's ethernet connection.
If using WiFI, click on Related settings > Change adapter options. Right-click on your VPN's adapter > Properties > Sharing > Allow other network users to connect through this computer's Internet connection > Under "Home Networking Connection" > Select the active hotspot connection.

Connect your VPN. Launch your VPN app and select a server.
Set up your PS4/PS5 internet connection. On your PlayStation, go to Settings > Network > Connect to the internet > Use WiFi / Use a LAN cable > Easy. If prompted, select "Do not use a proxy server".
That's it! Your PlayStation is now secured by a VPN.
Mac — Ethernet/WiFi
Download a VPN. I recommend ExpressVPN for its high-speed servers which are perfect for gaming.
Connect your Mac to PlayStation. Use an ethernet cable or WiFi.
Share your connection. Select System Preferences > Sharing > Internet Sharing. Under "Share your connection from", select your VPN. Under "To computers using", select WiFi or ethernet.
Set up WiFi name and password. Click "WiFi options". Click "Turn WiFi On" if you see the pop-up: "To share your Internet connection, you must turn on WiFi". Skip this step if you're using an ethernet connection.
Turn on Internet Sharing. Click "Start" if you see the pop-up: "Are you sure you want to turn on Internet sharing?".
Connect to your VPN. Launch the VPN app and choose a server.
Set up your PlayStation's internet connection. Go to Settings > Network > Connect to the internet.

If using WiFi, select WiFi and choose the network you set up.
If using ethernet, select Use a LAN cable > Easy > Choose "Do not use a proxy server" if prompted.

You're done! You can now start streaming and gaming.
Router
To connect your VPN to your router, find the instructions for your specific model on your VPN provider's website as the steps may vary. But if you want to skip manual configurations, VPNs like ExpressVPN and CyberGhost have pre-configured VPN routers that you can purchase from Flashrouters.
ExpressVPN is compatible with many routers from ASUS, Linksys, and Netgear. It also has step-by-step setup guides that even complete beginners can execute with perfection.
Get ExpressVPN for PlayStation
How I Tested and Ranked the Best VPNs for PlayStation
I tested all the top VPNs in 2023 to help you evaluate which is best for PlayStation. Here are my criteria:
Global server network — The VPNs I shortlisted have servers all over the world to support local and international connections for online gaming.
Fast speeds — I evaluated each VPNs connection speed and ping rate to make sure it's possible to stream and play games online, even if there's a slight dip from the baseline rate.
Setup complexity — All the VPNs on this list can be set up easily thanks to the helpful step-by-step guides they provide. All you have to do is select a VPN and decide if you want to make a connection via smart DNS, computer, or router.
Customer support — A good customer support team will help you solve problems quickly. I only selected VPNs that have responsive 24/7 live chat support and other methods of contact, so you can get help at any time of the day.
FAQs for PlayStation and VPNs
Can I use a free VPN with PlayStation?
No, as both streaming and gaming are high-bandwidth activities that free VPNs can't cope with. Even the best free VPNs only have several servers and are usually far away to provide decent connection speeds.
And because it's free, it's usually overcrowded, slowing things down on your PlayStation even more. This usually makes playing online games competitively and binge-watching series almost impossible.
However, you can use a premium VPN's money-back guarantee and use it with your console for free. CyberGhost has a 45-day money-back guarantee so you have more than enough time to request a refund and get your money back.
Will I get banned for using a VPN with my PS4/PS5?
No, you won't get banned if you use a VPN with your PlayStation. However, if you use a VPN to buy games that are not available in your region or take advantage of price promotions in another region you'd be violating their terms of use and as such can be banned.
How do I check my PSN region?
There are 3 ways to check before you try to change your PSN region:
Visit PSNprofiles.com. Enter your PSN ID to check your region.
Log into the PlayStation website. On your computer, click your Avatar on the top-right > Select "Account Settings" > Click "Edit" next to the Residential Address and view the country.
Visit the PlayStation Store. On your PS4/PS5, click on the Menu button (3 dots) > Choose "Storefront Country", and you'll see your account's location.
Will I lose my games if I change my PSN region?
No, you won't lose your games if you change your PSN region. You just have to log out and sign in to the account you used to buy them. All the in-game purchases, friends' lists, and other resources will also still be in your old account.
Can I change my Blu-Ray/DVD region on my PS4/PS5?
Yes, it's possible. However, you can only change the region on your PlayStation 4 or 5 times depending on the model of your PS4 and PS5. Just enter the incompatible DVD or Blu-Ray to see an error message. Click "Next", and it will ask you to change the region code. Choose the correct region code based on your physical disc.
Alternatively, just download the streaming apps you need to watch your favorite movies or shows. If they're not available in your region, a VPN can help PlayStation access them.
Get ExpressVPN for PlayStation
Change Your PlayStation Region & Country With a VPN
A VPN makes it possible to change your PSN region so you can access your account even when you're abroad. However, PlayStation doesn't support VPNs so VPN providers often circumvent the problem with complicated setup and configurations. Some are not fast enough to stream or play online games effectively.
Fortunately, ExpressVPN is the best VPN for PlayStation as it has the fastest speed and the easiest to set up, even for complete beginners. You can test ExpressVPN out for yourself and if you're not satisfied, you have up to 30 days to claim a refund.
---
Summary — Best VPNs for PlayStation in 2023