How to Cancel ExpressVPN & Get Refunded – Tested September 2021
Last Updated by John Bennet on September 01, 2021
ExpressVPN was good to their word and gave us a full refund even though we signed up through the special deals page to get the cheapest plan.
Did you purchase a subscription to ExpressVPN only to find out that it doesn't work with Netflix in Brazil or you need an ad blocker (which they don't offer) for an extra layer of security? You'll be happy to know that you can cancel the subscription and receive a full refund.
If you're looking for a replacement VPN, CyberGhost is an excellent choice or you can look at the other recommended alternatives below.

Quick Guide: 3 Steps to Canceling Your ExpressVPN Account
Contact customer support through live chat email
Let them know you want to cancel
You will receive your refund within 7-business days.
The Cancellation Process Was Easy and Refund Came Quickly
There is nothing more frustrating than believing you have a 30-day testing period for using a product only to discover that if it isn't for you and the money back guarantee isn't honored for some reason.
That's why we went ahead and tested out the ExpressVPN 30-day money-back guarantee. This was done for several reasons:
We don't want to keep telling you about it if service is hard to cancel.
We want to make sure our readers have options available to them.
We like to keep up to date with the customer service of every product we recommend.
Our results might surprise you.
Let's start by taking a closer look at the money-back guarantee. They offer 30 days for complete reimbursement of your plan. It's valid on any price and term you opt for.
While you have to pay for the plan up front, the company offers every penny of it back if you're unsatisfied.

The website doesn't have an easy link to cancel through. You also won't find an area in the Member section to cancel the service.
You must contact support, either through email or live chat. We chose to reach out through chat because it also gave us the chance to evaluate the customer service and speed of support.
It took just a few seconds to connect with a representative. They spoke perfectly good English and seemed to be a real person, unlike some companies that use computers.
We expressed that we weren't satisfied with the product and wanted our money back. The support person asked for a moment to review our account. When they came back, they said the plan was canceled and we would receive our refund in five to seven business days.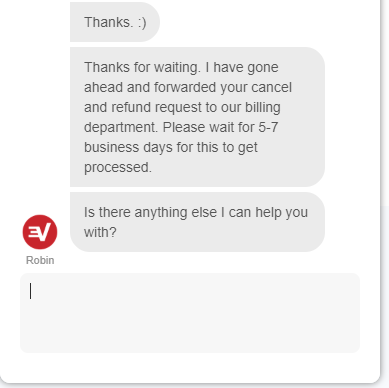 It was that simple! They never even asked why or tried to get us on another plan. They respected our choice from the first minute of our conversation.
Then, just as they promised, the refund showed up in our account only five days later.
If you want to try ExpressVPN for yourself, click the button below and get a 49% off coupon.
September 2021 Update! ExpressVPN has dropped prices for a limited time to a crazy $6.67 per month for the 1-year plan (you can save up to 49%) + 3 months free! This is a limited offer so be sure to grab it now before it's gone. See more information on this offer here.
How Does This Compare to Other Companies?
We've tried out more VPN services than we can count. With that comes plenty of experience into what subpar or non-existent customer service looks like.
Some providers force you to send in an email. Then, you are at their mercy as you wait for a response.
Others take a good deal of time pressuring you for a plan. They offer a discounted rate for a specific time even though you've told them you don't want it any longer.
We understand offering up another plan if your excuse for canceling is the cost – but otherwise, it's just unnecessary pressure.
Aside from that, some companies want to know why you're canceling. Maybe it's just because they want to improve their service down the road, but it often feels invasive. What if you signed up for the program because you knew you'd be traveling, but didn't really have an intention of keeping the service? Do you lie and make up an excuse for getting rid of it, or tell them that you had no plans of continuing? These are situations we'd rather not be placed in.
ExpressVPN couldn't have exceeded our expectations any further than they did. They surprised us by not asking questions or pressuring us into plans we didn't want.
Be Careful with 30 Days – Not a Month
If you aren't sure you're keeping the program, we always recommend marking the cancellation date on your calendar so you don't forget. What you need to remember is that 30 days is not a month.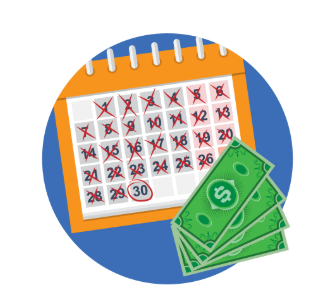 For example, if you purchase ExpressVPN on August 1 at 8 a.m., you need to contact support before August 31 at 8 a.m. to claim your refund. Otherwise, you've forfeited your right to receive any money back.
As long as you cancel within those 30 days, the full amount of your plan is credited back to the original payment method.
Money-Back Guarantee Advantage over a Free Trial
With all the free trials available out there, it's tempting to go with one of those providers instead. The enticement of this "easy" solution often outweighs making the best decision for your needs.
These free trial programs usually only give you the opportunity to try out a demo version. Often, they have limited functionality and work on one device.
With ExpressVPN's money-back guarantee, you have access to the full version of the program. Install it on all your devices and try it out, without commitment.
Having the full program also gives you access to the unlimited bandwidth, an extensive list of server locations, and attentive customer service team. There's no better way to ensure a VPN works for you than by trying out the complete program.
Yes – your payment method is charged when you make the initial purchase; there's no way around that. BUT, you get a full refund as long as you request it within the 30 days. As our testing shows, the refund process is painless, simple, and uncomplicated.
Alternative to ExpressVPN With a Money Back Guarantee
CyberGhost – Cyberghost has servers that are dedicated for torrenting and streaming. You can find servers that are optimized specifically for Netflix, BBC iPlayer, Netflix, or France2 (to name a few). From a security perspective, CyberGhost has a strict no-log policy and is located outside the Five Eyes.
---
Summary: These Are The Other Best VPNs With Money-Back Guarantee in 2021