McAfee vs Microsoft Defender: Which One Is Better In 2023?
You're probably wondering if Microsoft Defender provides enough protection or whether you need a premium antivirus like McAfee. It's tough to decide whether to upgrade to a premium antivirus or just stick with the default free Windows protection.
That's why I compared Microsoft Defender and McAfee extensively across 15 different areas to see which one is the best. I found that while you get decent protection for free with Microsoft Defender, it doesn't provide comprehensive protection like McAfee. Microsoft Defender lacks many key features that McAfee offers and also doesn't work on Mac, Android, and iOS devices.
When it comes to malware protection, McAfee has the edge, achieving perfect scores, whereas Microsoft defender comes close with near-perfect scores. Ultimately, I recommend you try McAfee risk-free for 30 days so you can try out its advanced protection for all your devices.
Try McAfee risk-free for 30 days
No Time? Here's a 1-Minute Summary of Category Winners
Microsoft Defender and McAfee provide excellent protection against malware threats, but I found McAfee to be the most robust antivirus solution as it offers comprehensive features for your all-around security.
| | | |
| --- | --- | --- |
| | | |
| Virus Scanner | Near-perfect malware detection scores | Detects 100% of known and zero-day malware threats |
| Real-Time Malware Protection | Catches 99% of real-time threats | Catches 100% of real-time threats |
| System Performance | Increased CPU utilization during full system scan | No noticeable system impact, even during scans |
| VPN | No VPN | Comes with VPN that accesses Netflix and HBO Max, but can't stream in UHD |
| Parental Controls | Multiple ways to safeguard and manage your children's online activities | Provides standard parental controls app with location tracking, web filtering, and screen-time schedule |
| Firewall | Robust firewall, but not user friendly | Fully-customizable and easy-to-use firewall |
| Password Manager | Doesn't have a password manager | Store and use passwords, notes, and sensitive documents in a secure vault |
| Optimization Tools | No performance-enhancing tools | Tracker Remover helps you permanently erase data and speed up your device |
| Other Features | Only offers 5GB of cloud backup storage | Offers unlimited cloud backup storage, ID theft protection, anti-spam, VPN, and more |
| Device Compatibility | Works only on Windows 10 and 11 devices | Protects Android, iOS, Windows, Mac, and Linux devices |
| Customer Service | Responsive and helpful customer support | Multiple support options with fast and helpful phone support |
| Price | Doesn't come with premium plans, and lacks many key features | Tons of advanced security features at reasonable pricing |
| Free Version | Completely free to use | Doesn't have a free plan |
| Money-Back Guarantee | No money-back guarantee | 30-day or 60-day money-back guarantee for auto-renew plans |
Protect your devices with McAfee
How I Tested and Compared Microsoft Defender vs McAfee
Get top-tier protection with McAfee
1. Virus Scanner — McAfee Offers Perfect Malware Detection Rates
McAfee is ahead in malware detection rates, but Microsoft Defender offers more scanning options. In my tests, McAfee detected 100% of known and emerging malware while Microsoft Defender comes close at 99.5%. Both antiviruses proved effective at removing different types of malware strains including viruses, trojans, worms, spyware, and more.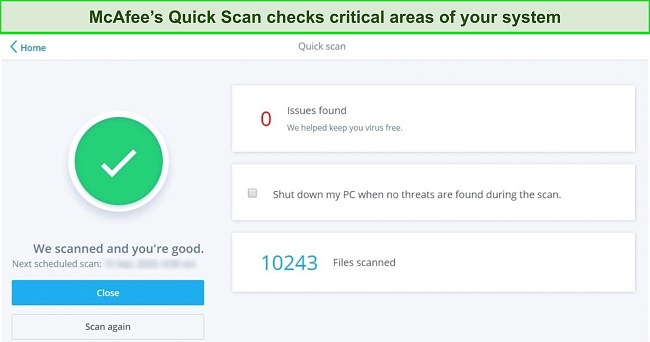 I looked at the types of scans each antivirus offers and found that Microsoft Defender offers more. McAfee offers the following types of scans:
Quick — checks critical areas of your system.
Full Scan — scans the entire hard drive.
Custom — checks specific folders and locations on your system.
Microsoft Defender offers 4 types of scans:
Quick — scans locations on your system known to host malware.
Full Scan — checks your entire computer.
Custom — choose specific location and files to scan.
Microsoft Defender Offline scan — scans your entire system before the operating system starts to remove tough malware.
An antivirus scanner needs to be fast when checking for malware. Luckily, both antiviruses can check your system in a few minutes. During my tests, it took McAfee less than 5 minutes for the Quick scan to check over 10,000 files. The full scan took 53 minutes to check 590,000 items.
Microsoft Defender, on the other hand, is faster overall. The Quick scan took just over 2 minutes to scan over 38,000 items while the Full scan checked over 3,000,000 files in a little over 1 hour. Although Microsoft Defender is faster, McAfee provides better malware detection rates, scoring 100%. Better still, you can check out Norton, which also has perfect detection scores and takes just 12 minutes to run a full disk scan.
Ultimately, it's better to have perfect detection scores than more scanning options. For this reason, McAfee wins this round. You can go ahead and download McAfee risk-free using the 30-day money-back guarantee to try the malware scanner and other features.
2. Real-Time Malware Protection — McAfee Catches 100% Of Newly-Discovered Threats
Microsoft Defender offers adequate real-time protection against malware, but you get perfect protection with McAfee. In my tests, Microsoft Defender detected 99% of real-time threats whereas McAfee caught 100% of the threats.
Both antiviruses flagged a few legitimate files wrongly but allowed me to check the files which is much better than letting a virus fly undetected. This is an area where they perform very similarly, which doesn't mean there's no winner in this category. Unlike Microsoft Defender which offers near-perfect real-time protection, McAfee leaves no room for known and emerging malware threats, achieving perfect protection scores.
McAfee's perfect score is powered by its Global Threat Intelligence system. This cloud-based technology examines files, monitoring the behavior to see if it is malicious. Once it notices any suspicious behavior, McAfee immediately blocks the threat so that it doesn't infect your system. Not even ransomware can escape it as McAfee, through its ransomware protection, monitors suspicious changes to files and blocks any potential ransomware threats.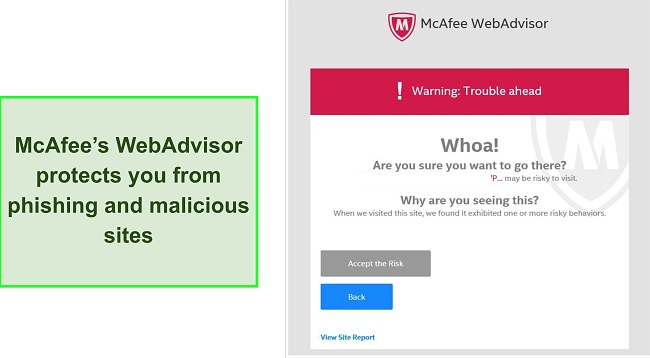 While McAfee's ransomware protection is seamless, you need to create a "Protected Folder" with Microsoft Defender to protect your files from ransomware attacks. With this, you can select specific folders that you want to protect, and once added, unauthorized apps cannot make changes to the files in those folders.
One other area both antiviruses are at par with each other is protection from phishing threats. McAfee's WebAdvisor does an excellent job of blocking cryptojacking attacks, scams, and every single phishing site I visited during my tests.
Similarly, Microsoft Defender proved potent against phishing as it flagged every known phishing site that I visited. However, while WebAdvisor works will all major browsers like Chrome, Firefox, Edge, and Opera, Microsoft Defender's phishing protection only works on the Microsoft Edge and Google Chrome browsers.
Overall, both antiviruses offer excellent protection against real-time malware attacks, phishing, and other online threats, but Microsoft Defender offers near-perfect protection, while McAfee protects you from 100% of threats online and offline.
Real-Time Malware Protection Winner: McAfee
Stay safe from threats using McAfee
3. System Performance — Both Antivirus Programs Are Light-Weight
Microsoft Defender and McAfee are both lightweight antivirus programs. However, with Microsoft Defender as Windows's built-in protection, it's expected to consume fewer system resources than a third-party antivirus. Surprisingly, that wasn't entirely the case.
During my tests, I found that McAfee increased my CPU utilization from 7% to 28% and my memory utilization from 80% to 84% during a full disk scan. In contrast, Microsoft Defender increased my CPU utilization from 5% to 100%, but my memory utilization stayed the same at 74%. This simply means that during a scan, Microsoft Defender consumes more system resources than McAfee.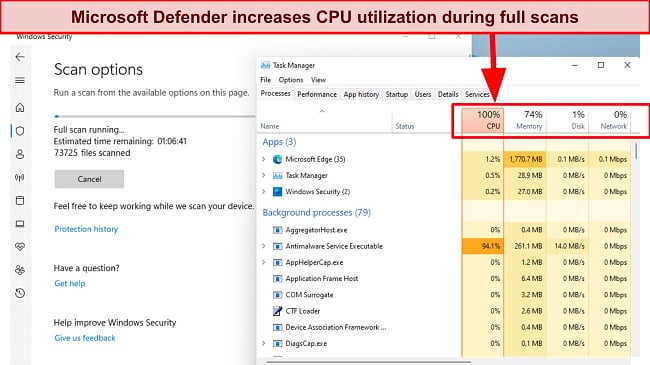 While McAfee was running in the background, I didn't notice any significant system slowdowns. Likewise for Microsoft Defender. Here's an idea of how McAfee fared when carrying out various activities compared to Microsoft Defender:
Slowing down when launching a popular website: 15% slowdown (versus Microsoft Defender 13%).
Copying files, both locally and in a network: 2% slowdown (versus Microsoft Defender 46%)
Launching standard software apps: 6% (versus Microsoft Defender 6%)
Overall, Microsoft Defender and McAfee won't slow down your computer, but you're better off with McAfee as it consumes fewer CPU resources during a scan.
System Performance Winner: McAfee
Try McAfee risk-free for 60-days
4. VPN — Only McAfee Offers a VPN, but It's Bare-Bones
McAfee's VPN is great for protecting you while you surf the web, but that's just about it. The VPN uses bank-grade security ( which could likely be AES-256 bit encryption, even though McAfee doesn't specify) to secure your browsing so that hackers cannot see what you're doing or hijack your connection. However, when it comes to streaming, McAfee's Safe Connect VPN isn't impressive.
I could only access Netflix and HBO during my tests. Due to the slow speeds of the servers, however, I couldn't stream in UHD, which was very disappointing. Worse still, I couldn't access my Hulu, Amazon Prime Video, and Disney+ accounts. My colleague in the UK also couldn't watch BBC iPlayer with it.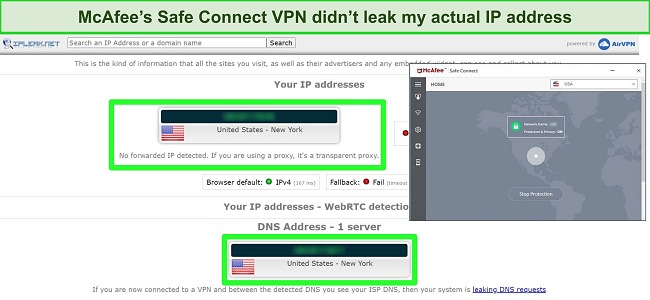 McAfee's Safe Connect VPN provides a decent number of servers in 50+ countries with a fairly distributed network. You can get McAfee's VPN as a separate subscription or when you subscribe to the auto-renewal plans of the antivirus package. Overall, I think McAfee's VPN is useful if you just need to encrypt your connection when shopping online or using online banking.
The slow speeds, poor streaming abilities, and small server network make McAfee's VPN somewhat limited, but McAfee still wins this round because it's the only antivirus among the duo with a VPN. Plus, the VPN still allows you to browse securely, preventing hackers from hijacking your connection. That said, you should consider the antivirus programs that offer built-in VPNs that are fast, secure, and can access all major streaming services.
Secure your browsing with McAfee
5. Parental Controls — McAfee's Safe Family Protects Your Kids From Harmful Content
McAfee's parental controls are excellent for protecting your kid's devices, but Microsoft Defender doesn't offer such protection. Children are increasingly tech-savvy these days and access to content is readily available. McAfee's Safe Family parental controls ensure that your kids don't access inappropriate sites or content while surfing the web.
I like that it is really easy to set up McAfee's parental controls. It took less than 3 minutes to install and set up the program on my 6-year-old's iPad. From my dashboard, I could easily view all the controls implemented on my son's phone. I could track his location, monitor his browsing history, set up screen-time limits, and filter out harmful and inappropriate web content.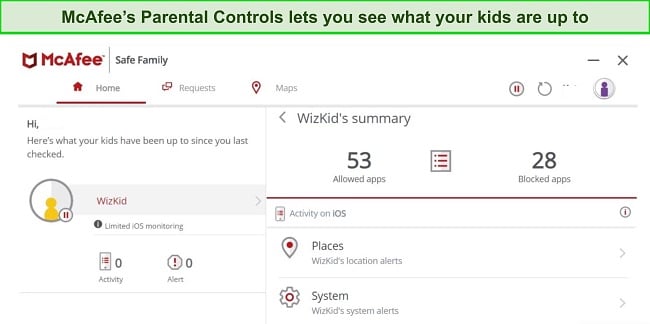 McAfee's Safe Family is available across all major devices like Windows, Mac, iOS, and Android, allowing you to protect your child's activities no matter the device that they use. You can try McAfee's parental controls features and also protect your kids from malware risk-free using the 30-day money-back guarantee.
Microsoft Defender also comes with useful parental control features. You can use it to monitor and protect your kid's activities as they surf the web and use their devices. It doesn't offer as many features as McAfee, but you can still do the basics like set screen-time limits, blocking inappropriate sites, and monitoring the games and apps that they buy/download.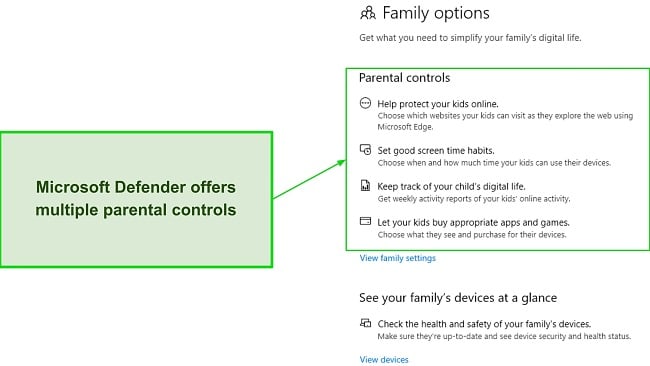 You can easily set up these parental controls by clicking on "View Family" settings in the "Family Options" tab. It requires a Microsoft account to set up the controls, which is limiting if your kids use other operating systems or browsers other than Microsoft Edge.
Overall, McAfee's parental controls are better than those of Microsoft Defender. This is because while you can use McAfee Safe Family to protect all your kid's devices (on desktop and mobile), Microsoft Defender's parental controls only work on the Edge browser. Plus, it can't track your child's location like McAfee offers.
Parental Controls Winner: McAfee
Protect your kids online with McAfee
6. Firewall — McAfee's Firewall Is More User-Friendly Than Microsoft Defender
Microsoft Defender and McAfee both offer adequate firewall protection, but McAfee provides a more simpler-to-use and customizable firewall. A robust firewall is essential for your overall security. Therefore, it shouldn't be difficult to set up.
Luckily, McAfee's firewall provides high-level security and many customizable options so that both beginners and advanced users get can protection from network exploit attacks. First, I like how McAfee's firewall doesn't require any action for it to work. Once you install the antivirus program on your system, firewall protection is automatically activated.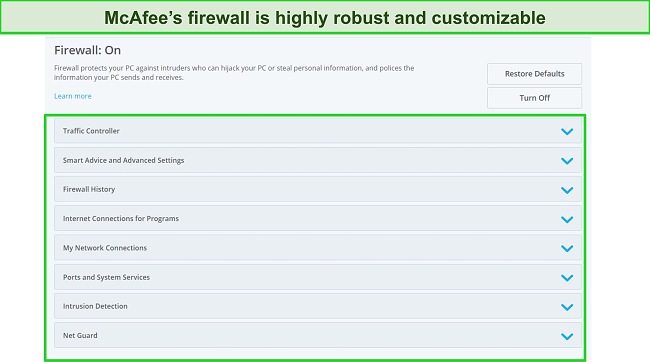 However, if you prefer to configure your firewall settings, McAfee gives you just the right options. You can create firewall rules for how each program connects to the internet among other options. The Net Guard and Intrusion Detection features are some of my favorites. Net Guard monitors your program connections and flags all suspicious connections, while Intrusion Detection lets you know when hackers try to hijack your device.
Microsoft Defender's firewall is also easy to use, but with a few limitations compared to McAfee. For one, it is less user-friendly and also doesn't provide advanced reporting like McAfee. That said, I like that it allows you to create rules for inbound and outbound connections and lets you configure it on your domain, private, or public network.
Overall, while Microsoft Defender's firewall provides adequate firewall protection that gets the job done, there's still room for improvement. Ultimately, McAfee offers a more robust firewall that's easy to configure and use for beginners and advanced users alike.
Block network attacks using McAfee
7. Password Manager — Only McAfee Offers a Password Manager
McAfee offers a basic password manager that works on multiple platforms. It doesn't have as many features as the best antivirus-bundled password managers, but it still gets the job done.
McAfee's password manager (True Key) is decent, offering standard features. You can store passwords, secure notes, credit card information, and other sensitive documents. The information is stored in an encrypted vault secured with military-grade AES-256 bit encryption that's impossible for hackers to break.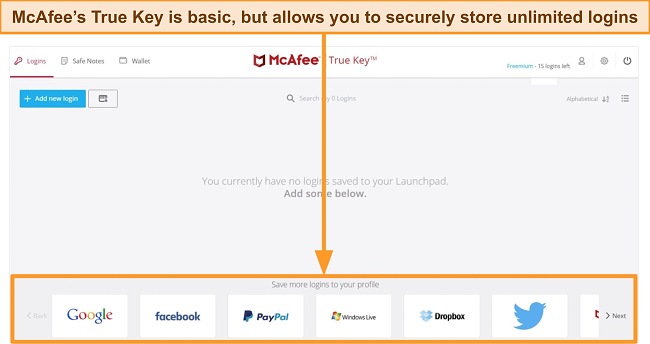 True Key works on multiple devices like Windows, Mac, Android, and iOS. You can also use it on browsers like Chrome, Edge, Firefox, and Safari. However, the password manager lacks essential features found in top password managers. For example, it doesn't support password sharing, auditing, or dark web monitoring, and the free version only supports 15 logins, which isn't much.
Overall, McAfee's True Key doesn't do well in features compared to the password managers included in Norton or Bitdefender antivirus programs. However, since only McAfee has a password manager and Microsoft Defender doesn't, McAfee wins this round.
Password Manager Winner: McAfee
Store your passwords securely with McAfee
8. Optimization Tools — McAfee Helps Your System Run Faster
Microsoft Defender doesn't have performance-enhancing tools, but McAfee offers 3 main optimization tools that help your system run faster:
Tracker Remover (formerly QuickClean),
Web Boost, and
App Boost
Unlike the traditional deletion process on Windows where you can still restore deleted files using recovery software, McAfee's Tracker Remover helps you permanently erase data to speed up your system. You can remove the following from your system with Tracker Remover:
Temporary files
Browser cookies, cache, and browsing history for Firefox, Edge, and Chrome
Registry files
Shortcuts
Windows history
Lost file fragments
ActiveX controls
Flash and Silverlight cookies
Memory image files
Problem report files
Thumbnail cache
During my tests, Tracker Remover found over 4,000 unnecessary items and freed up 400MB of space on my PC. You can Clean your PC with Tracker Remover from the "Protect yourself on the Web" option in the McAfee "My Protection" tab.
Web Boost and App Boost work similarly. Web Boost is an extension for Google Chrome for Windows that improves your battery life by stopping the auto-play of videos while you're browsing. I don't really see the need for this feature. It's no wonder McAfee is retiring in 2022. The App Boost, however, scans your system and redirects CPU power to running applications.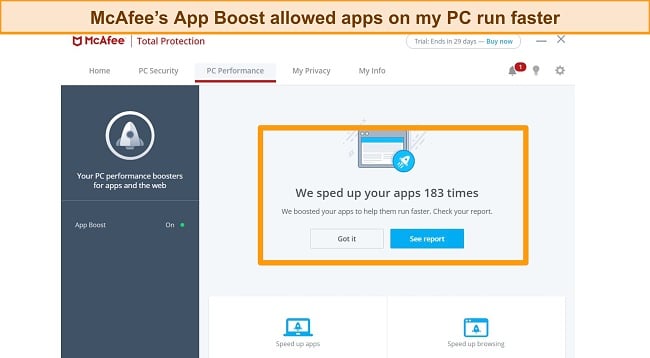 Overall, McAfee's performance-enhancing features are basic, to say the least. Competitors like Norton have junk cleaning features, startup manager, and disk optimization features. McAfee could do better by adding more optimization tools to its antivirus suite, but it still wins this round because Microsoft Defender doesn't offer any.
Optimization Tools Winner: McAfee
Boost your PC's performance with McAfee
9. Other Features — McAfee Offers More Helpful Extra Features
McAfee beats Microsoft Defender hands down in extra features. The only extra feature I could find on Microsoft Defender is the cloud backup storage (5GB free storage with the option to upgrade to premium). This allows you to back up important files to the OneDrive cloud, which can be a lifesaver in the case of a ransomware attack.
McAfee offers more extra features as follows:
WebAdvisor: This feature protects you from malicious websites, including phishing links, cryptojacking, and other scams.
Ransomware protection: Monitors programs on your system for suspicious file changes, protecting them from known and zero-day ransomware attacks.
Identity Theft Protection: It alerts you of a data breach of sensitive information like credit cards, social security numbers, and banking details found on the dark web. However, this feature is not available to every country. It's only accessible to the US, Canada, the UK, New Zealand, Germany, Australia, Brazil, France, Italy, Spain, and Japan residents.
Anti-spam protection: This feature scans your emails and protects you from spam and phishing.
File Shredder: McAfee's Secure File Shredder helps you to permanently erase sensitive files and programs to ensure your privacy.
File Lock: This feature allows you to encrypt and store files in a secure vault using a password and security question.
Overall, I found almost all the extra features provided by McAfee very useful, particularly the File Shredder and encrypted file storage provided by the File Lock vault.
Get additional protection on McAfee
10. Device Compatibility — McAfee Supports Multiple Platforms, While Microsoft Defender Only Works on Windows
McAfee works on a wide range of platforms, while Microsoft Defender is Windows-exclusive. This makes Microsoft Defender ineffective in protecting all your devices, especially your mobile devices (Android and iOS). McAfee, however, supports both desktop and mobile operating systems.
Despite only working for Windows 10 and 11, I found Microsoft Defender very easy to use. The program is user-friendly and the features are easy to find. With a toggle, you can easily configure your protection, even if you've never used an antivirus before. Plus, you don't even need to install it as it comes pre-installed in your Windows package.
McAfee is compatible with the following operating systems:
Windows (8.1, 10, and 11)
macOS 10.12 or later
Linux (Trellix plan)
ChromeOS
Android 7.0 or later
iOS 13 or later
I was impressed with the ease with which it took to install and get McAfee running. In less than 10 minutes I had set up the app on all my devices. The apps feature a user-friendly interface with well-arranged features.
On Mac and Windows, McAfee's design looks great. The key features are arranged in a tile, allowing you to easily find the protection you need. I didn't have any issue finding my way around. You can find many security features in the "My Protection" tab, which is great as McAfee is more focused on security tools.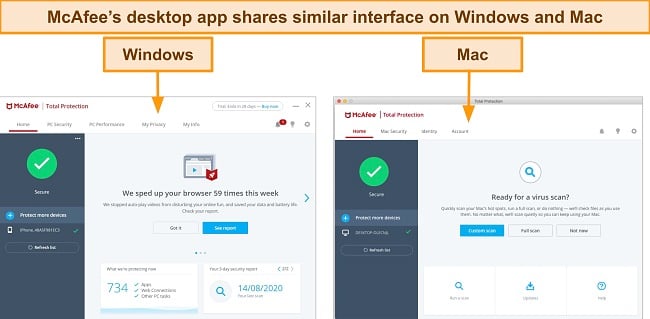 The mobile apps are equally user-friendly and feature-rich, but you get more features on the Android app. For instance, the Android App has a virus scanner, which is absent in the iOS app. Only the iOS-focus antivirus apps have rich features for your iPhone's protection.
In summary, McAfee is a great choice if you need comprehensive protection for all your devices, including Windows, Mac, Android, and iOS. With Microsoft Defender limited to only Windows devices, McAfee easily wins this round seeing that it supports all major operating systems.
Device Compatibility Winner: McAfee
Protect all your devices with McAfee
11. Customer Service — Both Antiviruses Offer Helpful Customer Service
Microsoft Defender and McAfee offer excellent customer support, allowing you to get help through multiple channels. Good support is important because if you run into issues while using the program, you can quickly get the assistance that you need, especially if you need help urgently.
Live chat is one of the fastest ways to get help. Microsoft Defender's live chat support is both responsive and fast. It took less than 3 minutes to get connected with a Microsoft representative who answered all my questions satisfactorily. To get help, click on "Get Help" in one of Microsoft Defender's menus, type your issue, press enter, and click "Contact Support."
McAfee's live chat, on the other hand, was less prompt to connect to. It took almost 20 minutes before I got connected with an agent, which is quite disappointing for a live chat option. While I eventually got my issue solved, I had to rephrase my question several times before the agent got a hang of it.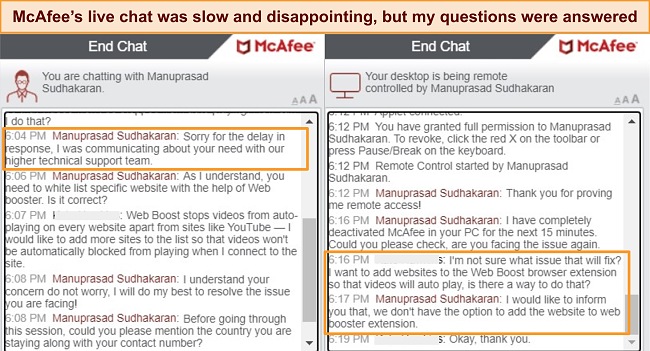 Phone support is one of the areas where McAfee offers decent assistance. Within a few minutes, I got connected to an agent after waiting on hold for less than 10 minutes. I asked the same question about the Web Boost feature, and 5 minutes into the call, my issue was resolved. You can reach out via phone any time of the day 24/7.
Microsoft Defender also offers phone support, although, with a nice touch. During my live chat, the agent asked for my phone number to follow up with a call should the chat disconnect. I appreciate that support takes this extra step so that they can reach out to you in case the live chat session doesn't work out, which not many antivirus programs do.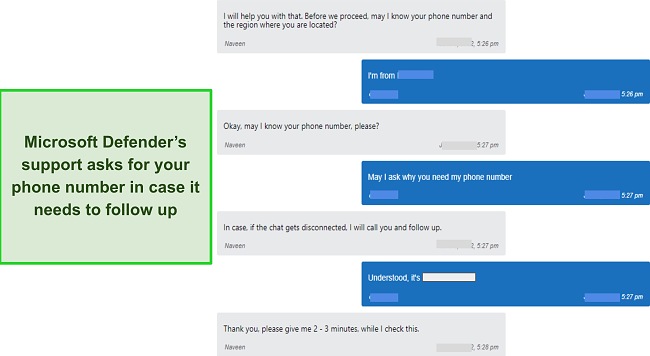 Both antiviruses offer active community forums and rich and helpful FAQs. I like how McAfee's online knowledge base is very detailed and frequently updated. I found helpful answers to almost every question I could think of on the features of McAfee. If you prefer getting help via forums, McAfee's community forum is active and helpful. McAfee representatives and users are quick to respond to questions and solve queries.
You can also get almost all your questions answered on Microsoft Defender's knowledge base. You don't even need to go online. Just click on "Get Help" from Microsoft Defender's Menu and type your question. With both antivirus programs offering equally helpful support across channels, this round ends in a draw.
Customer Service Winner: Tie
Try McAfee risk-free for 60-days
12. Price — McAfee's Premium Plans Provide Excellent Value for Money
Microsoft Defender comes for free with Windows, so thinking about whether it's worth it to spend extra for a premium antivirus is the main question. In contrast, McAfee offers top-tier features across multiple plans within its antivirus suite.
McAfee offers 2 groups of plans — Total Protection and McAfee Ultimate. After examining both plans, I found that McAfee Total Protection is a great value for money, providing the most helpful security tools at a reasonable price. Total Protection offers 4 main price plans with the following features:
Basic (1 device)
Plus (5 devices)
Premium (10 devices)
Advanced (Unlimited devices)

1 VPN license
Identity monitoring
Protection score
Password manager
Firewall
File encryption
Web protection
File shredder
24/7 support

All the features of the Basic plan plus:
All the features of the Plus plan plus:
All the features of the Premium plan plus:

Lost wallet protection
$1M ID theft coverage & restoration
Security freeze
You'll find good value across the Total Protection plans. The Basic plan gives a discount for the first, but it only covers 1 device. For multi-device coverage, the Plus and Premium plans offer the best value. You get all the features in the Basic plan, plus additional licenses, and more.
The Advanced gives you access to even more features, such as lost wallet protection, ID theft coverage, and the security freeze feature (which prevents unauthorized access to your bank accounts) for unlimited devices.
Overall, McAfee's premium plans offer good value for money with excellent security and optimization tools. Given that you get more features and protection with McAfee, it wins this round.
Try McAfee risk-free for 60-days
13. Free Version — Only Microsoft Defender Has a Free Plan
Microsoft Defender comes out on top in this category, as McAfee does not offer a free plan.
Microsoft Defender comes pre-installed for free on all Windows 10 and 11 devices. It provides basic antivirus protection against malware, including ransomware. However, a free antivirus has many limitations. For one, it doesn't provide comprehensive protection and lacks key security features like a built-in VPN, as is the case with Microsoft Defender.
Plus, while premium antiviruses like McAfee give Virus Protection Pledge — a guarantee to always protect you against threats, Microsoft doesn't take any responsibility if malware evades its defenses.
Free Version Winner: Microsoft Defender
Get more protection with McAfee
14. Money-Back Guarantee — McAfee Offers 60 Days to Test the Service
Only McAfee offers a money-back guarantee since it's the only premium antivirus among the duo. You can get a refund from McAfee:
Within 30 days of purchasing a new plan
Within 60 days of auto-renewing a plan
At any point, if McAfee fails to remove malware from your system
I tested the money-back guarantee and McAfee didn't disappoint. I requested a refund using McAfee's support site and chose "Other" when asked for a reason — I wasn't asked to explain any further. My refund was immediately processed and I got my money back in my account within 5 days.
Money-Back Guarantee Winner: McAfee
Try McAfee for 60 days risk-free
And the Winner Is… McAfee
After rigorous tests, McAfee came out top by a significant margin. It won in 12 out of 14 categories including, malware detection, real-time protection, extra features, and ease of use.
McAfee offers top-tier protection and a wide range of high-level security features. In my tests, McAfee found and removed 100% of malware threats, including zero-day threats. The malware scanner is surprisingly low-impact despite its thoroughness, making it a great choice to keep all your devices safe.
Microsoft Defender offers decent protection, scoring near-perfect malware detection rates. It's a capable antivirus, but it lacks many key features, making it unsuitable for fully protecting your system. You can only use it on Windows and it doesn't come with additional security features like a VPN for securing your browsing and a password manager.
Overall, McAfee is the better antivirus in security and performance. You can protect your entire system from the latest threats. Plus, McAfee works on multiple platforms, including Windows, Mac, Android, iOS, and Linux. You can try McAfee for yourself risk-free using the money-back guarantee. If you subscribe to the auto-renewal in any of the plans, you get a whole 60 days to try out the service.
Product your devices with McAfee
How To Download McAfee on Your Device
Subscribe to a plan — Visit McAfee's official website, click on "products", and select a product you want to subscribe to.


Enter your card details — Click "Get protection now" on the product page and enter your email address and credit card details to proceed.
Download and install McAfee — Download McAfee's setup file from its website and install it on your PC.


Launch the app — After installing, you'll have to enter the product key to activate the software.
FAQs About Microsoft Defender vs McAfee
Is McAfee better than Microsoft Defender?
Yes. McAfee has perfect malware detection rates and offers more security features than Microsoft Defender. It offers top-tier protection and many extra features to ensure you stay safe from threats.
McAfee offers protection for all your devices (Windows, Mac, Android, and iOS), whereas Microsoft Defender only works for Windows. You can try McAfee risk-free for 60 days and get access to top-tier security features.
Can Microsoft Defender and McAfee work together?
No. Microsoft Defender and McAfee can both be installed on your computer, but they can't both protect you at the same time. Once you install McAfee, Microsoft Defender's protection gets turned off and McAfee's protection is enabled.
Which McAfee version should I get?
McAfee Total Protection is the best version to keep you safe from known and emerging threats. It detects and eliminates 100% of malware threats. In addition, McAfee Total Protections grants access to robust security features, including a firewall, VPN, password manager, phishing protection, and more.
How can I install McAfee on my device?
Visit McAfee's official website, select a subscription plan and subscribe. I recommend the Total Security plan as it offers tons of features at a reasonable price. Once you've subscribed to the plan, download and install the app for your device (Windows, Mac, Android, or iOS). Launch the app and enter your product key to activate the product.
Which one is the best overall antivirus?
Even though McAfee and Microsoft Defender are both very capable antiviruses, there's an even better one. Norton tops the list of the best antivirus programs on the market. It offers excellent features, robust protection, and better performance. For example, Norton's VPN is super fast and can access all popular streaming platforms. Its password manager is also great, offering unique features to protect all your passwords.
---
Summary — The Overall Best Antivirus Software in 2023