5 Best VPNs to Be REALLY Anonymous on 4chan in 2020
Last Updated by Bethany Chester on October 01, 2020
Warning: Not all VPNs will keep you anonymous! Many services boast features like military-grade encryption, self-managed servers, and automatic kill switches — but that's not enough to keep your comments and images on 4chan secret.
If your VPN provider is located within the 5/9/14-Eyes Alliance countries, they may be under legal obligations to track or monitor your online activities. Even with the best security protocols, authorities in those countries could still gain access to the VPN's servers at any time and trace what you've posted on 4chan back to you.
To ensure your privacy, you need to find VPN companies that are not forced to monitor your online activities due to government regulations.
After researching hundreds of VPNs, I've shortlisted the best providers that have advanced security features — and who are all located outside the jurisdiction of the 14-Eyes Alliance. These VPNs will keep your online activities private with the highest level of encryption, and make sure that no one can trace your information back to you.
As a bonus, they all have the ability to bypass geo-blocks so you can access 4chan from countries where it is restricted.
Try NordVPN for 4chan for free!
Quick Guide: Best VPNs for 4chan (Outside the 14-Eyes Alliance)
How to Choose a VPN That Will Keep You Safe on 4chan
When choosing a VPN for 4chan, you should make sure that your provider:
Is not based within the 5/9/14-Eyes Alliance countries.
Features advanced security protocols (like AES 256-bit military-grade encryption) to keep your traffic private.
Has a zero-logs policy that doesn't store any of your online activity.
Has an automatic kill switch to ensure your traffic isn't leaked during connection drops.
Offers a good refund policy so you can always get your money back if you're not happy.
Has the ability to overcome geo-blocks so you can access 4chan from anywhere in the world.
Can deliver fast speeds and a reliable connection.
All the VPNs on this list meet the requirements above — plus you can try them all for free!
Try NordVPN for 4chan for free!
The 5 Best VPNs to Use with 4chan
1. NordVPN — Best VPN for Security and Privacy on 4chan
Key Features:
Not based within the 5/9/14-Eyes Alliance
Military-grade encryption
No-logs policy
5200+ servers in 59 countries
Up to 6 simultaneous connections
30-day money-back guarantee
NordVPN is one of the most secure VPNs available. It comes with industry-standard 256-bit encryption, a strict no-logs policy, and its CyberSec ad and spyware blocker. With these security features, you can enjoy 4chan without being tracked by third parties like 4chan itself, hackers, and governments.
I was especially impressed with NordVPN's automatic kill switch and DNS leak protection, which adds an extra layer of protection. You can also secure 6 devices and connect with a single account, which means you'll be able to safely use 4chan on all your devices.
And if you're living or traveling to a country where 4chan is restricted, you'll have full access to more than 5200 servers across 59 countries. This is an enormous number of servers, even for a premium VPN, and it means you'll always be guaranteed access to 4chan wherever you are.
I recommend you try NordVPN with its 30-day money-back guarantee, so you can test its full suite of premium features out before you commit to buying.
NordVPN works on these devices: Windows, macOS, Android, iOS, Android TV, Linux, Chrome, and Firefox
2. ExpressVPN — Great Combination of Security and Speed
Key Features:
Not located within 5/9/14-Eyes Alliance
Military-grade encryption
No-logs policy
3000+ servers in 94 countries
Up to 5 simultaneous connections
30-day money-back guarantee
ExpressVPN promises top security across its 3,000+ servers around the world.
Each server is encrypted with numerous security protocols to make sure you're always protected online, including military-grade encryption and a kill switch. As a frequent 4chan user, I especially like its unique TrustedServer technology, which ensures no personal data is ever stored on its servers.
Best of all, speed is never compromised — this provider is one of the fastest VPNs that I've tested. You can connect up to 5 devices and never experience any lags or browsers that are slow to load.
With all its world-class security features, this provider does come with a more premium price tag. I highly recommend you try ExpressVPN risk-free with its 30-day money-back guarantee — that's the only way to really tell if a VPN is right for you or not.
ExpressVPN works on these devices: Windows, macOS, Android, iOS, Android TV, Linux, and Chrome
3. CyberGhost — Stay Secure with Private NoSpy Servers
Key Features:
Based outside the 5/9/14-Eyes Alliance
Military-grade encryption
No-logs policy
5500+ servers in 90 countries
Up to 7 simultaneous connections
45-day money-back guarantee
CyberGhost takes security very seriously — that's why they use NoSpy servers, only accessed by CyberGhost and protected with 24/7 security surveillance. Because there are fewer users per server, you can protect up to 7 devices, which is more than most VPNs I've tested.
Apart from all its great privacy and security features, what I liked most about CyberGhost was its refund policy. As long as you buy a subscription for 6 months or longer, you get a 45-day money-back guarantee with no questions asked. This is an enormous benefit, as many providers will troubleshoot your issue before giving you a refund.
Unfortunately, CyberGhost is difficult to access in China, so I wouldn't recommend this service if you're living or traveling there.
CyberGhost works on these devices: Windows, Mac, iOS, Android, Amazon Fire TV & Fire Stick, Android TV, Kodi, and Linux
4. Surfshark — Camouflage Mode for Complete Anonymity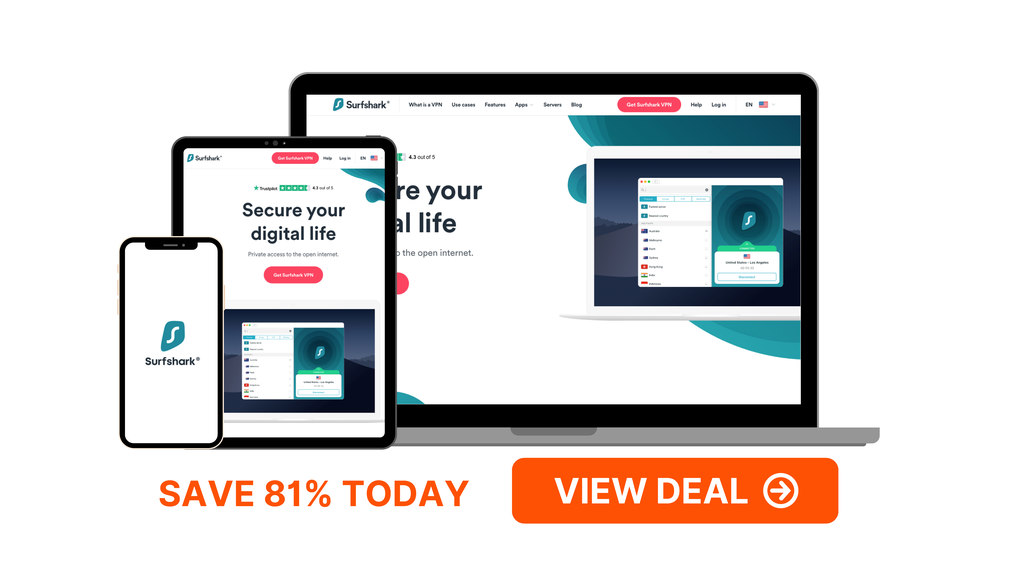 Key Features:
Located outside the 5/9/14-Eyes Alliance
AES 256-bit encryption
No-logs policy
800+ servers in 50+ countries
Unlimited device connections
30-day money-back guarantee
In all my years of using and testing VPNs, it still surprises me that I can get Surfshark's premium security features for such an affordable price.
It has all the basic protocols like IKEv2 and IPSec, but its additional features give you an extra layer of security. CleanWeb blocks ads and phishing, keeping your data safe from prying eyes. My favorite feature, Camouflage Mode, prevents your ISP from seeing that you're using a VPN which will help you get around any 4chan geo-restrictions easily.
Surfshark also allows unlimited device connections so you can post securely from any of your devices.
With its 30-day money-back guarantee, you can test the VPN out for yourself. If you don't like it, you can get your money back 100% — no questions asked.
Surfshark works on these devices: PCs, Macs, iPhones, Androids, Amazon Fire TV, and Linux
5. Hide.Me — Self-Managed DNS Servers for Added Security
Key Features:
Not based within 5/9/14-Eyes Alliance
256-bit AES encryption
No-logs policy
1,400+ servers in 55 countries
Up to 10 simultaneous connections
30-day money-back guarantee + free trial available
Hide.me has been independently audited by security expert Leon Juranic and had their privacy and security claims certified. This means that your data is not logged or stored by hide.me — making it a great option to keep yourself secure on 4chan.
Like all other recommended VPNs on this list, hide.me is based outside the 14-Eyes Alliance. It also uses industry-standard 256-bit AES encryption to protect your online activities from being exposed.
Hide.me has a 30-day money-back guarantee so you can test out all its features for free before deciding to purchase. It works on a range of devices so you can stay protected on 4chan while posting from your phone or computer.
Hide.me works on these devices: Windows, Mac OS, Android, iOS, and Fire TV
Why You Need a VPN When Using 4chan
1. 4chan Stores Your IP Address
4chan stores user IP addresses, so anyone who gets hold of your IP address can easily figure out who you are and where you're located.
In the past, 4chan users have been traced and arrested, proving that the site isn't as anonymous as users are led to believe. If you don't want to get into trouble, you need to hide your identity with a VPN every time you use 4chan.
2. 4chan Uses Insecure Protocols
You may have noticed that some URLs begin with "HTTP" but others use "HTTPS." This tells you which protocol the site is using and whether or not it's secure. 4chan uses "HTTP," which means your data isn't encrypted and could easily be manipulated or intercepted.
A VPN encrypts your data to keep you safe, even if the website you're on is using an insecure protocol. By using a reputable VPN service, you can be confident that everything you post on 4chan will remain truly anonymous.
3. Bypass Geo-Restrictions and Censorship
You won't be able to access 4chan's content from certain countries due to government censorship and restrictions — but a VPN can help with that too. You can change your location by connecting to a VPN server in a country where 4chan isn't blocked. This will allow you to sneak past any restrictions to post and read as much content as you like.
Stay safe on 4chan with NordVPN
Common FAQs on 4chan
Can 4chan posts be tracked?
In short, yes. 4chan is anonymous in that you don't need to create an account or log-in to start a thread or post a reply in a discussion. However, every time you post something on 4chan, your IP address is logged and can be traced back to you.
If you want to enhance your anonymity, a VPN can help mask your IP address to increase your security online while using 4chan.
How can I access 4chan when I've been banned?
If you have been banned from 4chan, that means that 4chan has identified your IP address and blocked it. As long as you're trying to access 4chan from that same IP address, you'll be blocked.
You can get around this by using a VPN. By connecting to a VPN server, you'll essentially have a different IP address. 4chan will not recognize the new IP address, and you'll be able to access the site again.
How do I delete a 4chan post?
All you have to do is to tick the box in the upper-left corner of the post you want to remove and click "Delete".
However, you should know that deleting a post from a discussion board doesn't mean it is completely gone. The information could still be stored on 4chan's servers, and therefore, traced back to you.
Additionally, some 4chan posts cannot be deleted. Certain 4chan threads or discussion boards may disable deleting of posts depending on how the admins have set it up.
To ensure your identity is always protected when posting on 4chan, make sure you use a trusted VPN.
Can I use free VPNs with 4chan?
It can be very tempting to use a free VPN with 4chan instead of a paid service, but this doesn't come without risks.
Many free VPN services will sell your data to advertisers to make money. Others may even trick you into installing spyware on your device.
Though some free VPNs are legitimate, they're still likely to have downsides compared to a paid service. For example, they may use weaker encryption protocols like PPTP, which have many known security holes. Speeds are also likely to be much slower than paid services, as there are fewer servers available and more users connected to each one. 4chan also has technology that can detect VPN IPs, usually from smaller providers.
There's always a hidden cost when it comes to free VPNs. It's not worth risking your privacy, so make sure you choose a secure service with a proven track record.
Remember – You're Not Really Anonymous on 4chan!
The whole point of 4chan is to express yourself anonymously and freely — but if someone gains access to your data, then you're no longer anonymous.
If you don't want to risk compromising your privacy, you need a good VPN to be truly protected. My top VPN recommendations all have money-back guarantees available, so you can try out each VPN risk-free and see which one suits you best.
Still not sure which VPN to choose? I recommend NordVPN for its top-of-the-range security features and huge number of servers.