How to Get the Cheapest Flights Online – The Ultimate 2023 Guide
You can save money by booking flights a few months in advance, but it doesn't always work. This is because airlines and travel sites use algorithms and other technologies to show you higher fares to maximize profits regardless of when you pay for your trip.
There are several ways to avoid overpaying for tickets, but the most reliable and easiest method is to use a VPN. A VPN changes your IP address so you can get a fair deal and keeps your browsing activities private from trackers on booking sites.
I tested 55 VPNs, and ExpressVPN's huge network in over 94 countries make it the best to save on flights since it's so easy to find great deals. Plus, you can subscribe to ExpressVPN confidently and if you're not satisfied, get a quick refund within 30 days.
Use ExpressVPN to get cheap flights
Quick Guide: How to Get the Cheapest Flights Online
Find cheap flights with ExpressVPN
1. Change Your Local Flight Deals With a VPN
Airlines and travel companies offer deals and prices according to your geographic location. Often, booking from a place with a different income level than your home country can give you better deals. Fortunately, it's not necessary to be physically located in another country to get these cheaper flights.
With a VPN, it's possible to change locations virtually by connecting to a server in another country. To the airlines, it'll seem like the booking comes from that region.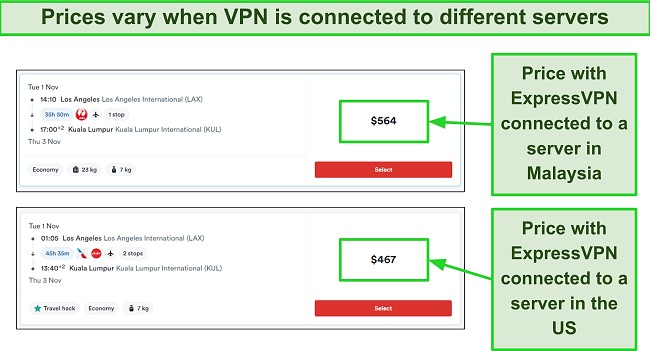 VPN encryption also makes it so hackers and other third parties can't see your real IP address or what you're doing online. This includes airlines and travel companies, which use algorithms to track you on the web and change their prices based on your location and web history.
A VPN server is extremely easy to use. All you need to do is download a reliable VPN like ExpressVPN. Once logged in, simply select a country that you'd like to connect to and begin searching for your favorite destinations. If you're not satisfied with the deals, it's easy to get a full refund within the 30-day money-back guarantee period.
Find cheap flights with ExpressVPN
2. Delete Cookies and Browse in Incognito Mode
Airlines and travel websites install cookies on your device to remember which flights and destinations you look at and track your location. Armed with this information, airlines and travel agencies can increase prices every time you check and even manipulate them based on your internet activities.
The easiest way to stop these sites from following your searches is to delete your cookies, browsing history, and cache. You can do this in Chrome in just a few clicks:
Click the three vertical dots on the top right next to the shortcuts
Navigate to "History"
Select "Clear browsing data" and check all relevant boxes, particularly browsing history, cookies, and cached files
Use the "Clear data" button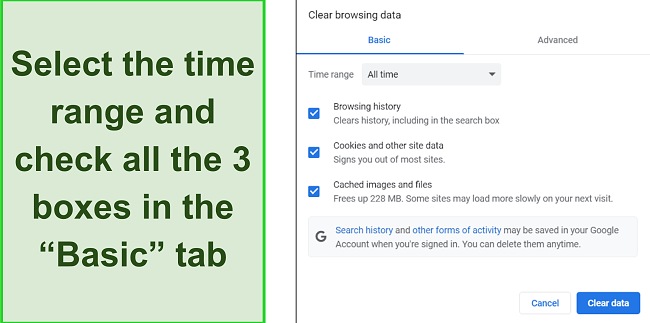 In Safari:
Open a Safari window and click the "Safari" menu on the top left corner
Select "Clear history" from the dropdown menu
Select the time range you want to delete
Click "Clear History" button
In Firefox:
Click the menu button on the top right and select "Settings"
Select "Privacy & Security" on the left panel and scroll down to "Cookies and Site Data"
Click the "Clear Data…" button and a dialog box will pop up
Check both items and hit "Clear"
In Microsoft Edge:
Open Microsoft Edge and click the 3 horizontal dots on the top right
Select "Settings" and click "Privacy, search, and services"
Scroll down to "Clear browsing data" and select "Choose what to clear" button
Check "Cached images and files" and "Cookies and other site data" boxes and hit "Clear"
I also highly recommend using incognito or private mode when searching for cheap flights on any of these browsers. These modes prevent your data from being collected via cookies, browsing history, and other methods. However, you might still have some cookies saved in your browser — to find the best deals, always delete cookies and cached data before searching for cheap flights.
3. Compare Travel Fares on Flight Comparison Sites
I've bookmarked Kayak, Skyscanner, and Expedia as the 3 best services to find the cheapest tickets. These flight comparison sites cut down on manual search time by collecting results from dozens of airline sites for the best airfares.
Using a VPN with flight comparison sites like Skyscanner will help you find and book cheaper tickets in other regions where lower prices display in search.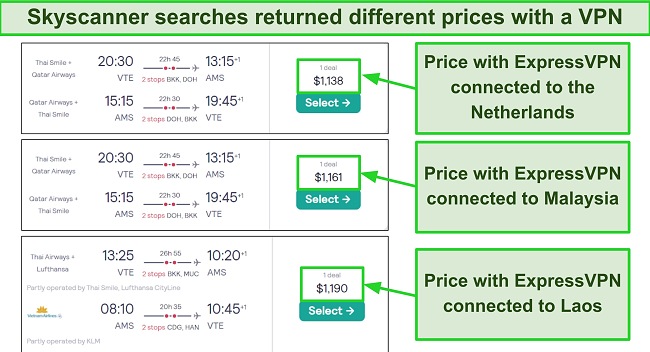 When you're using flight comparison sites like Skyscanner, remember these important points to make sure you're getting the cheapest ticket:
Some airlines are excluded — Flight comparison websites don't include all budget airlines like Southwest, so check their prices separately. I found the lowest price for a Southwest Airlines flight on its website. But in another case, I found cheaper tickets for a domestic AirAsia flight on Skyscanner compared to the carrier's online booking page.


They don't have the same deals — FlightsFinder is a platform that compares deals on other comparison sites like Kayak and Momondo. Once you enter your travel details, the search engine shows you a side-by-side comparison of the same route on different websites to show you which has the best deal. I could sometimes save an extra $20-$30 by using FlightsFinder.
There are many other sites to help you get the best fares in different ways, like:
Kiwi — Offers some of the lowest prices among its competitors and suggests trending destinations for the country you want to travel to
Momondo — Detects your location and displays the cheapest travel destinations in your region on a map before you input any trip details
CheapOair — Handy point-based reward system for every flight and hotel booking made through the app
JetRadar — Shows some of the best deals from budget airlines directly on the homepage
Google Flights — A user-friendly search engine with useful filters to find and book flights directly with airlines without going through separate sites
Scott's Cheap Flights — Sign up and add the airports you want to visit, and the platform will email you the best deals for your destination
Thrifty Nomads — A travel blog with a comprehensive guide for booking the cheapest flight possible, plus a newsletter you can subscribe to for the latest travel deals
Airwander — This site is worth subscribing to stay informed of the cheap flights online and access perks like the Airwander Club as soon as they're released to the public.
4. Be Flexible With Your Arrival and Departure Dates
To address this concern, you have the option to manually redirect your VPN connection through an alternative port. However, it is crucial to note that attempting this should be done by individuals with technical expertise, especially if your VPN is configured directly through your computer software rather than a dedicated application. Modifying a port setting can potentially impact registry files, which carries inherent risks. If you are uncertain about the process, it is advisable to reach out to your VPN's customer support and seek their guidance and recommendations.
Remember also that peak and low travel periods are different in various parts of the world, influenced by local holidays and seasons. For example, when it's winter in the US, it's summer in Australia. This means you could be charged more for tickets to Melbourne even though it's a low season in the US.
Most top flight comparison sites like Skyscanner, Kiwi, and Kayak show you how much tickets would cost on alternative dates near the ones you've picked.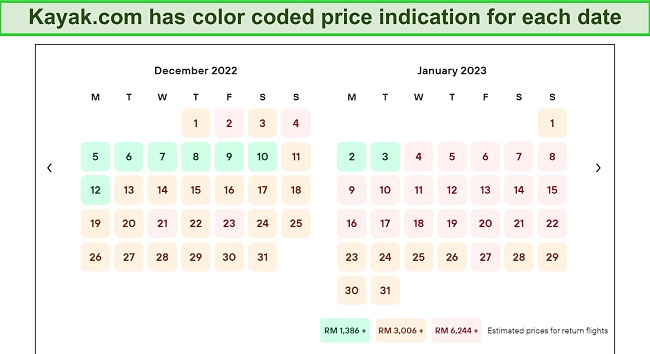 To sell more tickets, major airlines have copied fare comparison sites and now show you lower-priced travel days as well. After I keyed in my preferred itinerary on Emirates for my upcoming trip to the Netherlands, the airline showed me prices for the surrounding dates and marked which was the lowest.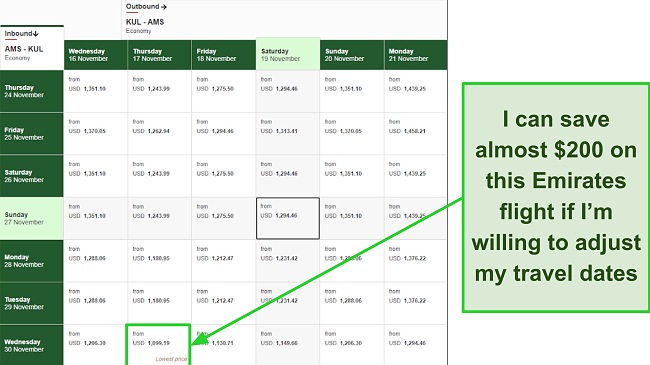 5. Take Advantage of Airline Error Fares as Soon as They Appear
Airlines sometimes publish extremely cheap fares on their websites by mistake due to human error, technical bugs, or even currency conversion glitches. You can save significantly when you catch these mistakes and book your tickets before the airline fixes them.
You used to monitor airline sites obsessively to find these mistakes, but now there are websites, social media groups, and forums dedicated to finding and publishing error fares. Many of them are free to use, though some charge subscription fees. Here are some of my favorite error fare services:
Airfare Watchdog
Secret Flying
Scott's Cheap Flights
Jack's Flight Club
Next Departure
The Flight Deal
The easiest way to catch error fares is by subscribing to several of these sites and following their social media accounts. These mistakes cost airlines a fortune, so they've gotten better at fixing them quickly. That's why you'll usually have no more than a few hours to find and book low-price tickets.
The only downside to using error fares is that airlines could potentially cancel and refund your ticket, although this is rare. Most carriers will honor the price, but you should still wait at least 2 weeks after you book before you make any further travel arrangements at your desired destination, just to make sure your trip won't be canceled.
6. Book Flights in Advance (But Not Too Far in Advance)
Airlines often discount their tickets for only a certain period. That's why booking your seat extremely far in advance can cost as much as doing it last minute. You can use these as guidelines when arranging your next flight:
Domestic flights — Book your trip 3 weeks to 3 months before your planned departure
International flights — Buy at least 3 to 6 months in advance for flights abroad
Holiday seasons — Tickets will be harder to find and more expensive around holidays, so book at least 4 to 8 months ahead
Off-peak season — Get your tickets 2 to 3 weeks before departure, as airlines offer low fares to fill up their planes
These don't guarantee the best rate and a good deal can become available anytime. For example, my last-minute search for long-distance flights to Amsterdam revealed a few low fare tickets in the next 2 weeks even though it's a popular travel time.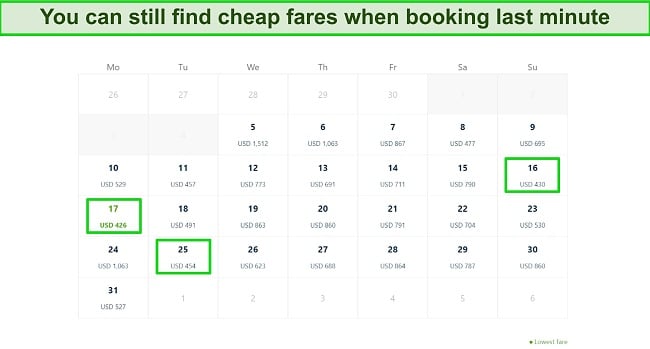 7. Skip Unnecessary Flights With Hidden City Ticketing
Hidden city ticketing means you get off at your layover city instead of the final point of the journey. Longer flights with layovers seem like they should be more expensive, but sometimes they end up being cheaper than booking a direct flight to your destination. That's because the fare depends more on current demand and popularity of each route than the distance you'll fly.
It can be a nightmare to manually search for these types of flights but with Skiplagged, you don't have to. Just visit the website and enter your destination and dates. Skiplagged will list all available flights, including those that have your final destination as a layover.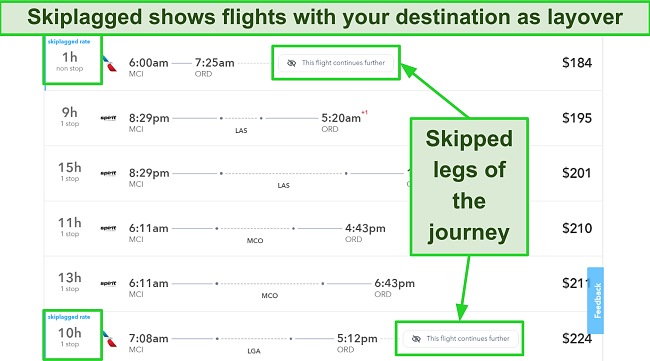 If you find a Skiplagged rate to be the lowest, remember that ending your journey at layover goes against most airlines' policies. However, since it's common for people to miss flights, it's almost impossible for an airline to prove you skipped it intentionally.
Just be warned that the airline could cancel all your subsequent flights in the itinerary if you're caught skipping one leg of the journey. For example, the airline might cancel your return ticket. Also keep in mind that you can't check bags if you use this technique, since they'll be sent to your final destination instead of the layover airport. I also don't condone violating the terms of service on any ticket you buy.
8. Book Tickets Directly With Budget Carriers
You can get significantly cheaper flights with budget airlines, and most regions have a few different options to choose from. Here are a few around the world:
Region
Airlines
North America
Southwest
Frontier
Spirit
Swoop
Flair Airlines
Latin America
JetSmart
Volaris
VivaAerobus
GOL
Sky Airline
Europe
EasyJet
RyanAir
Wizz Air
Veuling Airlines
AirBaltic
Russia
Aeroflot
AirBaltic
Pobeda
RusLine
Smartavia
Australia/ Oceania
JetStar
Virgin Australia
Bonza
Qantas Airways
AirAsia
Asia
AirAsia
Spring Airlines
JeJu Air
VietJet Air
Cebu Pacific
Middle East
Jazeera Airways
Air Arabia
SpiceJet
Flynas
FlyDubai
Africa
FlyAfrica
FlySafair
Kulula
Fly540
Lift
Budget airlines are affordable because they save money on extra luxuries like seat selection, onboard meals, extra legroom, complimentary blankets, or sometimes even checked baggage. But they often have better deals, steeper seasonal price drops, and huge sales. You can sign up for a budget airline's email newsletter to get automated alerts on discounts.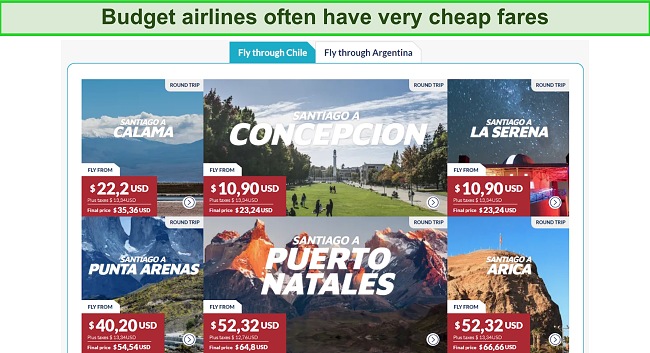 Budget airlines' promotions are usually tough to beat, though it's still worth checking out flight comparison sites just to be sure.
9. Search For Individual Seats, Not Family Tickets
Although each seat on a plane varies in cost, airlines don't add them up separately for group bookings. The carrier's AI calculates your price by multiplying the total number of tickets you book with the most expensive seat in the group rather than pricing each individually.
To avoid this, book each member of your group one by one and choose the seats later so that you get the lowest price for each ticket. As a side note, this trick doesn't work if you're booking for children or people with special accommodations. Since they need on-board assistance or have other requirements, you'll have to buy tickets simultaneously to prove they're not traveling alone.
The other downside is that booking tickets separately for each leg of a long-haul flight can be risky if one of them is delayed. Airlines usually aren't responsible for expenses this can cause, like having to reschedule your flights or book an overnight hotel stay.
10. Use Points and Rewards for Cheaper Flights
This is probably the easiest way to save money on flights. You can use rewards programs to earn points every time you fly and use them to travel cheaply or even for free. Almost every premium and budget airline has a reward program. With some airlines like Delta SkyMiles, Southwest Rapid Rewards, and JetBlue TrueBlue, your points don't expire.
Additionally, credit cards like Chase Sapphire Preferred let you earn 5 points per dollar you spend on flights via Chase Travel and 2 points per dollar when you book elsewhere. If you're a new customer, you can get 60,000 bonus points by spending $4,000 on the card in the first 3 months. As one of the best travel points programs, you could earn enough points in 3 months to finance an international round-trip flight.
Other cards that offer similar rewards include Capital One Venture X Rewards, Chase Sapphire Reserve, and Delta SkyMiles Reserve.
11. Get a Multi-Day Layover
Multi-day layovers are fantastic for seeing several cities or countries in a single trip and could save you hundreds on roundtrip flights. All you need is to be flexible with dates and book layovers that give you enough time in each location.
Many sites like Skyscanner and Kiwi have options to add multiple cities and flights. I decided to combine trips to several cities in the same region on Skyscanner and found that it's possible to visit Singapore, Australia, and New Zealand for less than $1,500. The same itinerary cost significantly more when I tried to book them individually.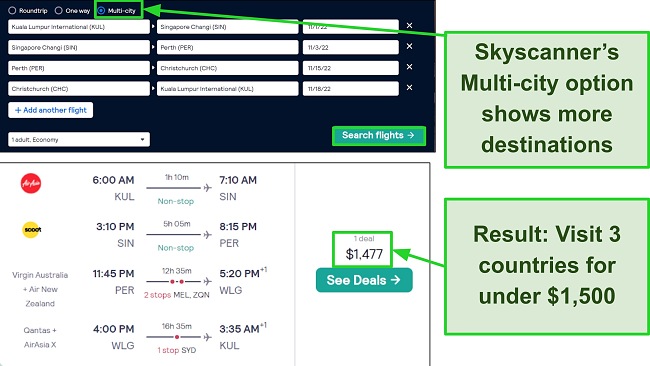 If you extend your trip to see a few extra cities, you can expect to pay a little more for hotels and food. But on the whole, you'll still be spending considerably less on flights than if you were to book multiple round trips from your home country.
Book cheap flights with ExpressVPN
How a VPN Can Help You Get Cheap Flights
Prices differ when you book from different geographic locations, but there's no way to know which country will get the lowest fares on airline and comparison sites. A VPN allows you to connect to a server in another part of the world, displaying different pricing on booking sites.
They do it by looking at your IP address to determine your location. A VPN provides a new IP address so that booking and airline apps think the connection is from somewhere else. For example, browsing British Airways after connecting to a VPN server in Germany makes it look like you're browsing flights from that country even though you're at home. This displays different fares and deals.
VPNs also encrypts your connection so booking sites can't use your search or browsing history to change pricing or track you online. You still have to research ahead of time which will be the cheapest country to buy tickets from, but a VPN makes it possible.
For example, a route from Bangkok to Christchurch was plugged into Skyscanner and AirAsia after connecting to ExpressVPN servers located in 20 different countries, including Belgium. Fares changed depending on which VPN server location was connected. Using a server in Belgium caused the lowest price to be $1,276. Someone in Bangladesh would pay $1,526 ($250) more. In India, this route wasn't available to book at all.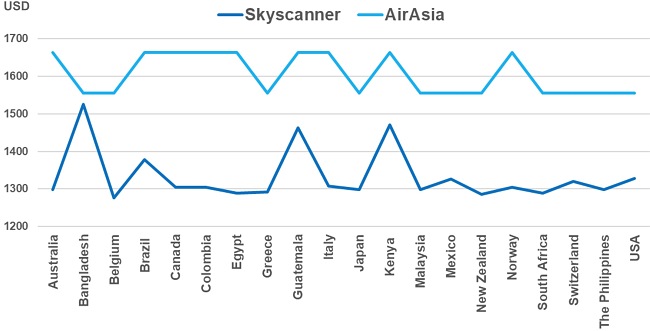 7 Best VPNs for Finding the Cheapest Flight Deals in 2023
Key Features:
3,000+ servers in 94+ countries on every continent for finding cheap flights
Military-grade 256-bit encryption, TrustedServer technology, a no-logs policy, and a Network Lock kill switch to stay anonymous during flight searches
Customer support includes 24/7 live chat, video tutorials, and email
Use up to 5 devices simultaneously when searching for the lowest airfare
A trustworthy 30-day money-back guarantee policy
ExpressVPN is the best to locate the cheapest airfare with the most server coverage, with options to search for flights from any of 94+ countries. It's easy to instantly change the virtual location to places like Sweden, Mexico, or Brunei to see where the lowest flights display. During tests, a return flight from Tokyo to Rome was cheaper when ExpressVPN was connected to a server in the Philippines versus one in the Netherlands.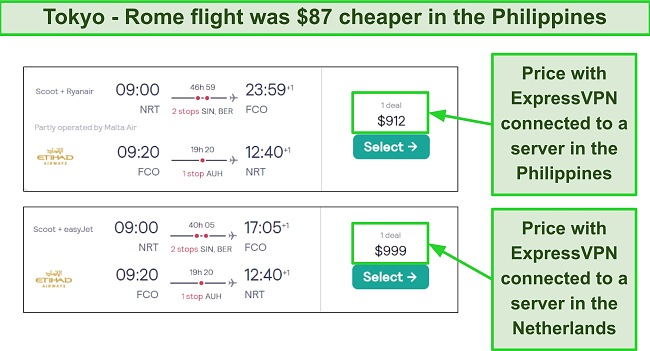 I connected to almost 50 servers worldwide and my testing showed both short and long-distance ExpressVPN servers are lightning-fast. Even when connected to locations 8000 miles away, flight comparison sites didn't take more than 5-8 seconds to deliver results.
On unstable public WiFi, I could lose my VPN connection and expose my real location. Luckily, ExpressVPN's Network Lock stops all connections before any of my personal data is exposed. The VPN also has many other privacy and security features, like:
Military-grade AES 256-bit encryption with Perfect Forward Secrecy to constantly change encryption keys, making your booking and payment information nearly impossible to hack
IP and DNS leak protection to hide your location while you search for deals
A no-log policy enforced by an audited TrustedServer network that ensures none of your search history or other private details are stored on a disk
Located in privacy-friendly British Virgin Islands, that's not part of any intelligence surveillance agency that can demand your internet activity from the VPN
You can search for the cheapest flights on almost any device whether on iPhone, an Android, or a Windows computer. I subscribed to ExpressVPN, downloaded the apps on mobile and desktop, and was connected to and browsing destinations in less than 8 minutes. Since ExpressVPN allows up to 5 simultaneous device connections, I tested it and found out that connecting on the maximum number of platforms didn't affect my searches in any way.
One minor drawback to using this VPN is that it's pricier than others on this list. However, given the number of countries ExpressVPN provides access to, you could get cheap flights that make the VPN pay for itself with a single trip. The best ExpressVPN deal I found is the 1-year + 3 months plan, which costs $6.67 per month.
If you've decided to plan your next trip with ExpressVPN, you can buy it confidently knowing it has a 30-day money-back guarantee. To test the policy, I asked for a refund via 24/7 live chat after using the VPN for a few weeks. It was approved with no questions asked, and I got my money back in 4 days.
ExpressVPN is compatible with: Windows, Mac, Linux, Android, iOS, Chromebook, Chrome, Firefox, Microsoft Edge, routers, and more.
ExpressVPN works with: Skyscanner, Kayak, CheapOair, Kiwi, Momondo, Google Flights, Travelocity, Expedia, AirAsia, and more.
Get ExpressVPN to book cheap flights
2023 Update! ExpressVPN has dropped prices for a limited time to a crazy $6.67 per month for the 1-year plan (you can save up to 49%) + 3 months free! This is a limited offer so be sure to grab it now before it's gone. See more information on this offer here.
Key Features:
9,000+ servers in 91 countries in Europe, the Americas, Asia Pacific, the Middle East, and Africa
Military-grade 256-bit encryption, a kill switch, a strict no-log policy, and a headquarters in privacy-friendly Romania
Support available via 24/7 live chat, online ticket system, and online guides to get started quickly
Use 7 devices at any time to search for the best flights
45-day money-back guarantee on the 2-year + 3 months subscription
CyberGhost is another top VPN to book cheap flights as it has super-fast connections to avoid missing out on flash deals by airlines. I connected to a server in Asia and it allowed me to catch a limited 24-hour AirAsia sale. CyberGhost stayed steady at 60-68Mbps, allowing me to book with no lag or frozen screens — I purchased all the tickets I needed before they sold out in just 2 hours.
To keep me safe from hackers and ensure the airlines can't track me, CyberGhost has a suite of powerful privacy and security features like:
Military-grade AES 256-bit encryption to hide all your online activities from travel sites, spies, and hackers
A kill switch that keeps your data anonymous even when the internet connection is unsteady
Built-in tracker blocking and a proprietary private browser to stop travel sites from increasing prices based on your online activities
An audited no-log policy to confirm none of your personal details, online activities, and bookings are stored anywhere
Although ExpressVPN has servers in more places, CyberGhost has locations in over 91 countries so you can search for cheap fares from places like Mongolia, Kazakhstan, Armenia, and China. Using servers in Canada and then in China to book a flight from Singapore to Beijing, it was $117 cheaper when CyberGhost was connected to the China server.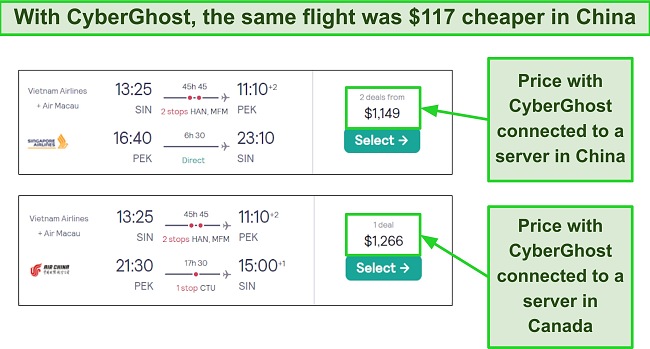 The VPN has apps for all popular devices like iOS, Mac, Windows, and Android. If you're like me and use different platforms to book flights, you get up to 7 simultaneous connections with CyberGhost. There are detailed step-by-step guides online, but I was able to install CyberGhost, connect to a server, and search booking sites in less than 5 minutes without needing help.
The downside to CyberGhost is that its 1-month subscription plan is one of the most expensive on this list and only comes with a 14-day money-back guarantee. But if you're committed to using CyberGhost to plan your travels, the 2-year + 3 months option is only $2.11 per month.
Plus, it comes with a 45-day money-back guarantee if you'd like to get CyberGhost to plan your travels. I asked for a refund via the 24/7 live chat support, and someone approved it in 2 minutes. I got my money back in 5 days.
CyberGhost is compatible with: Windows, Mac, Linux, Android, iOS, Chrome, Firefox, Microsoft Edge, routers, and more
CyberGhost works with: Skyscanner, Kayak, CheapOair, Kiwi, Momondo, Travelocity, Expedia, AirAsia, and more
Get CyberGhost to book cheap flights
2023 Update! You can subscribe to CyberGhost for as low as $2.11 per month + get extra 3 months free with the 2-year plan (save up to 84%)! This is a limited offer so grab it now before it's gone. See more information on this offer here.
Key Features:
35,000+ servers in over 84 countries covering almost every continent
Military-grade 256-bit encryption, MACE to block bots and malware, and a kill switch to keep you anonymous while searching
Online guides, 24/7 live chat, and email support
Each subscription protects up to unlimited devices simultaneously
30-day money-back guarantee
PIA has MACE, a tracker blocker to prevent travel sites from monitoring your activities online and increasing prices based on your search history. MACE isn't on by default but after I activated it, my searches returned the lowest prices without having to clear cache and cookies repeatedly.
With over 35,000 PIA servers worldwide, you'll never have to worry about congestion causing slow speeds since other PIA users can be spread out among the VPN's huge selection of IP addresses. In the US alone, there are servers in all 50 states. During tests of numerous servers, PIA maintained 60Mbps download speeds. Flight searches displayed results almost instantly, making it easy to find a cheaper Chicago to New Delhi flight.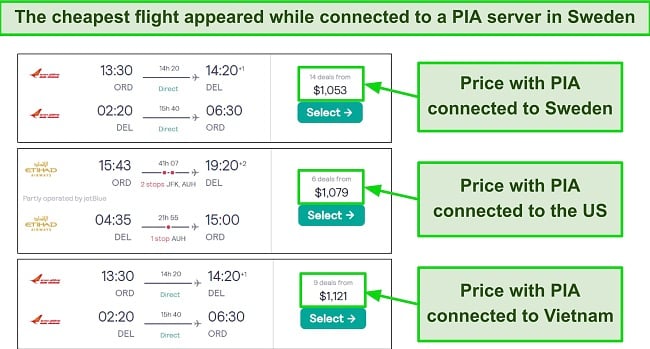 The VPN has native apps for all operating systems and browser extensions like Chrome and Firefox that are easy to install within a minute or two. At one point, I connected to PIA's maximum of unlimited devices and had no disconnections or speed drops while finding cheap flights.
In terms of security and privacy, PIA has a few customization options:
Choose AES military-grade 256-bit encryption for when you need maximum security, like when you use public WiFi to book. Or pick AES 128-bit encryption for maximum speed when chasing deals, so you can grab the last ticket before a flight sells out
An advanced kill switch that'll disable the internet until you're securely connected to the VPN and ensure you never browse for flights without full security and privacy
PIA accepts anonymous gift card payments from Starbucks, Walmart, and other major brands
The only thing that made me hesitate about PIA is that it's based in the US, which is the heart of the 5 Eyes Alliance of governments that collect and share your online data. However, PIA has a no-log policy that was fully audited by Deloitte. This ensures that there's no trace of your activities on PIA servers that anyone could possibly find.
If you'd like to use PIA for your next trip, I recommend the 2-year + 3 months plan as it only costs $2.11 per month. It also offers a 30-day money-back guarantee, so there's no risk in trying it. When I asked for my money back by sending an email with my order number and Paypal subscription ID, I was refunded in 2 weeks.
PIA is compatible with: Windows, Mac, Linux, Android, iOS, Chrome, Firefox, routers, and more
PIA unblocks: Skyscanner, Kayak, CheapOair, Kiwi, Momondo, Expedia, AirAsia, and more
2023 Update! You can subscribe to PIA for as low as $2.11 per month + get extra 3 months free with the 2-year plan (save up to 82%)! This is a limited offer so grab it now before it's gone. See more information on this offer here!
Key Features:
Short and long-term subscriptions available
30-day money-back guarantee
5,700+ global servers in 60 countries
Unlimited bandwidth
Protect up to 6 devices at once
NordVPN is one of the best VPNs on the market — and you can get super cheap prices when you sign up for a long-term subscription. One thing to note, however, is that when it's time to renew your subscription, prices do increase quite significantly.
I was particularly impressed with the high performance of every server I tested. Just because a VPN has thousands of servers doesn't mean they all work. Servers can still struggle to unblock local sites — and some can even fail to connect completely. However, I easily unblocked Netflix, Disney+, Hulu, Amazon Prime Video, BBC iPlayer, and HBO Max on multiple servers in the US and UK.
I did, however, have issues with using NordVPN's native Fire TV app. Although it worked and unblocked some streaming services, it sometimes had issues unblocking Netflix US and kept crashing. I also found that NordVPN's user interface for desktop devices was less user-friendly than ExpressVPN and CyberGhost.
NordVPN has the following security and privacy features:
AES 256-bit encryption
kill switch that cuts your internet access if your connection to a VPN server drops suddenly
built-in ad and malware blocker, so you don't need a third-party ad blocker
fully audited no-logs policy (audited by PwC) – NordVPN doesn't store any personal or identifying data while you're connected to the VPN
In addition, NordVPN includes Threat Protection that protects you from viruses, infected websites, and trackers – and it works whenever you have the NordVPN app open, even if you're not connected to a VPN server.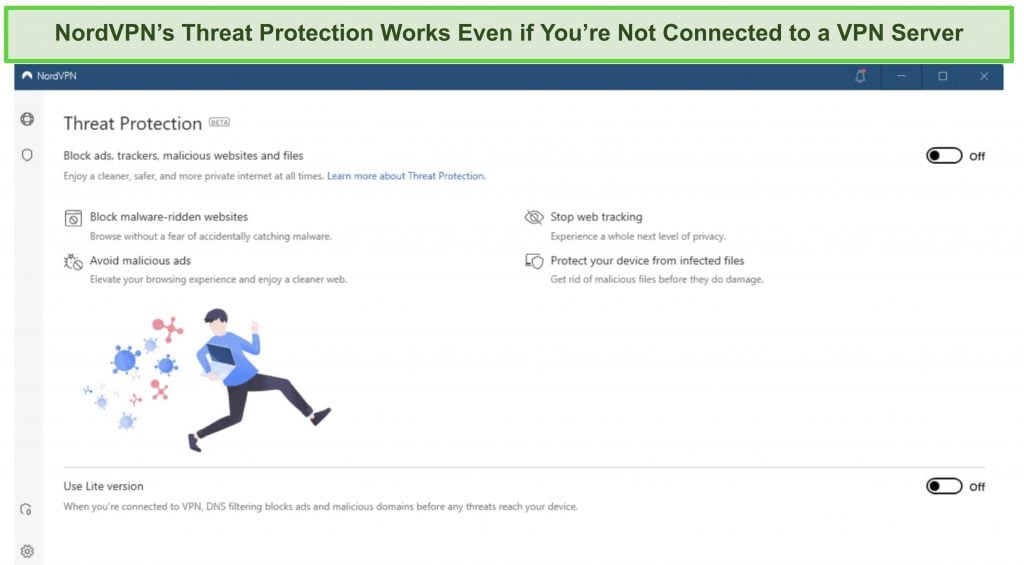 With plans that cost as little as $3.99 per month, it's easy to find a NordVPN subscription plan that suits your needs. You can also stream, torrent, and browse for free for up to 30 days with its money-back guarantee. I tested this to ensure that you'll really get your money back. At first, the support team tried to give me an extended trial period — but they initiated my refund right away after I told them I wasn't interested in the extension. I got my money back in 6 business days.
NordVPN unblocks: Netflix, Amazon Prime Video, BBC iPlayer, Hulu, Disney+, SkyTV, HBO Max, SHOWTIME, DAZN, ESPN, YouTube TV, and more
NordVPN works on: Windows, Mac OS, Android, iOS, Windows Phone, Chromebook, Linux, Chrome, Firefox, Fire Stick, and Android TV
Key Features:
Short and long-term plans available
30-day money-back guarantee
3,200+ global servers in 100 countries
No bandwidth restrictions
Connect unlimited devices at once
Surfshark offers the best value for money out of every premium VPN on the market. You can connect an unlimited number of devices with a single subscription, which means you can use Surfshark on all your devices without getting logged out.
I tested Surfshark's simultaneous connections on 2 PCs, 2 phones, a Fire Stick 4K, and an iPad. My connection remained reliable on all 6 devices. Even while I was actively streaming on all my devices, my average speed was 112 Mbps — fast enough for UHD quality.
When I saw the price of this service, I thought it couldn't possibly have top-grade security features for such a low price, but I was pleasantly surprised.
Surfshark has the following security and privacy features:
AES 256-bit encryption on all devices, with ChaCha encryption available for Android users
Wireguard VPN protocol enabled by default
diskless, RAM-only servers to protect your privacy (no data can be physically extracted from any servers)
kill switch (although this isn't enabled by default)
IP and DNS leak protection
Surfshark offers two-factor authentication (2FA) on your account. This feature requires you to enter an extra code before you can log in to ensure that only you can access your account.
While Surfshark does have slightly fewer global servers than rivals such as CyberGhost and PIA, I didn't experience any issues during my tests. I easily connected fast working servers every time, and I had excellent speeds for streaming Netflix in UHD, downloading torrents, and browsing the internet.
You can try Surfshark for yourself with the 30-day money-back guarantee. It has plans that cost as little as $2.30. Requesting a refund is easy with Surfshark's live chat feature. Although the support team asked why I wanted to cancel my subscription, I had no problem getting my money back (and it only took 4 days!).
Surfshark unblocks: Netflix, Amazon Prime Video, Disney+, BBC iPlayer, Sling TV, Hotstar, HBO Max, DAZN, and more
Surfshark works on: Windows, Mac OS, Android, iOS, Linux, Fire Stick, Samsung Smart TVs, LG Smart TVs, Android TV, Kodi, and selected routers
Key Features:
200+ servers in 63+ countries
Stay anonymous on travel sites with military-grade 256-bit encryption, a kill switch, and zero-logs servers
Customer support via live chat, email, and remote desktop
Connect to servers on 10 devices at once
30-day money-back guarantee on all plans
PrivateVPN's menu of free dedicated IP addresses is much harder for airlines to block because they're not shared with other users, avoiding detection by anti-VPN filters. These IP addresses also prevent annoying CAPTCHAs when logging into travel and airline sites. You can choose from locations in the US, Sweden, Germany, Japan, Ukraine, Switzerland, the UK, France, and many other countries, so you have lots of options for finding travel deals.
The VPN also has all the crucial privacy and security features that keep you anonymous when browsing travel sites.
Military-grade AES 256-bit encryption makes sure no third parties can see what you're searching for online
IP leak prevention keeps your connections encrypted from the second you connect to a server
A kill switch monitors your connection and kills the connection if your identity and location are in danger of being exposed
During my tests, I expected slow servers since PrivateVPN has the smallest network on this list. But it was fast enough to pull up ticket prices instantly. Plus, the VPN always connected in only 2-3 seconds, making it easy to switch servers to compare fast-changing fares. Switching from a server in Peru to one in the UK during tests, a Siem Reap to London route cost $35 less.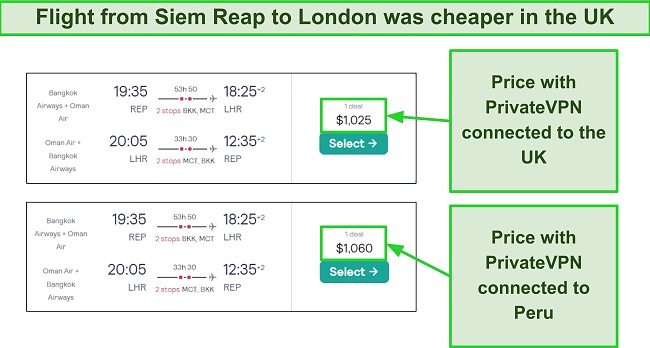 If you're a complete beginner, you can test PrivateVPN with the short-term subscription, which a low enough price that I consider it among the best monthly VPN plans. For an even lower monthly price, get PrivateVPN's 3-year plan for $2.00 per month. The only disadvantage to this VPN is that you can't pay for your subscription with Google Pay. However, PrivateVPN accepts all major credit cards, PayPal, and even cryptocurrencies, which is a convenient selection.
Since the VPN comes with a 30-day money-back guarantee, you can get PrivateVPN risk-free for your trip. I even tested its money-back guarantee by asking for a refund via email and was reimbursed within a week.
PrivateVPN is compatible with: Windows, Mac, Linux, Android, iOS, Chrome, routers, and more.
PrivateVPN unblocks: Skyscanner, Kayak, CheapOair, Kiwi, Momondo, Expedia, and more
Get PrivateVPN to book cheap flights
Key Features:
Search for flights from at least 2,000 servers in 75 countries
Military-grade 256-bit encryption, an automatic kill switch, and DNS leak protection keep your data hidden from airlines
24/7 live chat, email support, and setup guides
Allows unlimited simultaneous devices
30-day money-back guarantee for quick refunds
IPVanish is the only VPN that lets you search for cheap flights on all your devices. I could easily install it on my iPhone, Windows computer, and several other devices totaling 12 and they were all able to handle flight searches and bookings effectively. Once installed, the apps are so intuitive that you won't need the online guides to get started.
My tests found consistent speeds between 45-58Mbps on IPVanish servers — plenty for seamless flight searches even with 15 browser tabs open to different booking sites. There are also servers in a solid selection of 75 countries, giving lots of options to compare prices and find exclusive deals. In one search, a Miami to Montreal flight was $40 cheaper when IPVanish was connected to a server in Taiwan versus one in Canada.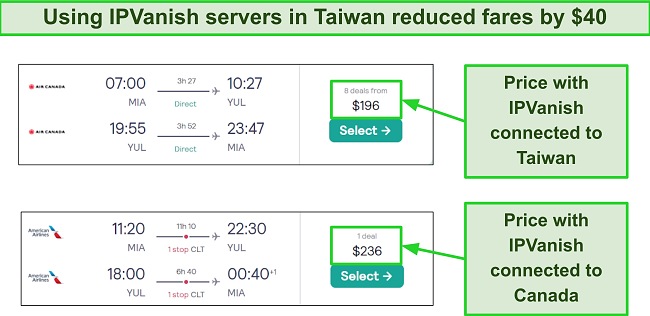 The VPN's privacy and security didn't disappoint when searching for the best travel deals. Some of its key features are:
Military-grade 256-bit encryption to keep data hidden from travel sites
A kill switch that blocked connections on unstable networks to prevent data leaks
An independently audited no-log policy confirms IPVanish stores no record of your flight searches, payment data, or booking activities
The one thing IPVanish lacks is a cryptocurrency payment option, which ExpressVPN has. This keeps you completely anonymous while buying the VPN. But this doesn't matter for finding cheap flights, and IPVanish accepts convenient credit card or PayPal payments.
I recommend the 2-year plan that's $3.33 per month. You'll have 30 days to try IPVanish with your booking site of choice. If it's not to your liking, it's easy to get your money back. Since I subscribed to the 2-year plan, I was able to cancel the plan from my account dashboard and the refund was processed automatically. I got my money within a week.
IPVanish is compatible with: Windows, Mac, Linux, Android, iOS, Chrome, and more
IPVanish unblocks: Skyscanner, Kayak, Kiwi, Momondo, Expedia, and more
Get IPVanish to book cheap flights
Comparison Table: 2023's Best VPNs for Getting Cheap Flights
| | | | | | |
| --- | --- | --- | --- | --- | --- |
| | Total Servers | Total Countries | Military-grade encryption | Device Limit | Money-Back Guarantee |
| ExpressVPN | 3,000 | 94 | ✔ | 5 | 30 |
| CyberGhost | 9,000 | 91 | ✔ | 7 | 45 |
| PIA | 35,000 | 84 | ✔ | unlimited | 30 |
| NordVPN | 5,700 | 60 | ✔ | 6 | 30 |
| Surfshark | 3,200 | 100 | ✔ | unlimited | 30 |
| PrivateVPN | 200 | 63 | ✔ | 10 | 30 |
| IPVanish | 2,000 | 75 | ✔ | unlimited | 30 |
Find cheap flights with ExpressVPN
How I Tested and Ranked the Best VPNs for Finding Cheap Flights
I used the following criteria to find the best VPNs in 2023 to help find the cheapest tickets:
Servers in many countries — The more countries that have VPN servers, the more chances to find cheap fares since it's hard to know exactly where the cheapest tickets for a route might be.
Strong security and privacy features — A VPN needs to have a kill switch, IP leak protection, and strong encryption so that travel sites can't see where the connection is coming from and raise the ticket prices.
Fast speeds — Fast connections are crucial for fare shopping because deals get sold out quickly, and a slow-loading webpage could make you miss your chance.
Customer support — Friendly, knowledgeable, and helpful customer support agents make a big difference when you're trying to act on a time-sensitive deal or mistake fare.
Apps for common devices — All the VPNs on this list have apps for Windows, iPhone, Mac, and Android-based platforms.
Money-back guarantee — If you're unsure, a solid refund policy gives you the room to find the right VPN before you book your trips.
Book cheap flights with ExpressVPN
FAQs on VPNs, Flights, and More
Book cheap flights with CyberGhost
Don't Overpay for Your Flight Tickets — Get the Best Deals Today!
The conventional method of booking flights months in advance doesn't always work since airlines and booking sites have smart technologies to watch your activities and change fares frequently. But there are usually cheaper fares for the exact same route in another part of the world. The most reliable and easiest method to access these lower prices from anywhere is to use a VPN.
ExpressVPN is the best VPN for finding the cheapest fares as it has servers in over 94 countries to search all over the world for low-priced flights. You can also buy ExpressVPN completely risk-free as it's backed by a 30-day money-back guarantee — if you change your mind, you can easily get a refund.
---
Summary: Best VPNs to Find Cheap Flights in 2023