How to Use a VPN to Bypass Content Blocks (Updated 2020)
Last Updated by Kate Hawkins on November 01, 2020
You've heard that a VPN is a good way to get around annoying content blocks — but how? A premium VPN masks your IP address, hiding it from third-parties like Hulu and BBC iPlayer. Your connection travels through a VPN server as though it were coming from a different location, so you can view global content from anywhere.
Some services like Netflix have improved their detection technology to block VPN servers. This is usually due to broadcasting restrictions or enforcing censorship in countries with government regulations. With a reliable VPN (like NordVPN), you'll be invisible to detection technology and easily access the sites and services you want.
Quick Guide: Bypass Content Blocks in 3 Easy Steps With a VPN
Download and install a VPN — NordVPN has thousands of servers worldwide that get around content blocks.
Launch the VPN and connect to a server in the right location. For example, you'll want a US server to watch Hulu, or a British server to stream on BBC iPlayer.
Visit the site or open the app you want to use and start streaming or browsing!
Tip: If you're connected to a VPN server and still can't access a web service, try clearing your cache and cookies. Your location information is stored there and sent to the website — clearing the information stops the site from seeing your true IP address.
How to Choose the Best VPN to Bypass Content Blocks
When you're looking for a VPN that can consistently unblock content, there are a few things to consider. During my VPN testing, I checked each VPN to make sure they had the following features:
High-level encryption — Does the VPN have strong data encryption to guarantee your IP address is hidden?
Global servers — Does the VPN have servers in different countries around the world? Are there enough servers to avoid connection slowdown at peak traffic times?
Customizable connection settings — If a site or service has VPN blocks, can you configure the VPN to another port for access? Does the VPN have dedicated IP addresses for individual users?
Customer service — Are customer service staff knowledgeable? Can they recommend alternative servers if one is blocked?
3 Best VPNs for Bypassing Content Blocks
1. NordVPN — Thousands of Servers Worldwide Unblock Restricted Content Easily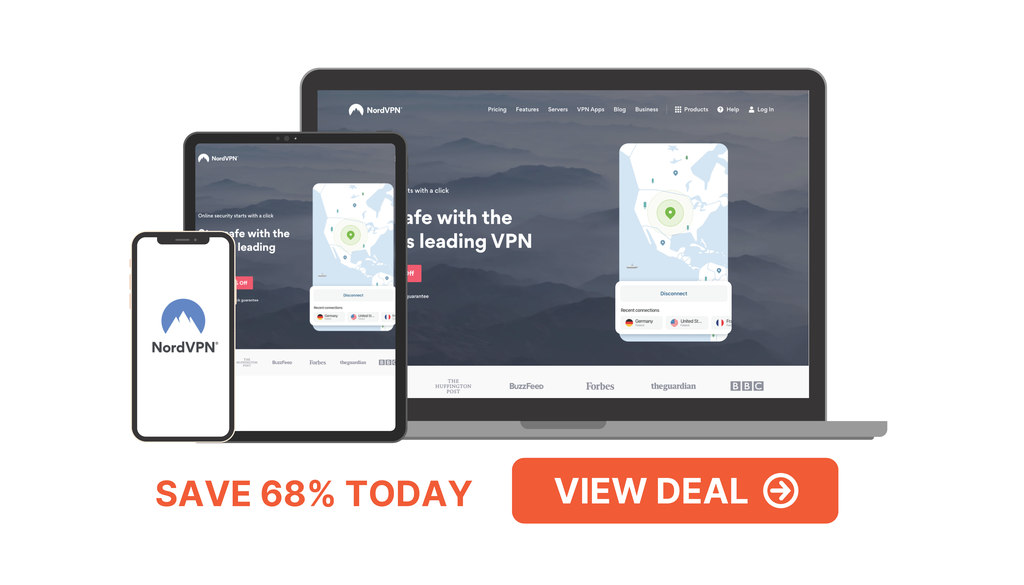 Key Features:
5500+ servers in 59 countries
Military-grade encryption and DNS leak protection
SmartPlay technology connects you to fastest streaming server automatically
24/7 live chat available
30-day money-back guarantee
NordVPN has thousands of reliable servers that easily get around content restrictions, making it my number one choice. NordVPN's best-in-class encryption and multiple server configurations keep your data protected so you can connect to the content you want.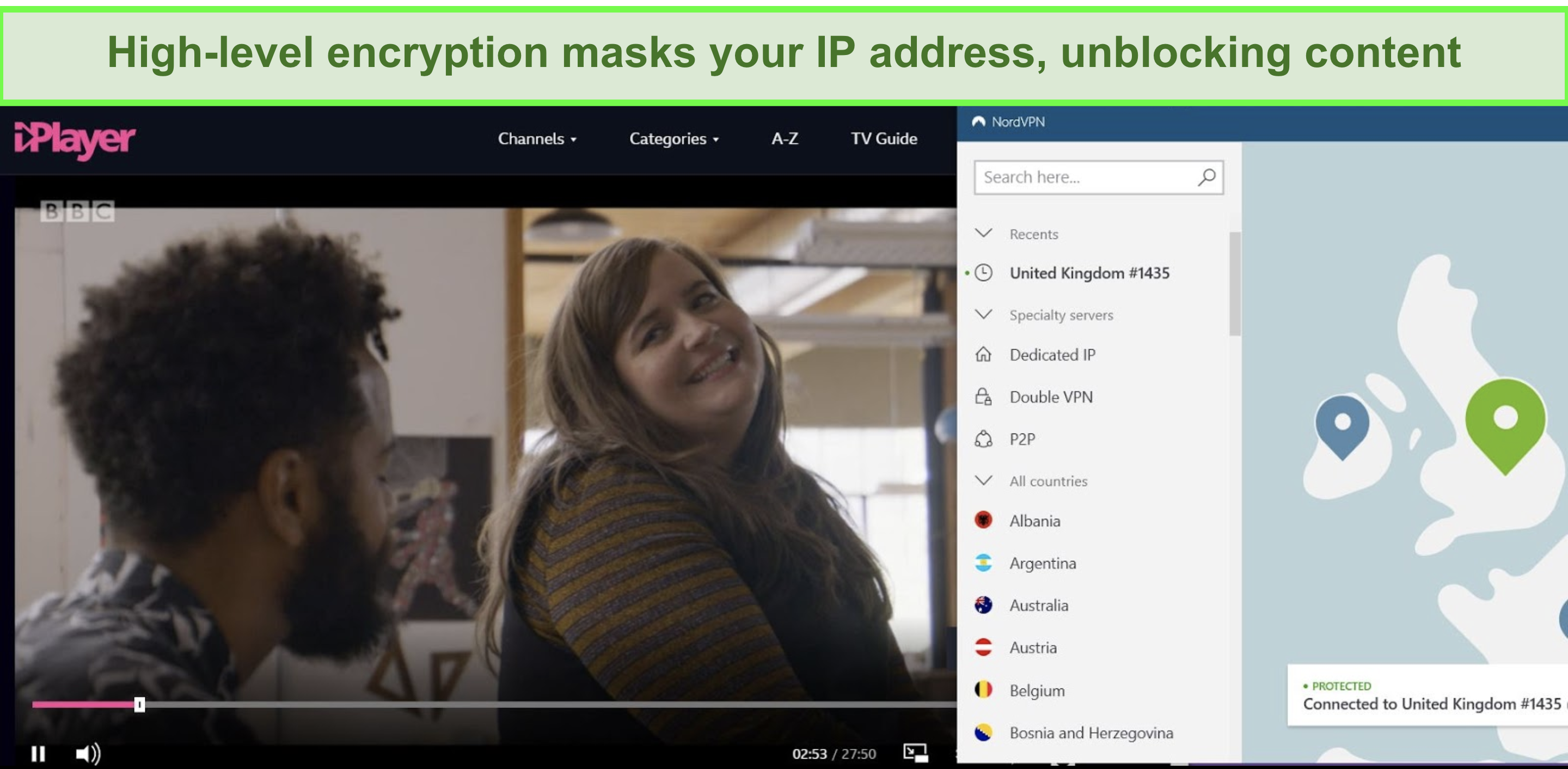 In "Advanced Settings," you have the option to change your VPN protocol, set a custom DNS, and use obfuscated servers. These security settings keep your personal data hidden and allow your connection to unblock content and get through firewall restrictions.
While I was testing NordVPN, I was impressed by its SmartPlay technology. My connections were consistently fast, especially when streaming. I tested over 50 servers from different countries and found my average download speed when connected was 48Mbps. This was fast enough for me to stream Netflix US in UltraHD quality and without buffering or interruptions.
NordVPN has customer service available 24/7 with live chat on its website. Service agents are knowledgeable and can suggest servers that reliably unblock content. With NordVPN's 30-day money-back guarantee, you can try the VPN out before committing to a long-term plan.
2. ExpressVPN — Super-Fast Download Speeds for Quick Content Streaming and Unblocking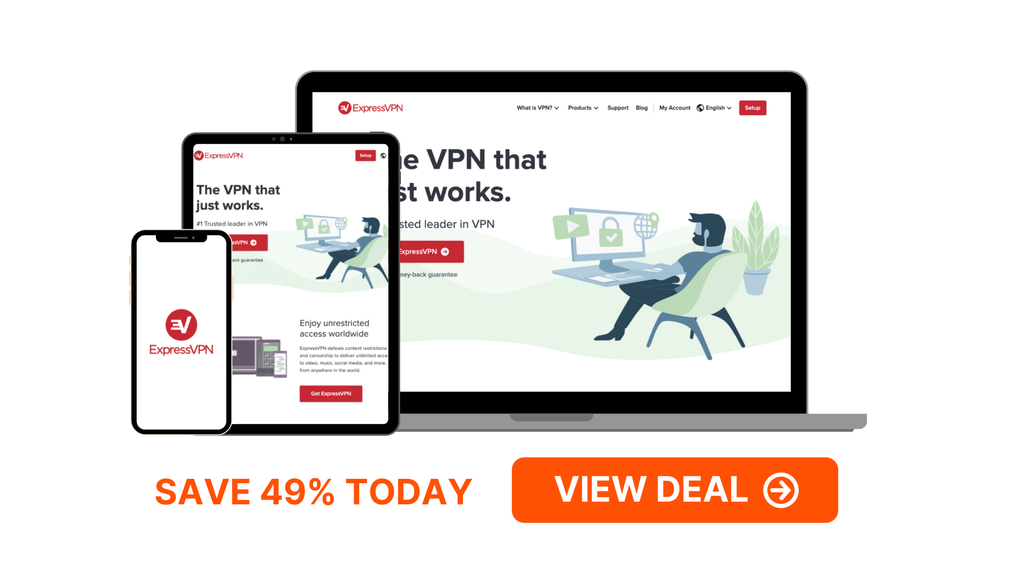 Key Features:
3000+ servers in 94 countries
Best-in-class encryption and DNS leak protection keep data secure
Unlimited bandwidth provides the fastest possible speeds for browsing and streaming
24/7 live chat available
30-day money-back guarantee
ExpressVPN has consistently fast connections no matter which server I use to unblock content. When I was connected to ExpressVPN during my tests, my average speed was 50Mbps — just 3Mbps slower than my standard download speed. This meant I was able to stream shows and movies on Netflix in UltraHD quality no matter where I connected.
ExpressVPN's best-in-class encryption lets you access restricted sites and services easily. It's one of the only premium VPNs that can bypass China's strict internet censorship. I did find I had some trouble streaming Netflix in South America but could unblock content in other locations.
With its easy-to-use interface, ExpressVPN is a good choice if you're new to VPNs. A one-click connection has your device encrypted for quick security — the option to "Favorite" servers gets you connected even faster. I like ExpressVPN's customer service and found them to be helpful when processing my refund. I used ExpressVPN's 30-day money-back guarantee and had my money returned in less than three business days.
3. CyberGhost — Optimized Streaming Servers Dedicated to Unblocking Content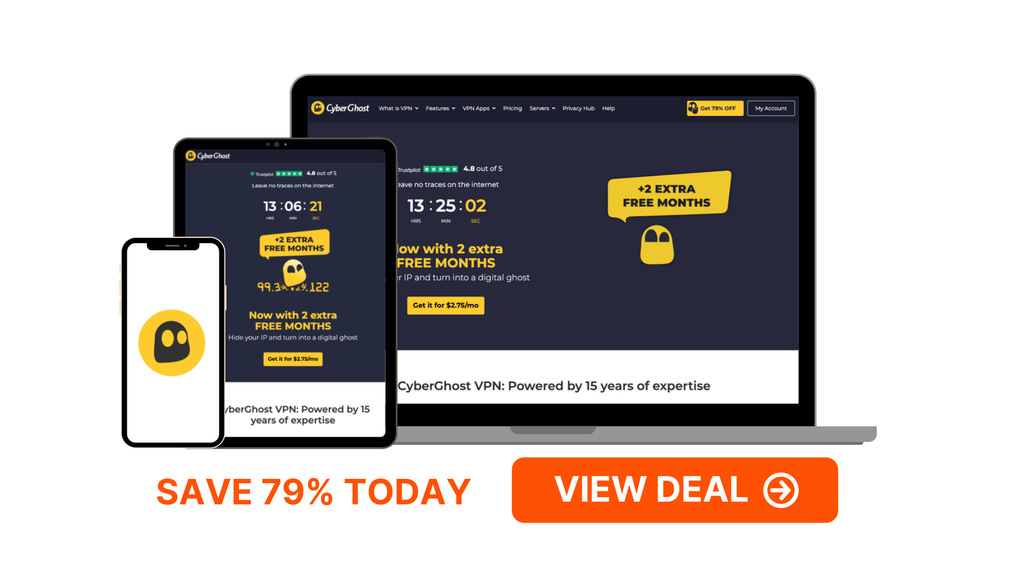 Key Features:
5500+ servers in 90 countries
AES-256-bit encryption, DNS and IP leak protection secure your connection
Unlimited bandwidth and optimized servers for fast speeds
24/7 live chat available
Up to 45 days money-back guarantee
CyberGhost has a range of optimized servers dedicated to streaming sites and services around the world. These optimized servers can unblock the restricted content, letting you bypass Netflix's tough proxy error, watch YouTube, or listen to foreign radio stations.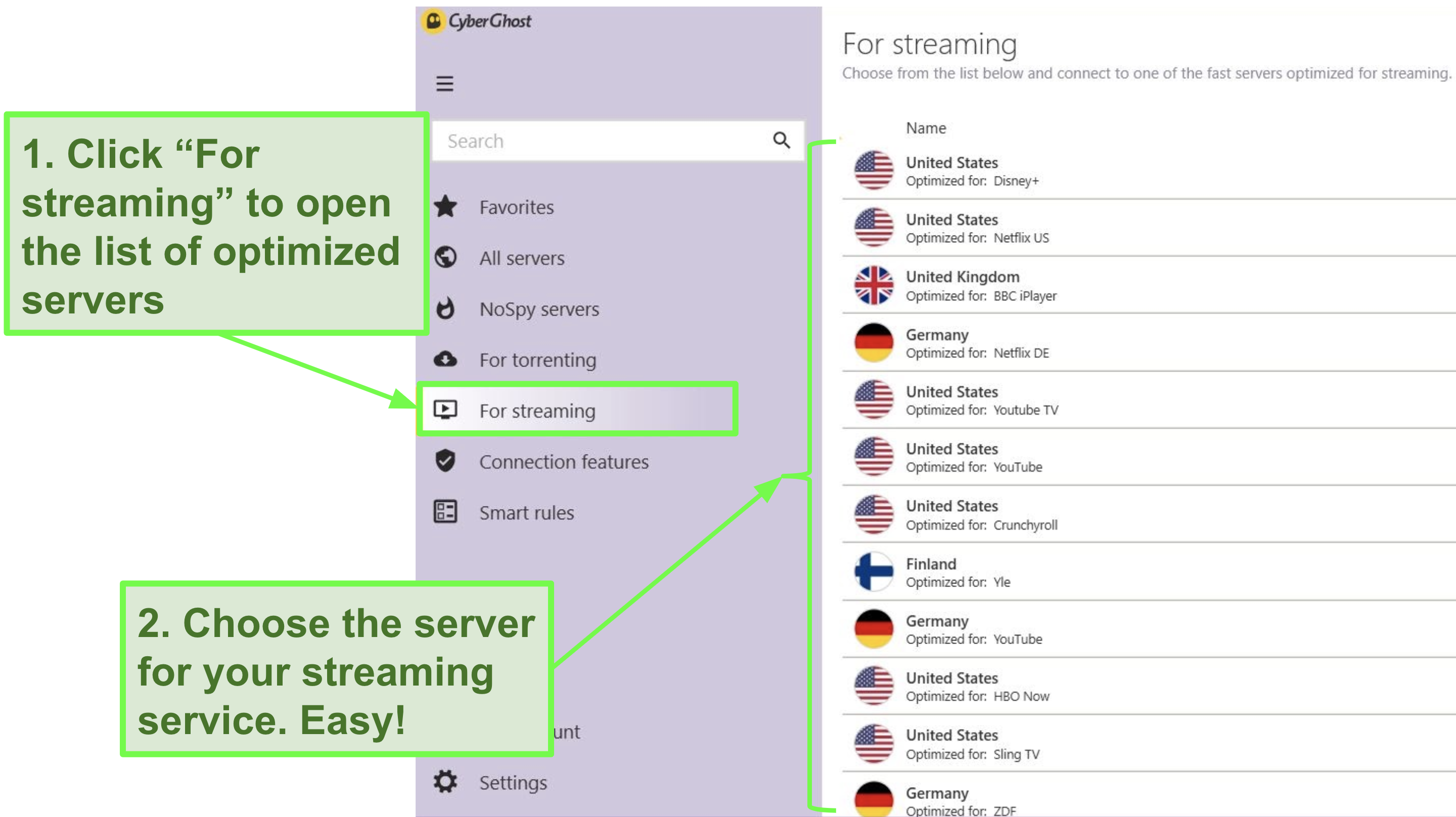 While performing tests, I noticed that some optimized servers — US Netflix, Disney+, and UK Channel 4 — were often full. I had to connect to normal servers to access these streaming services. I found that my speeds were slower, and I had to try a few times before successfully connecting and watching the shows I wanted.
I was impressed by CyberGhost's consistent DNS leak protection and data security across servers. I ran several leak tests and the high-level encryption passed every time. CyberGhost offers a 45-day money-back guarantee if you subscribe for 6 months or more. If you want to try CyberGhost for a shorter time, you can get a 14-day money-back guarantee with a 1-month plan.
FAQs: What You Need to Know About VPN Content Blocks
🤑 Can I use a free VPN to bypass content blocks?
Free VPNs are very limited in terms of server numbers and encryption technology. While some free VPNs can unblock some content, many are unreliable. Weak encryption makes a free VPN more likely to be detected. With small server numbers and fewer IP addresses, I've found that free VPNs aren't able to get around content blocks easily.
Weak encryption also makes a free VPN less safe as your personal data isn't securely hidden. Some free VPNs rely on advertising to generate revenue, which means they sell your information for money. This puts you at risk of identity theft. The most secure and reliable way to unblock content is with a premium VPN.
If you need a VPN for a short time or want to try it before committing to a long-term plan, every VPN on my list has a money-back guarantee. You can use a VPN like NordVPN to unblock content and get a full refund.
😅 How do websites know I'm using a VPN?
Governments, content providers, and places of business are becoming increasingly savvy about how to block specific software. They know that VPNs are powerful tools for online privacy, and they want to control your data. VPN detection technology has improved considerably, with many sites and services using more than one way to check if you're using a VPN:
IP Blocks: Websites and apps can see the IP address your VPN is using. They check the IP address against a database of known VPN servers and if there's a match, you'll be blocked from viewing the content.
Port Blocking: Similar to IP blocks, the network administrator can see which ports are used most by VPNs and close them, denying access to the network.
Deep Packet Inspection (DPI): The data that travels through the network is examined to see where it has come from and if it's being encrypted by a VPN. If it is, the data is blocked so content cannot be accessed.
🤓 How does a VPN bypass those blocks?
A VPN works by securely tunneling your information through an encryption technology that is obscured from third-parties, masking your real identity. This ensures that only the VPN's servers can manage and deliver your data.
VPNs are the most effective way to overcome content blocks, whether based on your location, IP address, Deep Packet Inspection (DPI) or any other method of identifying your non-traditional browser connection. A premium VPN works to stay ahead of the identification and blocking process so you can continue to access restricted content.
My VPN isn't unblocking content — what should I do?
If you're using a premium VPN and find the server you're using is blocked — don't panic! There are several things you can do to get reconnected to the content you want to view.
Setup a dedicated IP address: Some premium VPNs like NordVPN offer a dedicated IP address for an additional fee. This IP address won't be linked to a VPN service on any databases as you'll be the only one using it.
Change your VPN port: Some VPN ports are more commonly used than others (like port 443, port 80, and port 110). By going into the VPN's "Settings," you should be able to change the port to a less common one — try 44185 or 2018.
Use your VPN with Tor: Tor browsers route your information through a complex web of ports that can't be traced back to the originating computers. Using a Tor browser with a VPN may slow down your connection but it's an effective way to unblock restricted content.
Contact customer service: If all else fails, get in touch with customer support. Most premium VPNs have a 24/7 live chat and their support agents should be able to recommend an alternative, unblocked server. They'll also make a note of the block.
Can I use a proxy instead of a VPN?
Proxies are not as effective or as secure as a VPN. While they work in a similar way to a VPN, a proxy won't encrypt your data like a VPN does. This means your entire browsing history and online traffic can be seen and logged by any third-parties watching. Potentially, this could be compromising your data and identity security.
The best way to unblock content is to use a premium VPN that will bypass restrictions and protect your data at the same time.
Unblock Content With a Reliable Premium VPN
Your data security is important, and so is your internet freedom. With the VPNs on my list, you'll be able to keep your personal information safe and unblock the content you want to view. Relying on free VPNs or proxies may end up compromising your security — so don't risk it! You can try quality VPNs like NordVPN at zero risk with their money-back guarantees.