10 Ways to Use VPNs for Better Gaming in 2023 (Get Low Ping)
No matter what your favorite game is, a DDoS attack can cost you victory by overwhelming your device with too many communication requests. You need a good VPN to hide your IP address and protect yourself from such attacks, but a VPN also unblocks access to geo-restricted games, global lobbies, and exclusive DLC.
However, not all VPNs provide strong security against DDoS attacks or have servers that can get past geoblocks. I rigorously tested 30+ VPNs to find the best 3 for online gamers.
ExpressVPN is the #1 VPN for playing online games because of its reliable connections, DDoS defense, and blazing-fast servers for lag-free gaming. You can also buy ExpressVPN in confidence as it's backed by a 30-day money-back guarantee.
Play lag-free games with ExpressVPN
10 Benefits of Using a VPN App When Gaming
1. Unblocks Geo-Restricted Games
Online games like PUBG and Rift are geo-blocked to specific countries and aren't accessible outside those regions without a VPN. A VPN gives you an IP address in a country where that game is available. This is how VPNs unblock region-blocked games from anywhere in the world.
Most online games have servers in many regions, each with its own lobby. That's why you can't usually play with your friends if you're in different countries. A VPN lifts the geographic restriction, allowing gamers to join other regions' lobbies. However, this may violate the terms of service — I don't condone breaking any platform's rules, so always check before you connect.
2. Games Can Be Cheaper
A game's price can vary from region to region. For example, an American company may charge more for its games in Australia. Game developers account for differences in purchasing power, marketing efforts, and other factors that change from country to country.
A VPN is a good way to avoid paying higher prices for new and classic games. Just ensure you aren't violating any laws or the terms of service on game-buying platforms by shopping with a VPN.
3. Protects You From DDoS Attacks
A DDoS (distributed denial-of-service) attack severely slows your device's connection when a rival gamer overwhelms it with too many communication requests. These attacks are especially prevalent at gaming competitions where your contender could DDoS you to win the prize.
An attacker has to know your device's IP address to DDoS you. A VPN hides your real IP address in a virtual tunnel, making you invulnerable to DDoS attacks while gaming. Hiding your IP address also prevents other types of attacks from happening while you play, since hackers won't be able to see your connection.
4. Increase Your Speed
ISPs and mobile providers throttle connection speeds to ease congestion or prevent you from consuming too much bandwidth with heavy downloading, streaming, and gaming. With a VPN ISPs can't see where traffic comes from, so speed throttles will no longer work.
Just keep in mind that a VPN may not be able to get past speed throttles if you've consumed your internet plan's data limit. In that case, you can either subscribe to a plan with no data caps or ration your gaming sessions to ensure you don't exceed the maximum. I ran the following games at full resolution and calculated the average data consumed per hour:
| | |
| --- | --- |
| Game | Average data consumed per hour |
| League of Legends | 40MB |
| Borderlands 3 | 90MB |
| Dota 2 | 125MB |
| Call of Duty: Warzone | 150MB |
| Counter-Strike: Global Offensive | 250MB |
5. Hides Your Identity
A VPN protects you from DDoS attacks by making you anonymous while you game. It replaces your real IP address with a virtual one in another location, hiding your connection from hackers so they can't spam or attack your device. It also encrypts your traffic to hide your online activities from prying eyes.
However, most VPNs aren't reliable and many will leak your data. Someone can analyze these leaks, trace your real IP address, and execute a DDoS attack to cheat during a match or even harm your devices. That's why I tested dozens of VPNs and picked out ones with nearly-unbreakable security and verified privacy policies.
6. Game Safely on Public WiFi
Public networks aren't safe for gaming. They're often unencrypted, which means anyone can snoop on your online activities and exploit vulnerabilities. Man-in-the-middle attacks make it easy for hackers to access credentials to your Steam or Ubisoft accounts. You could lose all your games and saved data, or even have your device get hijacked.
A VPN keeps you safe on public Wifi by encrypting your online traffic, guarding you against man-in-the-middle attacks while you're gaming on open networks. Even if a hacker accesses your data, it would be unreadable.
To get around that, a hacker may try to remotely infect your device with data-stealing malware like a keylogger to record your keystrokes. VPNs hide your connection so hackers can't see you to begin with, and some VPNs have a built-in virus blocker to protect you from malware.
7. Stay Secure From Swatting and Stalking
Besides hackers, vengeful players may stalk you to get your real location or try to hack your social media accounts to hurt you. In rare cases, they may "swat" you by hoax-calling emergency services and misreport you for a bomb threat or fake hostage situation. All they need is your device's IP address to get your location.
To prevent these incidents, always use one of the best VPNs on the market to stay anonymous and prevent being stalked or swatted.
8. Improve Your Console Gaming
Few VPNs offer native support for consoles. If you're a console gamer, I suggest getting ExpressVPN, as you can set it up on your router and game on PS4, PS5, Xbox 360, Xbox One, and Nintendo Switch. Alternatively, you can set up most VPNs on your router to encrypt all your internet traffic instead of on a single device.
Just be sure to check which platforms and router firmware a VPN supports before subscribing to it Also double-check that your router is compatible since changing the firmware can permanently damage the device.
9. Get New Releases Immediately
Most games and DLCs are released in some countries before others. Waiting for a game to get released in your region can be frustrating. A VPN is the best way to access and buy early releases from anywhere worldwide.
Just download and install a top VPN like ExpressVPN and connect to a server in the country where a game has been released early. Next, log into your game developer's account, like Steam or Ubisoft, and you'll see that game in the library.
10. Avoid Arbitrary Bans
A game may blacklist your IP address to ban you from playing. This may be because you've violated the game's terms of service, but it can also happen for no apparent reason. A VPN assigns you another IP address, so you can rightfully access the game again.
To get around blacklists and geo-blocks on game servers, premium VPNs like ExpressVPN constantly replace flagged IP addresses in their database with new ones.
However, I don't condone violating any game's or platform's terms of service. Doing so could get your account terminated with no refund, so check your game of choice's user agreement before you play with a VPN.
Get ExpressVPN for online gaming
Potential Downsides of Gaming With VPNs
1. Legal Concerns
High-censorship countries like China restrict VPNs. These countries don't usually detain people for using VPNs, but VPN apps are blocked technologically with nationwide firewalls and anti-VPN detectors.
It's always good to check the rules and regulations of the country you're in before using a VPN, just in case their use is restricted. You also need to be sure you don't violate the terms of use on a game by using a VPN, or else your account could be shut down with no refund.
2. Slower Speeds on Some Servers
Connecting to a VPN almost always slows down your connection. That's because your data has to travel farther to the VPN server's location and back — the farther away the server is, the higher your "ping" and the lower your speeds. Plus, encrypting your traffic takes a little extra time.
That's why you should use a high-speed VPN like ExpressVPN for online gaming. It provides ultra-fast connections and low ping even on distant servers, giving you lag-free gaming. It also offers unlimited bandwidth, which means you can play without losing matches because of annoying lag.
3. Packet Loss
Data moves between your device and a game server in small packets. Some may get lost in the process, causing frame drops and gaming lag. Packet loss happens when your VPN server is congested, unsteady, or connected via an inefficient security protocol.
You can avoid it if you use a top VPN like ExpressVPN that's optimized to minimize packet loss. Its proprietary Lightway protocol has minimal code which makes it fast and light, losing fewer data packets as your traffic moves to the VPN server so it can deliver top speeds for lag-free gaming.
Quick Guide: 3 Easy Steps to Improve Gaming With a VPN
Download a VPN. ExpressVPN is the #1 VPN for gamers because it has blazing-fast speeds and low ping even on distant servers
Connect to a nearby server. A nearby server will minimize speed drops and provide a low ping for lag-free gaming.
Start gaming! Launch your favorite game, join a lobby, and start a match.
Best VPNs to Improve Your Gaming in 2023
Key Features:
3000+ servers in 94 countries for easy access to global game servers
Lightning-fast speeds and low ping even on distant servers for lag-free gaming
Leak protection and 256-bit military-grade encryption to guard against DDoS attacks
Play on 5 devices simultaneously without being logged out
30-day money-back guarantee so all plans are risk-free
ExpressVPN's Lightway protocol has blazing-fast speeds for lag-free games. It's faster than other protocols because it only contains 2000 lines of code, making it more efficient. Plus, it protects you against DDoS attacks and hackers using the strongest available military-grade encryption and a top-tier cryptography library called wolfSSL.
It'd be nearly impossible for a hacker to perform a DDoS attack on you while you're connected. That's because ExpressVPN runs its own private encrypted DNS on every server, ensuring none of your data gets past encryption and is exposed to third parties. Besides that, it protects you with:
Data leak protection — I ran multiple leak tests, and ExpressVPN proved it keeps you 100% anonymous from hackers and other gamers
Military-grade encryption — ExpressVPN hides your data with an unhackable 256-bit cipher used by government agencies. That means no attacker can't trace your real IP address or interrupt your gaming session with a DDoS attack
Port forwarding — Makes your gaming PC or console securely accessible to other players via the internet, so you can play with your friends or family members privately
I tested over 10 ExpressVPN servers and got blazing-fast speeds irrespective of my distance from the server. I got an impressive 97Mbps even when I connected to a distant server in Australia, over 10,000 miles from my location. It was a tiny 3% drop from my baseline performance when no VPN was connected. Whether using this server or one in NY closer to my real location, I could play Borderlands 3, Destiny 2, and CS:GO at 120 FPS without lag.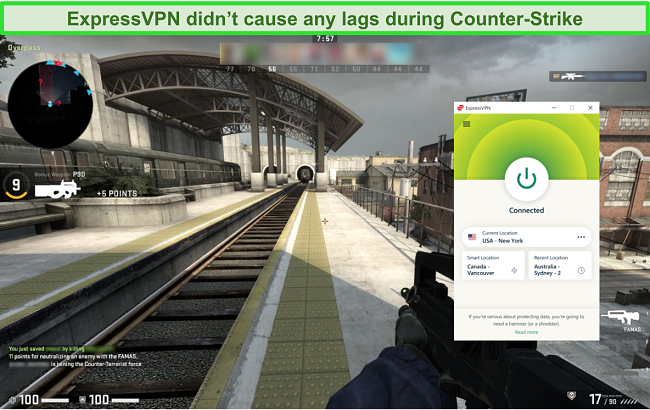 A network of over 3000 ExpressVPN servers in more than 94 countries enables access to geo-blocked games and early releases in different countries. To join a game lobby in a different region, simply connect to that country's server. Alternatively, use the "Quick Connect" button to automatically connect to the nearest (and fastest) server.
You can set up ExpressVPN on up to 5 devices. It works on all major platforms, including Windows, macOS, Linux, iOS, and Android. Although it doesn't have a native app for gaming consoles, you can do so by setting up ExpressVPN on your router.
Budget-conscious gamers will find ExpressVPN is more pricey than others on this list. In my opinion, it's more than worth the price because of its top-shelf security features and fast speeds for safe, smooth gaming. You can also lower the cost to just $6.67 per month by subscribing to ExpressVPN's 1-year + 3 months plan. If you need monthly options, ExpressVPN is among the best monthly VPNs for the price.
To show its confidence in the product, there's a 30-day money-back guarantee so that you can buy ExpressVPN with zero risk. Just get a refund if you aren't satisfied with its performance. To test its refund policy, I submitted my request via its 24/7 live chat and got a friendly confirmation in just 2 minutes. I had my money back 4 days later.
March 2023 Update! ExpressVPN has dropped prices for a limited time to a crazy $6.67 per month for the 1-year plan (you can save up to 49%) + 3 months free! This is a limited offer so be sure to grab it now before it's gone. See more information on this offer here.
Key Features:
9736 servers in 91 countries to access early releases and geo-blocked DLC
Gaming-optimized servers deliver consistently smooth online matches
Excellent DDoS protection with military-grade encryption and IP masking
Play your favorite games on up to 7 devices
All long-term plans are backed by 45-day money-back guarantee
CyberGhost's dedicated gaming servers keep your ping low for smooth online matches. During my tests, these servers were 12% faster than regular servers so I never missed a headshot in CS:GO because of annoying lag. Testing CyberGhost's standard servers next, I still didn't experience any frame drops causing me to lose a firefight in Destiny 2 due to a slow connection. Even when I tried faraway servers in Australia which tend to be slower, I gamed without lag.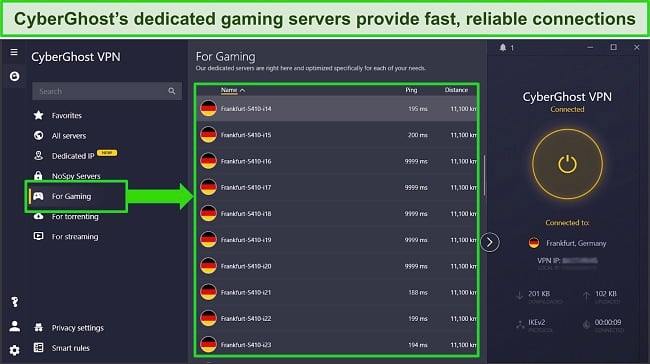 A huge choice of networks throughout 91 countries makes it easy to find one close to your location to get the best speeds on game servers. A large server selection means it's easy to use CyberGhost to access to more DLC and region-locked discounts on platforms like Steam. On every server, CyberGhost protects your online matches with top-shelf security and privacy features like:
NoSpy Menu — these privately-owned servers directly managed by CyberGhost minimize the chance of malicious tampering and data breaches
Malware blocker — Blocks infected files sent to you in-game by other players to keep your device safe from malware
Military-grade encryption — Keeps your IP address and gaming traffic hidden to prevent DDoS attacks and protect you from hackers on compromised game servers
If you have a gaming rig at home but also play on consoles and mobile, you can protect numerous devices with CyberGhost's 7-connection limit. I set it up on my gaming PC, Xbox, and PS4, and tested Forza Horizon 5 on all of them simultaneously — I didn't get disconnected after starting a race on each system.
My only small reservation is that CyberGhost doesn't have native apps for gaming consoles. However, it's not a problem — I used the Windows connection sharing and router setup options instead. With these options, you can use CyberGhost with any web-connected platform as long as it can connect to your home network.
I recommend you get the lowest price with CyberGhost's 2-year + 3 months plan. You'll get a huge discount of 84% and a low monthly rate of $2.11. Plus, you don't have to commit since CyberGhost is risk-free for 45 days. I submitted my refund request via 24/7 live chat when I was done testing it, and got the confirmation within a few minutes. I had my money back in 5 days.
March 2023 Update! You can subscribe to CyberGhost for as low as $2.11 per month + get extra 3 months free with the 2-year plan (save up to 83%)! This is a limited offer so grab it now before it's gone. See more information on this offer here.
Key Features:
Extensive network of 35000+ servers in 84 countries to join global gaming lobbies
Organize servers by ping for the fastest speeds and lowest latency for a smooth frame rate
Military-grade encryption protects you from DDoS attacks and hackers in lobbies
Play your favorite games on up to unlimited devices at a time
Try it risk-free for 30 days with its money-back guarantee
Private Internet Access's huge network gives you instant access to gaming lobbies all around the world with its most impressive list of over 35000 servers. It covers more than 84 countries, so you can join matches with family or friends in other countries and not miss out on any of the fun. On average PIA has more than 400 servers per country, giving you tons of options so that servers never get crowded and slow down or disconnect.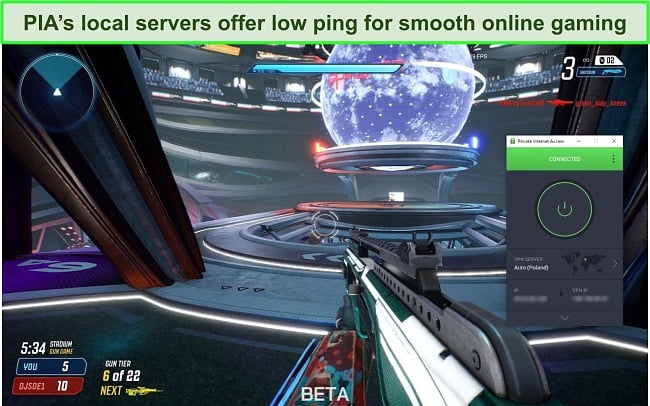 PIA's nearby servers in the US and Canada gave me speed drops of 9% and 12%, which wasn't enough to slow down fast-paced games of Dota 2, League of Legends, and CS:GO. I compiled my speed test results in the chart below after establishing that my baseline internet speed without a VPN connection stays around 100Mbps:
| | | | | |
| --- | --- | --- | --- | --- |
| Server Location | Download Speed | % Speed Drop | Ping | Server Distance |
| US | 91.26Mbps | 8.74% | 34ms | 150 miles |
| Europe (Average) | 87.93Mbps | 12.07% | 61ms | 480 miles |
| UK | 83.77Mbps | 16.23% | 88ms | 3100 miles |
To improve your speeds on distant servers, PIA lets you decrease the encryption standard from 256 to 128-bit. In my experience, this improved speeds by 10%. In addition to these custom options, PIA keeps your devices safe and identity anonymous with these features while you game:
Automation rules — You'll never have to worry whether you remembered to turn on the VPN before starting matches or gaming on public WiFi with PIA's automated connections
Leak protection — Prevents your DNS and IP data from being revealed to third parties
I set up PIA on my Windows PC, laptop, Macbook, iPad, iPhone, and an Android tablet and phone, and still had leftover devices thanks to its unlimited-connection limit. Alternatively, just set it up on your router to secure all your gaming platforms without installing the app on each individually.
I did get mildly concerned to see that PIA is headquartered in the US, a core member of the 5 Eyes Alliance. However, I was relieved that PIA has a strict no-logs policy verified by Deloitte. Since it doesn't store any of your data, it can't share it with third parties.
You can subscribe to PIA's 2-year + 3 months plan to get the best price of $2.11 per month. If you're still unsure, take advantage of PIA's money-back guarantee and use it for 30 days. If you don't like it, submit a refund request via email. When I tested the process, it took 6 business days until I got my money back.
March 2023 Update! You can subscribe to PIA for as low as 2.11$ per month + get extra 3 months free with the 2-year plan (save up to 82%)! This is a limited offer so grab it now before it's gone. See more information on this offer here!
Comparison Table: 2023's Best VPNs for Online Gaming
| | | | | | |
| --- | --- | --- | --- | --- | --- |
| VPN | Server Coverage | Server Countries | Lowest Price | Gaming- Optimized Servers | Money-Back Guarantee |
| ExpressVPN | 3000 | 94 | $6.67 | ✔ | 30 |
| CyberGhost | 9736 | 91 | $2.11 | ✔ | 45 |
| PIA | 35000 | 84 | $2.11 | ✘ | 30 |
Play games securely with ExpressVPN
How I Tested and Ranked the Best VPNs for Online Games
I considered the following aspects when picking out the best VPNs for online gaming:
Server network — I picked VPNs with broad server coverage so they could access global lobbies and unblock geo-restricted games and DLC.
Speeds — My tests found out which VPNs have the fastest speeds and lowest ping for lag-free gaming even in busy lobbies on the other side of the world.
Security — I ensured the VPNs on my list offered 256-bit encryption and leak protection to guard you against DDoS and man-in-the-middle attacks while gaming.
Device connections — All the VPNs on my list allow at least 5 simultaneous device connections so that you can game on multiple devices at once without being logged out.
Customer support — I contacted each VPN's customer support and looked for fast response times, high professionalism, and easy 24/7 access to agents.
Money-back guarantee — I tested each VPN's refund policy and evaluated how easy it was to submit a refund request and the time it took to get my money back.
Get ExpressVPN for gaming risk-free
FAQs About VPNs for Better Gaming
What's the best VPN for Mobile Legends, PUBG, and other mobile games?
ExpressVPN is the best VPN to play these online games on phones, tablets, laptops, and desktops. Its proprietary Lightway protocol is lightweight for ultra-fast speeds and low ping to give you lagless matches. It uses military-grade encryption that prevents DNS and IP leaks, guarding against in-game DDoS attacks.
Do I need a gaming VPN for PC, Android, and other devices?
Yes, there are a lot of reasons you need a VPN while gaming. A VPN encrypts your traffic and replaces your real IP address with a virtual one. Without any way of knowing your IP address, no hackers or rival gamers can execute a DDoS attack on you. This is especially important if you're gaming on public WiFi, which is significantly less secure than your home network.
A gaming VPN can also overcome geo-restrictions, since most games have lobbies that are location-specific. For example, the right VPN can access Call of Duty: Warzone to play with your friends or family members living on another continent. Just make sure you aren't violating any of the terms of service on a game, as I don't condone using a VPN to break any agreements.
Another advantage is that speed throttles can ruin the experience by making games too laggy to play. If an ISP throttles speeds, a VPN prevents ISPs from seeing users' traffic, allowing it to bypass speed restrictions.
What VPN settings should I use for reliable and lag-free games?
A VPN's default settings should give you smooth, secure, reliable games. However, you may get slow speeds and high ping on distant servers. Using a top VPN from my list will guarantee the fastest speeds for seamless action.
Some VPNs let you tweak the protocol and encryption settings. For instance, in PIA you can reduce your encryption from 256-bit to 128-bit, which takes less time to exchange data between your device and the VPN server. This gives you smoother games while still providing sufficient protection from DDoS attacks.
You can try different protocols to boost your speeds. WireGuard usually performs better than OpenVPN, for example. If you aren't nervous about DDoS attacks, you can try switching to PPTP to get faster speeds at the cost of lower security.
Can I host online matches with a VPN?
Yes, but you'll need a VPN that supports port forwarding like PIA. Set it up manually by changing your router's administrative settings so that your friends' gaming devices can connect to yours remotely.
This lets you host an encrypted game server for your friends or family to join and play on. With the VPN connected, it would be almost impossible for hackers to attack your server or interfere with any players.
You should also use a static IP address to get the best game hosting experience. A static IP address doesn't change, making it easier for your friends or family members to find. While static IP addresses are slightly more vulnerable to cyberattacks than dynamic IP addresses, it's unlikely your server would be targeted.
Can I use a free VPN for online games?
Yes, but I don't recommend it because free VPNs won't always work well. Instead, I suggest gaming with a premium VPN like CyberGhost for free. That way you don't have to deal with data limits, speed restrictions, limited servers, and other issues that will ruin your match.
While some free VPNs are reliable for basic tasks, they're oo restrictive for online gaming. Most have limited networks with congested servers that cause slow speeds and can't access geo-restricted game lobbies. Others interrupt your game with ads, making winning impossible.
Some free VPNs even make money selling your data to third parties without your consent. Worse yet, a few have been exposed as scams that infect your device with malware to steal your personal information.
It isn't worth the risk when you can use a premium VPN like CyberGhost for free with its 45-day money-back guarantee. Just use 24/7 live chat to claim a refund — mine was approved right away and paid back in under a week.
Game safely for free with CyberGhost
Final Thoughts
Using a top VPN is the best way to protect yourself from DDoS attacks and other threats to your gaming safety. With so many VPNs claiming to be the fastest and safest, it's hard to know which to trust. In my experience, some subpar VPNs even have 5 stars in app stores.
I had to test over 30 VPNs to find 3 that were fast enough for the demands of today's games while keeping my connection hidden and safe. I checked for speeds at different server distances, network coverage, and security features like leak protection and top-shelf encryption standards.
ExpressVPN excelled in all my tests and is the best VPN for gamers. Its Lightway protocol gave me ultra-fast speeds and low ping whether I was leveling up my hero in Dota 2 or defusing the bomb at the last second in CS:GO. Its solid leak prevention, no-logs policy, and military-grade encryption protect you from DDoS attacks.
You can also buy ExpressVPN with confidence as it's backed by a 30-day money-back guarantee — if you're unsatisfied for any reason, you can get a refund with no hassle.
---
Summary — Best VPNs to Improve Online Gaming in 2023
Top Choice